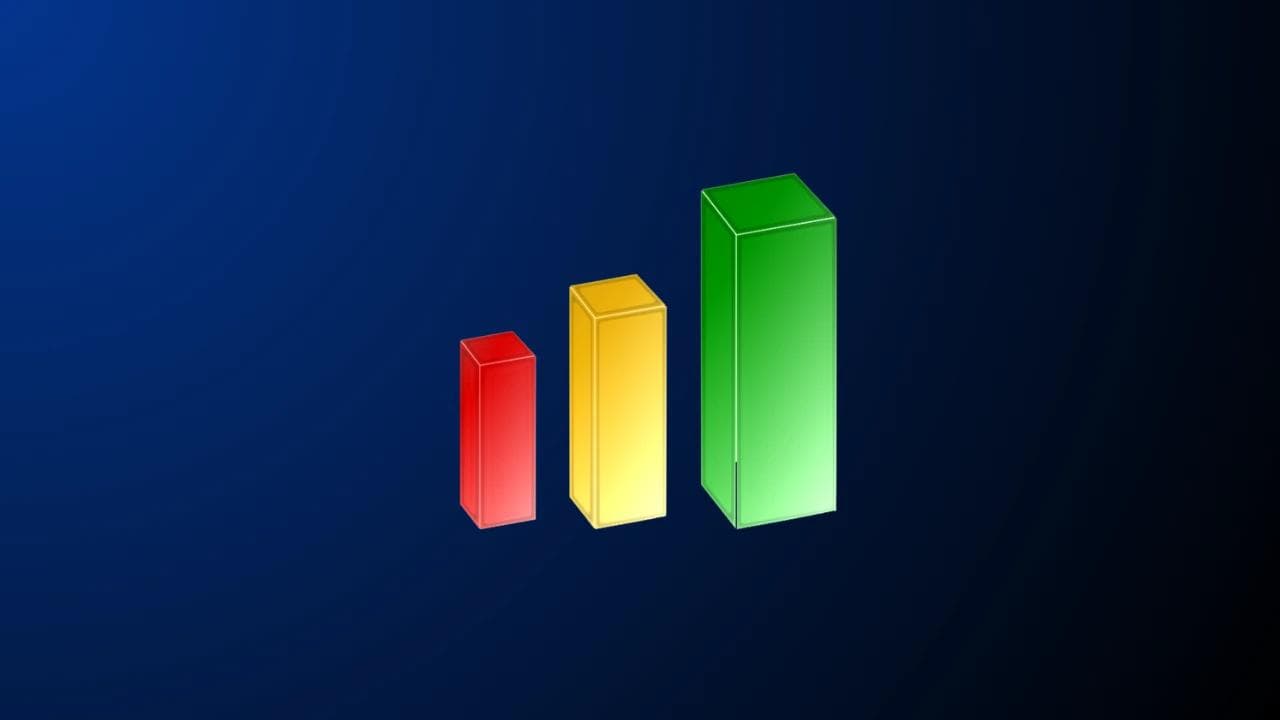 SEO Keyword Tool Dominator Review 2023 [Expert Ranking Insights]

Unbeatable Software
Invalid Date Invalid Date, Invalid Date at Invalid Date
Proper SEO keyword research and optimization can make or break your business. Do you know 90% of business activities are on 1st page?
And this SEO keyword tool dominator review will help you get started from amazon listing to google search engine rankings 😀
First things first, the SEO dominator tool helps in keyword research for:
Google and Bing
Amazon and Walmart
Etsy and Home Depot
YouTube and Google Shopping
But still, it's not the best for everyone.
EditPrimary UseKeyword ResearchPlans and PricingFREE and One-time paymentMarketplaces on BoardGoogle, Amazon, Etsy, eBay and much moreFree Trial availableYesMy Rating7.3 / 10
Each marketplace works hard to give customers a premium user experience. The listings or web pages that are SEO-optimized and user-friendly get ranked on the first page.
But that's not all about how the search engine knows who offers a good user experience.
To summarize, you need market research to develop a proper ranking strategy and get the most out of it.
Let's find out if the Keyword tool dominator is right for you and how to get saucy keywords for your business 😀
Keyword Tool Dominator Review
Keyword Tool Dominator is an online SEO tool specialized in keyword research customized to effectively operate and find the right keywords for eCommerce marketplaces and search engines.
Each marketplace has got own ranking algorithm dynamic, like Google, Amazon A9, eBay, Etsy, etc.
Even though the till looks difficult, the learning curve to get started is still simple. It's fast, intuitive, and easy to use, making it a great choice for both beginners and experienced SEOs.
And best of all, it's relatively affordable compared to other keyword research tools on the market.
Getting Started
Getting started with Keyword Tool Dominator is simple. To signup, click on get started and enter your username, password, and email. You will get a verification email to get started.
The Pros Of Using Keyword Tool Dominator:
Keyword Tool Dominator is very easy to use. Just enter a seed keyword and let the tool do its job. Within seconds, you'll have a list of hundreds (or even thousands) of long-tail keywords that you can target.
This tool does help you find low-competition keywords that you can rank for easily. If you've struggled to find good keywords to target, this tool will definitely be a lifesaver.
The price is more than reasonable, especially considering how much time and money you'll save using it.
The Cons Of Using Keyword Tool Dominator:
Some of the results returned aren't necessarily relevant to your business or niche. This means you'll have to do some filtering to eliminate the useless results.
Even though the price is reasonable, it's still an added expense that you might not be able to justify if your budget is tight.
There is a learning curve involved in using this tool effectively. If you're new to keyword research, it might take some time to get the hang of things.
Exploring The Keyword Tool Dominator Extension
The Keyword Tool Dominator Extension is a tool that allows you to quickly and easily find profitable keywords for your business. It is a Google Chrome extension that is available for free.
How To Use The Keyword Tool Dominator Extension?
The first thing you need to do is install the extension.
To do this, go to the Google Chrome store and search for "Keyword Tool Dominator Extension."
Once you have found the extension, click "Add to Chrome."
Now that the extension has been added to your browser go to any website and click on the extension icon in the top right corner of your screen.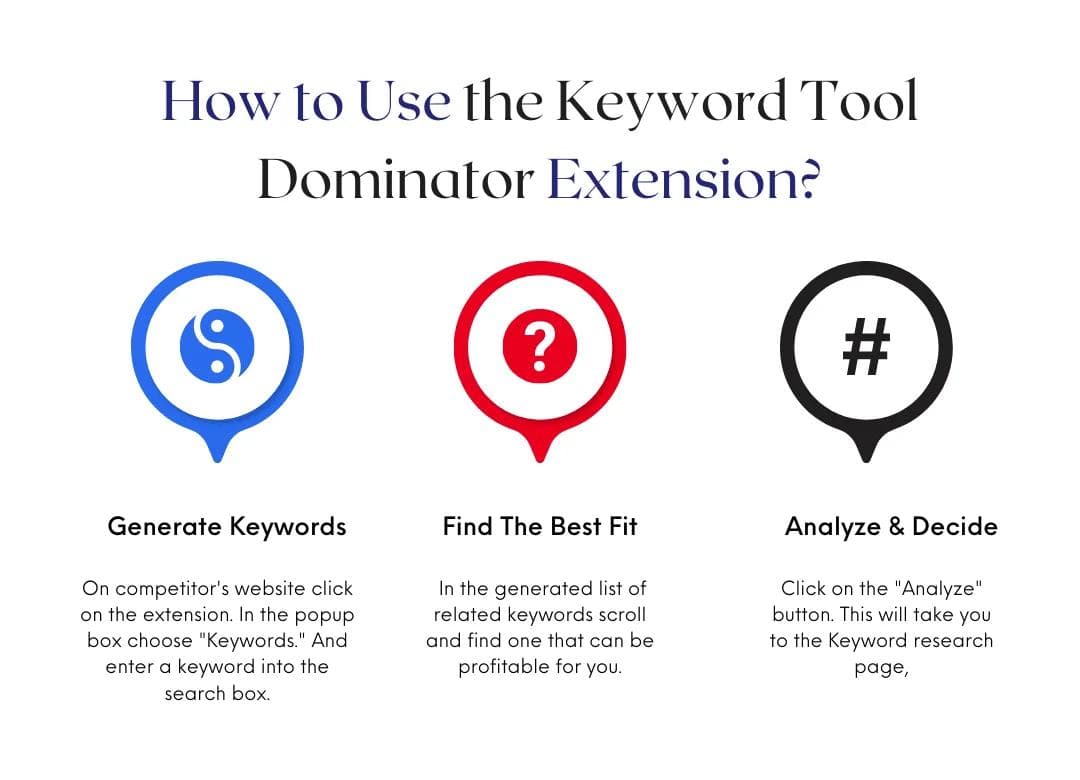 A popup box will appear with a list of options. The first option is "Keywords." Click on this option and enter a keyword into the search box.
The extension will then generate a list of related keywords. Scroll down the list of keywords and find one that you think would be profitable for your business.
Once you have found a keyword, click on it and then click on the "Analyze" button.
This will take you to the Keyword research page, where you can see more detailed information about the keyword, including monthly search volume, CPC, and competition level.
Keyword Tool Dominator Features
Keywords are essential to driving traffic to your website. But what if you could get an edge on the competition by using a keyword tool that goes beyond the basics?
With Keyword Tool Dominator, you can see the most popular keywords for your industry and the ones your competitors are using. The primary features it offers include:
Unlimited keyword downloads
Unlimited daily searches
Popularity keyword ranking
Real-time keyword suggestions
And a free chrome extension to access data in real-time marketplaces.
This way, you can ensure that your website or product listing is optimized for the best possible keywords naturally and get ahead of the competition!
Keyword Tool Dominator Search Engines and eCommerce Toolkits
We have got about eight free keyword research tools with Keyword tool dominator.
Google Keyword Tool: To find keywords from google autocomplete
Amazon Keyword Tool: Free to use the keyword research tool for hunting product keywords for Amazon SEO and optimization.
Walmart Keyword Tool: Sell on Walmart, then get the right keywords to rank on.
YouTube Keyword Tool: Youtube keyword tool is a free-to-use tool for hunting keywords directly on youtube.
eBay Keyword Tool: Huh! Actions listing keywords research on eBay.
Etsy Keyword Tool: On Etsy marketplace, a free keyword tool to find listing keywords.
Bing Keyword Tool: To find a keyword research tool for finding long-tail keywords via Bing search.
Google Shopping Keyword Tool: On google, shopping finds long tail pro keywords and keywords.
With these tool kits, we unlock the massive potential by closing the guesswork and working on accurate insights.
The primary area of work for the keyword tool dominator is the autocomplete databases to find the root keywords and create ranking strategies accordingly.
Recently the trend in keyword research switched over to long-tail keywords.
These keywords are more like phrases that are frequently searched, easy to rank on, and better to get indexed on all search engines than short-tail keywords that require blood and sweat to get ranked on.
How to Use The Keyword Tool Dominator?
Let's deep dive and find out how to get started with the keyword tool dominator.
Signing Up
Head to the keyword tool dominator website and click the signup button.
Enter the user name, email address, and password as you click the signup button, and move to your email address for verification.
As you have verified the account, you will get access to their dashboard.
Getting Familiar With The Dashboard
Once sign-up and verification are complete, you head over to their dashboard. The best part is the simplicity and ease of use that comes with the dashboard.
Here you have to choose the tool based on the marketplace you want long-tail keywords for.
How To Use Keyword Tool Dominator And Find Potential Keywords?
The dashboard is quite similar for all tools. As we said, this keyword tool dominator review will share the best research strategies and expert insights.
For practice, let's go with the Amazon Keyword tool. There are 3 options for keyword research.
Normal Keyword search: To proceed with all types of keywords in search results
Precise Keyword research: To narrow down the results most relevant suggestions
Broad keyword search: To get all types of keywords.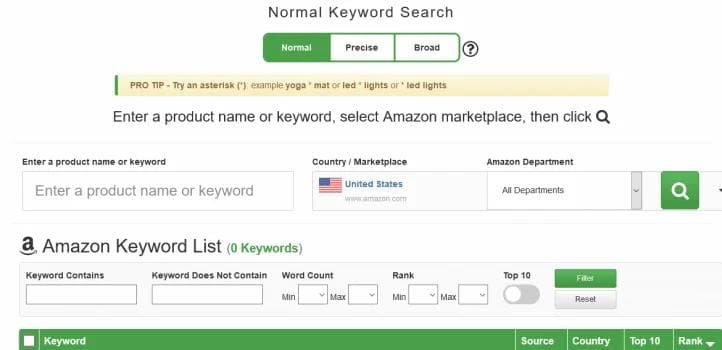 Enter the root keyword to get started. It can be a generic word for your target product.
Next to it is the country or marketplace you want to sell in and the categories. From here, select your product's country and category for Amazon.
With it, you have special filters to include or exclude any specific words. The word count eliminates short-tail keywords and the keyword rank.
For the primary keyword, you can select the Top 10 option. Mostly it's the keyword we target to rank on.
Get access to their Amazon SEO Guide for more in-depth analysis
Likewise, all other tools are also the same, with minor search filter differences to make them efficient for their databases and search engines.
Once the keyword research is finished, you export and download the final results in an excel sheet or CSV format.
Keyword Tool Dominator Pricing Plans
With the keyword tool dominator, you have to purchase each tool separately, or else you can purchase their bundles to make it more economical. Both come with a one-time payment to make the cost more economical.
Bundles
EditName of BundleWhat's IncludedPriceDiscounted PriceTools ValueE Commerce BundleAmazon Keyword Tool
eBay Keyword Tool
Etsy Keyword Tool
Google Shopping Keyword Tool
Walmart Keyword Tool$ 79$56$ 195Keyword Tool SuiteAmazon Keyword Tool
eBay Keyword Tool
Etsy Keyword Tool
Google Keyword Tool
Bing Keyword Tool
Google Keyword Tool
Walmart Keyword Tool
YouTube Keyword Tool
Google Shopping Keyword Tool$139$98.69$312
Both bundles offer all of their features with unlimited suggestions, searches, downloads, free updates, and much more.
In case you want to try with a single tool, you can head over to their individual tools package and choose yours.
Start finding long-tail keywords for your business 
Are The Keyword Tool Dominator Toolkits Worth It?
With these tools, access to up-to-date keyword insights is unlocked. The best part is that you also get suggestions for less competitive keywords that will likely explode soon.
And the real user search terms are used as seed keywords. This, with slight variations, triggers hundreds of keyword suggestions in a short span of time. With the Keyword tool dominator, you get access to
Multi platforms keyword research tools
Easy competitor research
You can export the final results
For manual verification, just go on any search engine and type that keyword to see what your target audience is searching for and the quality of other relevant keyword suggestions.
Access to 8 different search engines and marketplaces makes it convenient and a worthy investment.
Remember, the keyword science and ranking determine if you can survive online. Plus, a long tail keyword search with keyword tool dominator and the right strategy can sustain and grow your online presence.
Why Is Keyword Tool Dominator The Best Keyword Research Tool?
Access to 8 different search engines and marketplaces makes it convenient and a worthy investment.
Remember, the keyword science and ranking determine if you can survive online. Plus, a long tail keyword search with keyword tool dominator and the right strategy can sustain and grow your online presence.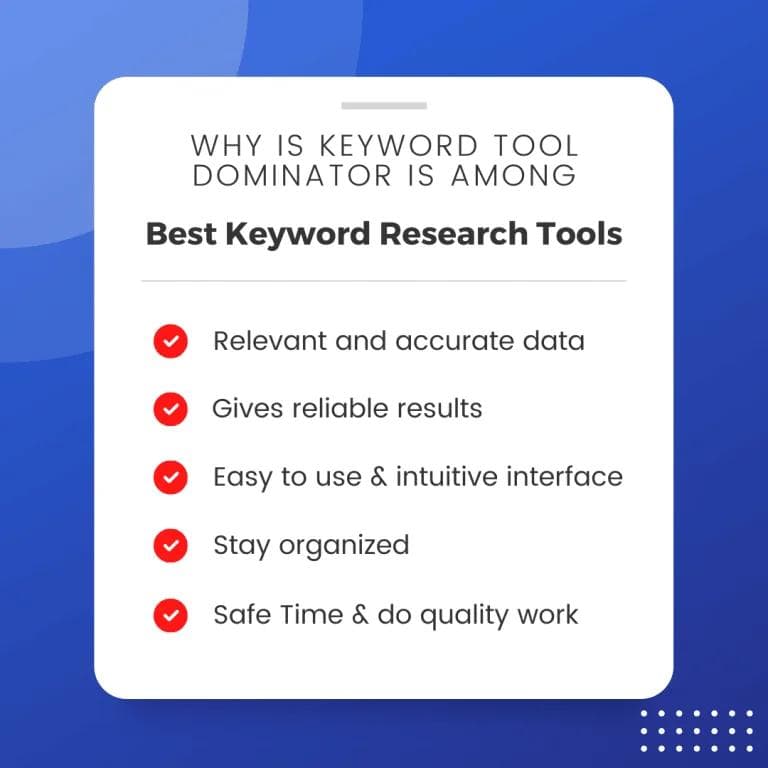 The right keywords can mean the difference between ranking on the first page of Google and be buried on the tenth page. Out of all the options on the market, Keyword Tool Dominator is among the clear winners. Here's why.
Accuracy
When it comes to keyword research, accuracy is key. You don't want to waste your time targeting keywords that no one is actually searching for. And with Keyword Tool Dominator, you don't have to. Relevant keywords and accurate keyword data combined with user intent make it a good choice.
Reliability
Another important factor to consider when choosing a keyword research tool is reliability. You need a tool that will be there for you daily, providing reliable results that you can count on.
Easy to Use
Last but not least, you want a keyword research tool that is easy to use. After all, what good is a tool if you can't figure out how to use it?
Keyword Tool Dominator is designed with simplicity, and its intuitive interface makes it a breeze to get started with keyword research, even if you've never done it before.
Stay Organized And Safe Time
The Keyword Tool Dominator helps you stay organized by keeping all your keyword information in one place.
This way, you can easily track your progress and see which keywords are performing well and which aren't. The biggest benefit is that it saves you time, and you can focus on other aspects of your marketing campaign.
Top 3 Alternatives To The Keyword Tool Dominator
KTD is not the only keyword research tool on the market. There are several other options available that offer similar or even better features. Let's look at three such options:
Ahrefs is a subscription-based service offering several keyword research features. It starts at $99 per month.
SemRush is another subscription-based service that offers SEO and PPC keyword research tools. It also starts at $99.95 per month.
Google Keyword Planner is a free tool part of the Google Ads platform. It allows you to find new keywords or get search volume data for existing terms (for different locations and devices)
Pros And Cons Of Keyword Tool Dominator
Keyword tool dominator is quite a good keyword research tool. The best aspect is access to search engine autocomplete databases and rapid long tail pro keywords.
Here's a quick summary of the keyword tool dominator review:
PROS
Access to the comprehensive long-tail keywords search
Accurate real-time search results
Easy to use and interactive dashboard
Free and economic tool
Lifetime access with less cost
AutoComplete suggestions keyword research is made easier
Amazon keyword research is made easier and less expensive
CONS
Irrelevant keywords are in the list but you can exclude them with word include and exclude feature
Once the search started you cannot abort it before completion. It is a potential improvement needed to be made.
Next Steps!
Keyword Tool Dominator can definitely be a valuable addition to your online marketing arsenal, but it's not perfect. Some minor cons need to be considered before buying.If you are more into blogging and have an extra budget, consider exploring Ahref for keyword research!
But if you are on a budget or want to interact directly with Google APIs, then what's best than Google's free keyword planner? Finally, for eCommerce marketplaces, use Keyword Tool Dominator to conduct a detailed competitive analysis and design a better SEO strategy for your business 😀