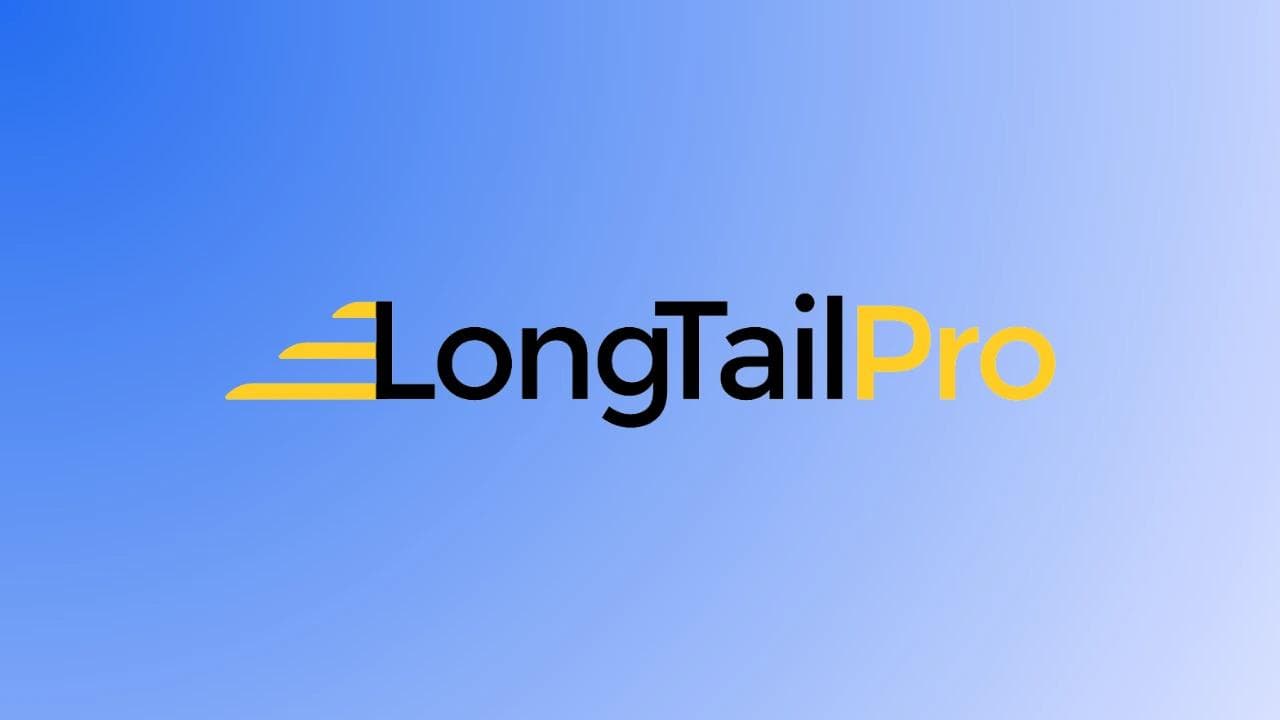 [Best Guide] Long-Tail Pro Pros and Cons, Features and Pricing in 2023

Unbeatable Software
May 14, 2023 at 6:21 PM
Proper Keyword Research can be frustrating. With tons of searches and the internet regularly jammed with traffic, getting ranked on search engines seems tricky. Here we will look at long tail pro pros and cons to help you find easy-to-rank keywords.
The best thing about this tool is its simple interface. You do not need to take any complex course or read an extensive manual to understand its functions.
Long-Tail Pro Pros and Cons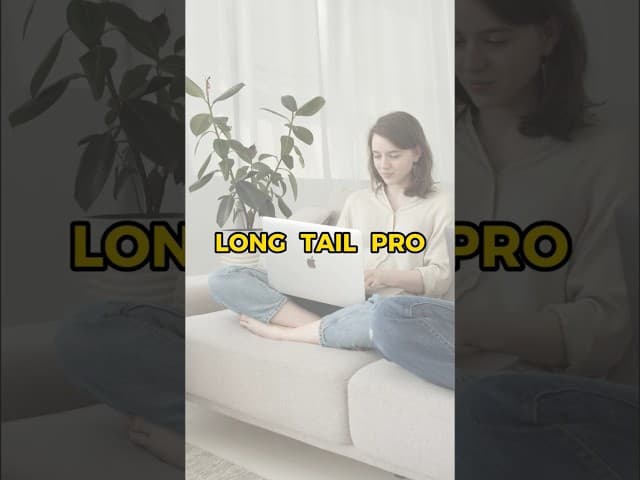 PROS
Bulk keyword suggestions.
Intuitive user interface.
The rank Tracking feature is accurate.
Backlinks Analysis helps in with backlinks authenticity.
Detailed analytics reports allow for better decision-making.
CONS
No content suggestion feature is available.
The keyword difficulty score is sometimes not accurate.
Long Tail Pro Features That Make It Worth It!
Long Tail Pro is more than just another research tool; it is power-packed with many features. The main goal is to create ease of access and use. Some of the impressive features include the following:
Competing Keyword Checker
The ability to export and import keywords from and to Long Tail Pro
Search long-tail keywords
Suggest available domain names
Create multiple projects for different campaigns
With so many features focused on Keyword Research, it is no surprise that this tool has dominated the research tool market for so long. Long Tail Pro also contains a few features to enhance your SEO Campaigns and maximize their results.
Easy-to-Use User Interface
One of the fascinating features of Long Tail Pro is its simple yet elegant User Interface. The clean display allows you to access its features from the get-go. There are no cluttered interfaces with multiple displays to go through.
Keyword Research Tools tend to have complex User Interfaces. With the features they provide, muddled-up screens are unavoidable, but Long Tail Pro cleverly avoids this issue to prevent any confusion.
The Main User Dashboard gives access to features and straightforward video tutorials. Any favorited keywords are also easily accessed here. Customer Support can also be contacted from the dashboard.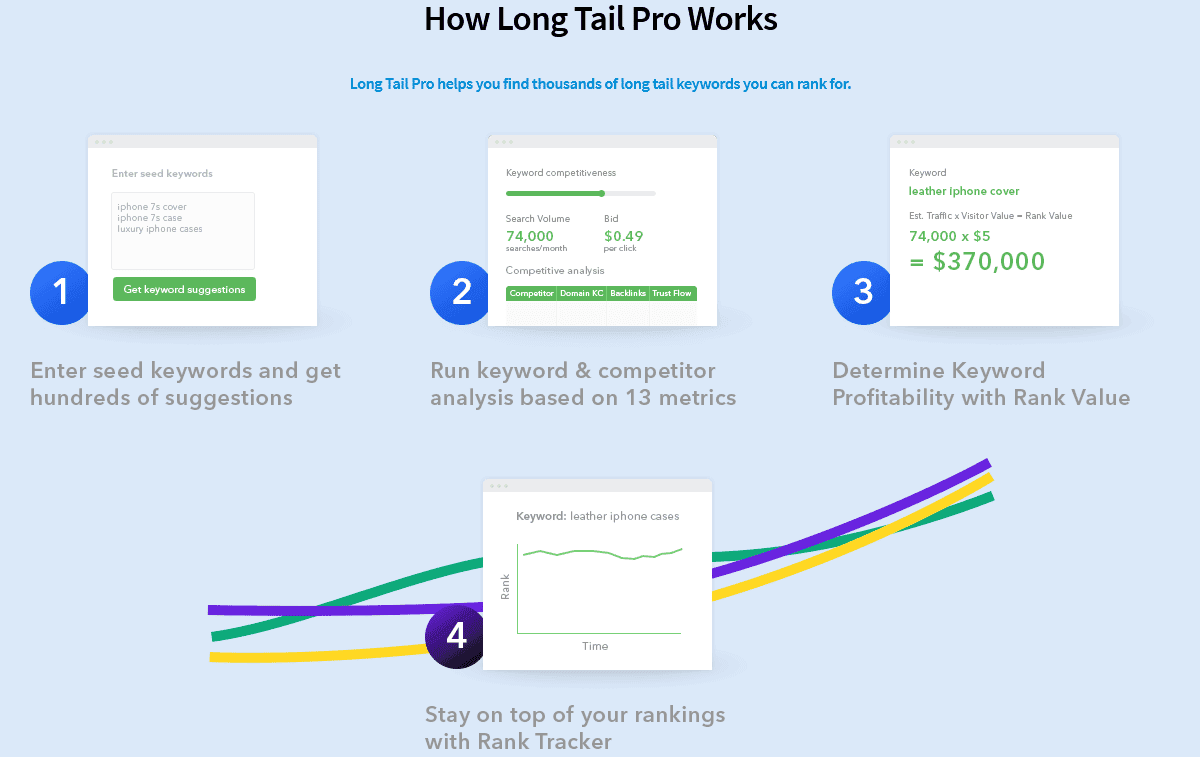 Search Long Tail Keywords
The defining feature of this tool is its ability to search for complex long-tail keywords. It searches up profitable long-tail keywords and eliminates all short-tail ones.
The first step is to create seed keywords. Seed keywords are the base from where the tool will generate results. An example of some seed keywords for a make-up store will be:
Foundations
Lipsticks
Make-up Brushes
Etc.
The simplest way to describe your website is what you want: no complexity or anything. Seed keywords are just a way of introducing the tool to your niche; therefore, search volume or competition does not matter.
Using the seed keywords, Long Tail Pro will generate a long list of all related keywords. The results will be filtered (a feature not many keyword research tools contain), allowing you to skip the long task of sorting them out.
Long Tail Pro also includes the search volume and competitive keywords in its results. Thus finding usable keywords is simplified.
See how Long Tail Pro makes searching for keywords a cinch? Not only is it efficient, but the low time involved in research lets you stay ahead of your competition!
Personalized Dashboard
Everyone has a different working tactic; therefore, having the same dashboard locked universally can get tedious. Long Tail Pro, though, offers the feature to customize the main dashboard to fit your needs completely.
This added sense of personalization lets you keep the essential work-related matter visible and remove any additional information. This optimizes it and eliminates any time consumed on removing the unneeded data.
You can even use filters on your keyword research to customize any information you need. From setting the minimum monthly searches to competition ranks, you are free to choose as you please.

Long Tail Pro Review
Search Engine Results Page(SERP) Analysis
This sought-out Analysis feature is a real deal-breaker. Not only does this feature give you a detailed analysis of a keyword, but lets you view its competitiveness as well as the sites it is being used at.
What makes it even more helpful is the simple way to use it. Input your chosen keyword, and the next minute you will have your detailed breakdown ready for review.
This tool gives you the information you need to judge how serious the competition is.
SEO Difficulty
Keyword Research yields a bunch of results, the main one being the competitiveness of a keyword. Long Tail Pro gives you a color-coded impact on the competition results, where the color-coding shows the keyword's difficulty.
Using this with the proper filters is a great way to help you determine the value of a particular keyword. Doing so will let you predict how valuable the keyword may be or prove to be.
This is a handy feature as it allows you to build a good plan for your website or blog.
Keeps an eye on competitors
Understanding competitor's work is an important component of keyword research and website competitive analysis, as it helps businesses identify potential areas they haven't considered that could provide new opportunities.
Plus if you analyze what keywords competitors are using or ranking highly for can give businesses insight into how to optimize their own content for favorable results. 
Long Tail Pro takes the difficulty out of researching a competitor's keyword strategy by creating a list of keywords that competitors are currently targeting and ranking for. This way, businesses can get an idea of what their competition is doing and plan accordingly to create content that gives them the edge.
Paid Advertising Metrics
A feature specially designed for e-commerce websites. It may seem confusing and useless for those focused on researching keywords, but it can be helpful for eCommerce websites.
This particular feature is excellent for researching a niche you are keen on entering. It can help you list several related keywords and even estimate the difficulty of running a paid campaign.
Rank Tracker
Long Tail Pro has a nifty feature that allows you to track your keywords over periods. This feature is beneficial for those of you running SEO campaigns. The way to use this feature is simple.
You need only add your keywords to the list for this feature to start tracking them. You can then view the details of the individual keyword over time and monitor them.
The number of keywords you can track depends on which plan you are subscribed to.
Increase the AdSense revenue.
AdSense revenue is a great source of income for many website owners.
One way to increase AdSense earnings is by continuing your keyword research and targeting keywords with high search volume but low competition. With Long Tail Pro, you can do just that.
The tool assists in finding these types of keywords so that you can use them on your website or blog and maximize your AdSense revenue.
Backlink Analysis
Audit your website's backlinks and get a detailed analysis of all the links pointing to your website. This feature will let you evaluate if any of the links pose a risk to your website or not.
Track every link and check its authenticity. Fix broken links, disavow suspicious links and more with the help of this feature.
Plus, you can also compare your website's backlinks against your competitors'. See which links they are using and get ideas on how to take advantage of them without running the risk of getting penalized.
Long Tail Pro Pricing Plans
Long Tail Pro has different plans available. It can be billed annually or monthly, whichever suits your preference. These plans are considerably cheaper as compared to other research tools.
It is also true that they are not cheap, yet for a great tool like Long Tail Pro, the price is quite affordable. The available plans are:
Annual Starter Plan
Pro Plan (Annual)
Annual Agency Plan
These plans are considerably cheaper if played yearly. Long Tail Pro also offers a free 7-day trial for those unsure about investing in this research tool.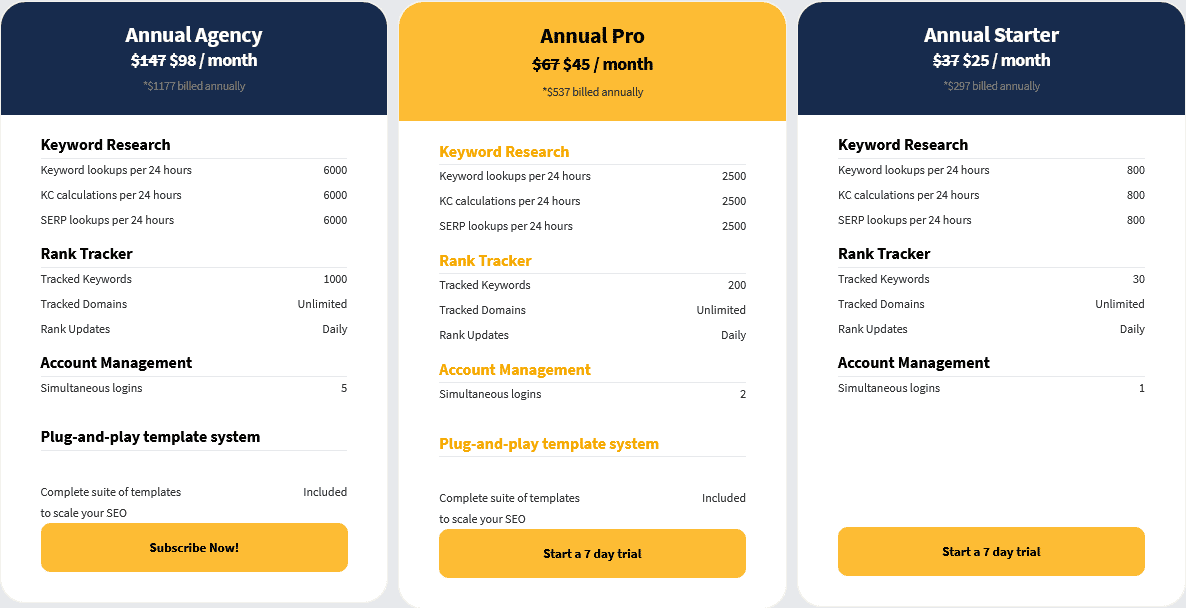 Long Tail Pro Customer Support
Long Tail Pro has a very responsive support team. Any queries or issues are resolved as fast as possible. Support can be reached throughout the week, no matter the hour.
Support is limited during the weekend, but each query is answered within 24 hours.
The tool subscription also comes with free videos on how to use the tool and step-by-step guides on how to use the different features of the tool.
The support team also handles a blog regularly updated with tips and tricks as well as various tutorials.
Why are long tail keywords preferred?
Long-tail keywords include more than three words and are more specific to your niche. They are more valuable as they refer to particular products.
They are used as common keywords, but since they have to mire value, they can pull in more targeted traffic than short-tail keywords.
Which long tail pro subscription plan is the best?
If you are running a site or a blog, the Starter or Pro plans are right up your alley. Not only do these plans cost less, but they also provide a good amount of features.
An agency Plan is what you need to choose if you are running multiple websites as it allows a much greater range of features.
Wrapping Up
Overall, Long Tail Pro is a great tool to rely on for Keyword Research. It may be slightly daunting, but with simplified guides and support available, it is highly recommended that you give this tool a chance.
Beginners may feel a bit lost using Long Tail Pro, but a slightly experienced SEO will find much help from this tool.
Long Tail Pro not only finds keywords but also analyses the Google search page. Long Tail Pro results are also exact, which is an excellent help in planning a good strategy for your website.
Subscribe for
the latest updates