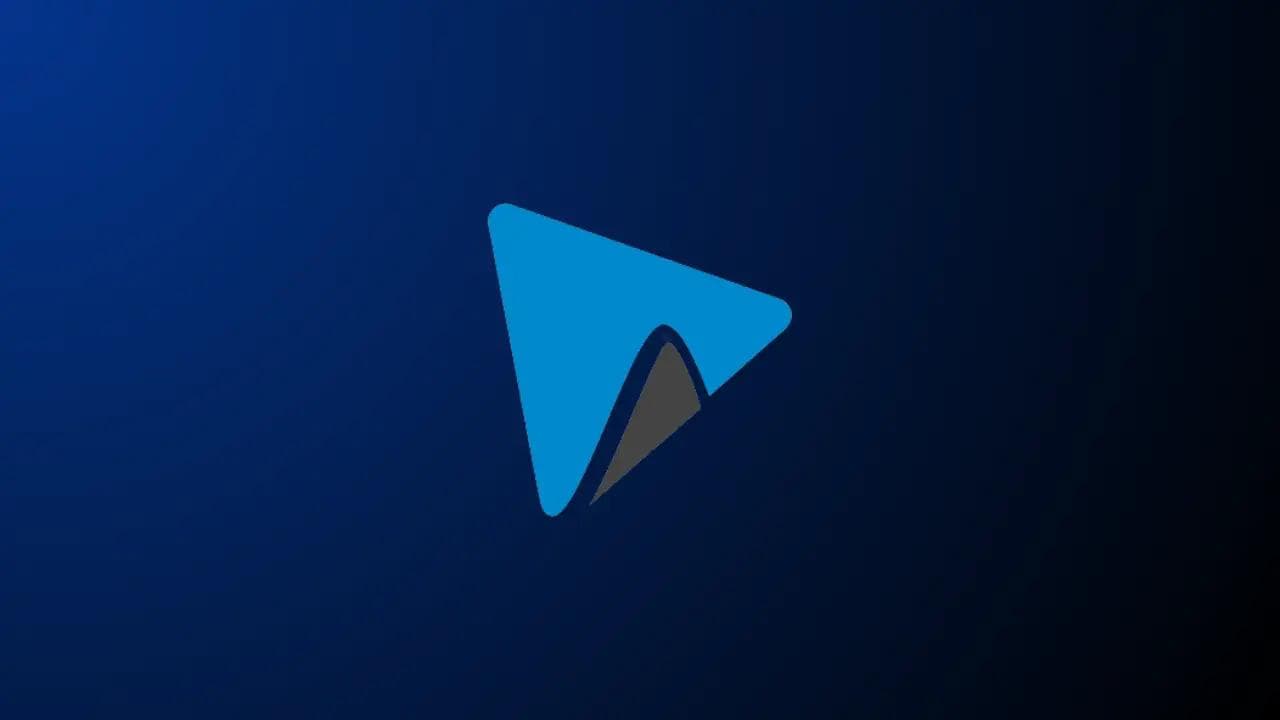 WeVideo Review [2023]: Ultimate Features and Pricing

Unbeatable Software
June 15, 2023 at 12:15 AM
Welcome to WeVideo Review 2023! We're here to help you find the ultimate video editing solution.
Video content has a major impact on shoppers. An impressive 85% of millennials make purchases after watching branded videos – showing just how influential this type of media can be!
So taking the time to craft the perfect video for your business is essential to set yourself apart from the competition. WeVideo takes the responsibility of crafting professional video content seriously. WeVideo provides a comprehensive set of features and simple-to-use tools for editing, publishing, and managing your videos.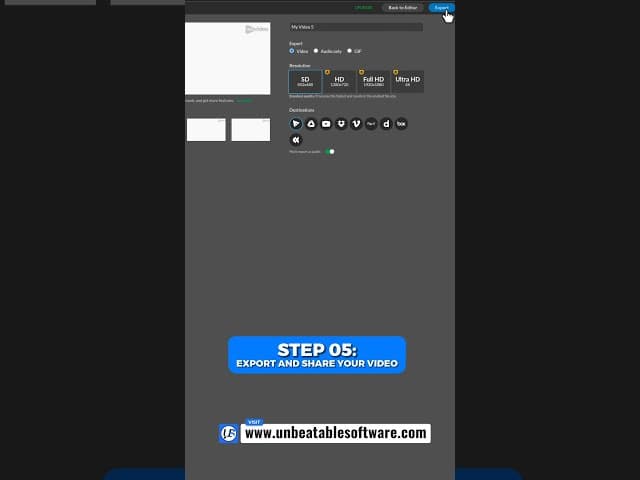 We'll tell you all about WeVideo features and pricing plans so that you can decide if WeVideo is the right choice for you.
Let's dive in and learn more about WeVideo!
How to use WeVideo video editor and maker online
With a user-friendly interface, handy templates, and helpful tutorials, WeVideo makes video editing easy. Let's explore how to use WeVideo so that you can create professional-looking videos in no time.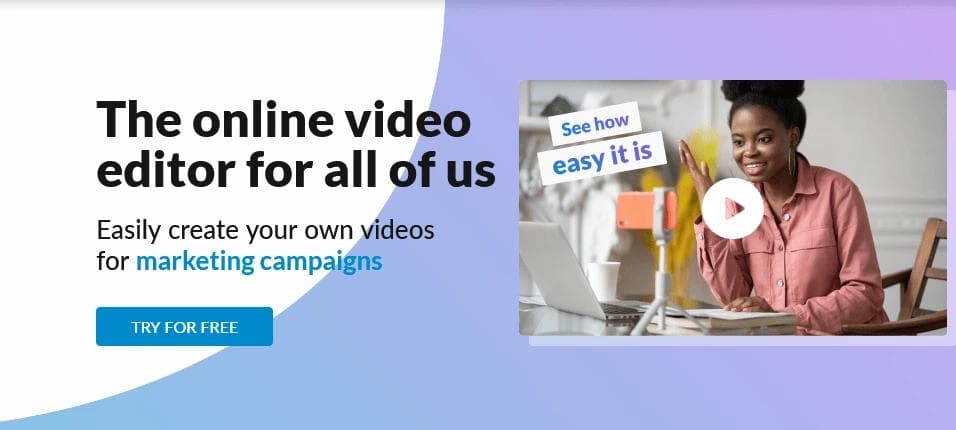 Signing Up for WeVideo
The first step to using WeVideo is to sign up. You can choose from four different plans, including a free version with limited features. Once you have selected your plan, you must provide your email address and create a password. After this is complete, you will be taken straight to the editor!
Using the Video Editor
WeVideo has a simple yet powerful drag-and-drop editor that allows users to assemble clips to create their videos quickly.
To get started, simply click on the "Create New Project" button in the upper right corner of the screen. You will then be taken to a page where you can select various options such as aspect ratio, resolution, frame rate, and more before starting your project.
From there, it's just a matter of adding clips by dragging them into the timeline at the bottom of the screen. You can also add sound effects or music tracks by clicking on the audio tab at the top of the page.
Once all of your clips are in place, and your audio is added, it's time to customize them with transitions and effects! Select one or more clips by clicking on them in the timeline view or using keyboard shortcuts such as "Ctrl + A" (select all).
You can then apply transitions or effects from within the "Effects" tab at the bottom left corner of the screen. This allows you to add animations between two clips or apply special filters, drastically improving your video's appearance.
WeVideo Notable Features:
With an intuitive interface, cloud storage capabilities and social media integration, WeVideo has quickly become a popular choice for amateur and professional video editors. Let's examine some of its key features.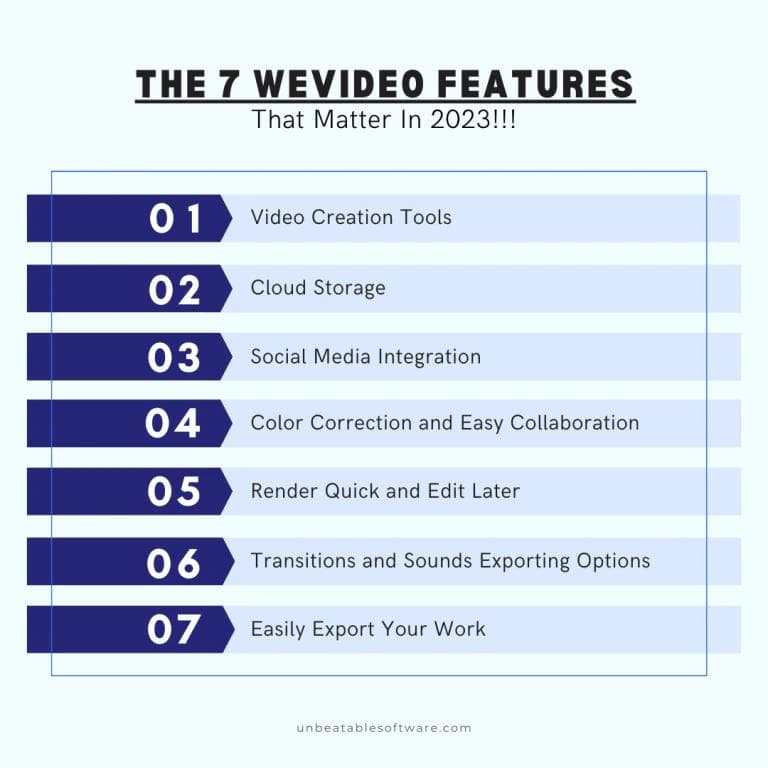 Video Creation Tools
Wevideo makes it simple to create videos with its drag-and-drop timeline editor. You can easily add photos, videos, audio files and text over your clips.
You can also adjust the speed of your videos and add transitions between scenes. Additionally, WeVideo offers a wide selection of royalty-free music and sound effects you can use in your projects.
Cloud Storage
WeVideo allows you to store your media files in cloud-based storage to be accessible from anywhere with an internet connection. This eliminates the need to transfer files between devices or worry about losing them due to device failure or theft.
It also makes collaboration easier since multiple people can access the same project simultaneously without sending large file attachments back and forth via email.
Social Media Integration
WeVideo integrates with all major social media channels to share your videos directly from the application. Once you've finished editing your video, connect your account and hit publish!
You can even schedule posts ahead to plan when your content will be shared on different channels with an excellent resource.
Color Correction Video Editing Software
There's no need to worry about color grading in WeVideo. This video editing software offers powerful tools for adjusting colors, brightness, noise reduction, contrast, and saturation.
WeVideo also offers advanced features such as pre-made color presets to help you quickly achieve the look you want for your videos. You can also add logo overlays for branding your content, add animated text, and ensure consistent visuals.
Easily Export Your Work
Once satisfied with your work, WeVideo lets you export 4K and HD quality. You can also share your videos directly to YouTube in a single click. WeVideo is also compatible with popular formats such as MP4, MOV, and AVI.
Plus, WeVideo allows you to take your projects with you. Download WeVideo mobile apps for iOS and Android devices and keep editing wherever you are.
Video Editing Features
Loaded with many features, WeVideo makes editing videos a breeze. What you can do with WeVideo:
Crop, trim, delete, and edit videos
Merge multiple clips into one scene
Add text, images, motion titles, and logos to your videos
Adjust brightness, contrast, saturation, and color correction effects
Add transitions between scenes
Create educational videos, short videos, speed up or slow down video clips
Add music and sound effects
Export and share videos in HD or UHD quality
Share content directly to social media platforms
Add logo overlays for branding
Still, this scratches the surface of WeVideo's capabilities. We only need to bring your vision to life!
Transitions and Sounds Exporting Options
Offers a rich selection of transition and sound effects options of multiple tracks with an easy editing process. WeVideo has a library loaded with royalty-free music, allowing you to pick the perfect track for your project.
Boost your creativity with WeVideo's library of sound effects, transitions, and graphics that you can use to add zing to your videos.
More than just WeVideo supports several export options.
This WeVideo review touches on the key features and capabilities WeVideo has to offer in video editing.
Top-Notch Customer Service
The Best thing about WeVideo is that it comes with top-notch customer service.
WeVideo offers online tutorials and support articles, as well as live chat and email support for all WeVideo users.
No matter what your video editing needs are, WeVideo has got you covered!
Educational WeVideo also offers an educational program for WeVideo users, which includes discounts and free access to WeVideo's premium features.
Render Quick and Edit Later
WeVideo's Quick Render feature allows you to export your videos and share them online while the background render continues editing the finer details and finishing touches. WeVideo also makes it easy for you to save drafts and come back to them later for further editing.
You pause and resume editing at any time, so you can always come back and make adjustments as needed. WeVideo also offers unlimited video length and storage and a wide range of export options. WeVideo ensures that you can get the most out of your projects!
Collaboration Made Easy
Finally, one of the best things about using WeVideo is its ability to bring together people worldwide to work on projects.
Whether you're working on a single project as part of a team or collaborating on multiple projects with different people across multiple time zones, WeVideo makes it easy for everyone involved to stay connected in real-time throughout the entire process.
Upload Different Media File Types
versatility makes WeVideo the perfect tool for your projects. WeVideo supports many media file types, including MP4, MOV, and AVI. Upload your videos, images, and audio files to WeVideo and easily add them to your timeline.
WeVideo also offers full integration with Google Drive, Dropbox, and WeTransfer, allowing you to upload media files from any of these services with a single click.
WeVideo Pricing
WeVideo offers a variety of pricing plans that are designed to suit both personal and business users.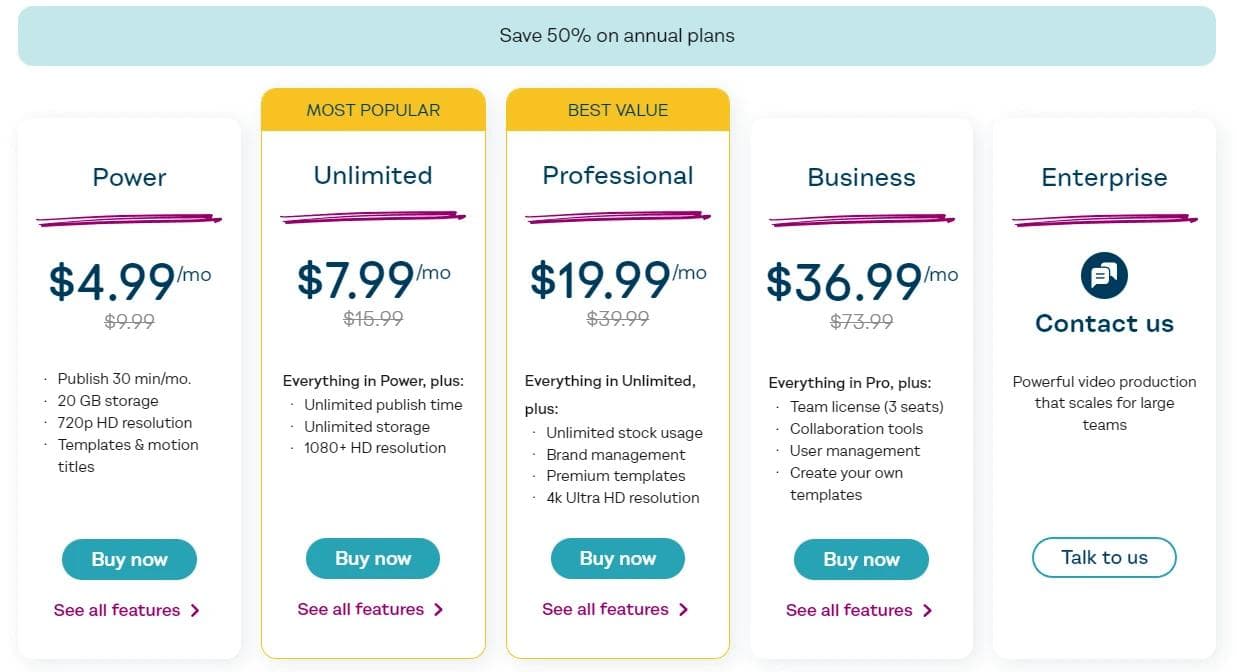 First, it offers a power mode plan allowing users to enjoy WeVideo's premium features and access WeVideo Academy.
WeVideo also offers a monthly and unlimited plan which offers WeVideo's premium features and unlimited video storage.
There is a professional plan, which is WeVideo's best value plan, as it offers WeVideo's premium features, unlimited stock usage, collaboration capabilities, and advanced analytics.
Finally, WeVideo also provides a business plan tailored to businesses' specific needs and includes WeVideo's premium features, unlimited stock usage, collaboration capabilities, and advanced analytics.
At last, for enterprises, WeVideo also offers custom pricing plans. WeVideo is incredibly affordable with pretty limited budgets of all sizes.
So, WeVideo review wraps up by saying WeVideo is a great platform for all your video editing needs.
5 Best WeVideo Alternatives
Video content is rising, and it's easy to see why. From creating engaging content to increase website traffic, videos are an effective way to reach and engage with your audience.
But if you're looking for a good video editing platform and WeVideo isn't quite working out, don't worry—there are plenty of other platforms out there:
Adobe Premiere Rush
Adobe Premiere Rush is an intuitive video editor designed for beginners and professionals. It comes with all the bells and whistles you need to make beautiful videos easily.
The interface is easy-to-navigate, with several useful features such as built-in motion graphics templates, soundtracks, voiceover recording, color grading tools, and more.
Adobe Premiere Rush also offers an array of royalty-free music tracks that can be used in your projects without additional cost.
Magisto
If you're looking for a simple yet powerful video editor that doesn't require any technical knowledge or prior experience, then Magisto might be just what you need. It is one of the most popular online video makers out there due to its ease of use, ability to create stunning videos in minutes using AI technology and automated editing options. You can choose from various templates or customize them as per your needs. Magisto also provides access to royalty-free music tracks so that you don't have to worry about copyright issues when creating your videos.
Pinnacle Studio
Pinnacle Studio is a video editor that offers all the features you need to create stunning videos. It has an intuitive interface, powerful tools for editing and post-production, and a comprehensive library of
royalty-free music tracks.
Pinnacle Studio also comes with motion tracking, green screen capabilities and 360-degree video editing to create professional-looking videos without breaking a sweat.
Learn how pinnacle studio works.
Invideo
Invideo is a great WeVideo alternative for creating stunning videos quickly. With its large library of templates, you can easily create professional-looking videos. It also offers a background music library, automatic video editing, visual effects, and more.
Invideo is a great choice for marketers and business owners who want to create professional-looking videos for their branding needs. Check out my detailed review on Invideo.
Vimeo
Vimeo's video editor is an innovative tool for creating, editing, and sharing videos quickly and easily. Its intuitive interface and powerful suite of features simplify the process of doing professional-looking projects.
Additionally, the video editor integrates seamlessly with other Vimeo products so creators can quickly upload their work to the platform or share it with others in one streamlined process. With its wide range of options, Vimeo's video editor makes it easy for anyone to become a video pro!
FAQs of WeVideo
How to use WeVideo online video editor and maker
WeVideo is an online video editor and maker that lets you create professional-quality videos with just a few clicks. Here are some tips on how to use it:
Log in to WeVideo and click the "Create a new project" button.
Select the type of project you want to create (e.g., school presentation, marketing video, etc.).
Choose a template or start from scratch.
Add your content by importing videos, photos, and audio files from your computer or cloud storage account.
Edit and enhance your content using WeVideo's built-in tools and effects.
Save your project and share it with the world!
Is WeVideo any good?
We recommend WeVideo as it is a great video editor and maker for professionals and amateurs. It's easy to use, has plenty of features, and offers a variety of templates to choose from. WeVideo also provides access to royalty-free music tracks, allowing you to create stunning videos without worrying about copyright issues. WeVideo is highly recommended for anyone looking to create professional-looking videos.
Can WeVideo replace Adobe premiere?
WeVideo and Adobe Premiere are both video editing tools, but WeVideo is designed for amateurs, while Adobe Premiere is designed for professionals.
So WeVideo cannot entirely replace Adobe Premiere. WeVideo is a great choice for those who want to create videos quickly and easily, but if you require professional-level features, you will need to use Adobe Premiere.
Which is the safest video editing app?
All video editing apps come with their security measures, and WeVideo is no exception. WeVideo has a secure login system, multi-factor authentication, encrypted data storage and other security measures to ensure your content is safe.
Is Wevideo Legit?
Yes, WeVideo is a legit video editor and maker. WeVideo is used by millions worldwide, featured in publications such as Forbes, and trusted by brands like Disney and Microsoft.
WeVideo has an excellent reputation in video editing and can be used safely and securely. WeVideo is a great choice for anyone looking to create stunning videos quickly and easily.
How expensive is WeVideo?
WeVideo has various plans to choose from, ranging from free to enterprise. WeVideo also offers discounts for students and educators. WeVideo is an extremely affordable video editing solution, so it's worth checking out to see if WeVideo is right for you!
Is WeVideo professional?
Yes, WeVideo is a professional-grade video editor and maker. WeVideo enables you to create high-quality videos with just a few clicks, giving you the power to create stunning films and presentations.
Verdict: Worth the money or not?
WeVideo definitely worth the money! By 2023 WeVideo will be even become more powerful!
WeVideo is constantly evolving and adding new features and tools, making it even more user-friendly and powerful. It is an excellent choice for anyone who wants to create professional-quality videos quickly and easily.
WeVideo's wide range of features, affordable pricing plans, and easy-to-use interface make it one of the best video editors.
Subscribe for
the latest updates