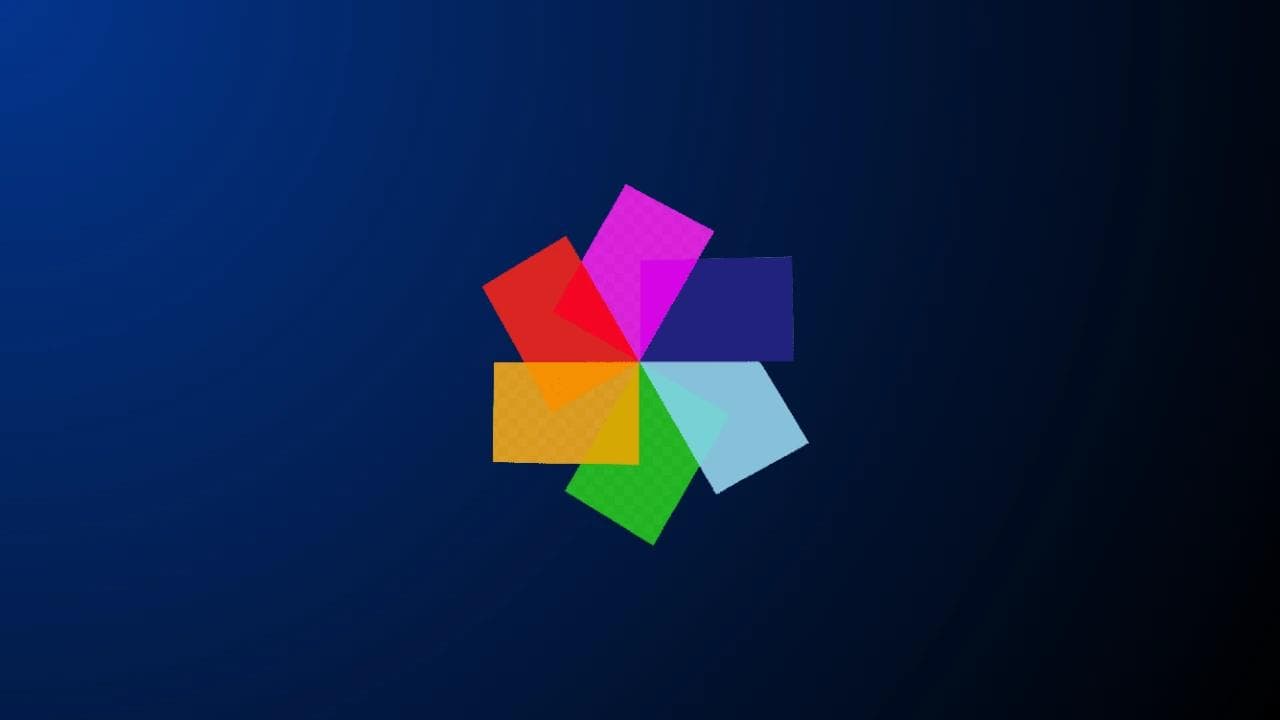 Pinnacle Studio 26 Ultimate review: Pros, Cons & Alternatives

Unbeatable Software
May 1, 2023 at 2:53 AM
Before diving into the Pinnacle Studio 26 Ultimate review, let's start with what makes this video editing software so compelling in the first place.
This review is for you if you want to create stunning videos for your clients, family, or yourself. Pinnacle Studio 26 Ultimate is packed with features to fill businesses' video content needs.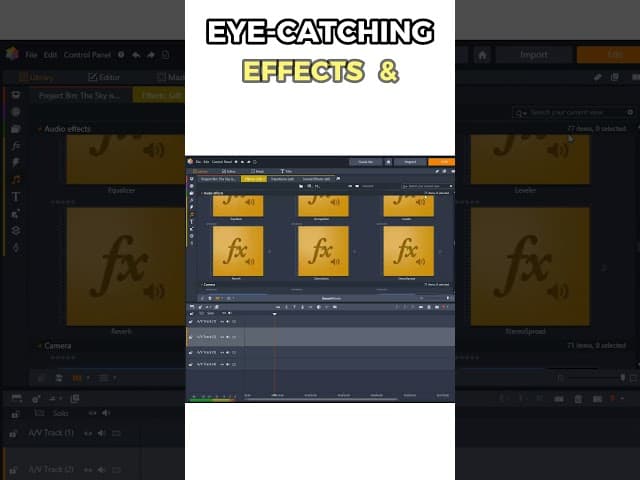 Pros & Cons of Pinnacle Studio 26 Ultimate
Pinnacle studio 26 is a result-oriented video editing software, without a doubt. But with each product there are always some cons with the pros which must not be ignored before making a purchase decision.
Pros
Easy-to-use interface
Good support for a variety of file types
Intuitive editing tools
Offers a wide range of effects and transitions
Advanced effects for more experienced users
Includes a library of soundtracks, titles, and templates
Offers plenty of tutorials to help you get started
Includes Chroma key and color correction tools
Supports 8K video
Cons
Windows only
Uneven 360-degree VR Implementation
Limited Motion Tracking
Can be expensive for home users
Newer versions are not always compatible with older hardware
OS support limitation
What's new in Pinnacle Studio 26?
Pinnacle Studio's latest update brings an expansive selection of creative options to make your videos stand out!
Make the most of MultiCam, which lets you capture and edit scenes through multiple perspectives. With Video Stabilization, any shaky footage is a thing of the past – whether it's from biking, skiing, or playing outdoors.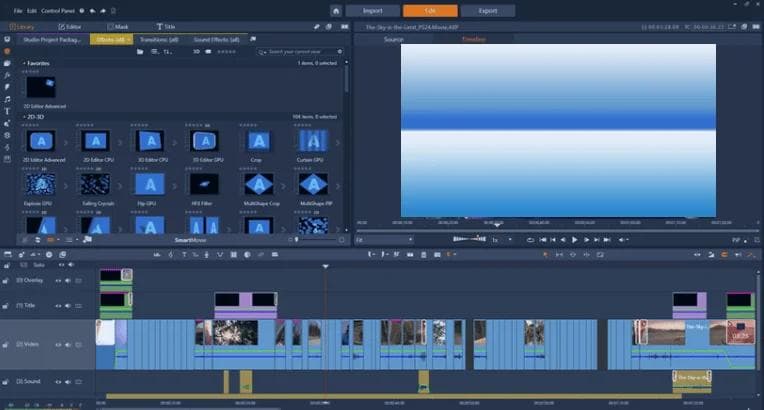 You can take advantage of the new Split Screen Video feature to make things look more dynamic; alternatively, craft 3D titles easily thanks to our Title Editor tool.
Plus, there are plenty more features available, like Stop Motion Animation and 360° editing – get ready for hours-long fun and explore all this excellent program has to offer!
Why Pinnacle Studio?
With many video editing solutions out in the market, why choose Pinnacle Studio?
Well, let's start with the fact that it has an impressive feature set. It has an easy-to-use timeline editor, a versatile audio mixer, and many other features like motion tracking and a chroma key.
These features make it easy to create incredible videos quickly. And the best part? All of these features come together in an intuitive and user-friendly interface.
One thing I found particularly helpful is the "advanced" section. This section allows you to make more detailed video adjustments, such as color correction and audio balancing.
Pinnacle Studio 26 comes with extra "control." it ensures you have access to all the necessary tools to create videos that are simply stunning.
Pinnacle Studio 26 Ultimate Features
This Pinnacle Studio 26 Ultimate version includes all the features from Pinnacle Studio Plus and more! Remember that Pinnacle Studio 26 offers all the features from the previous versions but with an even more powerful and flexible interface.
Let's look at some of the powerful features of this software.
Enhanced Product Performance
Incredibly faster performance, supporting more GPU accelerated effects and enhanced audio mixer.
Significant strides have been made to enhance user experience, from lightning-fast software launches and unrivaled resource utilization to timely interface previews and accelerated import/export speeds.
Unleash Your Creativity
The Pinnacle Studio 26 Ultimate version is a complete suite of tools for the creative video editor.
It includes more than 1500 effects, transitions, titles, and templates; new color grading tools; over 20 plugins for popular applications like Adobe® Photoshop®, After Effects®, and more.
It also includes BorisFX® and NewBlueFX filters and a new video mask feature that helps you easily apply effects only to specific areas of your video.
Unique filters and blend modes
Blend modes are a great way to enhance your videos with creative looks. Pinnacle Studio 26 Ultimate offers over 20 blend modes, including luminosity, saturation, linear burn, screen, and more.
You can also add special color effects with the help of Pinnacle Studio's filters. These filters include vignette, blur, and sharpen.
Smart object tracking
A good deal of time can be saved by using the object tracking feature. Object tracking eliminates the need to manually adjust objects after they move or change size in your videos.
Generally, it's time-saving and super helpful for all video creators.
The software also includes motion tracking, which allows you to add objects or text that follows a particular object as it moves around in the video.
Motion animation
Let's talk about motion animation. Pinnacle Studio 26 Ultimate contains over 60 motion graphics, text, and title animations that you can use to create captivating videos.
With motion animation, you can add 3D titles to your videos with just a few clicks.
Motion animation also allows you to create more dynamic videos with the help of motion paths and motion keyframe editors.
360-Degree VR Video
Creating a 360-degree Virtual Reality (VR) video with Pinnacle Studio 26 Ultimate is as simple as ever! You can easily adjust the position and direction of your camera to transport viewers into the scene, making them feel like they are right in the middle of it.
Create meaningful connections with your audience by immersing them in the moment. Showcase landscapes or buildings from unique perspectives and make each user's VR experience unique and personal. And with Pinnacle Studio 26 Ultimate's intuitive features, you can save time and energy when making beautiful video content.
Audio Balancing
The audio balancing feature in Pinnacle Studio 26 Ultimate lets you easily adjust the volume of each track individually.
You can also add audio effects, such as reverb and delay, to make your video sound better.
These features make Pinnacle Studio 26 Ultimate an ideal choice for professional and amateur video editors.
Pinnacle Studio 26 advanced effects
Being the latest version of the Pinnacle Studio, it provides the user with various advanced effects that are sure to make your video stand out.
1. Chroma Key
Chroma key is an advanced effect that allows you to remove the background from a video clip and replace it with another image or video—used to create special effects, like making it appear as if someone is flying or walking on water.
2. Green Screen
This effect is often used in movies and TV shows to create special effects, like making it appear as if someone is teleporting or traveling through time.
Green screen is also commonly used in weather reports, as it allows the meteorologist to be superimposed over a map of the area they are discussing.
3. Color Grading
This effect adds a professional look and feels to your video. Color grading can adjust a video clip's hue, saturation, and brightness to make it look more cinematic.
4. Split Screen
Create individual sections of the screen to focus on multiple areas at once. Offer an engaging and creative way to tell a story or present facts.
5. Time Lapse
Time-lapse speeds up a video clip so that it appears to move faster than usual. They are generally used to capture a long process in a short amount of time.
Pinnacle studio 26 free download
Pinnacle Studio 26 is an advanced video editing program but unfortunately, it isn't available as a free download. However, you can get a 30-day trial version of the software to evaluate its features before making a purchase decision.
You can download a free trial version of Pinnacle Studio 26 from the official website. The trial includes access to all features and tools, but some features are limited. After the end of the trial period, you will have to purchase a license to continue using the software.
Alternatively, you can also download the Pinnacle Studio Plus and Pinnacle Studio Ultimate editions, which have additional features compared to the standard version.
Once you have downloaded and installed the software, you can start creating your videos by exploring its tools and features. You can quickly create incredible videos with the program's intuitive interface and tutorials.
Pinnacle Studio 26: Advanced Video Editing Made Easy
From advanced audio tools to sophisticated color grading options and more, Pinnacle Studio 26 is the perfect choice if you are an aspiring filmmaker.
Powerful Features at Your Fingertips
Pinnacle Studio 26 has a wide range of features that make it easy to create professional-level videos. The intuitive editing interface allows you to add text, graphics, and transitions quickly and easily edit audio and video files.
You can also use powerful color grading tools to adjust the look of your video footage and ensure it looks right before exporting it. Additionally, Pinnacle Studio 26 supports 4K Ultra HD resolution, so you can be sure that your projects will look stunning on any display!
Advance Audio tools
Pinnacle Studio 26 has a complete set of advanced audio tools, such as sound equalizers and noise reduction filters, for those who want even more control over their projects.
Use the built-in chroma key tool to easily add special effects and overlay images or footage onto your videos. Plus, if you're working with multiple cameras or need extra help getting started, Pinnacle Studio 26 also offers support for multi-cam editing and tutorials that will guide you through every step of the process.
Seamless Sharing & Collaboration
Once you've finished creating your masterpiece in Pinnacle Studio 26, sharing it with friends or collaborators is easy, thanks to the built-in export options.
With just a few clicks, you can save your project in popular formats such as MP4, MOV (for YouTube), or AVI (for Vimeo). You can also export directly to social media platforms like Facebook or Instagram so everyone can see your work! Plus, if you're collaborating with other filmmakers on a project, Pinnacle Studio 26 allows users to share their edits via Dropbox or Google Drive.
Can My PC Run Pinnacle Studio?
To run Pinnacle Studio, your computer should have a minimum of 8 GB RAM, an Intel Core i5 processor or equivalent, at least 10 GB of free hard drive space, and a dedicated graphics card with 2GB of video memory.
Additionally, your system should be running Windows 10 or Mac OS X 10.13 or higher.
Pinnacle studio 24 Vs. Pinnacle studio 26 Which is better
The price point is the first significant difference between the two versions of Pinnacle Studio.
Pinnacle Studio 26 is a bit pricier than Studio 24, but it's been designed to offer a wealth of powerful features and tools that make video editing more accessible and intuitive.
The Premium Edition of 24 includes motion tracking, chroma key green screen effects, and Multicam editing. The Premium Edition of 26 includes features like stop motion animation and proDAD Mercalli V4 image stabilization.
When it comes to usability, both versions offer similar levels of user-friendliness. Both versions come with tutorials on how to use the software, making it easy to get started even if you're a beginner video editor.
Finally, regarding performance, both versions offer similar results regarding rendering speed and output quality. Both versions can export videos in HD quality without any noticeable lag or choppiness in playback quality.
However, since the latest version (26) has newer features such as motion tracking and stop-motion animation, it may perform better than its predecessor when editing more complex projects that require these advanced tools. 
I have written a detailed guide on Wevideo.
For more information, please check the system requirements listed on Pinnacle's website. Pinnacle Studio is an excellent choice for home video enthusiasts and professionals alike. With powerful editing tools, 4K support, and an intuitive user interface, it's easy to create stunning videos with Pinnacle Studio. Whether you're a beginner or an experienced editor, Pinnacle Studio has the features.
Subscribe for
the latest updates