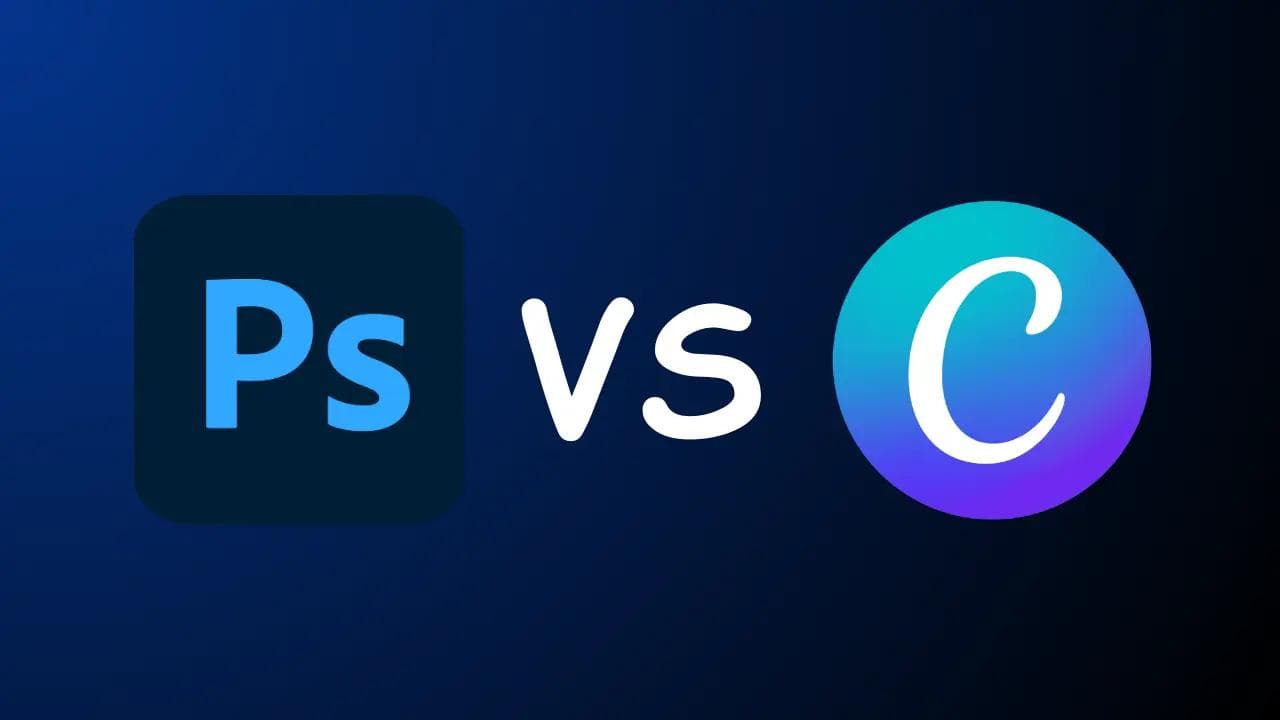 Photoshop vs. Canva: Which is the right choice?

Unbeatable Software
September 5, 2023 at 2:48 PM
In a world where every smartphone user is suddenly a 'designer' and every laptop owner claims to be an 'artist,' two giants emerge, battling for supremacy.
Hey there, Have you ever felt torn between the sophisticated allure of Adobe Photoshop and the breezy charm of Canva? Yeah, me too.
Let's paint a picture, Imagine Adobe Photoshop as that classic artist—meticulous, and detailed, with brushes and tools that can craft a masterpiece from scratch. No doubt, years of legacy, endless possibilities, and a touch of complexity. It's like the grand old library of design, with secret corners waiting to be discovered.
Now, enter Canva. Think of it as the trendy cafe down the street with the best espresso shots. Quick, vibrant, and with an answer to your every creative whim. No fuss, just some drag, and drop, and you're set to impress. It's the modern, quick-fix solution to our visual needs.
So, here we are, about to dive deep into the Photoshop vs. Canva debate. Remember that it'll not be a traditional article, the sequence will be like this: First, we will cover the basic details of each from founders to features. Later we'll explore the difference and compare each from neck to neck.
So, Grab your favorite mug, settle in, and let's chat about which one might just become your next go-to design buddy.
Adobe Photoshop: A Deeper Look
Adobe Photoshop, the brainchild of Adobe Systems, has been the undisputed champion of the graphic design world since its inception in 1988.
From professional graphic designers and photographers to budding artists, Photoshop has transformed the digital design landscape over the decades.
Core Features of Adobe Photoshop
Layers: The foundation of Photoshop's magic, layers allow for non-destructive editing and compositing. Each element can be worked on individually, giving designers the utmost flexibility.
Brushes: With a wide array of customizable brushes, artists can paint, sketch, and texture their designs. The ability to import and create new brushes further enhances creative possibilities.
Selection Tools: From the Magic Wand to the Lasso, these tools allow designers to select, isolate, and edit specific parts of an image.
Retouching & Repair Tools: With tools like Clone Stamp, Healing Brush, and Spot Healing, imperfections can be seamlessly removed, and images can be retouched to perfection.
Text & Typography: Photoshop provides extensive text editing capabilities. With character and paragraph panels, typography becomes a design asset.
Filters & Effects: Want to add a blur, sharpen, or maybe a dreamy glow? Photoshop's filters and effects can transform an image's mood and style in seconds.
Vector Tools: Photoshop also supports vector-based shapes and tools, ensuring crisp, scalable designs.
Smart Objects: These allow users to preserve an image's source content, enabling non-destructive editing and transformations.
3D Design Capability: Dive into three-dimensional design with Photoshop's integrated 3D tools, bringing another dimension to your creative projects.
Animation & Video Editing: Yes, Photoshop isn't just about still images. It also supports basic video editing and frame-by-frame animation.
Extended Features & Integration
Camera RAW: Photographers will appreciate Photoshop's integrated Camera RAW editor, allowing for precise editing of RAW image files.
Adobe Creative Cloud Integration: Being a part of the Adobe suite, Photoshop integrates seamlessly with tools like Illustrator, InDesign, and Premiere Pro, creating a unified workflow.
Extensible with Plugins: Enhance Photoshop's capabilities with countless plugins, from advanced filters to specialized design functions.
Overall, Adobe Photoshop, with its vast array of features, remains a titan in the design realm. It caters to professionals who require intricate tools and functionalities. Its learning curve might be a bit steep, but the results and possibilities are unparalleled.
Canva: An Insightful Glance
Heralding from Sydney, Australia, Canva is a graphic design platform founded by Melanie Perkins, Cliff Obrecht, and Cameron Adams in 2012. Starting initially as "Fusion Books" during Melanie's university days, it pivoted into becoming Canva, the design tool we recognize today.
If you want to earn some $$ using Canva and AI, then explore this opportunity:
Aimed at simplifying design for everyone, Canva has since achieved global recognition, making graphic design accessible to users regardless of their expertise.
Key Features of Canva
Drag-and-Drop Interface: The heart of Canva's success, this user-friendly feature ensures a seamless design experience even for complete beginners.
Templates: Thousands of pre-designed templates catering to a multitude of purposes, from social media posts to presentations and beyond.
Elements & Graphics: An exhaustive library of vectors, illustrations, shapes, and stickers to spice up any design.
Photographs: Integrated stock photo library, with both free and premium options, eliminating the need to search elsewhere for images.
Fonts: A rich selection of typefaces with advanced text editing tools, allowing users to play with typography in a myriad of ways.
Colors & Styles: Customizable color palettes and style suggestions to ensure cohesive and appealing designs.
Video & Animation: Canva is not just about still graphics; users can integrate video, animate objects, or even create GIFs.
Collaboration Tools: Users can share their designs, get feedback, and collaborate in real time, making team projects a breeze.
Print & Publish: Directly publish designs to social media, or use Canvas print service for physical copies, ensuring a streamlined workflow from design to dissemination.
Brand Kit: For businesses, a brand kit can be set up to ensure brand consistency across all designs. This includes logos, color schemes, and designated fonts.
Integration & Extensions
Canva Apps: Extend Canva's capabilities with various apps such as Pexels, Pixabay, Google Maps, QR code generator, and more.
Cloud Storage: All designs are automatically saved in Canva's cloud, ensuring no loss of work and accessibility from any device.
Photoshop vs. Canva: The Ultimate Comparison
The Artisan vs. The Trendsetter
Adobe Photoshop: Widely hailed as the Mona Lisa of graphic design software, Photoshop has a rich tapestry of tools that cater to the detailed artist in you. If Michelangelo had software to paint the Sistine Chapel's ceiling, he'd probably pick Photoshop. With its versatile layers, a comprehensive range of brushes, and meticulous editing capabilities, it's the go-to for professionals seeking pixel-perfect precision.
Canva: Enter the world of Canva, and it feels like you've just walked into a pop-up design boutique. Stylish, effortless, and oh-so-modern. With its intuitive interface, a myriad of templates, and swift design solutions, Canva is the darling of social media influencers, bloggers, and small businesses. Need a snazzy Instagram post or a catchy flyer? Canva's got your back.
Ease of Use: The Learning Curve
Adobe Photoshop: Let's be real—Photoshop comes with a steeper learning curve. It's like learning to play a grand piano; initially daunting but incredibly rewarding. With endless tutorials available, patience is key, but the creative possibilities? Limitless.
Canva: It's the ukulele of design tools—easy to pick up and play a tune! Its drag-and-drop functionality ensures that even the most non-design-savvy individuals can create professional-looking designs in a jiffy.
Pricing: Wallet Warriors
Adobe Photoshop: A premium tool with a premium price tag. Subscription-based, it often comes bundled with other Adobe tools. It's an investment, but for professionals, it's often deemed worth every penny.
Canva: While Canva offers a robust free version, the Pro variant unlocks a universe of premium assets and features. For the occasional designer, the free version might suffice. But for the frequent user, Canva Pro can be a game-changer without breaking the bank.
Versatility: The Swiss Army Knife vs. The Stylish Multi-Tool
Adobe Photoshop: From photo retouching, and digital painting, to intricate graphic design, Photoshop's capabilities are vast. It's a multi-faceted gem that can adapt to almost any creative requirement.
Canva: It thrives in creating visually appealing designs swiftly. While perhaps not as intricate as Photoshop, its strengths lie in its templates, speed, and convenience.
Frequently Asked Questions
Why do many professionals prefer Photoshop over Canva for detailed projects?
While both platforms have their merits, Photoshop provides an advanced level of precision, layers, and tools specifically tailored for intricate design and photo manipulation tasks.
Is Canva's Pro subscription worth it compared to a Photoshop subscription?
This depends on your needs. Canva Pro offers a plethora of premium templates, graphics, and features. If you're primarily into quick graphics, social media posts, or non-complex design tasks, Canva Pro might be more value for money. However, for in-depth editing and professional design work, Photoshop's subscription holds its weight.
How do both platforms fare in terms of collaborative features?
Canva is inherently built for collaboration, allowing real-time edits, comments, and team designs. Photoshop, as part of Adobe's Creative Cloud, offers collaborative features, but it might be a bit more segmented compared to Canva's direct approach.
Can I integrate third-party apps or extensions with these platforms?
Photoshop allows for a variety of plugins to enhance its capabilities. Canva, on the other hand, offers integrated apps within its platform to boost functionality, from stock photos to special design elements.
Are there tasks where it makes sense to use both Photoshop and Canva?
Absolutely! For instance, a designer might use Photoshop for detailed image manipulation and then import the result into Canva to quickly assemble a social media post or presentation using Canva's user-friendly interface and templates
Verdict | The Perfect Choice
Roll things up!
For those looking to swiftly craft basic designs, banners, or posters, Canva stands out with its intuitive interface and rich template library, making design accessible to all, irrespective of their expertise. On the flip side, when the project demands detailed editing, layers, and pinpoint precision, Photoshop emerges as the undisputed champion, offering a depth and versatility unparalleled in the design world.
In essence, your design journey might start with Canva's simplicity and evolve with Photoshop's complexity. Both tools have their unique strengths, and understanding when to utilize each is the key to unlocking your creative potential.
Subscribe for
the latest updates