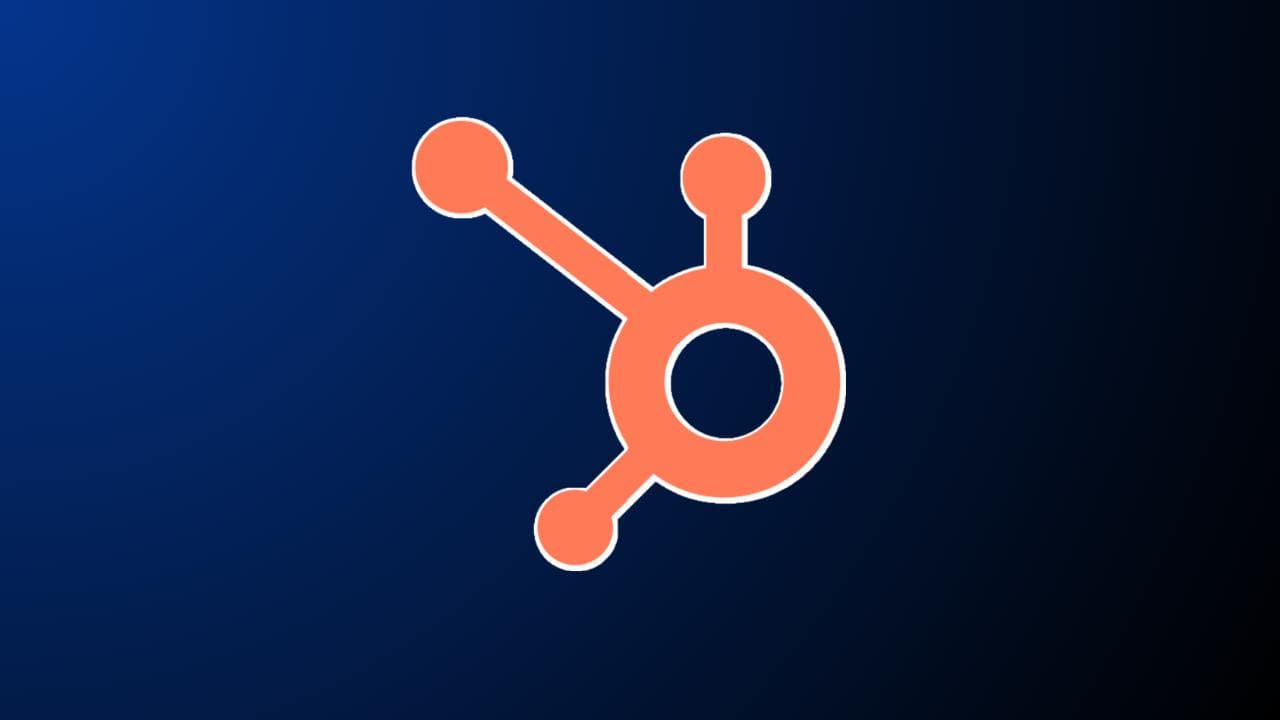 HubSpot Review 2023: Can businesses Grow With It?

Unbeatable Software
May 1, 2023 at 7:06 PM
Business automation tools are in my blood. Being an affiliate & influencer marketer, I always love buying expensive tools for growth. And this HubSpot review is part of that journey.
Some were money wasters while others increased ROI to 10x. In the end, I learned wrong buying decisions could turn a worthy tool into the dark. Here I will share my experience to find if it's the right time for your business to buy HubSpot marketing and automation tools. 
Let me start from the beginning. As a small business struggling to improve customer relationships management and scale sales, I came across Hub Spot, well about the 2nd quarter of 2018. Look at what I saw there: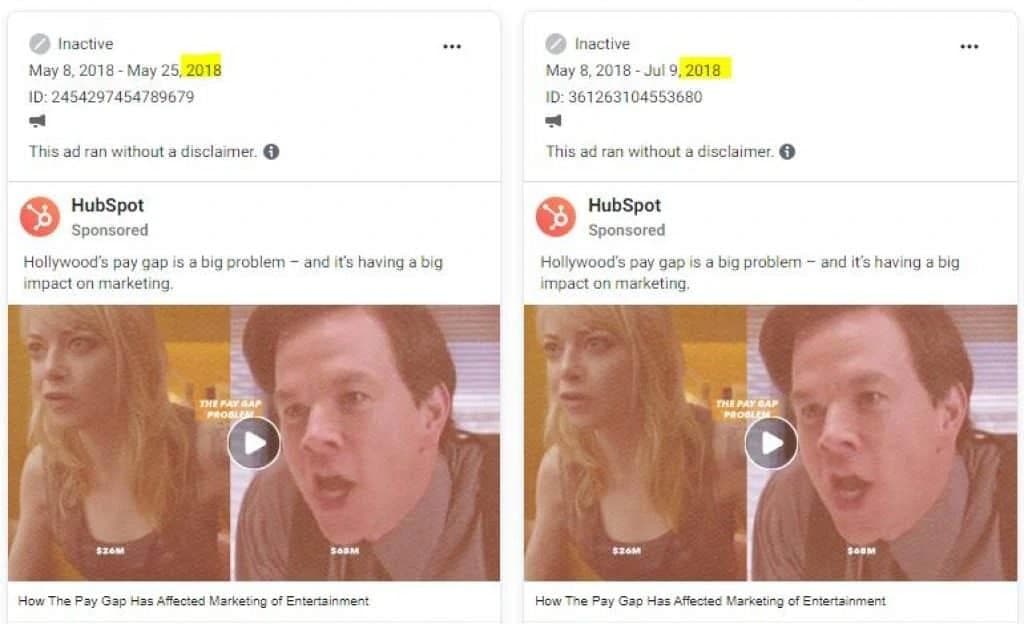 The video was quite interesting. It was something I was looking for in my business. Since then, my businesses have used HubSpot. It's like that still in 2023.
HubSpot Review 2023: Is it really that good?
Today it's very difficult to get this ranking, so it's overall a good software for your business CRM and Sales.
If you are in a rush, then you can try HubSpot for free today and discover if your business needs HubSpot to grow and scale
To point HubSpot assists in streamlining every business customer information and sales in a single program.
The main reason for businesses joining Hub Spot is their free subscription. They offer businesses to join them for free and become paid subscribers after getting a good ROI from Hub Spot.
I believe you now know the basic why and how to join Hub Spot, so now let's discover how to use Hub Spot and what features they offer to businesses. Most importantly, does your business need Hub Spot now?
My opinion is to join their free program, and discover and learn how to use it after getting everything streamlined, move to their paid subscription and super scaling mode. Start for free, grow your business and then become a paid subscriber.
Community Value and Customer Support
Hub Spot has an award-winning Legendary Customer Support. Best of all customer supports I have dealt with.
They have a variety of learning materials and a community of sale persons for you to become like them.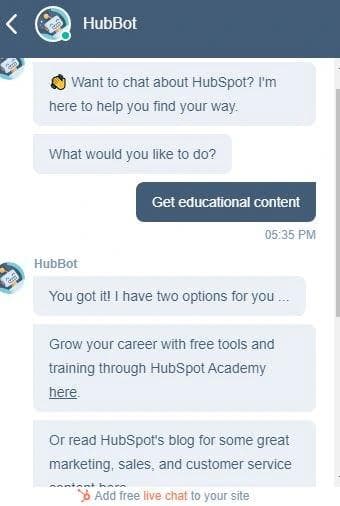 What makes them the best CRM is their user experience. Over the past years, they have now got
100,000+ customers in over 120 countries
6 Languages
2.6M Social Users
650+ Integrations
260k Registered attended
330k Certified professionals from Hub spot academy
HubSpot Enticing Growth Features
Free HubSpot CRM
It's best for small businesses looking for basic CRMs like email, tracking, and pipeline management. With free hub spot CRM, you get access to build tools, including
Company insights
Contact management
Outlook and Gmail integration
Email tracking
A couple of free tools for marketing practices like ads management and email marketing. Free Tools for sale include team email, reporting dashboard, live chat, and email template.
The free version also allows unlimited users and 1 million contacts storing ability. Service-focused teams get a lot of benefits from the free version of Hub Spot. If you are in service, you shall explore free HubSpot CRM.
All other CRMs provide additional benefits along with free CRM. Let's not waste time and see about additional features other CRMs offer along with the free benefits of CRM.
Marketing Hub
It helps to grow traffic, run inbound campaigns effectively at scale and get more leads. It comes with marketing automation and lead generation and offers 3 different packages.
As a test, I will suggest you try their $45 package. In this package, you will receive Free Tools plus three more tools sets namely
Attract audience attraction
Understand your leads
Engaging your leads
Sales Hub
With the sales hub, it all becomes automated, so now you have to focus only on closing deals and growing business. It boosts productivity and shortens deal cycles just like ClickFunnels.
It is designed with 3 different packages for businesses to choose from according to their need and budget. The focus is on the following:
Assistance to close more deals
Deep relationships establishment
Manage pipeline effectively
Services Hub
It's similar to a service hub and helps to keep customers for business growth. Here the main focus is to enable businesses with;
Scale Customer Support
Unite office teams
Access to email support as well as phone support
Give proactive support to customers
Make your customers recurring and happy
CMS Hub
With CMS hub, you can create, edit and develop optimized websites, and fun facts with or without a developer. Basically, it's your content management software, easy to use, and assists marketers with
Optimize, update and create web pages
For developers to code using tools
Built a website best customer experience
User Reviews
Before writing about my experience, I searched what the market says about Hub Spot. It was stunning to see end positive and negative reviews.
Upon studying them I found some fascinating things like all negative reviews were from a specific type of business.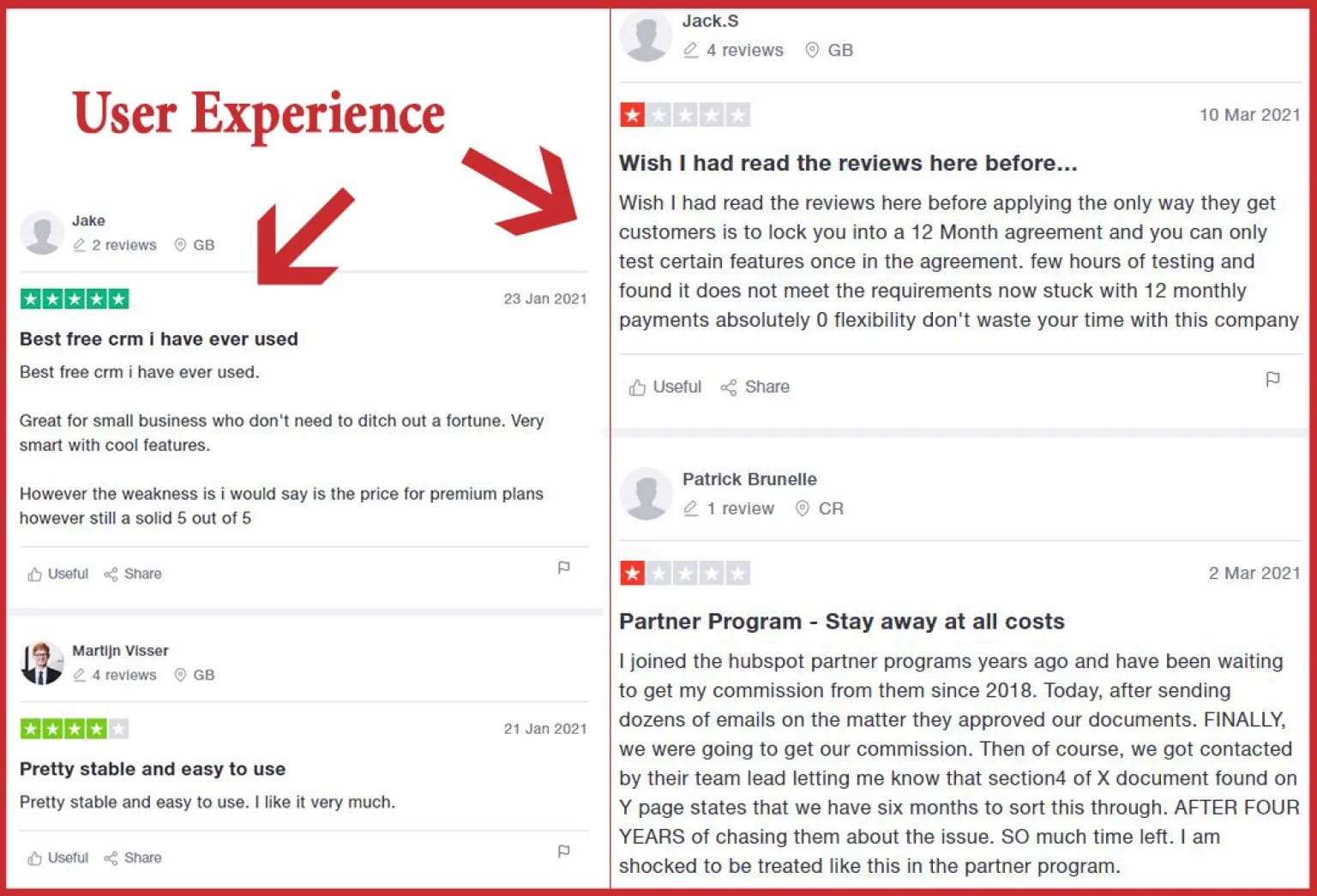 Here what I observed is they jumped to premium packages without even knowing how it all works. Ask yourself Which Package of Hub Spot you Shall take?
There are cases where some businesses jumped into their enterprise package without even knowing what it's all about and then expected to get everything the way they want. So was it really a rational decision? While on the other hand, if you are violating the terms of service, then why shall they pay you?
In my experience, if you know in which direction you are going and you have planned the end results, then such an incident won't take place.
And to take a rational decision, we conduct research, so discovering FREE CRM is the best way to avoid such cases.
As a Hub Spot user, I will say you shall join the Free Hub Spot CRM before getting into any paid thing or another way to learn from their educational content and then plan outcomes before taking any paid packages.
Who Shall Take HubSpot?
Hub Spot is for every business looking forward to growing and scaling. The main question is, Which Hub spot version shall you buy?
Free Hub Spot CRM: To discover, I will suggest each level of business shall start with this. In my experience and even in the industry, many businesses spread negativity because they directly try paid versions without knowing how it all works. If you ride a plane, you either get a pilot or learn and practice flying it.
Starter $50/month: Best for small businesses, beginner marketers, and solopreneurs. You also get access to 1000 marketing contacts as well as lead tracking and form customization
Professional starting with $800/month: It's Marketing automation for small businesses. It includes everything about the starter package and its major features to run inbound marketing campaigns at scale with automation. Here you receive 2000 marketing contacts and no limit for site visits. 
Enterprise: $3200/month: If you are a large company with a huge database and numerous leads. Here along with the Professional package, you include 10,000 marketing contacts.
PROS
Free CRM
Grow and pay
Live Chat
CONS
Pros of HubSpot
Free CRM: Hub Spot Free CRM is for everyone. You can gain a lot from it, and even if you can buy their other packages, it's better to test and learn from their FREE CRM. 
Grow and pay: Hub Spot encourages users to start with their free CRM. After getting familiar with it as you are ready to get on scaling mode, buy their other packages. In short, they enable you.
Live Chat: You have legendary customer support for all your issues. To learn, ask for help, and get issues resolved, you have customer support.
Some other pros of Hub Spot include:
No Limits to Customization
Same database for the marketing platform
It can be used with other CRMs
Solid Reviews and legit
Cons of HubSpot
Lite: There is still room for the addition of more features in Hub Spot.
Less flexible: As you are in scaling mode, once a limit is reached where you start feeling it is less flexible, but such limits are not achieved by everyone, so it's not a major concern.
Final Thoughts
Collecting meaningful data and then using it rightly is a success factor in marketing and advertising. .
Hub Spot tools are flexible with it. If you want to launch and scale marketing campaigns, then the hub spot is definitely worthy. Some major topics of concern hub spot covered for me are
Customer experience and retention
SEO
Sales Process, prospecting, and qualification
Instagram Marketing
Email marketing and newsletter
Remote Work Experience
It's what I like about Hub Spot, and this sticks me to hub spot even today. So from my experience, I will say even if you think Hub Spot is not for you, give a short to their Free CRM.
Subscribe for
the latest updates