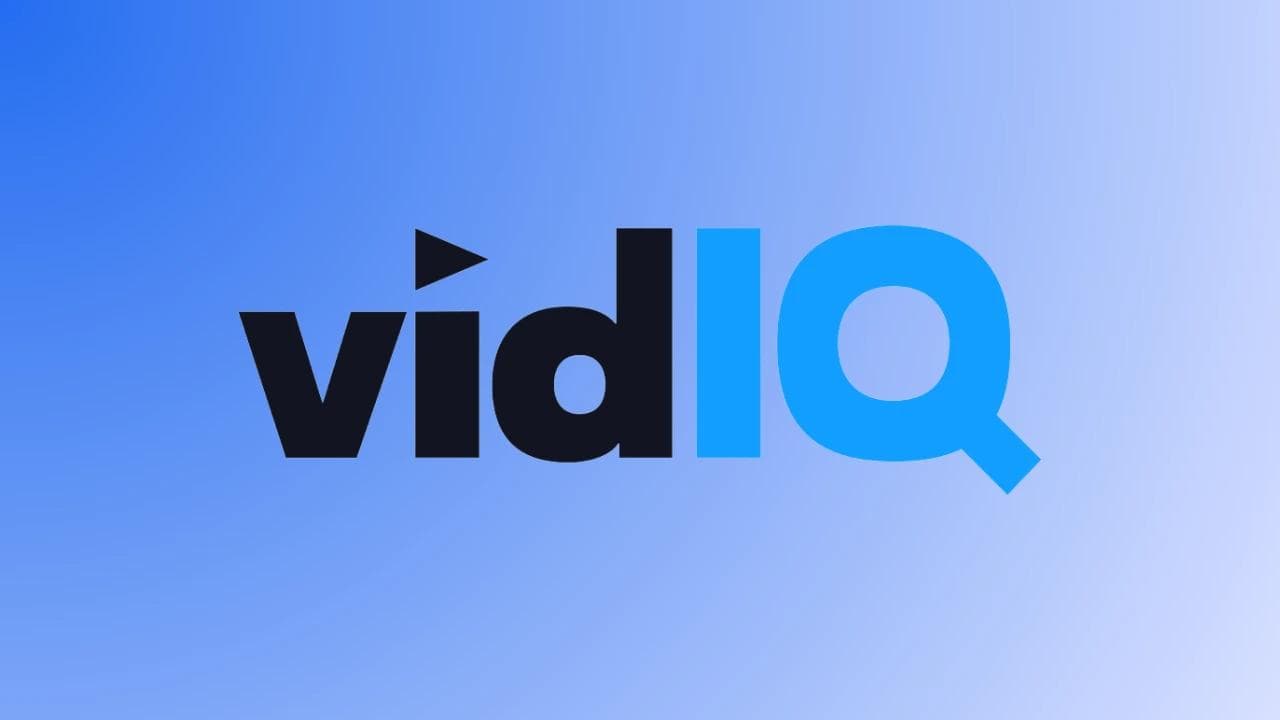 VidIQ Review 2023: Pricing, Safety & YouTube Views Tutorial

Unbeatable Software
March 1, 2023 at 3:00 AM
Is VidIQ safe to use? Will it help me get more YouTube views? Well, this VidIQ review will make all the difference and answer questions that are roaming in your mind.
Remember one decision can make the difference in your YouTube journey. Ready to get a practical overview of YouTube growth with automation tools.
From VidIQ pricing to safety standards it all covered. Ready to make the most out of your VidIQ account. 
Let's Roll in 1 Million family!
Pros
Easy interface
Efficient stats
Detailed keyword research
Helpful comparison graphs
Trend alert feature
Cons
No mobile apps
Cannot download videos in VidIQ
Limited customization options
What is vidIQ?
VidIQ is a powerful YouTube analytics suite which helps you to track, manage and optimize your YouTube channel. And it's chrome extension mostly used to analyze YouTube data and optimization of YouTube videos.
Normally people are familiar with VidIQ only through their magical extension. It's even recommended by most creators and brands including Think Media (1.6M), Chad Wild Clay (13M). eBay, Evan Charmichael (3M Subs) and much more.
The best aspect is the results they offer as it lets you reverse source the strategy effective YouTube channels have developed for their growth and optimization.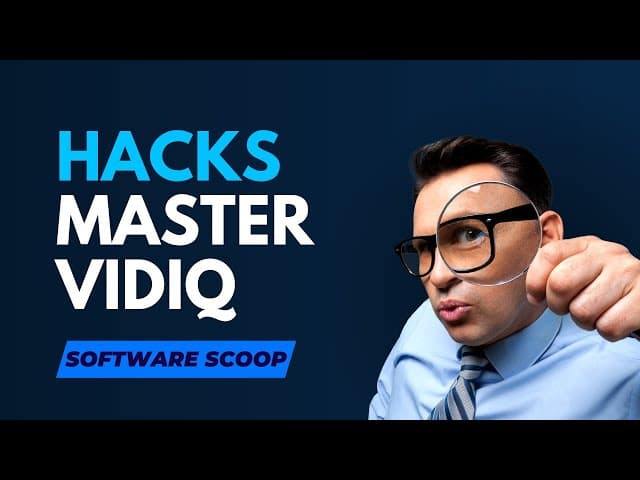 What's New? VidIQ recently launched their VidIQ Pro plan, which allows you to track up to 10 million YouTube videos and get access to advanced analytics. 
And now they are offering a VidIQ Academy which provides courses on YouTube video optimization and marketing.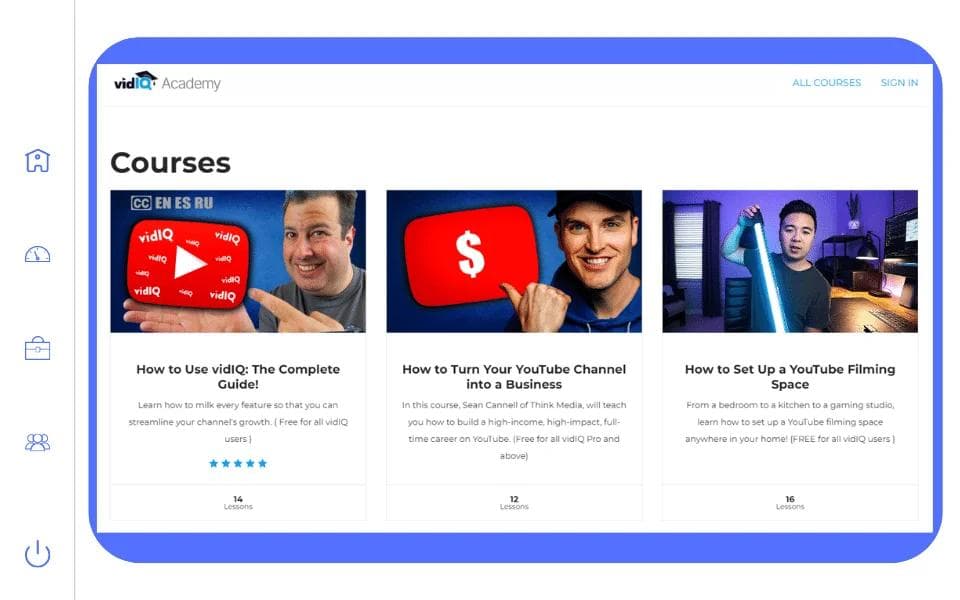 With extensive features and detailed insights, it's a perfect tool for any YouTube channel looking to take their success to the next level.
But, it is not a perfect tool for everyone. We will hit it later on firstly let's analyze how safe if VidIQ?
IS VidIQ Authentic and Safe to use?
Yes, vidIQ is safe to use with about 1000,000+ users with a 4.5 + rating. It has been around since 2013 and has built up a strong reputation for being one of the most reliable YouTube analytics suites in the market.
There are millions of active users around the world. Also it has been featured in many publications, including Forbes, TechCrunch and Entrepreneur. It also offers a 30 day money back guarantee if you're not satisfied with their services.
And it's YouTube certified meaning VidIQ has received the YouTube Certified badge meeting strict safety and quality standards set by Google. 
Will YouTube channel grow with vidIQ?
VidIQ may help to get more reach and views for your content but it will not directly increase your channel growth.
The thing that matters is how you use VidIQ to optimize videos and get recommended. This article will equip you with all essentials to become a professional VidIQ user.
Signing Up And Getting Familiar With VidIQ Interface
Getting started with VidIQ is quite simple. Signup, install their chrome extension and connect it with your Google account. For now, let's create another VidIQ account and then extend it in the most simple manner.
Create a free account at https://www.vidiq.com/.
Now head over to YouTube and find the video that you want to get information about.
Once done click on the "vidIQ" button that should now be visible in your browser's toolbar (if it's not there, make sure that you've installed the vidIQ extension).
It will open up a side panel with all info about the video that you're currently watching.
Take some time to explore all of the data and see what insights you can glean from it.
Be sure to check out the "Suggestions" tab for ideas on how to improve your own videos.
Exploring VidIQ Dashboard:
The VidIQ Dashboard has a variety of tools to help you optimize your videos.
1. Discover Tool:
VidIQ's discover tool helps you find the right keywords to target for your videos. It also offers insights into what types of content are trending and how you can leverage it to improve your reach.
2. Competitor Analysis Tool:
if you are thinking to beat the competition, VidIQ's competitor analysis tool can help. It provides an in-depth look at what your competitors are doing and how you can replicate their success.
3. Video SEO Tool:
VidIQ's video SEO tool helps you optimize the metadata of your videos so that they rank higher in the search engine results pages. It also provides insights into how to make your videos more engaging and shareable.
4. Insights Tool:
VidIQ's insights tool helps you get a better understanding of the performance of your videos. It offers detailed analytics on factors such as watch time, engagement rate, and audience retention.
The Powerful VidIQ Chrome Extension
VidIQ also offers a chrome extension, VidIQ Vision for Chrome.
VidIQ vision helps you to analyze any video on YouTube in real-time and gives you insights on how to optimize it for maximum performance.
VidIQ Vision also has a "Compare" feature which allows you to compare your video's performance with that of other videos.
What stats VidIQ Extension provide?
for me VidIQ extension provides me with a wealth of insight about the performance of my videos. Below are some of the stats VidIQ Extension provides: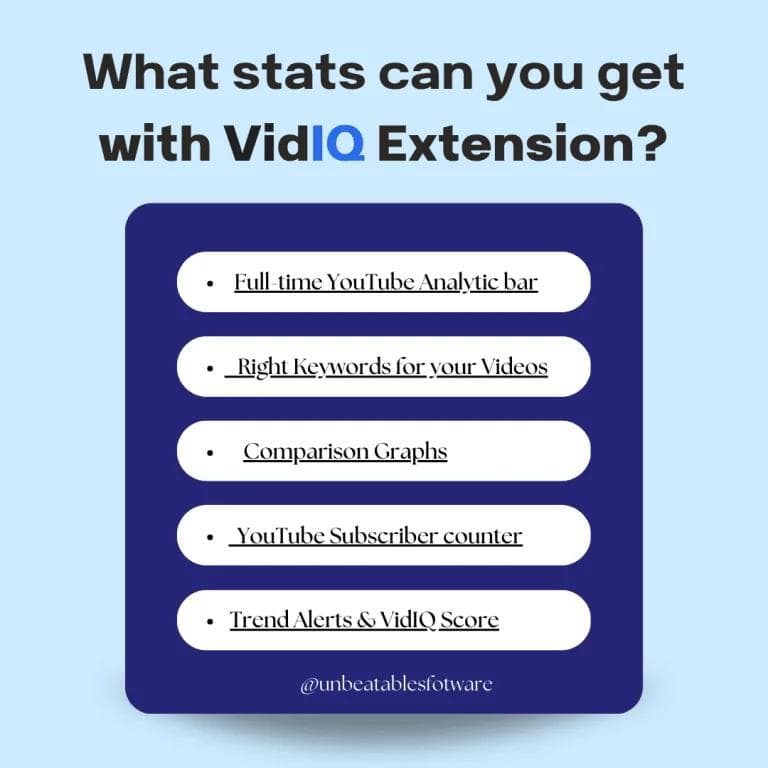 Full-time YouTube Analytic bar
VidIQ's Extension gives you a full-time analytic bar that displays key performance metrics in real-time such as views, comments and likes. Check your mistakes, improve your strategies and analyze video performance in a unique way.
Right Keywords for your Videos
You can find out the right keywords to target for your videos with VidIQ's keyword research tool. The more relevant keywords you use, the better chance you have of getting your videos discovered.
Visualize performance data in VidIQ's comparison graphs. Compare multiple channels and videos against each other to identify patterns, develop strategies for growth and optimize video performance.
YouTube Subscriber counter
This feature allows you to track your YouTube subscriber count in real time. VidIQ also shows you the total number of subscribers for up to 8 channels that you can compare against each other to monitor growth.
To be on trending , VidIQ gives you an alert on trending videos in your niche. This will help you to quickly find the best content and create something before everyone else does!
VidIQ score is based on engagement, relevance and performance. VidIQ score helps you to track the performance of your videos and compare it to your competitors in order to create better content. VidIQ's score is the standard for measuring video performance on YouTube.
So VidIQ helps you to understand how your videos are performing and provides you with the tools you need to optimize them for maximum reach.
VidIQ Features Giving It Competitive Space
VidIQ has taken the market by storm and become one of the most popular YouTube analytics suites. But what makes VidIQ so unique which made it so popular?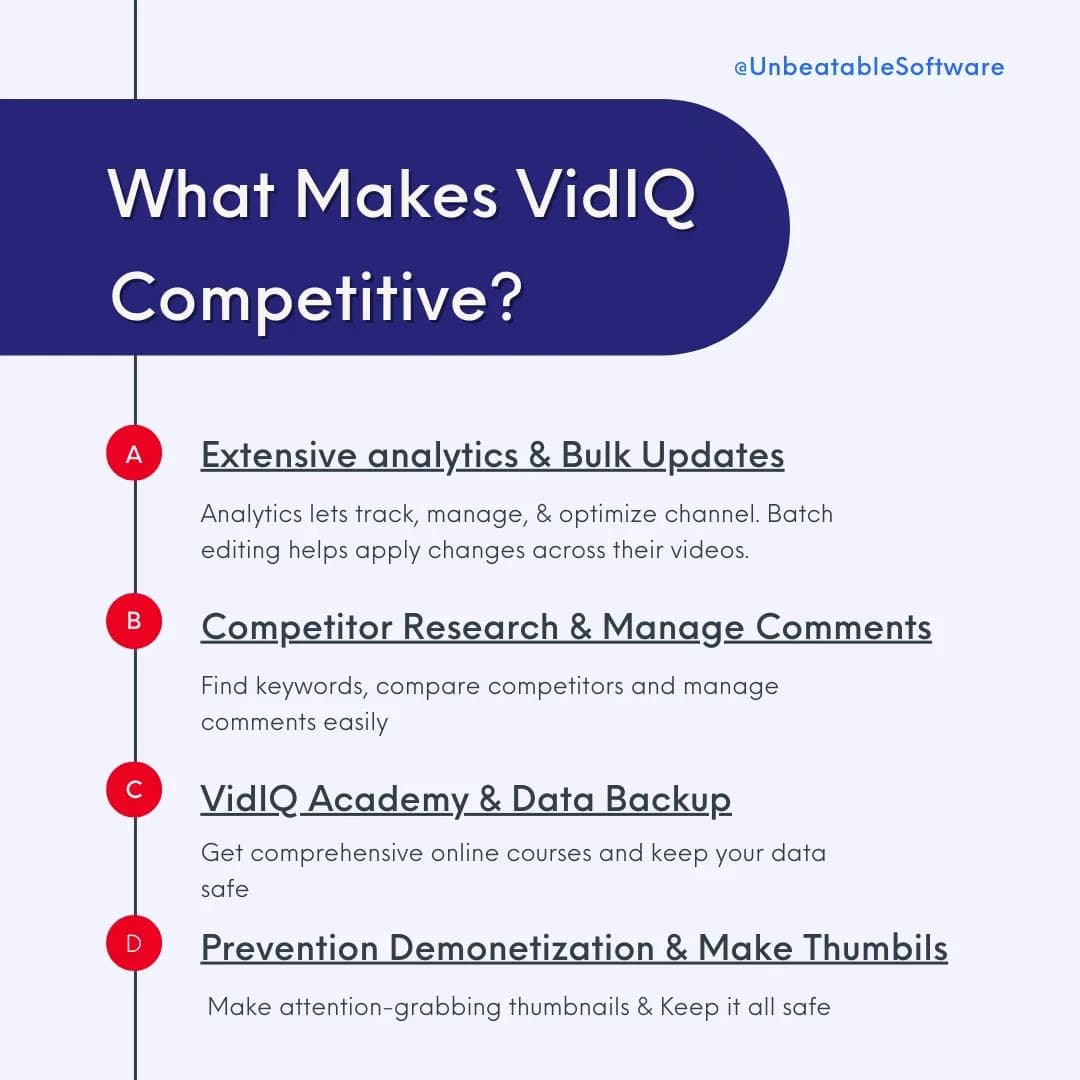 Let's take a look at some of VidIQ's features features:
Analytics
VidIQ offers extensive analytics features that allow you to track, manage, and optimize your YouTube channel.
VidIQ's dashboard is easy to use and provides detailed insights into the performance of your videos.
Bulk Updates
VidIQ lets you quickly and easily update multiple videos in bulk. This can help to save time if you have a lot of videos that need updating.
Batch editing also allows VidIQ users to consistently apply changes across their videos.
Competitor Research
To win over viewers on YouTube, you need to stay one step ahead of the competition.
VidIQ's competitive analysis feature lets you compare your channel's performance to that of your competitors.
VidIQ also has a keyword tool which can help you discover new keywords and improve your YouTube rankings.
Comment Management
VidIQ helps you manage your YouTube comments by allowing you to quickly respond to user queries and delete inappropriate or spammy comments. VidIQ also flags comments that require a response, making it easier to keep your channel running smoothly.
VidIQ Academy
VidIQ Academy is a comprehensive online resource with courses related to YouTube video optimization and marketing. VidIQ Academy is designed for beginners and experienced creators alike and will help you take your channel to the next level.
Data Backup
Backups are essential for any YouTube channel. VidIQ helps you keep your data safe by providing an easy way to backup and restore videos, playlists, and channels.
VidIQ's backup feature also allows you to store videos on their secure server, giving you peace of mind that your data will not be lost if something goes wrong.
Demonetization Prevention
The sole purpose of every creator on YT is to make money by monetizing their videos. But what if your channel gets demonetized?
VidIQ helps to protect your channel against demonetization by providing insights into what may be causing it and how to avoid it in the future. It also provides an alert system which will notify you if any of your videos have been demonetized.
Marketing & Social Media
Marketing Matters? Yes, VidIQ helps you to promote your videos and gain more views.
VidIQ provides powerful tools for boosting your YouTube channel's visibility, and VidIQ Academy can help you learn how to effectively market your videos.
VidIQ also helps you keep track of your social media activity, allowing you to analyze your performance across different platforms.
SEO & Keywords
Search engine optimization (SEO) is another important aspect of YouTube success. It will roll up VidIQ's powerful keyword tool to uncover relevant keywords and backlinks which will help improve your video rankings in the SERPs.
Understanding SEO is a must for YouTube creators and VidIQ Academy is full of helpful information and tutorials to teach you how to use SEO effectively.
Tag Management
There are thousands of videos on YT and it's important to have a good system of tagging them. Tags make you appear in the search results, VidIQ helps you manage tags and optimize them for more visibility. VidIQ also provides helpful insights in the form of tag reports which can help you understand the importance of each tag in your video.
Thumbnail Generation
VidIQ makes it easy to generate attention-grabbing thumbnails for your videos. Its thumbnail generator uses advanced algorithms to create stunning thumbnails that will draw viewers in.
But remember you can also use images from iStock or try canva for thumbnails. It's up to you but remember thumbnails matter! 
To cut up costs you can also try Canva ~ it's free to get started and premium templates are also cheap. Here a quick canva guide covering all aspects about it.
Tips & Insights
VidIQ itself shares tips and insights on how to optimize your videos to get more views. It mainly includes resources such as channel discovery, which can help finding new subscribers and grow your audience.
Video Optimization
With its powerful features and user-friendly interface, VidIQ is a great choice for optimizing your videos. VidIQ provides data-driven advice on how to improve your videos' performance and helps you optimize titles, descriptions, tags, thumbnails and more.
VidIQ free plan
VidIQ offers a free plan that gives you access to some of its features.
This is great for those who want to try VidIQ before committing to a paid plan.
It allows you to track your analytics, get insights about your channel, and optimize videos with basic features such as title, description and tags.
And it'is perfect for budding creators who want to take their channel to the next level.
Missing Features
Nothing is perfect and VidIQ is no exception.
VidIQ does not offer a video editing tool, and you cannot use VidIQ to upload videos directly to YouTube.
For this you can explore vidnami.
VidIQ also lacks some advanced marketing features such as brand deals and influencer networks.
But's it's understandable as it doesn't affects the primary goal of using VidIQ.
SERP (Search Engine Results Page)
How to track your SERP performance?
VidIQ has a powerful SERP tracking tool that helps you monitor your rankings in the search engine results pages.
It helps you identify keyword fluctuations and optimize your content for better rankings.
It also offers insights into how other competitors are performing, giving you an edge over them.
The Video Page
Last but not least there is VidIQ's powerful Video Page tool.
This video page tool helps optimize the video page to improve performance and engagement.
It also helps identify what works and what doesn't, so that you can make changes accordingly.
Price Comparison
VidIQ offers multiple plans ranging from free ($0 monthly) to Max($79 monthly).
The free plan is ideal for getting started and testing whereas the pro plan unleashes all the VidIQ's powerful features.
VidIQ has four pricing plans, the core features are available on all plans, while additional features can be unlocked with higher priced plans.

Is VidIQ worth paying for
There is no doubt VidIQ is worth paying for. VidIQ provides extensive analytics and optimization tools that can help you grow your YouTube presence, improve engagement and ultimately get more views.
It is a powerful tool, and if you're serious about growing your YouTube channel, it's worth investing in VidIQ.
Is VidIQ worth it?
Definitely! VidIQ is a powerful tool that can help you take your YouTube channel to the next level.
Whether you're just getting started or you've been creating content for years, VidIQ can help you analyze and optimize your videos for maximum performance.
Not only VidIQ will get you detailed stats about the performance of your videos, but it also helps
you to find the right keywords for your videos
visualize performance data in comparison graphs
get trend alerts
and even track your YouTube subscriber count in real time.
In case you cannot decide if VidIQ is worth paying for, you can take advantage of their free trial and see it in action. Give VidIQ a try today and and see the power of VidIQ for yourself.
Frequently Asked Questions
Does VidIQ help you get more views on YouTube?
VidIQ is a great tool to help you get more views on YouTube. It's a FREE Chrome extension that provides you with the analytics of any video you watch on YouTube.
It tells you things like how many views the video has had, how long people have watched it for, where in the world people are watching it, and more.
Is vidIQ safe with my YouTube channel?
Yes! VidIQ is a safe and effective tool that can help you grow your YouTube channel.
Always be sure to read the Terms of Service and follow the guidelines provided by YouTube when using any third-party tools.
Is VidIQ really free?
Yes, VidIQ is free to use. However, they also offer a paid version with additional features.
Can vidIQ delete my YouTube channel?
No, vidIQ cannot delete your YouTube channel. Only YouTube has the ability to delete a channel.
What is the tag volume in YouTube by VidIQ?
The tag volume in YouTube by VidIQ is the number of times a tag has been used in videos on YouTube. It provides insights about a channel's audience, their video performance, and more.
How to use VidIQ for free?
There are a few ways to use VidIQ for free. The first way is to sign up for a free trial. The second way is to use the basic features of the tool, which are free. And the third way is to upgrade to a paid account if you need more features.
Is Vidiq the best extension for video analytics?
There isn't one definitive answer to this question. Some extension users prefer VidIQ because it offers a broad range of video analytics data, while others find its features to be too overwhelming or complicated.
There are also a number of other good video analytics extensions available, so it ultimately comes down to personal preference.
Is VidIQ good for YouTube SEO?
Yes, VidIQ is great for YouTube SEO. It allows you to see how your videos are performing in terms of views, likes, and shares as well as see what keywords your videos are ranking for.
You can also use VidIQ to find new and trending topics in YouTube that you can create videos around.
Which is the best tool, VidIQ or BitePlay?
BitePlay is a good tool, but VidIQ is the best. It has more features and better analytics. Plus, it's updated regularly with new features and enhancements, making it the most comprehensive tool for optimizing your videos.
Which one is better for views, TubeBuddy or VidIQ?
VidIQ. VidIQ provides more data and insights than TubeBuddy, and it's easier to use.
TubeBuddy is a great tool, but it doesn't have the same level of data and insights as VidIQ. For example, with TubeBuddy you can see how many views a video has had, but you can't see where those views came from (ie. organic or paid). VidIQ also has an easy-to-use interface that makes it quick and simple to get the information you need.
How accurate are YouTube search volume numbers that VidIQ Pro shows for some keywords?
YouTube search volume numbers are not 100% accurate. VidIQ Pro shows the relative search volumes for key phrases based on their past search data. However, there can be inaccuracies due to changes in Google's search algorithm, changes in user behavior, and other factors.
Is it legal to use vidIQ?
A big Yes, VidIQ is a 100% legal tool. VidIQ uses YouTube's API and follows all of their rules and guidelines. VidIQ does not violate any YouTube policies, which means you can use VidIQ without worrying about getting banned or blocked from the platform.
Back to you
A perfect VidIQ Review should answer all the above questions and more. It's not just about getting the facts; it's about conveying the value VidIQ can bring to your YouTube channel.
With VidIQ, you have the power to use YouTube data and insights to gain an advantage over your competitors. VidIQ helps you get the most out of YouTube, so that you can create better videos and drive more traffic to your channel.
That's all from us. Now it's your turn to explore VidIQ and see what value it can bring to your YouTube channel. Good luck!
Subscribe for
the latest updates