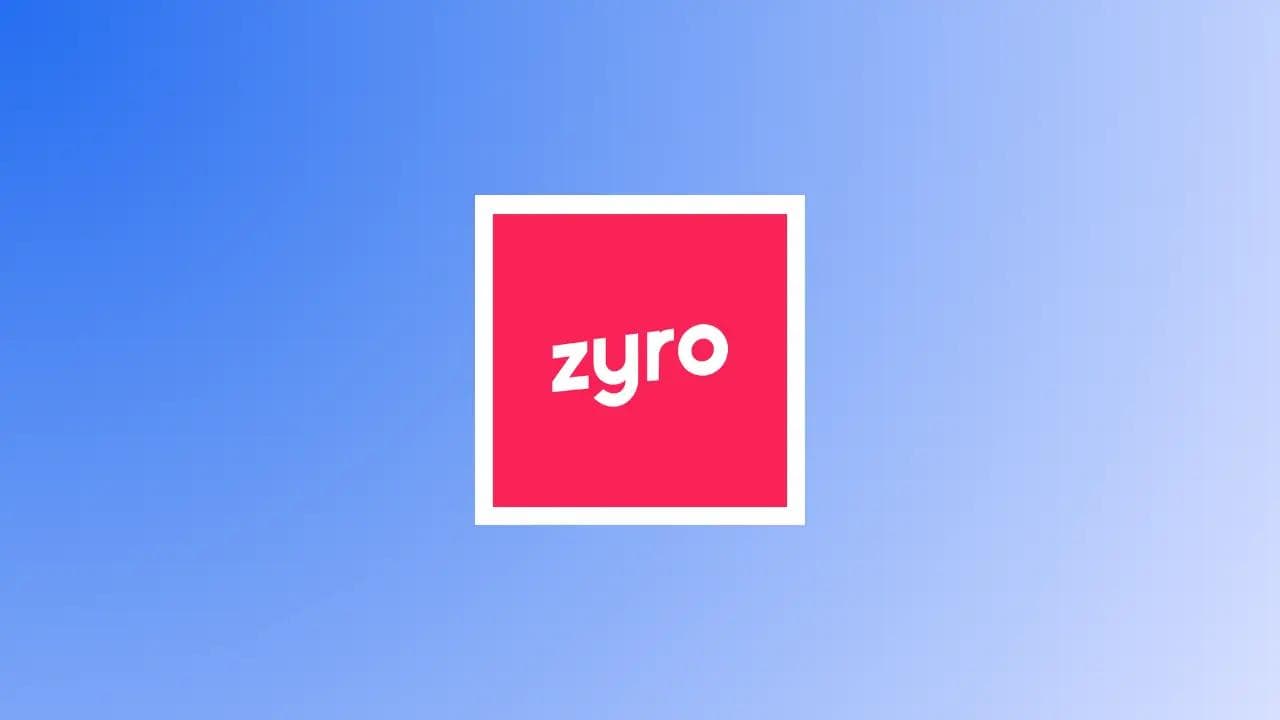 Zyro Review: 5 Steps To Build Website Using Zyro AI Tools

Unbeatable Software
July 8, 2023 at 7:04 PM
What if I tell you that making a website is no more trouble now?
Are you gonna say am not a developer? Right!
So let me tell you something that you should know early. However, it's never too late.
Remember that this article is going to be a game-changer for you. Yes! Clearing one thing that I am not getting paid to write this article. So it's going to be totally unbiased.
Say Hello to the cookie-cutter site builders that make your online presence feel as exciting as plain toast. Well, buckle up, because I'm about to take you on a thrilling journey through the wonderland of Zyro, the cutting-edge AI website builder that's shaking up the digital realm.
Zyro offers a fascinating blend of intuitive design and AI-powered tools that will revolutionize the way you create. Picture this, a tool so smart, it feels like you've got a seasoned web designer at your beck and call, ready to transform your wildest web dreams into reality.
In this epic piece, I'm not just going to rave about Zyro. No, no, no, I'll walk you through a real-deal, step-by-step guide on how to create your own stunning website using Zyro's AI Tools. We'll take these tools for a spin, scrutinize each one, and bring you a realistic account of what it's like to build a site with Zyro.
Why stick around? Well, if you're not interested in stepping up your website game, increasing your online visibility, or crafting a unique digital brand that stands out from the crowd, then you're right. This article might not be for you.
But if you're keen to give your website the glow-up it deserves, then strap in, and let's dive deep into the mesmerizing world of Zyro together. This is not your regular 'how-to' guide. This is your ticket to your digital future. Are you in?
5 Steps to Build Your Future Website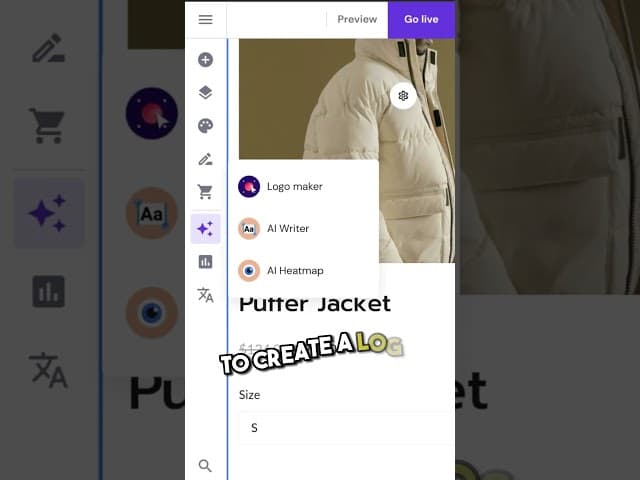 1. "Choosing Your Canvas: Selecting a Zyro Template"
Welcome to the art gallery of the digital world - Zyro's template selection. The key to a great website lies in its initial design, and Zyro offers you a selection of professionally-designed, ready-to-use templates that are as diverse as they are visually appealing. Think of these templates as your digital canvas.
You have templates for blogs, e-commerce, portfolios, restaurants, events, and more. Whether you're a startup looking to make an impact or a blogger wishing to share your thoughts with the world, Zyro has something for everyone.
Choosing the right template involves considering your brand's personality, your industry, and your specific needs. But don't sweat it! You're not locked in; you can always change the template later if your needs evolve or if you simply want a new look.
Here I have chosen a template: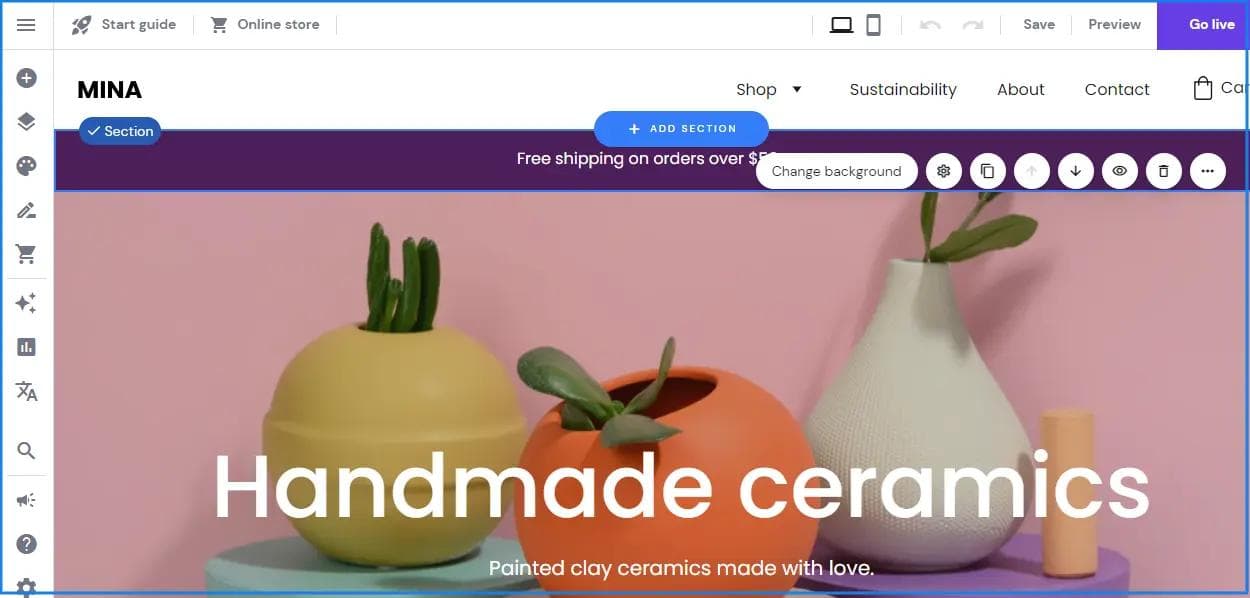 2. "Unleash Your Creativity: Customize to Your Heart's Content"
After selecting your perfect canvas, it's time for the exciting part - customization. This is where you let your creativity run wild and make the chosen template truly yours.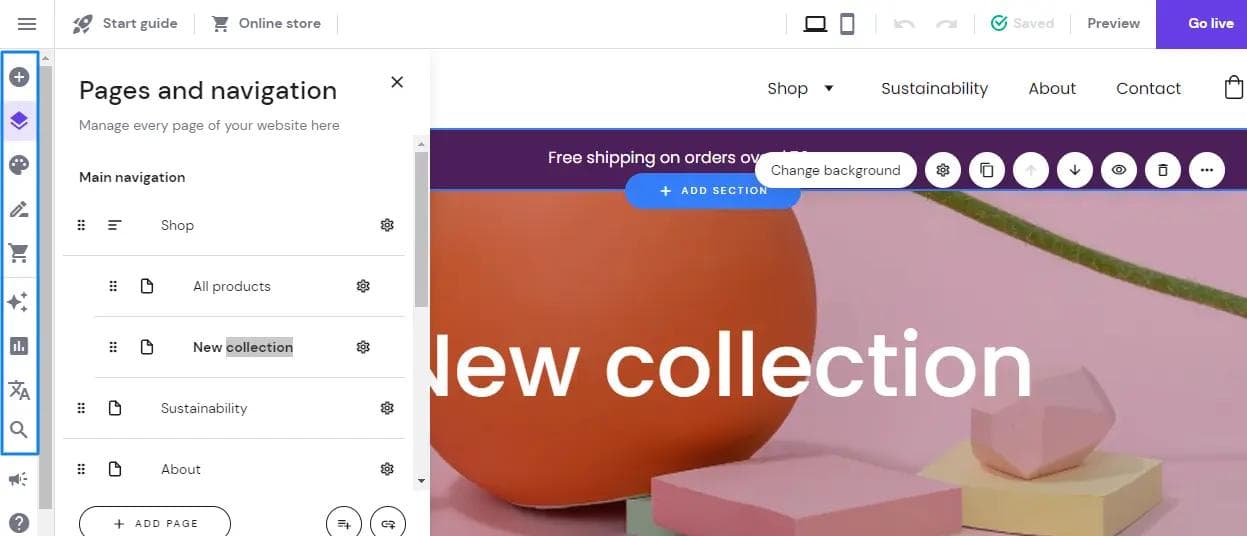 Zyro's intuitive drag-and-drop editor lets you change everything from the website layout to font choices, colors, images, and more. You can add elements like contact forms, galleries, and social media buttons. The editor's flexibility ensures you have complete control over every detail, letting you personalize your website down to the last pixel.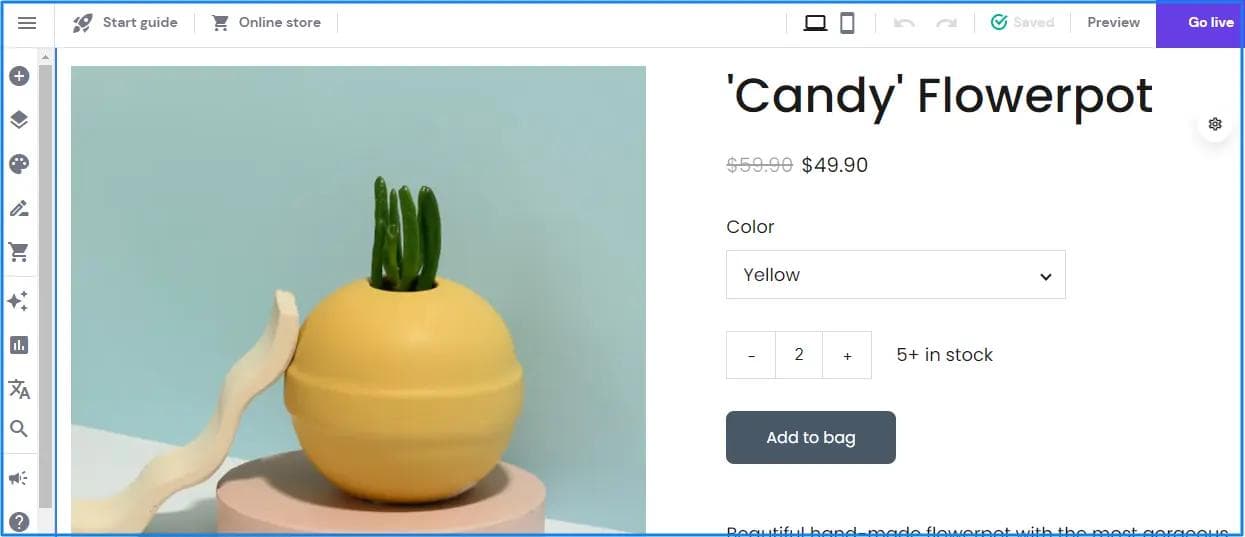 3. "Harness the Power: Utilizing Zyro's AI Tools"
Here's where things get truly fascinating. Zyro's suite of AI tools are a game-changer for web building. These aren't your average web builder tools; they're more like your personal team of digital experts.
Need some catchy content? The AI writer has your back. Want to know where visitors are likely to focus on your website? The AI heatmap is at your service. Need a professional logo? The AI logo maker can whip one up in no time.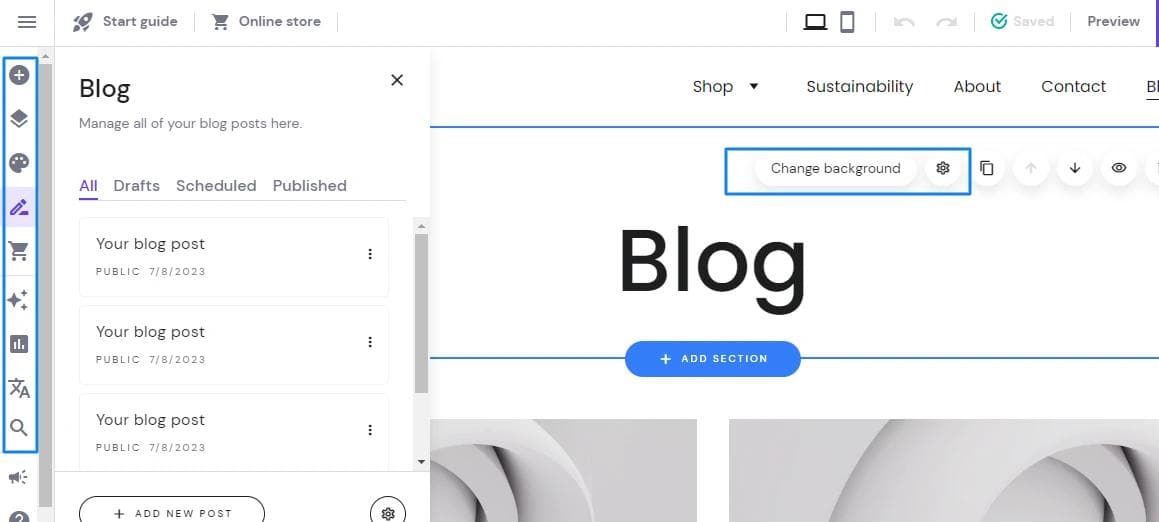 Each tool is designed to help you create a more engaging and effective website. They're not just about making things easier - they're about enabling you to create something that stands out from the crowd.
It also takes care that your website is mobile optimized or not.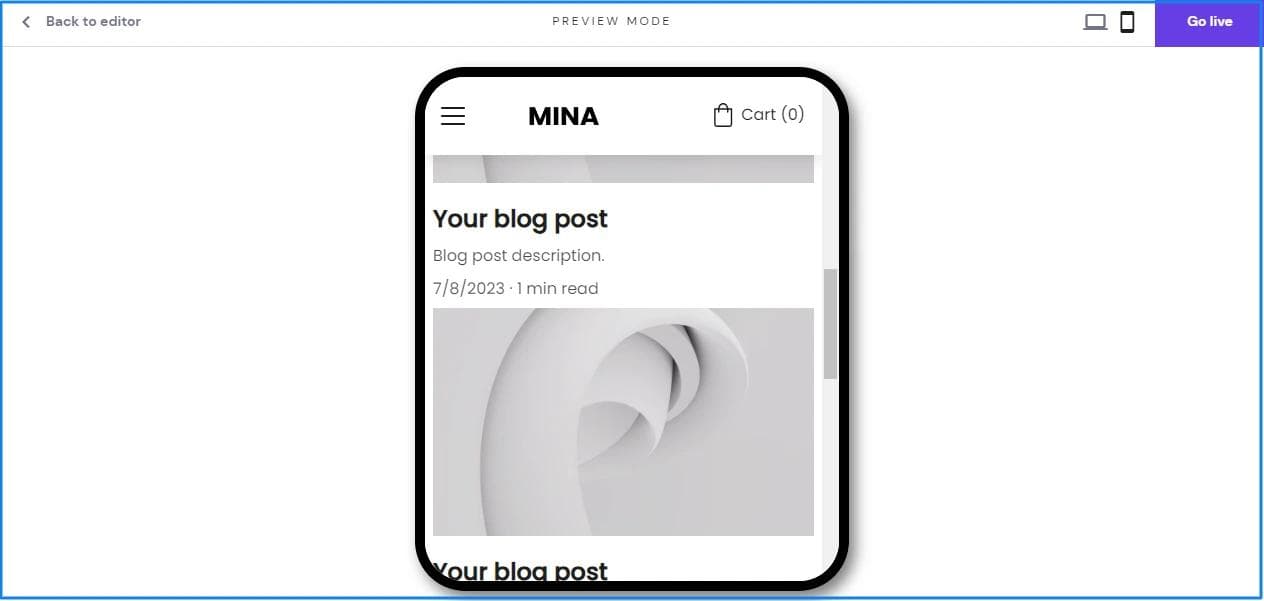 4. "Stake Your Claim: Connect Your Domain"
Once you're satisfied with your creation, it's time to stake your claim on the web. Your domain name is your online address; it's how your audience finds you in the vast digital landscape.
Whether you're moving an existing domain or starting fresh with a new one, Zyro makes it simple. Their domain management tools are straightforward and intuitive, meaning you don't need to be a tech wizard to get your site live.
Remember, your domain name should be memorable and reflective of your brand, so choose wisely.
5. "Launch Your Vision: Hit Publish and Watch the Magic Happen"
Finally, with a crafted masterpiece in your hands, it's time for the grand reveal. When you hit that "Publish" button, you're not just launching a website; you're launching your vision into the digital universe.
However, going live is just the beginning. A great website is always a work in progress. With Zyro, you can continuously refine, update, and experiment. Plus, their support team is always ready to assist with any issues or queries.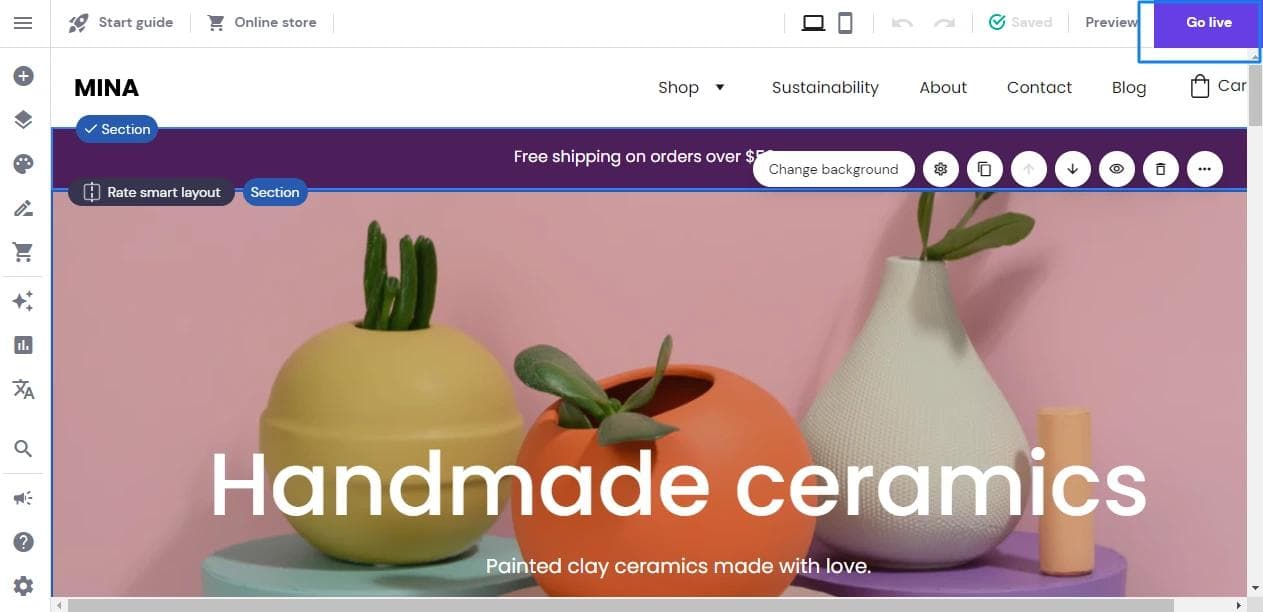 So, what are you waiting for? Embrace your creative prowess, and remember, with Zyro, every pixel is a possibility!
Testing Zyro AI Tools to test its accuracy
1. "AI Writer: The Copywriting Whiz"
Ever wanted a dedicated copywriter for your web content? It's always been a buzz for me.
The AI Writer turns this dream into a reality.
Well, i want you to test the it's creativity. It creates engaging, relevant content based on your inputs, saving you time and ensuring your website speaks to your audience effectively.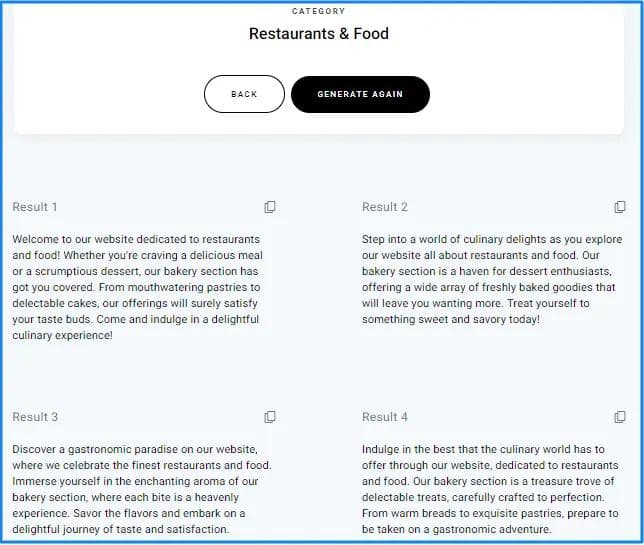 2. "AI Background Remover: Clearing the Clutter"
Gone are the days when you needed to grapple with complex editing software to create professional-looking images for your website. The AI Background Remover simplifies the process significantly.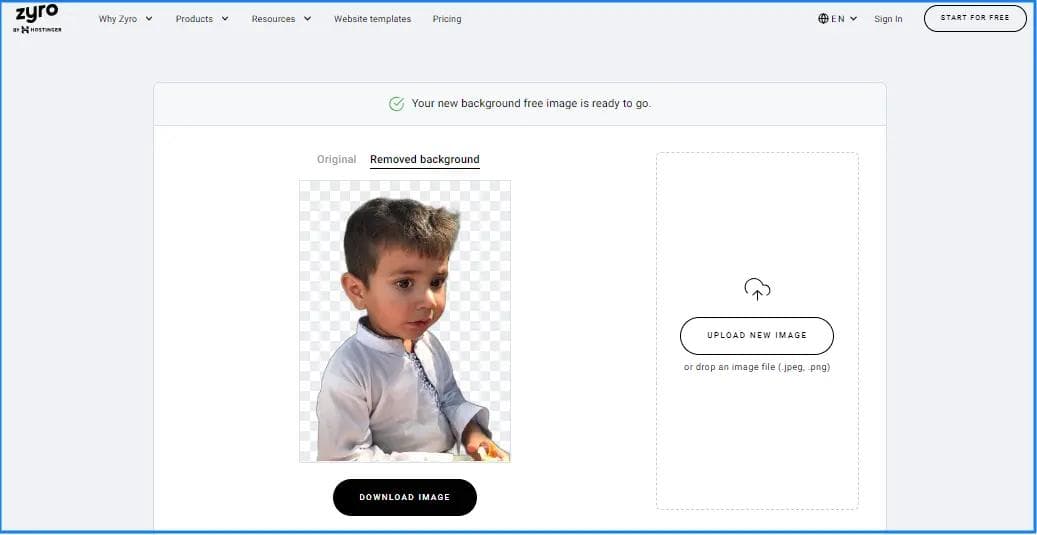 With the AI Background Remover, you can effortlessly focus attention on your subject by removing unnecessary photo backgrounds. This tool simplifies the process of highlighting products or elements in an image, eliminating the need for complex editing software.
Quite slow but the results are Just Wow! 👏
3. "AI Slogan Generator: The Catchphrase Composer"
Creating a memorable slogan can be challenging, but not with the AI Slogan Generator.
Thanks to Zyro's AI Slogan Generator, the once daunting challenge of conjuring up a catchy, meaningful tagline is now an exciting, effortless endeavor.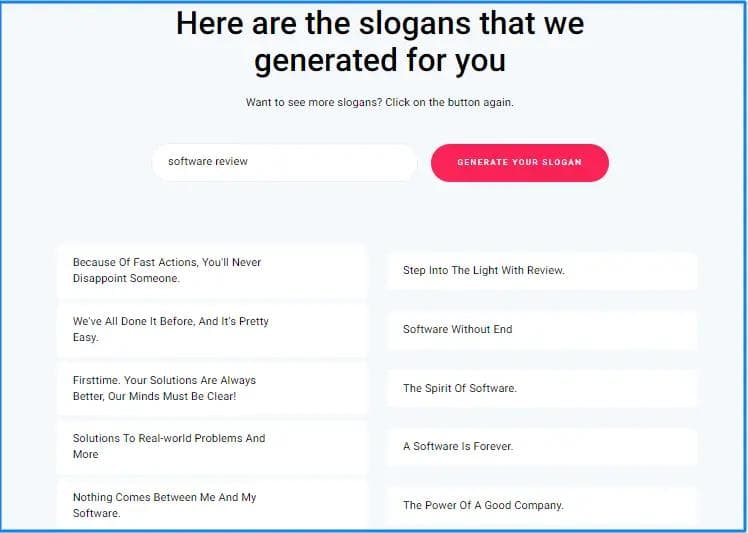 This smart tool is not just a tagline churner; it's a digital wordsmith that weaves together compelling phrases encapsulating the very essence of your brand. It's like having a creative consultant at your fingertips, ready to serve up memorable slogans that resonate with your audience and set your brand apart in the bustling marketplace.
So let your brand's voice echo across the digital landscape with a unique and striking slogan, all made possible with the AI Slogan Generator. So, choose you right away!
4. AI Image Upscaler
Ever wished for a magic wand that could breathe new life into your images, enhancing their resolution without distorting the quality? Well, with Zyro's AI Image Upscaler, your wish has just been granted.
This ingenious tool isn't your ordinary image editor. Rather, it's like having a skilled digital artist at your disposal. The AI Image Upscaler intelligently enhances the resolution of your pictures, transforming once-grainy or blurry photos into clear, high-definition masterpieces.
5. "AI Business Name Generator: The Identity Architect"
Get ready to cross off one of the most crucial, yet often perplexing tasks from your checklist - naming your business. With Zyro's AI Business Name Generator, you no longer need to wrack your brain or toss ideas around a room until you're dizzy.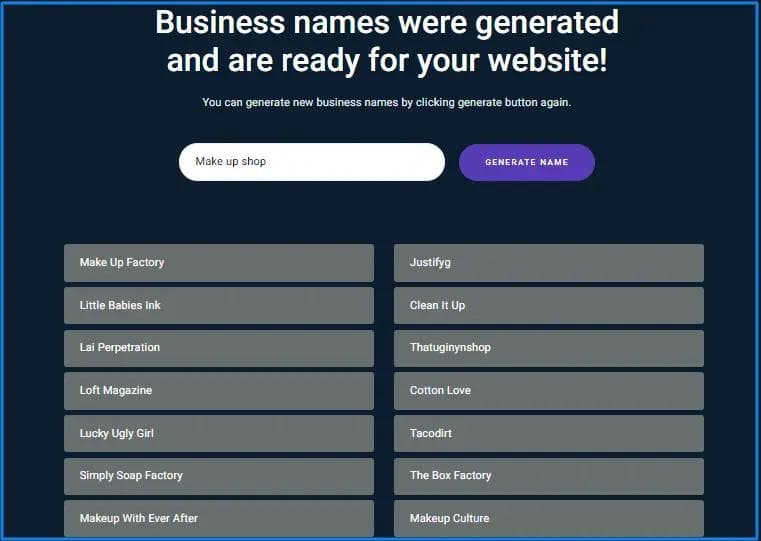 Instead, this innovative tool serves as your personal brainstorming partner, turning the potentially stressful task into an exciting exploration of possibilities.
6. "AI Blog Title Generator: The Interest Igniter"
Titles matter, especially when you're writing a blog post. The AI Blog Title Generator crafts engaging and clickable blog post titles that pique your readers' curiosity and compel them to explore your content.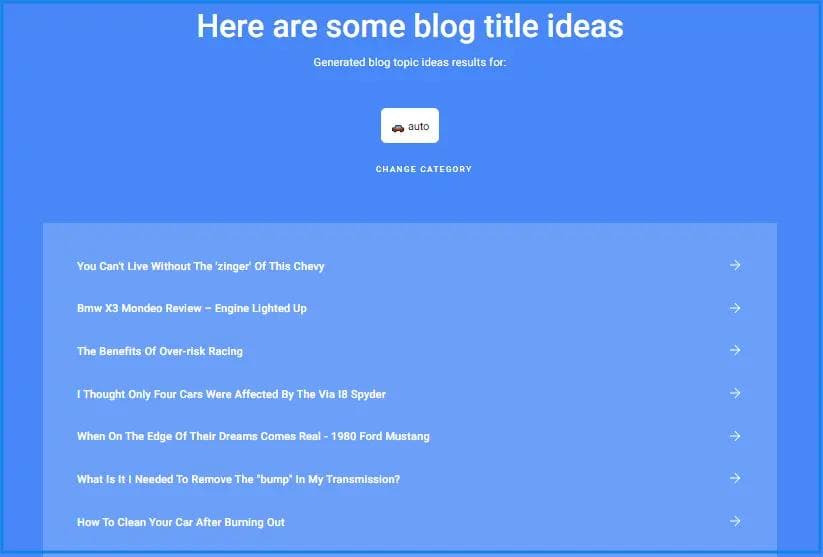 I asked it to make titles about the auto category and here are the results:
7. "AI Heatmap: The User Behavior Predictor"
Far more than a mere tool, the AI Heatmap serves as your personal digital strategist. It provides you with an intuitive, visual representation of your website's user activity. Through a color-coded system, it highlights the sections on your website that are consistently grabbing your visitors' attention and those that might need a bit of sprucing up.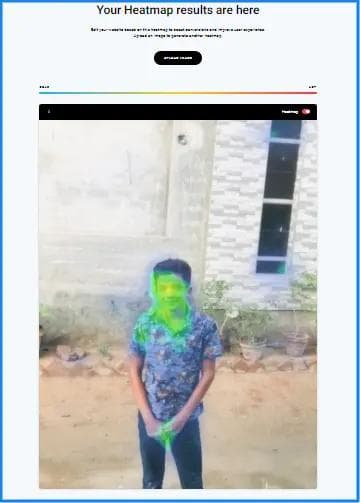 But, the magic doesn't stop there. These insights are more than just interesting data points; they are a roadmap to optimizing your website layout for maximum user engagement. By understanding which parts of your site are naturally drawing in visitors, you can strategically place your most important content and calls to action to maximize their impact.
8. "Image Resizer: The Perfect Fit Maker"
The Image Resizer ensures your visuals are always just right. This tool makes it easy to resize images to fit your website design perfectly, ensuring a cohesive and attractive visual layout.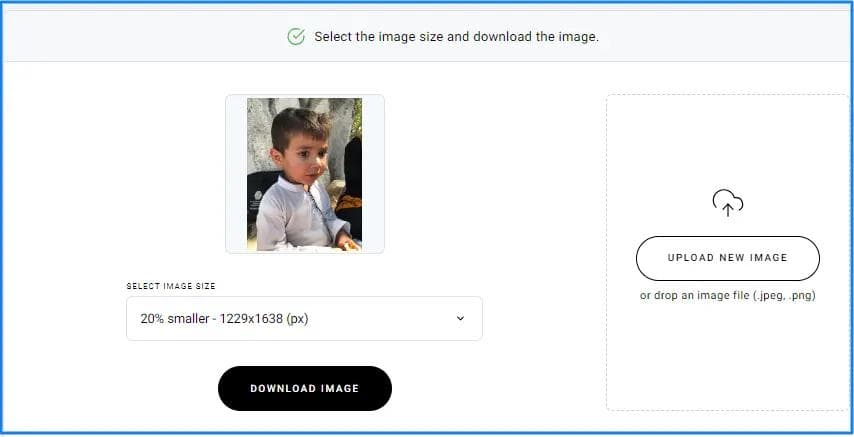 9. "Refund Policy Generator: The Trust Builder"
What about having a trustworthy legal consultant who's ready to draft a clear, custom refund policy for your business - a policy that not only safeguards your interests but also fosters trust and transparency with your customers? Sounds appealing, doesn't it? Well, that's precisely what Zyro's Refund Policy Generator has to offer.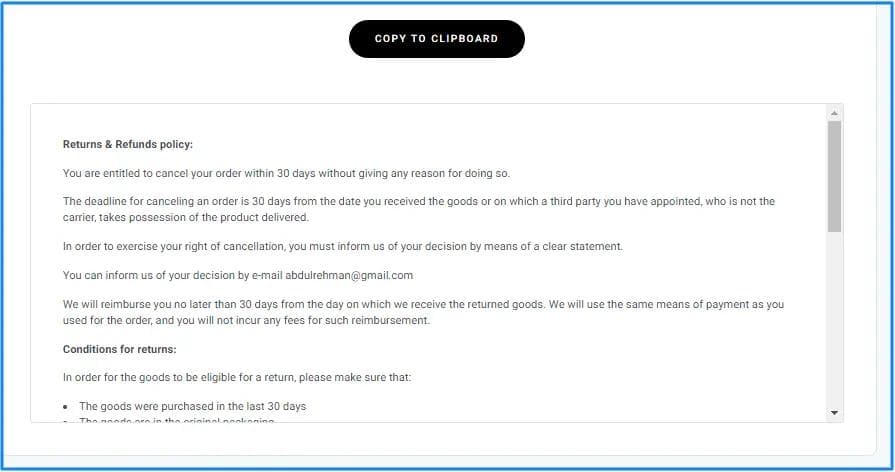 This is not your typical policy generator. Instead, it's like having a business legal advisor right at your fingertips. It creates bespoke refund policies tailored to your unique business needs, offering a layer of protection and clarity in your customer transactions.
10. "Terms and Conditions Generator: Your Legal Shield"
Protecting your business and complying with laws needn't be complicated. The Terms and Conditions Generator creates comprehensive and legally compliant terms that safeguard your interests, allowing you to focus more on building your digital presence.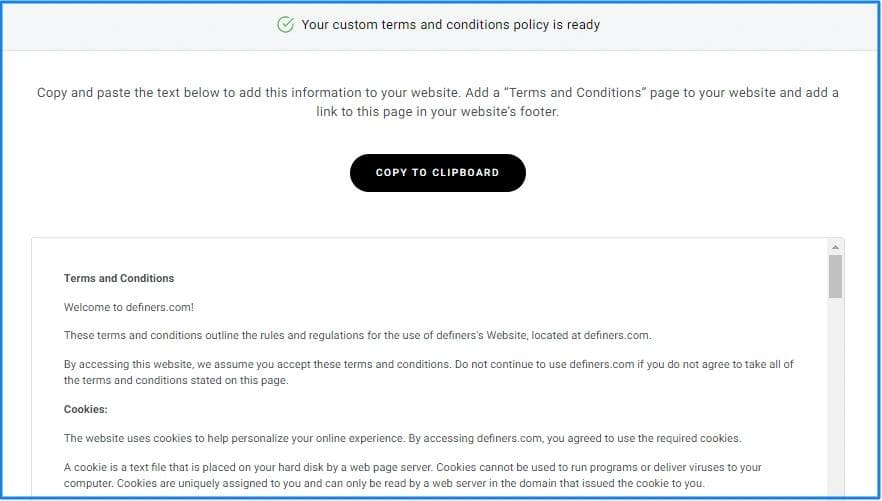 Zyro Review | Pros & Cons
1. "Simplified Site Building with User-Friendly Drag-and-Drop Editor"
Zyro's drag-and-drop site editor is a dream come true for both beginners and seasoned website creators. This intuitive tool eliminates the need for any coding knowledge, allowing users to easily place and move elements anywhere on their site.
This ease of use allows you to focus on the creative aspect of your website, making the process not only simpler but also more enjoyable.
2. "Smart Branding with AI Tools"
The AI branding tools that Zyro offers provide a unique blend of technology and creativity. Whether you need to generate a business name, craft a catchy slogan, or create engaging content, Zyro's AI tools are at your service.
These tools leverage artificial intelligence to create brand elements that resonate with your target audience and align with your brand identity.
3. Plenty of Design Choices with Over 100 Free Templates
With over a hundred free, professionally designed templates, Zyro ensures you never run out of design options. These templates cater to a wide range of industries and can be customized to fit your brand.
It means that whether you're creating a blog, an e-commerce site, or a portfolio, you'll find a design that's perfect for you.
4. Boost Your Visibility with SEO Tools
Zyro's built-in SEO tools make optimizing your website for search engines a breeze. These tools guide you in enhancing your website's visibility on search engines, attracting more organic traffic, and improving your site's ranking. This means that your audience will have an easier time finding you online.
5. Enjoy Limitless Possibilities with Unlimited Bandwidth and Storage
Zyro's hosting plans come with unlimited bandwidth and storage. This means your website can handle any amount of traffic and store a large amount of data without any issues. This level of scalability is ideal for growing businesses.
6. Enhance Your Site's Security with a Free SSL Certificate
Security is paramount in the digital world. That's why Zyro includes a free SSL certificate with all its websites. This not only secures the data transferred between your website and your visitors but also improves your SEO rankings and boosts the trust of your visitors.
7. Risk-Free Exploration with a 30-Day Money-Back Guarantee
Lastly, Zyro offers a 30-day money-back guarantee. This means you can try out their platform and services risk-free for a month. If for any reason you're not satisfied, you can get your money back, no questions asked.
It shows Zyro's confidence in its services and its commitment to customer satisfaction.
8. Mobile-Optimized Websites for Seamless Access
In an era where most internet browsing happens on mobile devices, Zyro ensures that your website is fully optimized for mobile viewing. This means your website will look and perform excellently, irrespective of the device your visitors are using.
9. 24/7 Customer Support for Uninterrupted Assistance
Zyro provides round-the-clock customer support, ready to assist with any questions or issues you may encounter. Their dedicated support team ensures that you have help whenever you need it, making the website-building process smooth and hassle-free.
10. Built-In eCommerce Tools for Effortless Online Stores
If you're looking to set up an online store, Zyro has got you covered. Its built-in eCommerce tools make it easy to add products, manage inventory, and handle transactions securely.
The platform integrates with popular payment gateways and offers options for shipping and tax management, making your eCommerce venture simpler.
11. Lack of Phone Support: A Small Hiccup in Communication
While Zyro offers impressive 24/7 customer support via chat and email, they currently do not provide phone support. This might be a slight inconvenience for users who prefer real-time, vocal communication for resolving their issues.
It's essential to consider how you prefer to communicate for troubleshooting before choosing a website-building platform.
12. Product Limitations for eCommerce: Room for Expansion
Zyro's eCommerce plan allows up to 500 products, which might be more than enough for small to medium-sized online stores. However, if you're an ambitious retailer planning to host a massive catalog, this limitation might feel restrictive.
Hence, for large-scale eCommerce businesses, Zyro might need to rethink their product cap or introduce new plans accommodating larger product numbers.
Pricing Plan for Zyro
1. "Website Plan: A Perfect Start"
Zyro's "Website" plan is ideal for those who want to create a professional portfolio, blog, or personal website. Originally priced at $11.99 per month, they currently offer a substantial discount of 78%. So, you'll only be paying $2.59 per month (plus VAT if applicable). Here's what the package includes:
Free domain for 1 year: Kickstart your digital presence with a free domain name for the first year. A customized domain is an important first step in creating a professional online image.
Free email for 3 months: Build credibility with your customers with a professional business email that matches your domain name, free for the first three months.
24/7 Customer Support: Have any issues or questions? Zyro's customer support is available round the clock to assist you.
Marketing Integrations: Seamlessly integrate your website with various marketing platforms to boost your site's reach and effectiveness.
2. "Business Plan: E-Commerce Made Easy"
The "Business" plan is designed for entrepreneurs who want to set up an online store quickly and easily. Initially priced at $14.99 per month, Zyro offers a generous 76% discount, bringing the price down to just $3.59 per month (plus VAT if applicable). This plan includes everything from the Website plan, plus:
Sell Up to 500 Products: Start selling on your platform right away with the capacity to list up to 500 products. This feature makes the business plan suitable for small to medium-sized e-commerce businesses.
In addition to the features mentioned, both plans provide a user-friendly interface and access to a range of AI tools to enhance your website building and managing experience. With Zyro, starting your online journey has never been easier or more affordable.
Frequently Asked Questions (FAQs)
1. Can I transfer my existing website to Zyro?
While Zyro doesn't currently offer a direct website transfer feature, you can recreate your website using Zyro's easy-to-use drag-and-drop builder and AI tools.
2. Does Zyro offer any eCommerce solutions?
Yes, Zyro provides built-in eCommerce solutions in its 'Business' plan. You can sell up to 500 products, manage inventory, handle transactions securely, and even integrate with popular payment gateways.
3. How does Zyro's AI Writer work?
Zyro's AI Writer creates content based on your input. You provide the tool with some information about the content you need, and it generates tailored, engaging copy for you. This can be a great way to generate ideas or even create ready-to-use content.
4. Is Zyro's customer support available 24/7?
Yes, Zyro offers 24/7 customer support via live chat and email. However, they do not currently provide phone support.
5. Does Zyro offer any free plans?
While Zyro doesn't offer a completely free plan, they do have a 30-day money-back guarantee. This means you can try their platform risk-free for a month, and if you're not satisfied, you can get a refund.
6. Can I use Zyro's AI tools on their basic plan?
Yes, Zyro's AI tools, such as AI Writer, AI Slogan Generator, and AI Business Name Generator, are available on all of their plans.
7. What does Zyro's 'unlimited bandwidth and storage' entail?
Unlimited bandwidth and storage mean your website can handle any amount of web traffic and store large amounts of data without any issues. This is a great feature for growing websites that expect a lot of traffic or need to host a lot of content.
8. What are the limitations of the Zyro eCommerce plan?
The main limitation of Zyro's eCommerce plan is that it allows for a maximum of 500 products. This may not be enough for larger eCommerce businesses with a more extensive product catalog.
Why Choose Zyro over other website builders?
There are other website builders available in the market like Pineapple claims to get your website up in five minutes. So, what makes Zyro stand out in this bustling digital crowd?
It's all about the unique symphony of features each platform orchestrates. While Pineapple hits the high notes with speed and efficiency, Zyro steals the show with its harmonious blend of user-friendly tools, state-of-the-art AI features, and affordable pricing.
Sure, you might set up a basic website faster with Pineapple, but with Zyro, you're not just building a website; you're crafting an immersive digital experience. Zyro's intuitive AI tools like the Business Name Generator, AI Writer, and Heatmap give you an unparalleled edge, streamlining the creative process and providing valuable insights to fine-tune your online presence.
Let's not forget about Zyro's budget-friendly offerings. Not every business can spare a fortune on website building. That's where Zyro strikes a chord, providing feature-rich packages that cater to varying budgets without compromising on quality or performance.
In the grand concert of website builders, each has its melody. However, if you're seeking a versatile, affordable, and AI-infused platform to amplify your online presence, then Zyro hits all the right notes.
Subscribe for
the latest updates