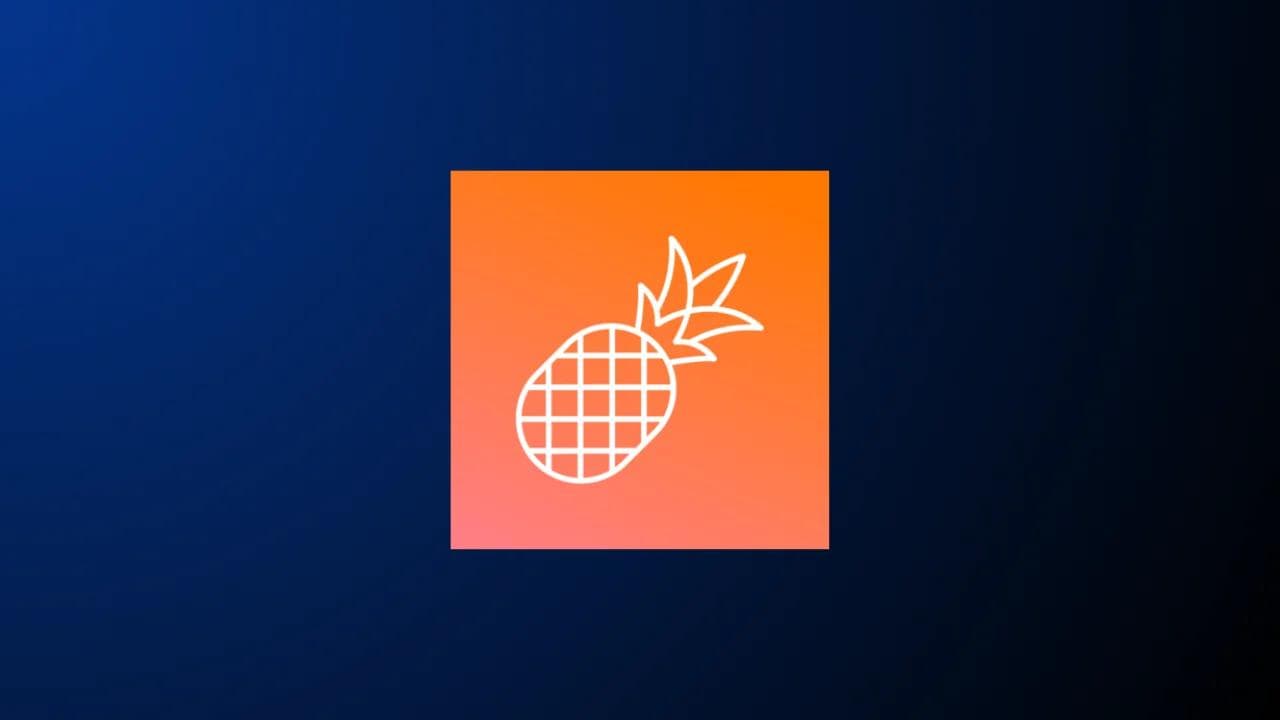 Simplify and Create Your Website with Pineapple Builder

Unbeatable Software
July 3, 2023 at 8:15 AM
Honestly speaking that reading this article will be worth it!
I can bet that you could make your own website after just reading this article. I am not a software engineer and I haven't made any website yet but i ended up with a basic website at the completion of this article. 😀
Things are going to be interesting! Stay Up.
Welcome to a world where building a website is as simple as slicing through a ripe, juicy pineapple. A place where you can unleash your creativity and bring your online presence to life effortlessly. Welcome to Pineapple Builder – the game-changing AI tool that is revolutionizing the way websites are created.
Nowadays, having a strong online presence is essential for individuals and businesses alike. However, the process of building a website can often be intimidating, time-consuming, and require technical expertise. That's where Pineapple Builder steps in, like a friendly guide on your journey to online success.
With Pineapple Builder, the power to create a stunning website lies in your hands, even if you have little to no coding experience. This intuitive AI-powered platform simplifies the entire website creation process, making it accessible to everyone, regardless of their technical background.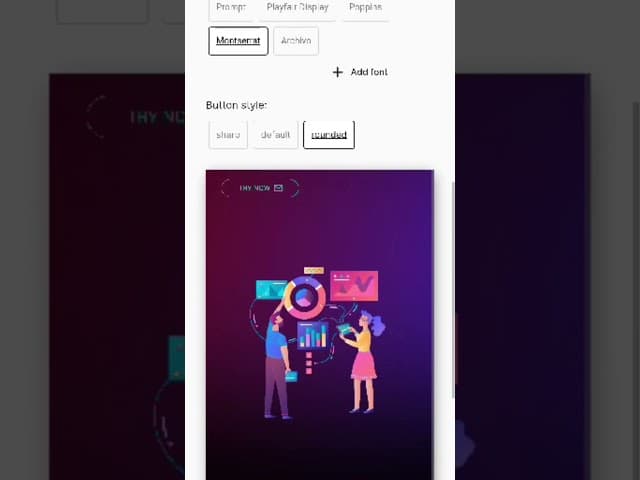 Gone are the days of wrestling with complex coding languages or relying on expensive web developers. Pineapple Builder empowers you to take control of your online presence. Its user-friendly interface guides you through the entire process, from selecting the perfect template to customizing every aspect of your website. With just a few clicks, you can effortlessly add and edit content, integrate e-commerce functionality, and optimize your site for search engines.
But what truly sets Pineapple Builder apart is its AI magic. Powered by advanced algorithms, it analyzes your preferences, understands your brand, and suggests design elements, color schemes, and layouts that align perfectly with your vision. It's like having a personal design assistant, ensuring that your website is not only visually appealing but also consistent with your unique style.
Pineapple Builder is more than just a website builder; it's a creative companion that empowers you to transform your ideas into reality. Whether you're starting a new business, showcasing your portfolio, or sharing your passion with the world, this AI tool simplifies the process and allows you to focus on what truly matters – expressing yourself and connecting with your audience.
Join the growing community of Pineapple Builder users and embark on a journey where website creation becomes a delightful experience. Say goodbye to the complexities of the past and say hello to a future where everyone can build a stunning website, one juicy slice at a time.
4 step formula to rock your next website
Launch: Unleash Your Digital Presence
The first step in rocking your next website is the exhilarating launch. It's the moment when your vision takes shape, and you introduce your online presence to the world.
With Pineapple Builder as your ally, this process becomes a breeze. Choose from a wide range of stunning templates that resonate with your style and purpose. Customize your website effortlessly, adding your brand's colors, fonts, and images to create a captivating online experience. Launching your website with Pineapple Builder means setting the stage for success.
Iterate: Refine and Polish Your Online Masterpiece
Once your website is live, it's time to dive into the exciting world of iteration. Pineapple Builder empowers you to refine and polish your online masterpiece, ensuring it's always at its best. Experiment with different layouts, sections, and content to find the perfect combination that engages and captivates your audience.
Thanks to the intuitive drag-and-drop functionality, making changes is as simple as rearranging pieces of a puzzle. With Pineapple Builder, iteration becomes a joyful and creative process that keeps your website fresh and vibrant.
Grow: Cultivate an Engaged Community
As your website blossoms, it's time to focus on growth. Pineapple Builder provides you with powerful tools to cultivate an engaged community of visitors. Seamlessly integrate social media widgets, create captivating landing pages, and optimize your website for search engines to attract organic traffic.
Utilize the built-in analytics to gain insights into your audience's behavior and preferences, enabling you to tailor your content and offerings to their needs. Pineapple Builder empowers you to grow your online presence and foster meaningful connections with your community.
Scale: Amplify Your Success
When you've mastered the art of launching, iterating, and growing, it's time to amplify your success and scale your website to new heights. Pineapple Builder offers advanced features and integrations that enable you to take your online presence to the next level. Whether you want to incorporate e-commerce functionality, expand your services, or create membership portals, Pineapple Builder has got you covered.
Seamlessly scale your website with confidence, knowing that Pineapple Builder's robust infrastructure can handle your growing needs.
With the 4-step formula of launch, iterate, grow, and scale, Pineapple Builder becomes your trusted companion on the journey to website success. Embrace the creative freedom it offers, and watch your website thrive as you rock the online world with confidence and style.
Creating a Website with Pineapple Builde in 5 minutes: Simple Steps, Stunning Results
Building a website has never been easier than with Pineapple Builder. In just a few simple steps, you can have your website up and running in no time, ready to impress your audience.
Let's walk through the process:
Head to the Website: Start Your Journey
Begin by visiting the Pineapple Builder website. This is where your journey to an exceptional website begins.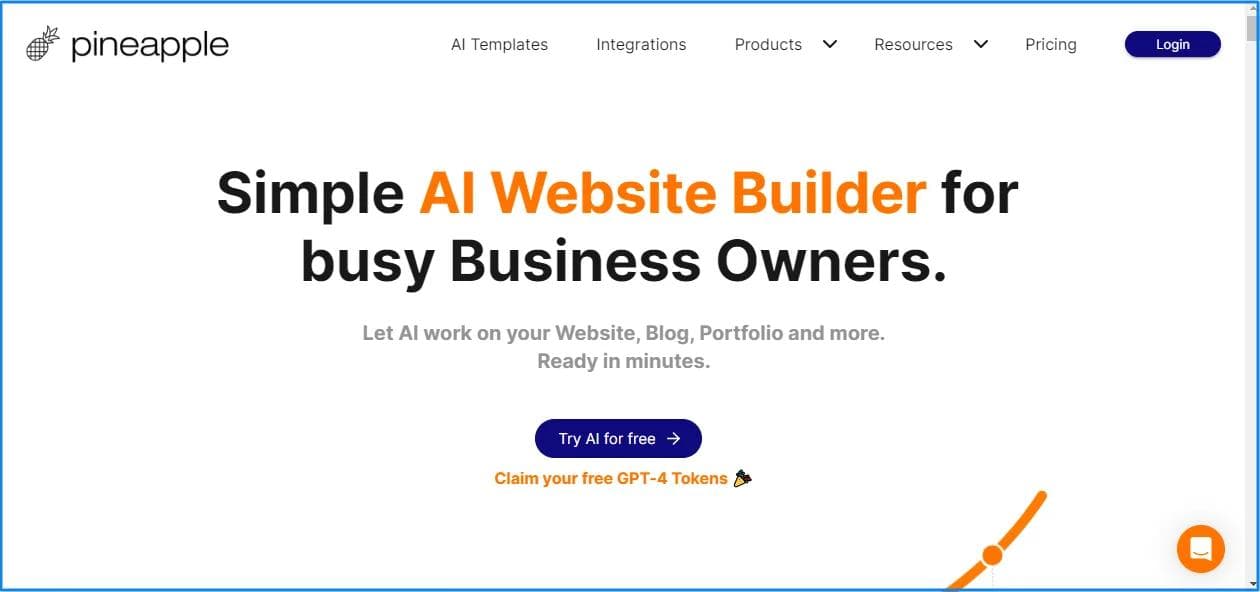 Take a moment to explore the features and benefits Pineapple Builder offers, and get ready to unleash your creativity.
Initial Setup and Click on New Website: Lay the Foundation
Once you're on the Pineapple Builder website, follow the initial setup instructions. Create your account and get ready to embark on your website creation adventure.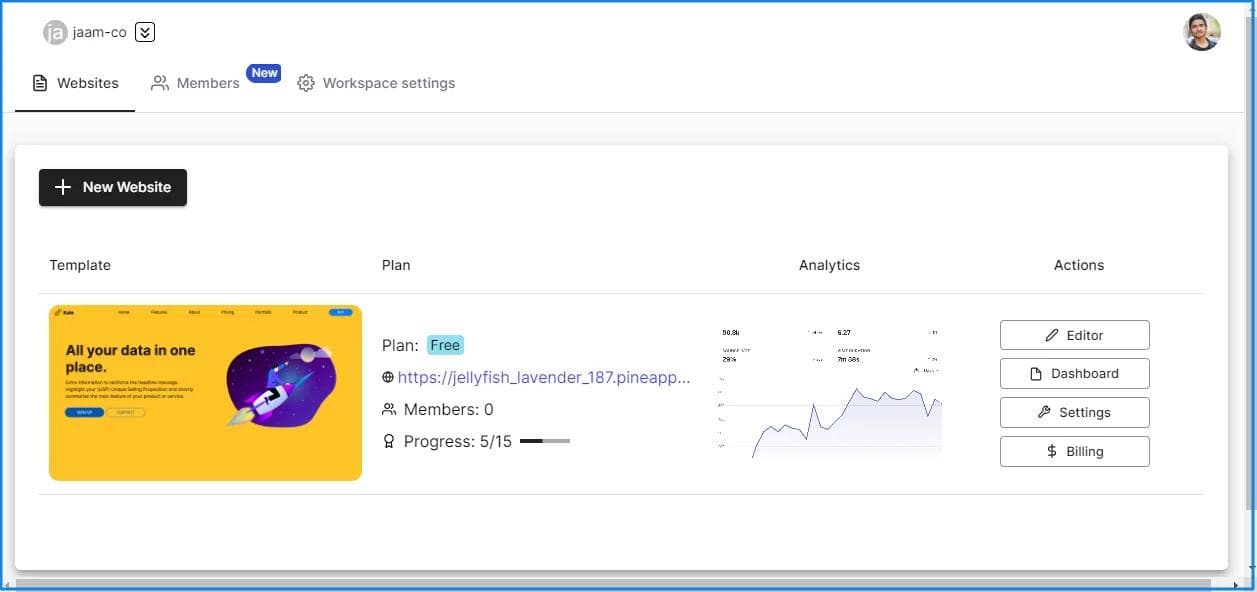 After completing the setup, click on the "New Website" button to kick-start the process.
Select the Template: Find Your Perfect Fit
Pineapple Builder offers a wide range of stunning templates to choose from. Browse through the options and select the one that best aligns with your vision and goals.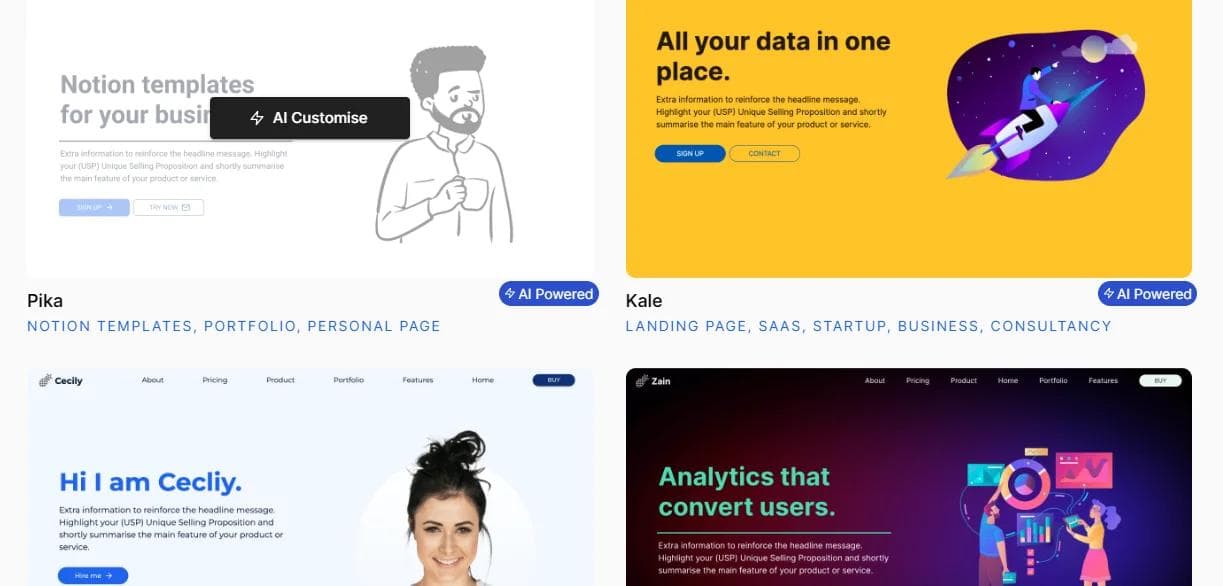 Whether you're looking for a sleek business design, an artistic portfolio layout, or an e-commerce-ready template, Pineapple Builder has the perfect fit for you.
Customize and Add Details: Make It Your Own
This is where your creativity shines. With Pineapple Builder's intuitive interface, customization is a breeze. Personalize your chosen template by adding your brand's colors, fonts, and imagery. Easily modify sections, rearrange layouts, and add or remove content to create a website that truly reflects your style and purpose.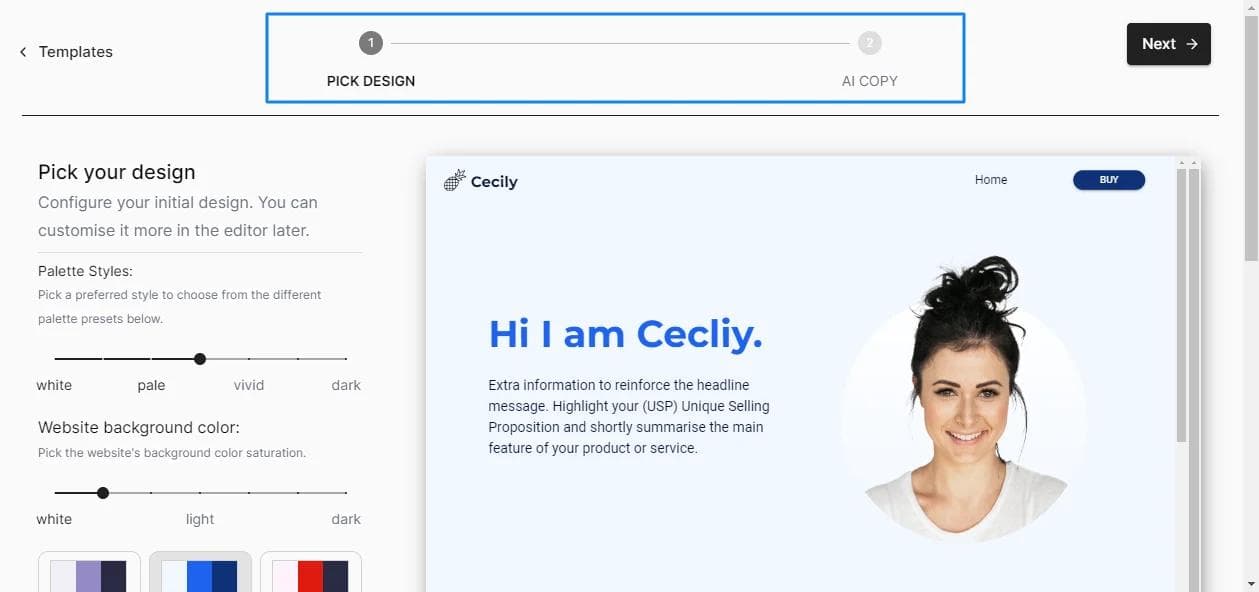 Pineapple Builder's drag-and-drop functionality makes the customization process effortless and enjoyable.
It has default ChatGpt API and It's so easy to make the complete website. Just enter your business details and it will create all website sections and almost everything itself. Wow! 👏
Website is Ready in 5 Minutes: Launch Your Online Presence
Believe it or not, with Pineapple Builder, your website can be ready in just five minutes. The user-friendly interface, combined with the pre-designed templates and easy customization options, streamlines the process. Once you're satisfied with your design and content, simply hit the publish button, and voila! Your website is live and ready to captivate your audience.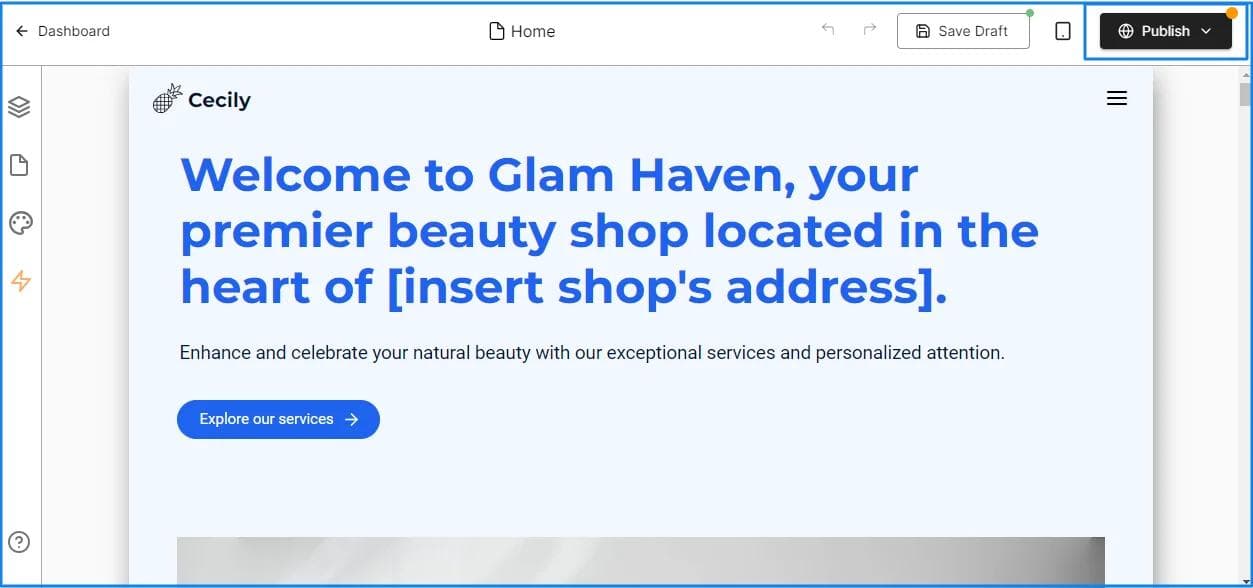 With Pineapple Builder, the days of spending weeks or even months on website development are long gone. In just five simple steps, you can create a stunning website that stands out from the crowd.
So, why wait? Head to the Pineapple Builder website, unleash your creativity, and let your website shine in no time at all.
Pineapple Builder: Perfect for All Website Creators
Pineapple Builder is a versatile platform that caters to a wide range of website creators. Whether you're an individual looking to establish your personal online presence or a business aiming to showcase your digital products or services, Pineapple Builder has got you covered.
Let's explore how Pineapple Builder is the ideal solution for various website types:
Personal Websites: Share Your Story with the World
Express yourself and share your passions with a personal website created on Pineapple Builder. Whether you're a blogger, an artist, or a creative professional, Pineapple Builder provides the tools to craft a visually stunning and personalized online space.
Showcase your work, share your thoughts, and connect with like-minded individuals, all while maintaining full control over your website's design and content.
Digital Products Websites: Sell and Thrive Online
For those in the digital products industry, Pineapple Builder offers the perfect platform to showcase and sell your creations. Whether you're selling e-books, courses, software, or any other digital product, Pineapple Builder's e-commerce functionality simplifies the process.
Create enticing product pages, manage inventory, and process secure transactions, all within a seamless and user-friendly interface.
Creative Portfolios: Showcase Your Talent
Creatives, rejoice! Pineapple Builder allows you to create an eye-catching portfolio website that beautifully showcases your work. Whether you're a photographer, graphic designer, or a creative agency, Pineapple Builder's customizable templates and design options ensure that your portfolio reflects your unique style.
Impress potential clients, attract new opportunities, and let your talent shine.
Beauty Services: Market Your Expertise
If you're in the beauty industry, Pineapple Builder provides the perfect platform to market and sell your services. Create a stunning website to showcase your salon, spa, or beauty services.
Feature enticing visuals, highlight customer testimonials, and incorporate online booking capabilities to attract and engage potential clients. With Pineapple Builder, your website becomes a powerful marketing tool to boost your beauty business.
Freelancers: Stand Out and Win Clients
Freelancers of all kinds can benefit from Pineapple Builder's intuitive website-building capabilities. Whether you're a writer, designer, developer, or consultant, Pineapple Builder enables you to create a professional online presence.
Showcase your skills, highlight past projects, and present your services in an engaging manner. With a standout website built on Pineapple Builder, you can attract new clients and establish your freelancing career with confidence.
SaaS (Software as a Service): Launch Your Tech Venture
For tech entrepreneurs and startups, Pineapple Builder provides a launching pad for your SaaS business. Build an attractive and informative website to present your software solution, explain its features and benefits, and generate leads. Pineapple Builder's integration capabilities allow you to seamlessly connect with other tools and platforms, helping you scale your SaaS venture effectively.
No matter your website type or industry, Pineapple Builder empowers you to create a stunning, user-friendly, and functional website. Join the ever-growin
Affordable Excellence: Pineapple Builder Pricing
Pineapple Builder believes in providing exceptional quality and service at a price that won't break the bank. They understand the importance of budget-friendly options without compromising on the excellence of our work.
The pricing is designed to be fair, transparent, and competitive, ensuring that you receive the best value for your investment.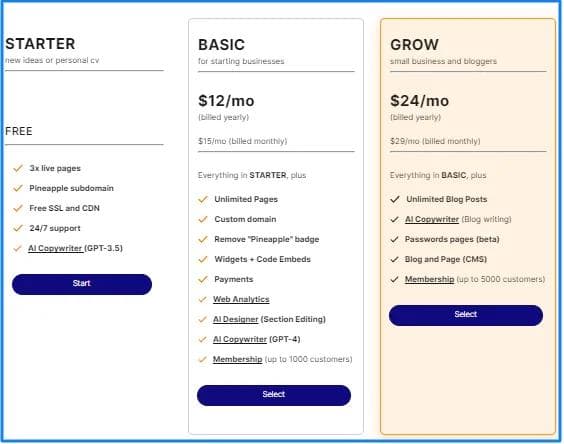 Offering a range of pricing options tailored to meet the specific needs of our clients. Whether you're an individual seeking a personal project or a business owner in need of a professional digital solution, they have packages that cater to various budgets and requirements.
The goal is to make the services accessible to a wide range of clients while maintaining the highest standards of craftsmanship and creativity.
Act Now and Make Your Dream a Reality!
Pineapple Builder is passionate about creating the "wow" factor that elevates your projects to new heights. With their dedicated team of professionals and attention to detail, committed to bringing that stunning moment into your life. It's truly remarkable how, with just a few business details and your vision in mind, we can craft a website that leaves you and your audience in awe.
Imagine the excitement of unveiling a website that perfectly captures your unique identity, showcases your products or services, and engages your visitors. With Pineapple Builder, that vision becomes a reality.
Take the next step and make a purchase that will propel your personal or business projects to new heights of success. Their team of experts is ready to unleash their creativity and expertise, bringing your ideas to life in a way that truly wows.
By partnering with Pineapple Builder, you're investing in more than just a service; you're investing in the future of your dreams. With affordable pricing and exceptional craftsmanship, there has never been a better time to take that leap forward. Your online presence will be transformed into something extraordinary that captivates your audience and sets you apart from the competition.
Subscribe for
the latest updates