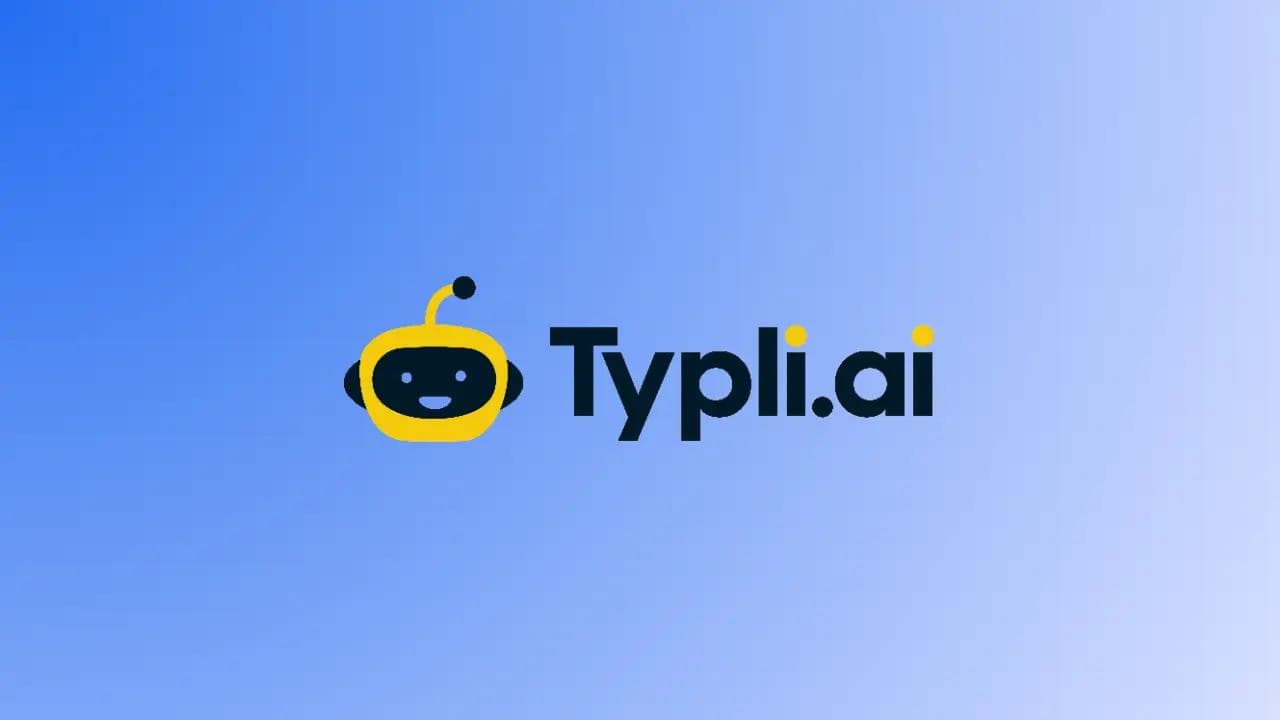 Typli AI Review: Where AI Meets SEO!

Unbeatable Software
June 16, 2023 at 6:15 PM
In the bustling metropolis of the digital world, where words are the currency and content is king, a unique entity, a maverick changing the game. Welcome to our Typli AI Review, where the magic of Artificial Intelligence (AI) intertwines with the science of Search Engine Optimization (SEO).
Imagine a world where your thoughts are transformed into compelling content, your ideas are sculpted into SEO-friendly narratives, and your business messages are crafted to resonate with your audience. This is not a fantasy but a reality that Typli AI brings.
Typli AI is not just another tool in the digital toolbox; it's a revolution, a paradigm shift in how we approach copywriting.
But why does this matter to you? In the digital age, the right words can distinguish obscurity and visibility between a potential customer clicking 'back' or 'buy now.' Typli AI is your secret weapon, your silent partner that helps you navigate the complex labyrinth of digital content creation, ensuring your message reaches your audience and resonates with them.
Stay with us as we delve deeper into the world of Typli AI, exploring its features, capabilities, and the unique value it offers. Whether you're a seasoned digital marketer, budding entrepreneur, or curious reader, this journey promises to be enlightening. Welcome aboard!
The Future of Copywriting and SEO! What exactly Typli ai is?
In digital marketing, content creation, and SEO, Typli AI emerges as a beacon of innovation. But what exactly is Typli AI? Let's pull back the curtain and reveal the magic behind this revolutionary tool.
Typli AI is a state-of-the-art copywriting tool that leverages the power of artificial intelligence to generate high-quality, SEO-optimized content. It's a product of years of research and development, designed to understand, learn, and mimic human language patterns, producing engaging content and highly relevant to search engines.
Typli AI employs advanced natural language processing (NLP) algorithms. NLP is a branch of AI that enables machines to understand, interpret, and generate human language. This means Typli AI can comprehend the nuances of language, context, and sentiment, allowing it to produce content that feels human-written.
But Typli AI is more than just a copywriting tool. It's a comprehensive SEO solution that understands the intricate dynamics of search engine algorithms.
It doesn't just create content; it crafts narratives designed to rank well in search engine results, helping your content reach the right audience at the right time.
In essence, Typli AI is a fusion of AI and SEO, a tool that combines the art of engaging content creation and the science of SEO. It's a tool designed to help you succeed in the digital world, whether you're a business owner looking to boost your online presence, a digital marketer aiming to improve your campaign performance, or a content creator seeking to enhance your writing efficiency and effectiveness.
Stay tuned as we delve deeper into the features and benefits of Typli AI, and explore how it's reshaping the landscape of digital content creation and SEO.
Testing Typli AI to Test How Accurate It Is
Following your enthusiastic response to the Nero AI review, I am compelled to examine Typli and share my insights with you thoroughly.
When we head toward the website, here's what you get: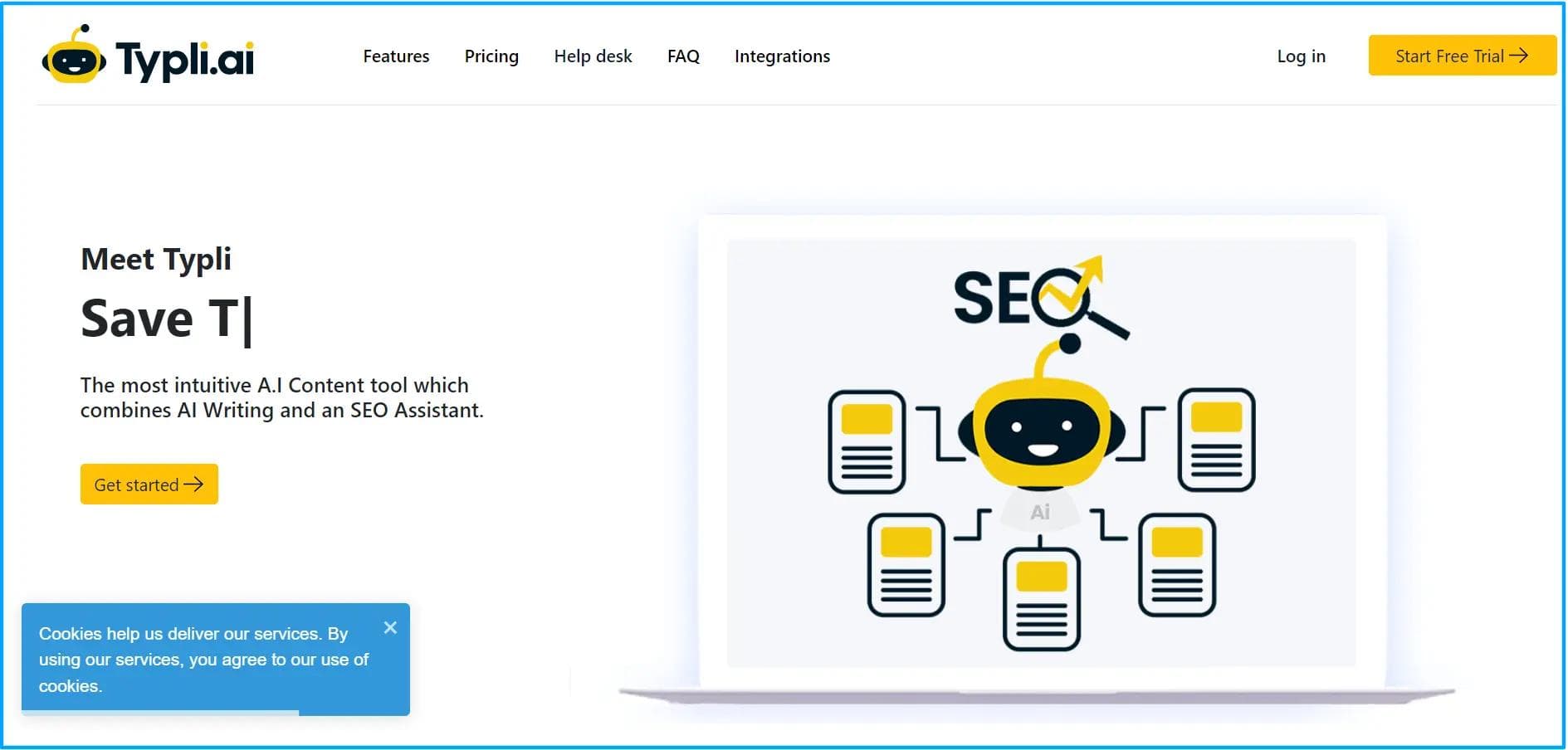 This is the basic front end that typli ai offers. You can hover at the feature and other sections to explore on your own.
Next thing is to log in; here we go!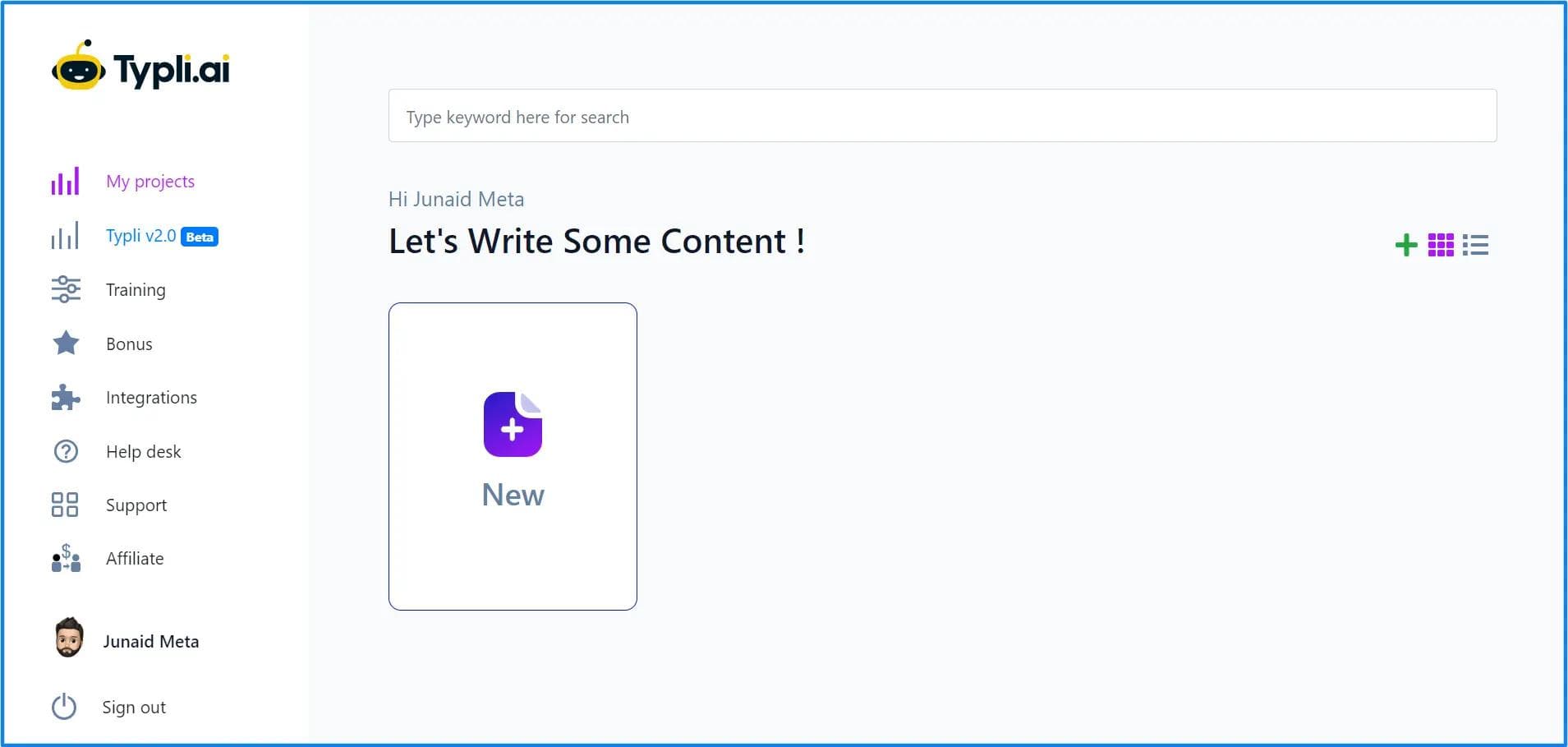 It's time to create a new project and start working.
Here is how project dashboard looks.
One good thing it offers is in the top right corner SEO section. Typli gives keyword analytics that may help you in your SEO efforts.
You can plan some competitive keywords based on your plan of action.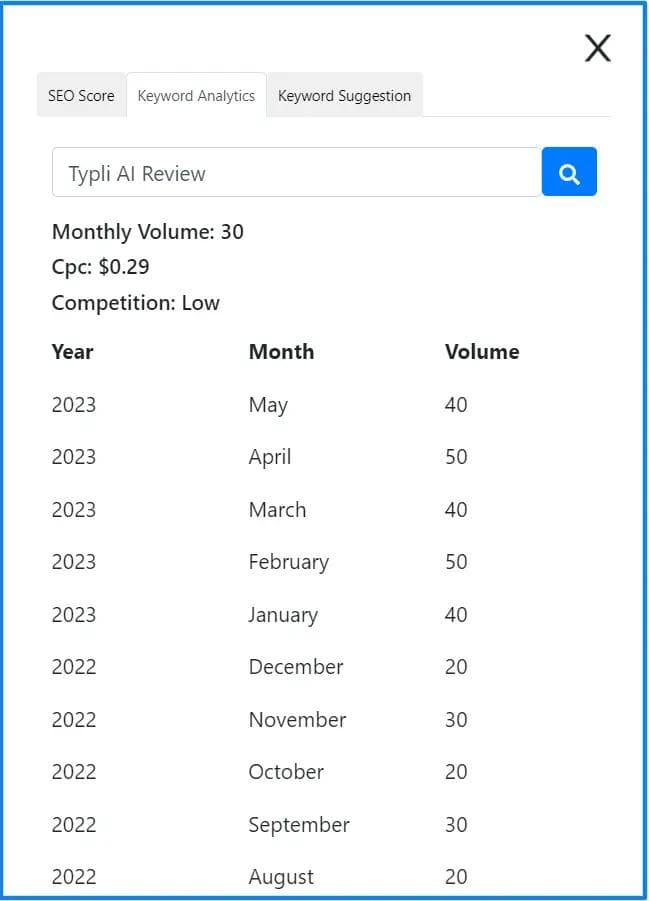 We are about to test. Right?
Let's do it.

As the initial task, I said typli to write a typli ai review.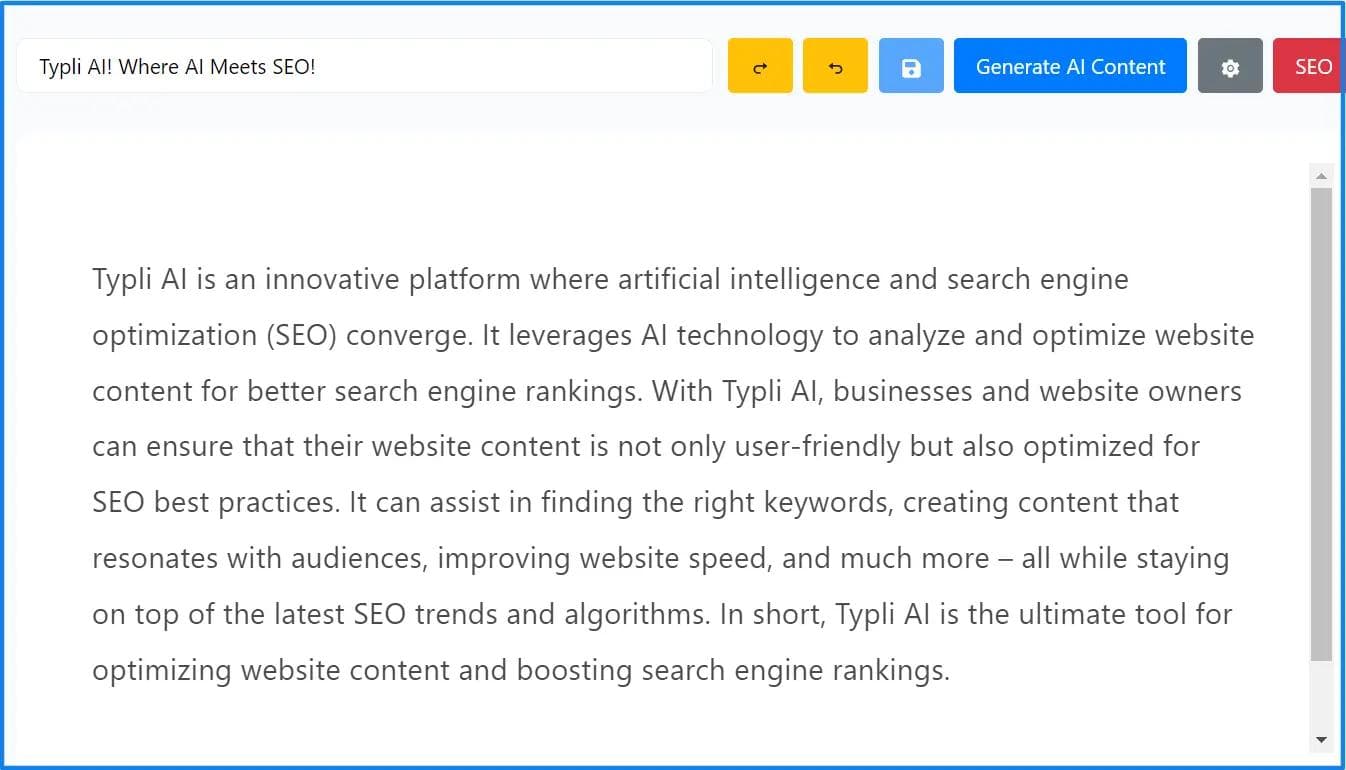 Here are the results!
Going further, I explored it more and found this one.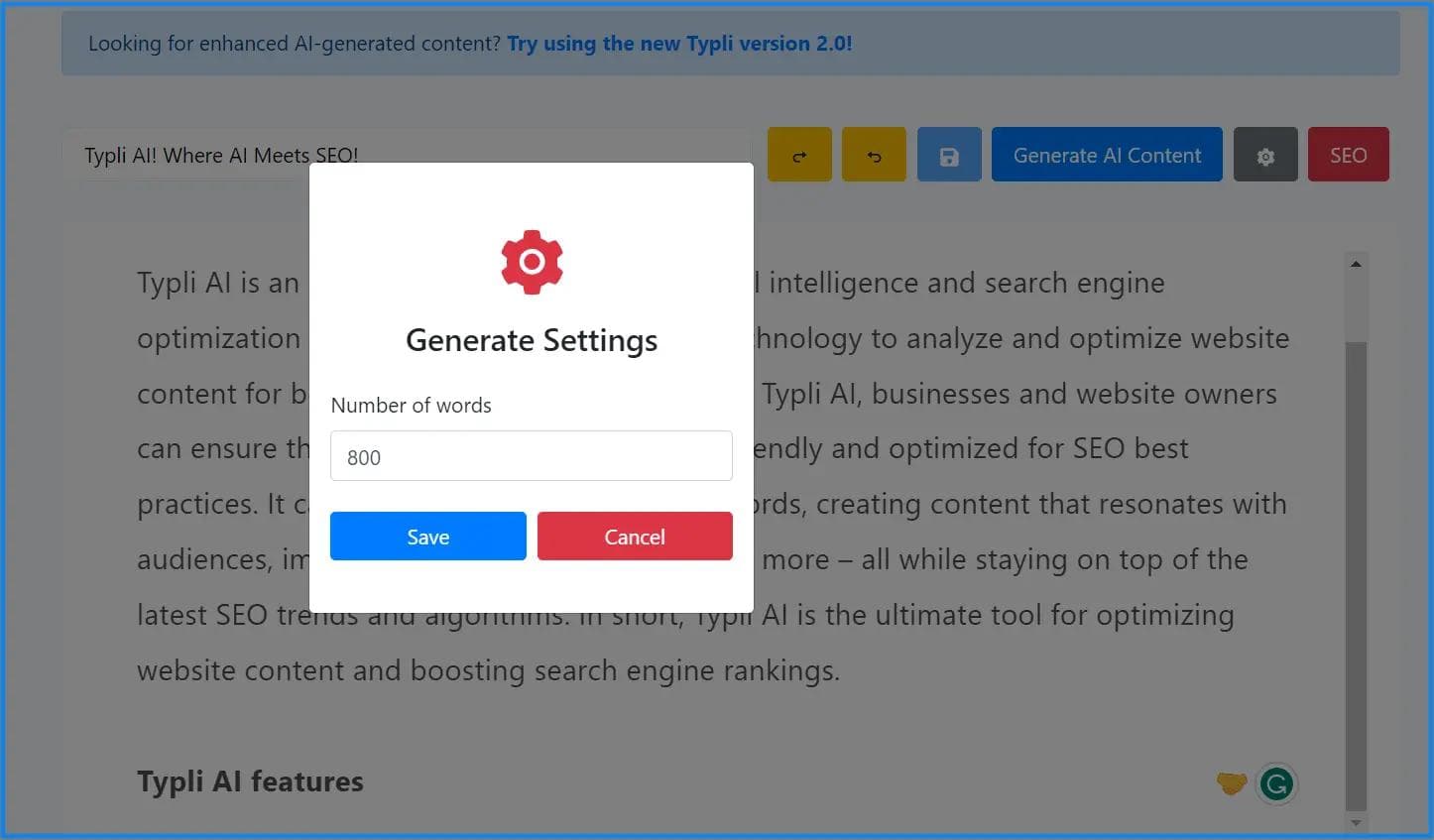 Look Typli AI allows you to pre-define the number of words that you want Typli to generate.
I tested this, but it wasn't working well, like in response to my 800-word count input. It creates a couple of paragraphs. So the results for this weren't Wow!
Next, I tried to test its rephrase. Below is the content that I wanted to rephrase using Typli AI. I don't know if the rephrased content shock you. Take a look.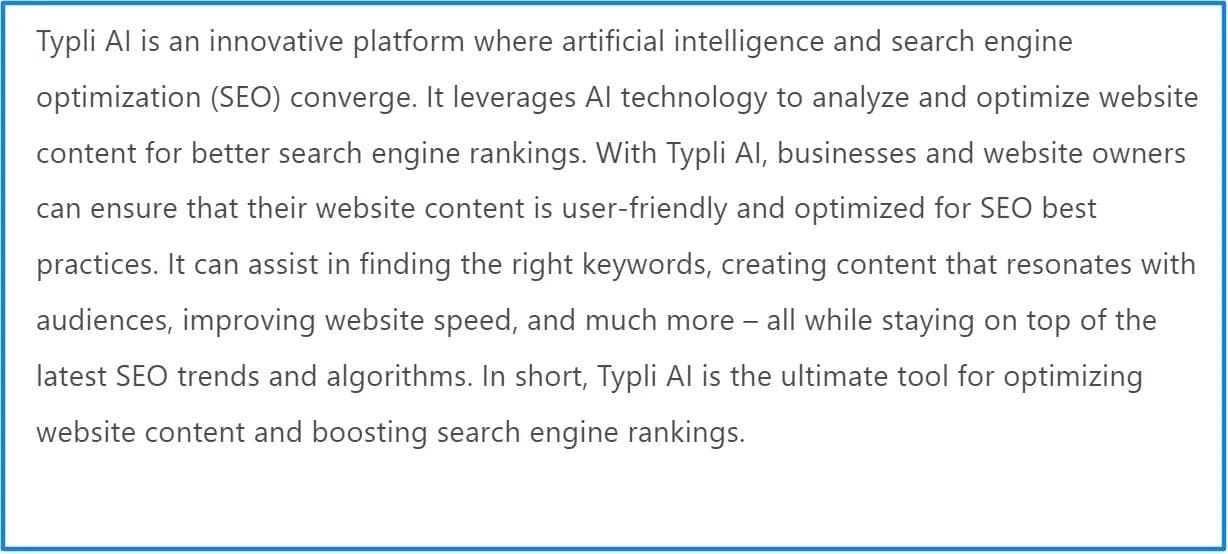 Here is the rephrased version of the above paragraph.
You can decide on your own that you gonna try it or not.
After that, I tested the Keyword Suggestion section.
Unfortunately, it disappoints me whenever i try to use it it Displays "Cannot get suggestions right now"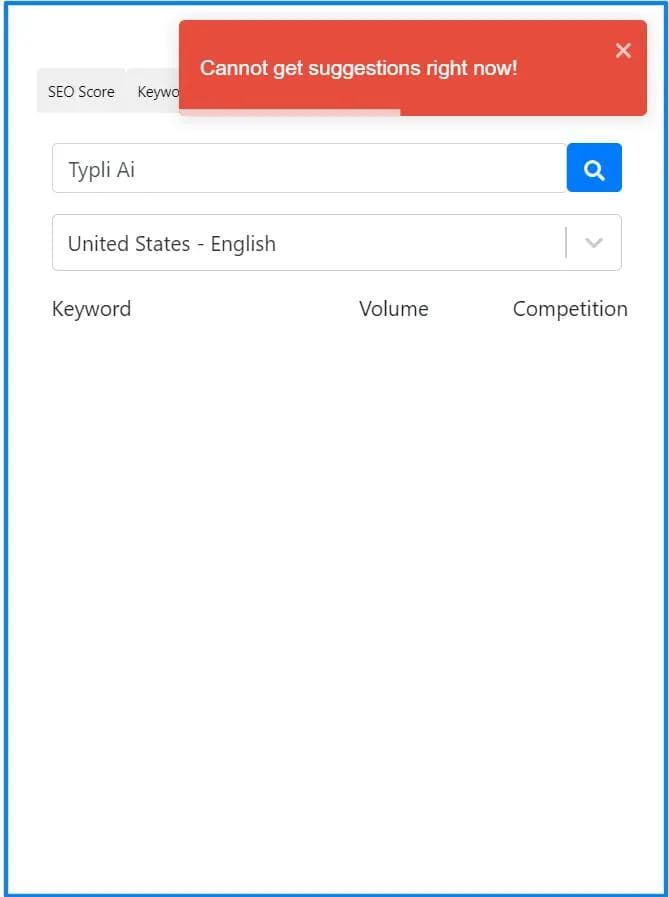 Diving Deeper into Typli AI Features
SEO-Enhanced Content Creation
Typli AI's SEO assistant tool thoroughly evaluates your website, pinpointing areas that require enhancement and offering practical steps to boost your rankings. The tool scrutinizes various elements that impact your search engine rankings, including keyword application, metadata, backlinks, content caliber, and more.
By leveraging Typli.ai's limitless SEO Checker, you can effortlessly discern which facets of your website demand improvement and implement the necessary modifications to optimize your content for superior ranking. Moreover, you can monitor your progress and fine-tune your strategy as needed.
This tool saves time and energy while ensuring your website is primed for maximum visibility and success in search engine rankings. Typli.ai's SEO checker can be your initial stride toward sustained success in digital marketing.
Effortless Creation of Detailed Long-Form Content
Crafting long-form content can often be daunting, requiring significant effort to weave the perfect narrative. However, with Typli.ai, generating actual long-form content becomes a breeze! It could be your ideal companion, harnessing the power of Natural Language Processing (NLP) to effortlessly generate unique articles and written materials.
It can seamlessly incorporate thoroughly researched keywords into an existing article, drawing from its vast databases. You can manually set the word count, but it's ineffective. Like when I set the word count to 800, it hasn't met the set word count.
This feature is particularly useful for bloggers, journalists, and content creators who must produce in-depth articles, reports, or blog posts. With Typli.ai, you can generate long-form, engaging, SEO-friendly content, helping you reach a wider audience.
Moreover, this feature serves as a comprehensive writing assistant, offering more extensive support, such as suggesting industry-relevant topics, incorporating quotes from intricate sources, and more.
In essence, Typli.ai is more than just a tool; it's your partner in content creation, helping you easily create high-quality, detailed, and engaging long-form content.
Ensuring Originality with Typli AI's Plagiarism Checker using Copyscape
In the digital world, originality is paramount. Duplicate content can harm your website's SEO performance and potentially lead to penalties from search engines. That's where Typli AI's Plagiarism Checker feature, powered by CopyScape, comes into play. It's not that effective, but still, you can try.
Typli AI's Plagiarism Checker is designed to ensure the uniqueness of your content. It cross-references your text against a vast online content database using CopyScape, a leading plagiarism detection software. This feature allows you to verify that your content is original and free from any potential plagiarism issues.
Highly helpful if you're a blogger and digital marketer who must produce a large content volume. With Typli AI's Plagiarism Checker, you can ensure your content is unique, enhancing your website's SEO performance and avoiding potential penalties for duplicate content.
Moreover, the Plagiarism Checker is not just for checking the originality of the content generated by Typli AI. You can also use it to check any content you've written or received from other sources.
Harnessing the Power of SEO with Typli AI's Keyword Traffic Estimator
Choosing the right SEO keywords is crucial in optimizing your website or online content for search engines. Typli AI's Keyword Traffic Estimator is a robust tool designed to assist website owners and content creators select the most effective keywords based on search volume, trends, competition, and CPC (Cost Per Click).
Search volume is a key consideration in keyword selection as it reflects the number of searches conducted for a particular keyword and its related terms over a certain period. Trends in keyword usage provide insights into the keyword's relevance and popularity or if its usage has declined.
The level of competition for a keyword indicates how many other websites are also using the same term, which can influence your website's visibility compared to similar pages on Google.
Conversely, CPC represents a keyword's potential value within Google Ads campaigns and can impact prospective bids for placement in Search Engine Results Pages (SERPs). These metrics can guide more precise keyword selection, improving organic visibility.
Typli.ai's SEO checker features a user-friendly keyword traffic estimator that allows users to input their primary keywords effortlessly and swiftly identify those most likely to deliver successful results based on relevant metric information about the term. It also provides a list of related keywords that could be beneficial in targeting specific topics or content themes.
This single feature can significantly enhance your website's SEO performance and help you achieve better results in search engine rankings, making it an invaluable tool in your SEO toolkit.
Typli AI's Unlimited Content Output
In the realm of content creation, the sky is the limit.
Typli AI's Unlimited Content Output feature gives you the keys to a boundless universe of creativity and innovation.
This feature breaks down the barriers of traditional content creation, allowing you to generate as much content as you need without any restrictions. Whether you're looking to create a compelling blog post or an entire series of articles, Typli AI is equipped to handle your needs.
This feature can turn the stone if you're a business and content creator who must regularly produce a high content volume. With Typli AI's Unlimited Content Output, you can generate a steady stream of high-quality, SEO-optimized content, helping you maintain a consistent online presence and engage your audience effectively.
But the Unlimited Content Output feature isn't just about quantity but also quality. Despite the volume of content you can produce, Typli AI ensures that each piece of content is unique, engaging, and tailored to your needs.
This aspect of the feature is a boon for digital marketers and SEO specialists who need to create diverse content for different platforms and audiences. With Typli AI, you can generate a wide variety of content, from blog posts and articles to social media posts and product descriptions, all while maintaining a high-quality standard.
In essence, Typli AI's Unlimited Content Output feature is a testament to the power of AI in content creation. It's a feature that empowers you to create without limits, helping you harness the power of content to reach your audience, boost your SEO performance, and achieve your digital marketing goals.
Expanding Horizons with Typli AI Integrations
Integrations have become a crucial component in the rapidly evolving landscape of AI writing. Typli AI stands at the forefront of this evolution, offering a suite of integrations that enable users to write seamlessly across various platforms.
Typli AI's integrations include a Chrome Extension, Mozilla Extension, and a WordPress plugin. These integrations allow users to access and create content from any platform or device, enhancing convenience and productivity.
Content creators who work across multiple platforms or devices can get benefits. With Typli AI's integrations, you can easily access your content, whether working on a blog post on your desktop or drafting a social media post on your mobile device.
The worry of content compatibility across different platforms has become a thing of the past with Typli AI's integrations. This ensures a smoother writing experience, more.
Typli AI's Chatbot: A Feature with Potential for Growth
Typli AI is an exceptional tool that empowers users to generate content swiftly and effortlessly. However, one area that could benefit from further refinement is its Chatbot feature, particularly its responsiveness when not actively used in content creation.
Currently, the Chatbot feature may not always respond effectively to queries. Despite experimenting with various prompts and questions, the response often defaults to "I don't understand your question." Compared to solutions like ChatGPT, there's room for improvement to enhance its utility in the Chatbot arena.
Typli AI's Chatbot feature is handy for posing general questions and receiving prompt responses. However, it may falter when tasked with answering more specific queries.
For instance, if a user were to ask the bot, "What is Typli AI?" instead of offering a comprehensive explanation of its services and features, the chatbot might respond with a lack of understanding. This can pose a challenge for users seeking quick and precise answers.
The Chatbot's current limitations extend to understanding more complex inquiries, which restricts its usefulness for users seeking more detailed answers from Typli AI. In essence, this feature could use some enhancements before it fully meets customers' expectations seeking reliable information from the platform.
Real-Life Use Cases of Typli AI
Content Creation for Digital Marketing: Digital marketers often need to create a large volume of content for various platforms, including blogs, social media, and websites. With Typli AI's advanced NLP capabilities and unlimited content output, they can generate engaging, SEO-optimized content quickly and efficiently. This can help improve their online presence and reach a wider audience.
SEO Optimization: For SEO specialists, Typli AI's SEO-optimized content generation and keyword integration features can be invaluable. They can create engaging content designed to rank well in search engine results. The SEO Keyword Traffic Estimator can also help them identify the most effective keywords for their content.
Academic Research and Writing: Students and researchers can use Typli AI to generate detailed outlines for their papers or articles. The tool's ability to suggest relevant topics and incorporate complex sources can help streamline the research and writing process. The Plagiarism Checker feature can also ensure the originality of their work.
E-commerce Product Descriptions: For e-commerce businesses creating unique and engaging product descriptions can be time-consuming. Typli AI can generate detailed, persuasive product descriptions that can help attract potential customers and boost sales.
Customer Service Chatbot: Businesses can use Typli AI's Chatbot feature to enhance customer service. The chatbot can handle common customer inquiries, freeing time for customer service representatives to handle more complex issues. While this feature may need some improvements, it shows promise in automating and improving customer service interactions.
Typli AI Pricing
When it comes to affordability, Typli AI stands out from the crowd. With an enticing offer of unlimited credits at a modest price of just $29 per month or $290 per year, it presents a compelling choice for individuals and businesses seeking to streamline their content creation process without straining their budget.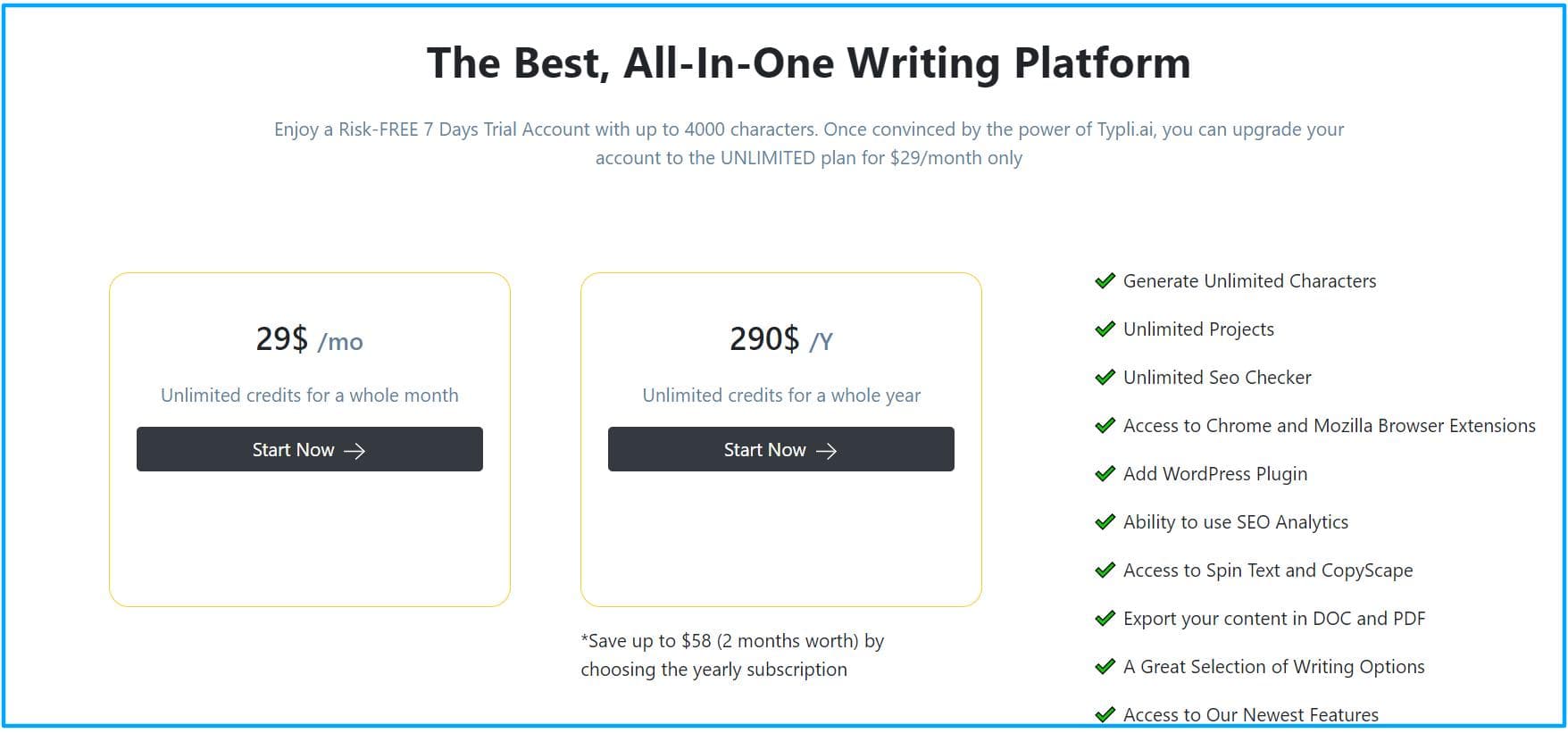 Typli AI's pricing model is a testament to its commitment to accessibility. It's an all-in-one solution that combines automation, cost-effectiveness, and ease of use, making it an attractive option for anyone needing a content creation tool.
To sweeten the deal, Typli AI offers a risk-free 7-day free trial, during which you can generate up to 4,000 content characters. This gives you a taste of what Typli AI can do before you commit to a subscription.
Once the trial period concludes, a simple subscription activation unlocks Typli AI's features and benefits. From editing assistance to a comprehensive library of topics and categories, Typli AI has a lot to offer.
With Typli AI's pricing model, the days of shelling out hundreds of dollars monthly on content creation are over. Typli AI offers a more affordable alternative, delivering high-quality, automated content creation at a fraction of the cost of other solutions.
Wrapping up
As we navigate the digital cosmos, we find ourselves at the intersection of creativity and technology. Here, Typli AI emerges as a beacon, illuminating the path toward a future where content creation is not just a task but an adventure.
Typli AI is not just a tool; it's a companion on your journey through the vast expanse of digital content creation. It's a co-pilot that helps you navigate the complexities of SEO, a guide that helps you traverse the terrain of keyword optimization, and a mentor that assists you in crafting engaging narratives.
But the journey doesn't end here. As we've seen, Typli AI is continually evolving, learning, and growing. While already impressive, its features promise further refinement and enhancement. The growth potential is immense, and the possibilities are as limitless as the universe.
So, as we conclude this exploration of Typli AI, we invite you to embark on your journey of discovery. Harness the power of Typli AI, and let it propel you towards new horizons in digital content creation. The future is here, and AI powers it.
Subscribe for
the latest updates