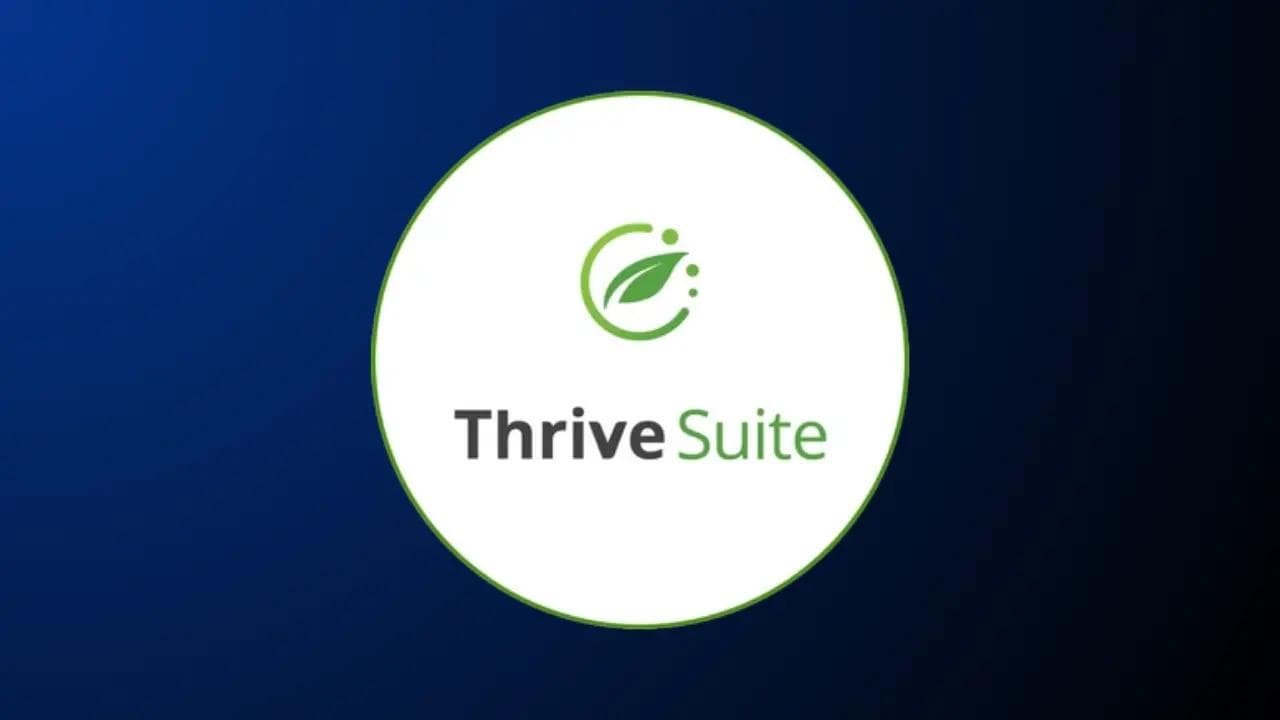 Thrive Suite Reviews 2023: Does Thrive Themes worth buying for you?

Unbeatable Software
May 15, 2023 at 12:14 PM
Is Thrive Themes Membership the same as Thrive Suite? Well, this is precisely what we are going to cover in the following Thrive Suite Reviews.
Thrive Suite is a powerful marketing tool developed by Thrive Themes. In one line, it's a collection of WordPress themes and plugins, including WordPress page builders previously known as Thrive Themes Membership.
Pros & Cons
Pros
Intuitive Plugins
Valuable and Easy to Install
Great Community and Support
Industry-leading functionality
Easy Plugin Integrations
No Prior Experience Require
Attractive Affiliate Program
License for up to 25 sites
Relatively Inexpensive
Cons
Some plugins are quite expensive
Functionality Gaps
Plugins may affect your page loading time
Who is Thrive Suite for?
Anyone who is starting an online business and wants to have a conversion-optimized website can explore Thrive Suite. Thrive Suite comes with functionality that primarily makes it best for
Marketers
Entrepreneurs and
Bloggers
What does Thrive Suite Do?
If you have ever read or heard about Thrive Theme WordPress Themes and Plugins, all those themes and plugins developed in the past are inside the Thrive Suit. Some of the highlights are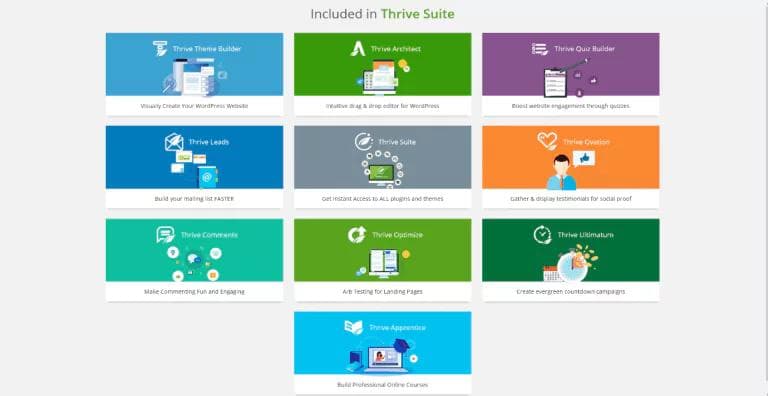 Thrive, Product Manager,
Thrive Product manager is the Thrive tools installer which you need to install Thrive plugins and themes on your WordPress site.
Thrive Plugins
Its is a WordPress lead generation plugin which helps to accelerate the email list-building process. It allows you to integrate APIs directly from multiple email service providers. Using it, you can also run A/B test designs and create opt-in forms.
You must be familiar with Website Builders; if not, you can read about them here. Thrive Architect is a drag-and-drop WordPress website builder. It is famous for its 2 most commonly used options, Page Builder and Blog Posts Builder.
When using any of the 2 options, you can choose from 40+ elements of formatting. It also lets you create static pages, landing pages or any other specific content pages.
There is a library of 150+ templates from where you select any template, make some changes and publish your own blog post or landing page.
Thrive headline Optimizer
As the name says, this plugin lets you create an engaging headline (the most challenging thing) by testing 2 or more headings to filter out the best-performing one.
Thrive Widgets let you add more widgets in the widget area of the web page. Some of the widgets include eye-catching icons, pages, tags, categories, etc.
Thrive Quiz Builder is another amazing plugin by Thrive Suite that lets you create different quizzes to keep engaging with your audience. This way, you can grow your email list and generate more traffic on the website.
The Thrive Suite plugins help you add countdown timers on your website or email campaign. You can run your next complex and evergreen campaigns with it.
You always have seen testimonials on different websites but have you ever wondered how to publish yours there? Well, Thrive Ovation allows you to display testimonials on your website and let your visitors publish theirs as well.
Thrive Comments is more like an engagement booster plugin which focuses on comments
Thrive Optimize helps you optimize your website and its content using Thrive Architect A/B testing.
If you ever wish to launch your own tutorial course on anything using Thrive Apprentice, you can offer your own courses. This plugin is built keeping the teaching and learning perspective.
Thrive Theme Builder
You must have heard about Website Page Builder; well, Thrive Theme Builder is one step senior. It lets you create and design your website as a whole instead of pages only. You can visually build, edit, and design elegant themes.
When you first install thrive theme builder and sit down to start designing your own site, A wizard will pop up. It will take you through all the options.
It's really helpful if it's your first time with thrive suite tools as it helps you create your website faster.
Thrive Dashboard
Thrive dashboard, as the name says, is the dashboard from where you can manage all the plugins and tools. It further has 2 sections which are as follows.
It's the first section (first half) of the dashboard, which keeps growing as you are adding and install more plugins there.
It's the second half of the dashboard from where you can access and manage all the general settings which are applicable to all the Thrive Products.
Thrive Suite vs Elementor
What makes both Thrive Suite and Elementor in the market is their target audience and the only major difference between the two. Elementor surely does wonders for its target audience, which includes portfolio websites and general website designs. On the other hand, Thrive plugins target marketers.
Thrive Suite Membership Area
After Logging to Thrive Suite, you will see its membership area. When you first log in there, you will see instructions explaining the process to install the plugins on your website using the Thrive Product Manager. For new users, they have created a 3-minute small video explaining all this stuff to save them from trouble later.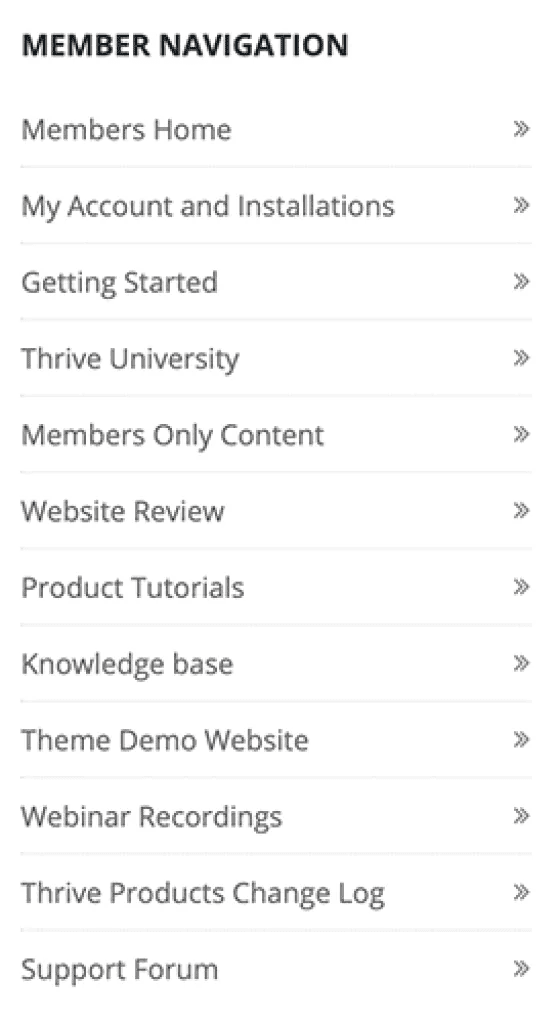 At the same time, you can see the Membership Navigation menu on the left side. It contains all the options, including the ones below.
Clicking at first on Members Home will not take you anywhere, but later if you seem lost somewhere between options, just click on it to return back to the home page of Membership Area.
My Account and Installations
As the name says, this tab contains all your Thrive account and related information, including the product details, payment invoices, past and active orders and your contact information.
If you are new and trying to explore the Membership area, click on Getting Started to watch the welcome video to familiarize yourself with the Thrive dashboard.
Thrive University is just like a knowledge base section of any other website or product. It contains answers to all your questions, including the training material, which makes it easy for you to use Thrive Products. Thrive University can be accessed by anyone, but there are exclusive courses which are only limited to Thrive members.
This section contains templates, contests and courses, which are limited to active members only.
What can be better than getting your website reviewed by some professional who can help you improve it? It is exactly what you can do here: get your website reviewed by the Thrive team and get professional advice to improve it. All you need to do is submit your website details in this tab.
From here, you can learn can get respiratory for thrive themes and plugins.
If you get stuck with some plugin or theme, you can come here for the troubleshooting tips, and detailed documentation of all Thrive Products.
It takes you to shapeshift theme and Thrive Theme Builder demo website page.
It contains all the recordings of the webinars happening from time to time, from where you can learn about marketing and WordPress topics.
Thrive Products Change Log
This section contains the log of all updates and changes. You can track which new features have been introduced and what bugs have been fixed.
You can report the issue or check problems reported by other customers from here. This tab takes you further to five sections, General Discussion, Plugins, Showcase, Themes, Affiliate account and Pre-Sales Report.
Thrive Architect Plugin
Thrive Architect is one of the most advanced landing page builders especially designed for marketers. Some of its features include light boxes, editing source code (USP) and mobile page building. It is pretty easy to use, even without any advance or technical knowledge.
Does Thrive Architect Work with any Theme?
Thrive Architect works with all WordPress Themes. It's a builder plugin which is used to visually create a landing page. It is used by especially bloggers and markets for creating WordPress websites.
Thrive Suite Pricing
Thrive Suit offers only two pricing options, Quarterly and Yearly, unlike others that also offer monthly pricing plans. Thrive Suite cost $99 per quarter, whereas the Yearly plan starts from $299 per year.
In both plans, there is only the difference in pricing period; all payment and membership features include
Thrive Theme Builder (with Bookwise, Shapeshift, Ommi and Kiwi),
9 Thrive Themes WordPress Plugins (including Thrive Architect, Thrive Quiz Builder, Thrive Leads, Thrive, Apprentice, Thrive Ultimatum, Thrive Ovation, Thrive Optimize, Thrive Comments and Thrive Automator),
Access to Thrive University,
Allow use on up to 5 websites,
30 days money back guarantee and
24/7 Customer Support
Check the Thrive Suite pricing on their website.
Thrive Suite Review: FAQs
What do I get in the Thrive Suite?
Thrive Suit Includes
Thrive Theme Builder (with Bookwise, Shapeshift, Ommi and Kiwi),
9 Thrive Themes WordPress Plugins (including Thrive Architect, Thrive Quiz Builder, Thrive Leads, Thrive Apprentice, Thrive Ultimatum, Thrive Ovation, Thrive Optimize, Thrive Comments and Thrive Automator),
Access to Thrive University,
Allow use on up to 5 websites.
Full access to premium blog post templates
Can I create a blog using Thrive Suite?
You can create your blog using Thrive Theme Builder (for creating and designing the WordPress website), Thrive Architect Plugin (for creating blog posts) and Thrive leads (for adding opt-in forms) which are all part of the Thrive Suite tools.
Can Thrive Suit be used for WordPress Website Blogs?
Yes, you can use Thrive Suite to create a blog on your WordPress-made website.
Does Thrive Suit offer one-time payment?
Thrive Suit does not offer one-time payments; instead, they offer quarterly and yearly subscriptions.
Does Thrive Suite offer refunds?
Thrive Suite offer 30 Days money back guarantee. To get a refund, you need to get in touch with their Support Team within 30 days starting from the date of purchase.
Do old customers get new updates, plugins, and themes?
All customers and users who have their active Thrive Suit license get free new updates and access to any new plugin and theme they launch.
Does Thrive Theme Builder come inside Thrive Suite?
Thrive Theme Builder is a famous tool which comes packed inside the Thrive Suit.
Conclusion
Thrive Suite and all the tools are the best bet if you are looking for all in one WordPress solution for bloggers, marketers or entrepreneurs. And the same goes for the agencies.
But in case you are just starting out with a limited budget, then Thrive themes Suite might not be for you. For that, you can look into other page builders here.
Subscribe for
the latest updates