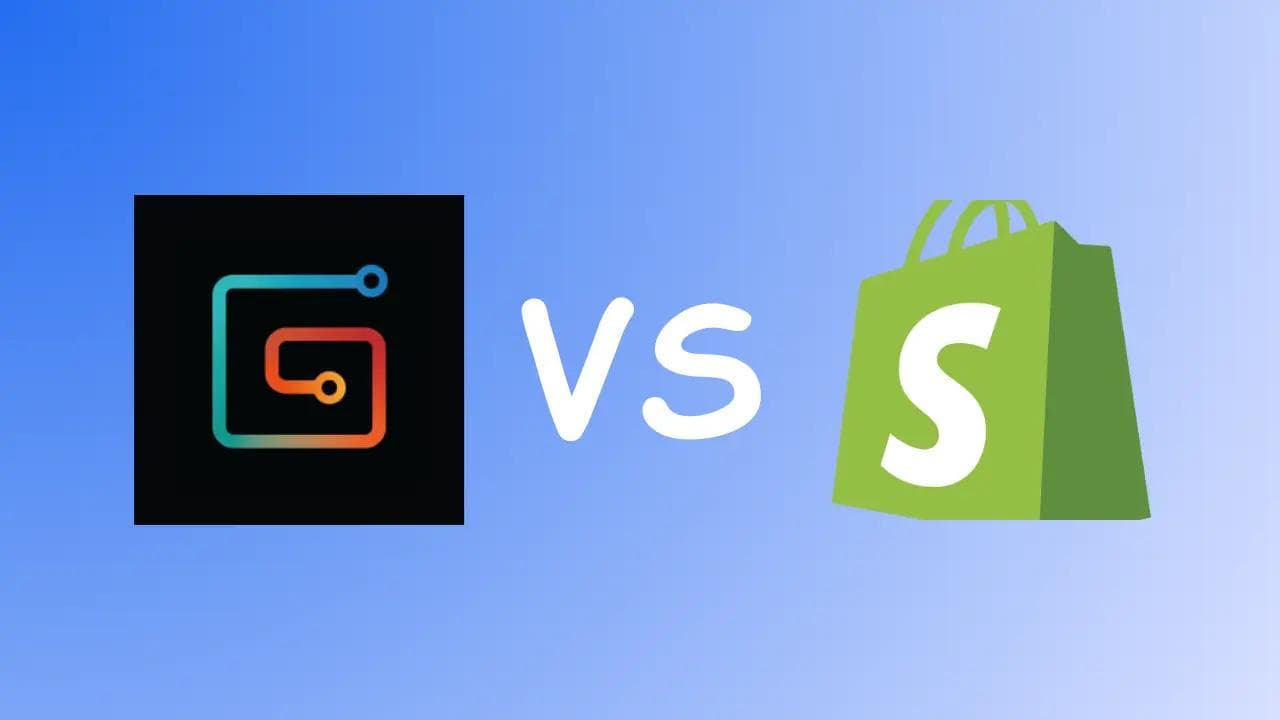 Gumroad Vs Shopify: Choosing the Right Platform

Unbeatable Software
September 9, 2023 at 6:02 PM
Trying to pick the best platform to sell your digital products? It can be tricky with all the options out there. You might've heard of Gumroad and Shopify. Both are popular and while they seem similar, they have some key differences.
Instead of getting lost in every little detail, we'll highlight what really sets them apart. This way, you can easily decide which one suits your needs best.
Both Gumroad and Shopify have made their mark in the eCommerce space, catering to those eager to sell digital or tangible items. Yet, despite some surface-level similarities, their offerings diverge in distinct ways.
At its core, Gumroad prides itself on simplicity. It strips back the bells and whistles, focusing on core functionalities that cater especially to those dipping their toes into the world of online selling. Its minimalist approach is a beacon for novices and small-scale enterprises with a tight-knit product range.
Shopify, on the other hand, delves into the broader strokes of online commerce. Its versatility shines with an extensive array of app integrations, customizable store themes, and even capabilities to hawk services. But this richness comes with a learning curve, making it a tad more intricate than its counterpart.
Ready to figure out the best fit for your online store? Let's dive in.
What is Gumroad?
Gumroad is a straightforward online platform designed specifically for creators to sell their products directly to their audience. Launched in 2011 by Sahil Lavingia, Gumroad has since established itself as a favorite among independent artists, writers, designers, and other creators.
The platform's beauty lies in its simplicity. With Gumroad, you can set up your storefront in a matter of minutes, making it a go-to choice for those who may not have extensive technical knowledge or the resources to manage a full-fledged online store.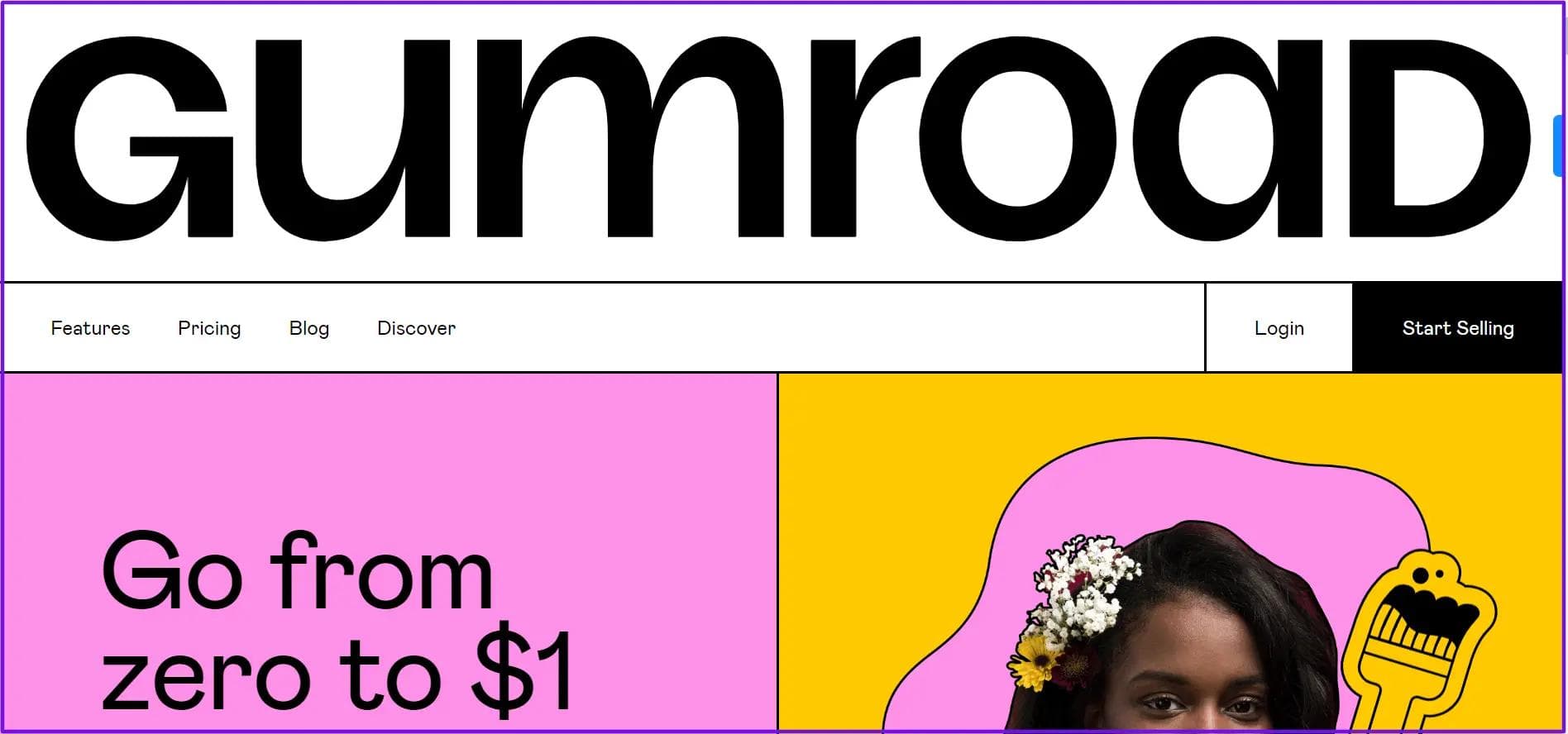 Primarily known for selling digital goods – such as eBooks, music, software, and digital art – Gumroad provides features like secure file storage, automatic product delivery, and content streaming. Moreover, its payment process is seamless, with support for various currencies.
In essence, Gumroad offers a fuss-free avenue for creators to monetize their passion, without the complexities that often come with larger eCommerce platforms.
What is Shopify?
Shopify is a leading e-commerce platform that allows individuals and businesses to create their own online stores and sell products. Founded in 2006 by Tobias Lütke, Daniel Weinand, and Scott Lake, Shopify has grown exponentially, powering over a million businesses in more than 175 countries.
One of the standout features of Shopify is its comprehensive toolkit. It caters not just to those looking to set up simple storefronts, but also to businesses aiming for a robust online presence. The platform provides a wide range of customizable templates, ensuring that stores of all sizes can have a professional and unique look.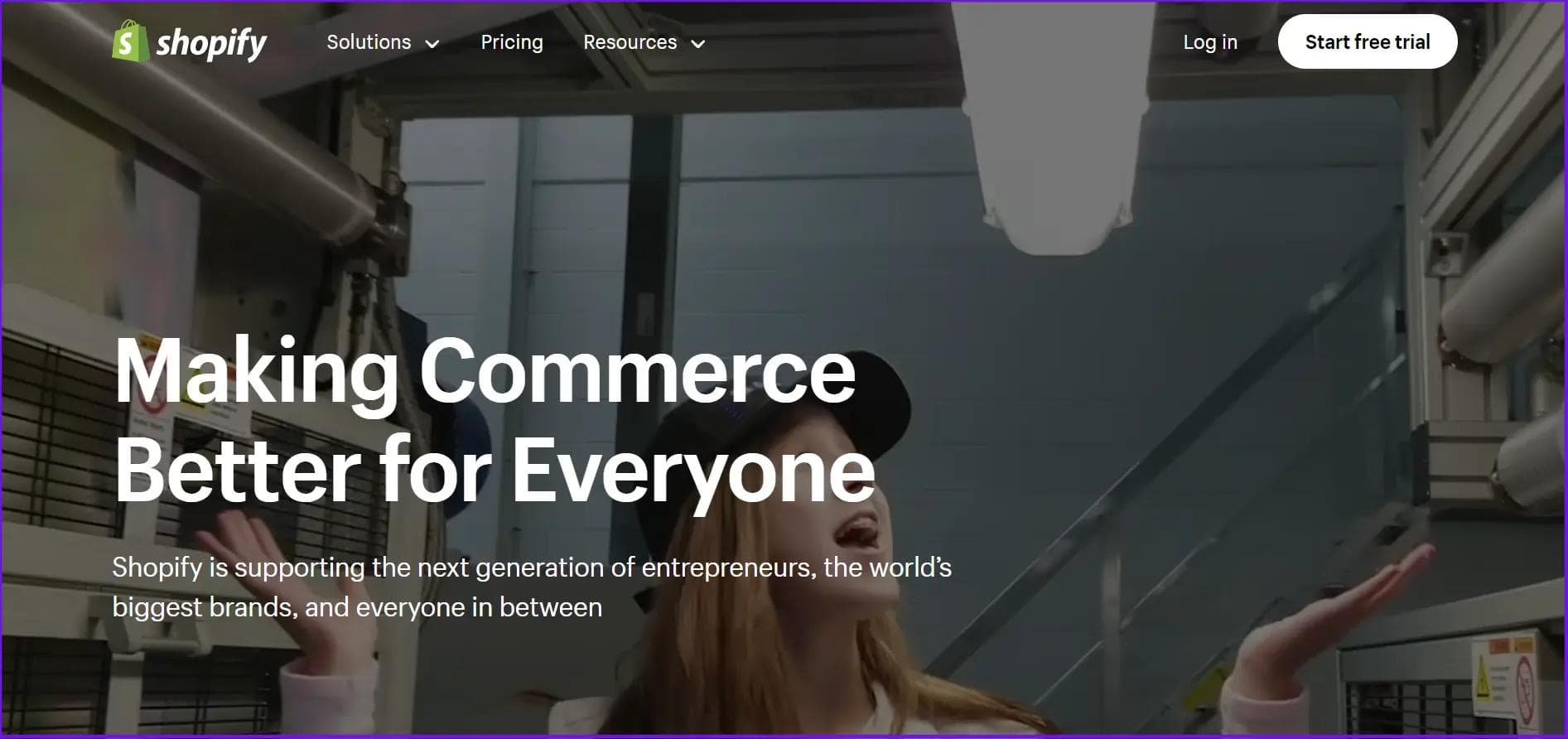 Beyond aesthetics, Shopify offers an extensive suite of business tools. From inventory management, payment gateway integrations, and customer relationship management to advanced analytics and marketing solutions, Shopify aims to be an all-in-one solution for online retailers.
Shopify also boasts a vast App Store, filled with plugins and integrations that further enhance a store's functionality and reach. Whether you're looking to integrate social media, improve SEO, or implement dropshipping, there's likely an app for that.
And while Shopify is a paid platform, they offer a trial period for newcomers to test the waters, ensuring it's a good fit before committing.
In a nutshell, Shopify provides a versatile and scalable solution for those looking to venture into the world of e-commerce, whether they're novices or seasoned business magnates.
Gumroad and Shopify: Factors to Weigh
Platform Flexibility and Customization
Gumroad is streamlined and direct, which means it's less about store customization and more about getting your product in front of an audience quickly. The platform has a standardized layout for product listings, which ensures uniformity but also limits the scope for unique branding or design elements.
Shopify, being a full-fledged eCommerce platform, provides ample room for customization. With an extensive theme store and the ability to modify your site's code directly, businesses can craft a unique look and feel that mirrors their brand's aesthetics. For those with a keen eye for design or a specific brand vision, Shopify offers the canvas to bring such visions to life.
Integration and Add-ons
Gumroad keeps it straightforward. The primary focus is on selling the product, which means there aren't a plethora of third-party integrations available. While this makes the platform less complicated, it might be limiting for those wanting to add specific functionalities.
Shopify's ecosystem is vast. With its App Store, users can access a myriad of plugins and integrations, covering everything from email marketing and SEO optimization to inventory management. It's a platform that grows with your needs, allowing for expansive integrations as your business scales.
Pricing Dynamics
Gumroad wears its affordability on its sleeve. With an initial offering that costs absolutely nothing, it's an enticing choice for creators on a budget. Yet, this free plan isn't devoid of costs altogether, as a 5% transaction fee plus payment processing fees come into play. For those looking to tap into more features, Gumroad's premium version at $10/month can be an attractive upgrade with a lowered transaction fee.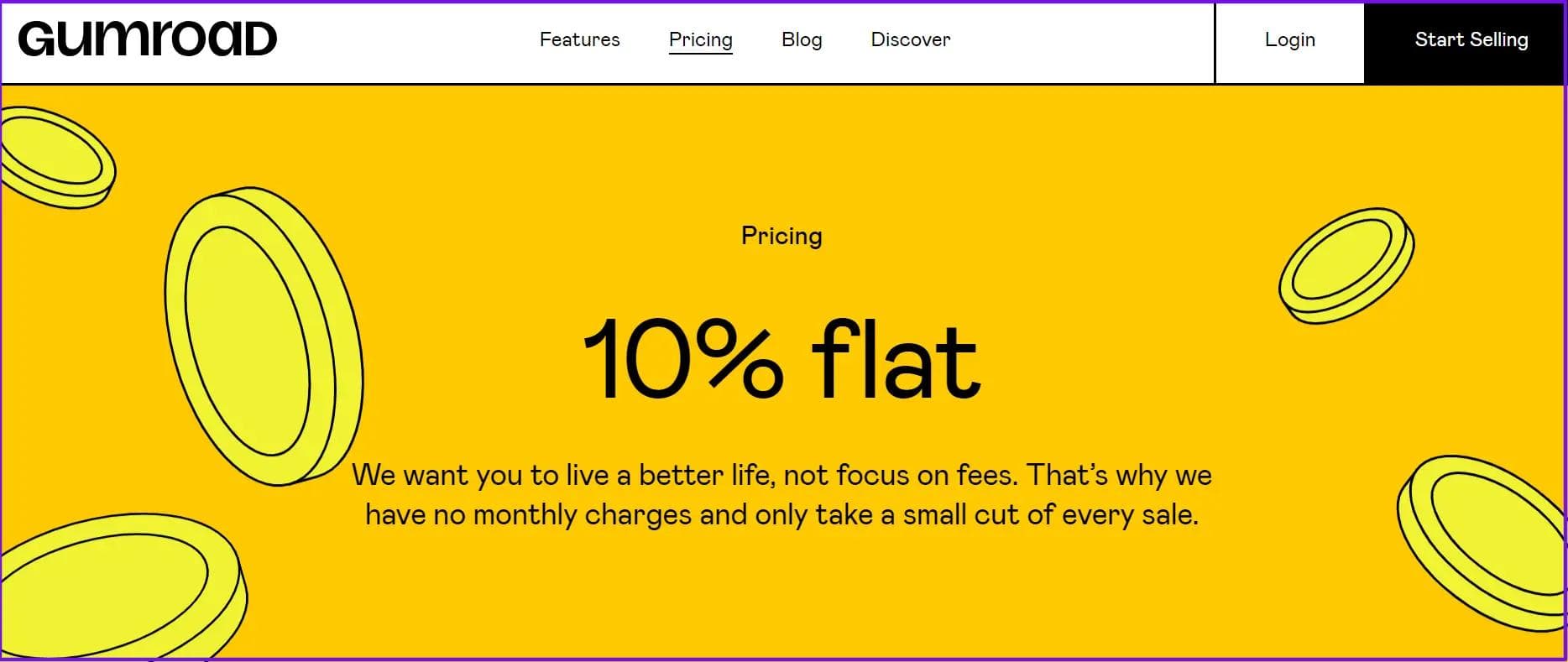 On the other side of the spectrum, Shopify's pricing model doesn't entertain the concept of 'free.' Starting at $29/month for the basic setup and climbing up based on features and capabilities, it requires a more substantial financial commitment right off the bat. However, what you're investing in is a more expansive toolkit and infrastructure.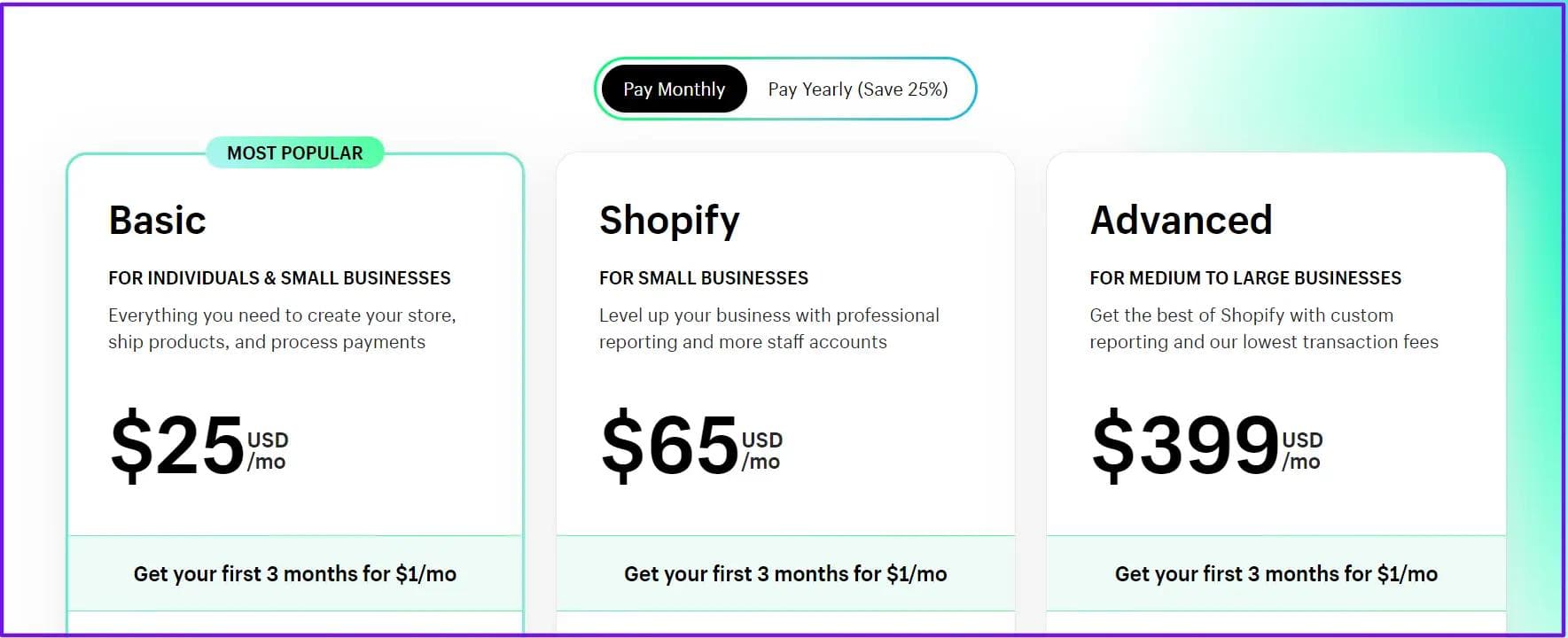 Tailored for Whom?
Gumroad, in its essence, caters to the individualistic creator. Whether you're an artist, writer, or a solo entrepreneur, its simplicity is aligned with those who don't want to grapple with the intricacies of a full-blown online store. It's straightforward, making it a haven for novices or businesses with a lean product catalog.
Shopify, however, casts a wider net. It's versatile, scalable, and embraces businesses of all sizes. Be it a small boutique, a medium-sized enterprise, or a large-scale operation, Shopify's toolkit adapts. The platform's diverse range of features can accommodate a single product launch or an extensive inventory spanning thousands of items.
Support and Resources
While Gumroad offers support and has a repository of helpful articles, it doesn't quite match the extensive support structure of larger platforms. The focus is on community-driven assistance, with other users often stepping in with guidance.
Shopify invests heavily in its support ecosystem. With 24/7 customer support, a vast library of tutorials, guides, and a thriving community forum, help is always around the corner. For businesses that anticipate needing regular assistance or those new to eCommerce, this robust support can be a boon.
Global Reach and Payment Options
Gumroad is recognized for its global payment acceptance, making it easy for creators to sell internationally. The platform also handles VAT for EU customers, which is a relief for sellers who might not be familiar with international tax requirements.
Shopify's global reach is undeniable, supporting multiple languages and currencies. Plus, with Shopify Payments and integrations with other leading payment gateways, sellers have a plethora of options to process transactions. However, businesses need to be more proactive in handling international taxes and regulations.
Pros and Cons of Gumroad
🙂 Direct and User-Friendly for Digital Goods
Gumroad stands out for its sheer simplicity, particularly when dealing with digital products. It's designed to let creators sell directly to their audience without the need for intermediaries. This direct-to-consumer approach eliminates the complications that often come with involving third parties or middlemen, ensuring a smooth transaction process.
🙂 Insightful Sales Statistics
One of the hidden gems of Gumroad is its robust analytics suite. Users benefit from precise and actionable sales statistics, giving them a clear snapshot of how their products are performing. This data-driven approach helps sellers adjust their strategies and better understand their audience's preferences.
🙂 Affordably Priced with Generous Limits
When it comes to value, Gumroad's pricing truly shines. At just $10 per month, sellers can list an unlimited number of products. This price point makes it an enticing choice, especially for creators who are just starting out or those looking to maximize their returns without hefty platform costs.
🙃 Limitations in Store Customization
While Gumroad's simplicity is its strength, it's also a limitation when it comes to customization. The platform offers minimal scope for personalizing the look and feel of your store, which might be a hurdle for brands or creators aiming for a distinct aesthetic or user experience.
🙃 Comparatively Narrow Feature Set
When stacked against giants like Shopify, Gumroad's feature set can feel somewhat restricted. The platform focuses on core functionalities, which means certain advanced features that larger businesses might seek are absent. For enterprises with more complex needs, this could be a drawback.
🙃 Challenges with Extensive Product Catalogs
Gumroad is a darling for creators with a modest product range. However, as that number grows, the platform's limitations become evident. Organizing and managing a vast array of products can become cumbersome, potentially leading to inefficiencies and a less-than-optimal user experience.
Pros and Cons of Shopify
🙂 A Versatile Platform for All Business Sizes
Shopify has carved a niche for itself as one of the most accessible platforms for online selling. Regardless of the business's scale - be it a budding startup or an established brand - Shopify's infrastructure is designed to cater to all. Its easy-to-use interface ensures that businesses can transition to online selling with minimal hiccups.
🙂 Expansive Feature Set Tailored for Diverse Needs
One of Shopify's standout attributes is its comprehensive toolkit. Beyond just listing and selling products, businesses can dive into a sea of features. Want a custom logo or a particular design to resonate with your brand's ethos? Shopify has got you covered. From real-time order tracking to seamless PayPal payment integrations, it's built to address a spectrum of e-commerce needs.
🙂 User-Friendly Interface for Novices and Pros Alike
The journey from idea to execution is streamlined on Shopify. The platform prides itself on its user-friendly design, ensuring that even those new to the digital selling realm can set up and run their store with ease. This intuitive approach reduces the learning curve and allows business owners to focus on what they do best - selling their products.
🙃 Additional Costs for App Integrations
While Shopify offers an ocean of features, sometimes businesses might find the need to venture beyond the standard offerings. The platform's App Store is a treasure trove of functionalities, but there's a catch. Many of these apps come with additional costs, which can quickly add up, especially for businesses that rely heavily on multiple integrations.
🙃 Limited Free Themes to Choose From
For businesses that are cost-conscious or just starting out, the theme is often the first point of customization. While Shopify does offer a selection of free themes, the assortment is somewhat limited. Brands looking for a unique look or specific functionalities in their theme might find themselves nudged towards the premium, paid options.
Gumroad or Shopify: Which One Suits Your Needs?
While I've expressed my inclination towards Shopify for my digital sales throughout this piece, it's essential to emphasize that Gumroad offers significant merits.
Gumroad's essence lies in its simplicity. They've meticulously crafted a platform centered around a user-friendly shopping experience. The mission? To make selling digital products a breeze. And honestly, they've nailed it. If your inventory consists of a handful of digital items and you're leveraging an existing website or blog for promotion, Gumroad might be your perfect match.
But don't sideline Shopify just yet. As your venture evolves and scales, Shopify's robust ecosystem becomes increasingly relevant. Consider Gumroad as a stepping stone when initiating your online sales journey, but view Shopify as the catalyst that propels your digital enterprise to new heights.
Frequently Asked Questions
How do Gumroad and Shopify handle digital product delivery?
While both platforms support digital sales, Gumroad is tailored specifically for it, offering features like streaming for videos and automatic product updates. Shopify, on the other hand, requires integrations with apps to optimize digital product delivery.
Can I transition from Gumroad to Shopify or vice versa without losing my customer data?
Yes, both platforms offer ways to export and import customer data, though the process might require some manual tweaking or third-party tools to ensure a smooth transition.
How do Gumroad and Shopify deal with international taxes and currencies?
Gumroad simplifies the VAT process for EU customers, while Shopify supports multiple currencies and languages but requires merchants to be more proactive about international tax regulations.
Are there any hidden fees with Gumroad or Shopify when making a sale?
While Gumroad charges a transaction fee (especially on the free plan) in addition to payment processing fees, Shopify's fees depend on the chosen plan and whether you're using Shopify Payments or another payment gateway.
How scalable is Gumroad compared to Shopify as my business grows?
While Gumroad is ideal for creators and small businesses, Shopify offers more scalability features for growing businesses, including advanced hosting, broader integration options, and a more extensive support structure.
Can I run a subscription or membership model on Gumroad and Shopify?
Yes, both platforms allow for subscription-based models, though they handle them differently. Gumroad has built-in support for subscriptions, while Shopify requires the addition of specific apps to manage subscription services effectively.
Final Thoughts
Navigating the e-commerce world demands thoughtful decisions. Each platform, whether it's Gumroad or Shopify, brings its unique flair to the table.
As a budding creator, the simplicity of one might appeal to you. On the other hand, if expansive growth is your goal, the robustness of another could be the key.
Reflect on your ambitions, understand the strengths and limitations of each platform, and then take the leap. Your e-commerce success awaits!
Subscribe for
the latest updates