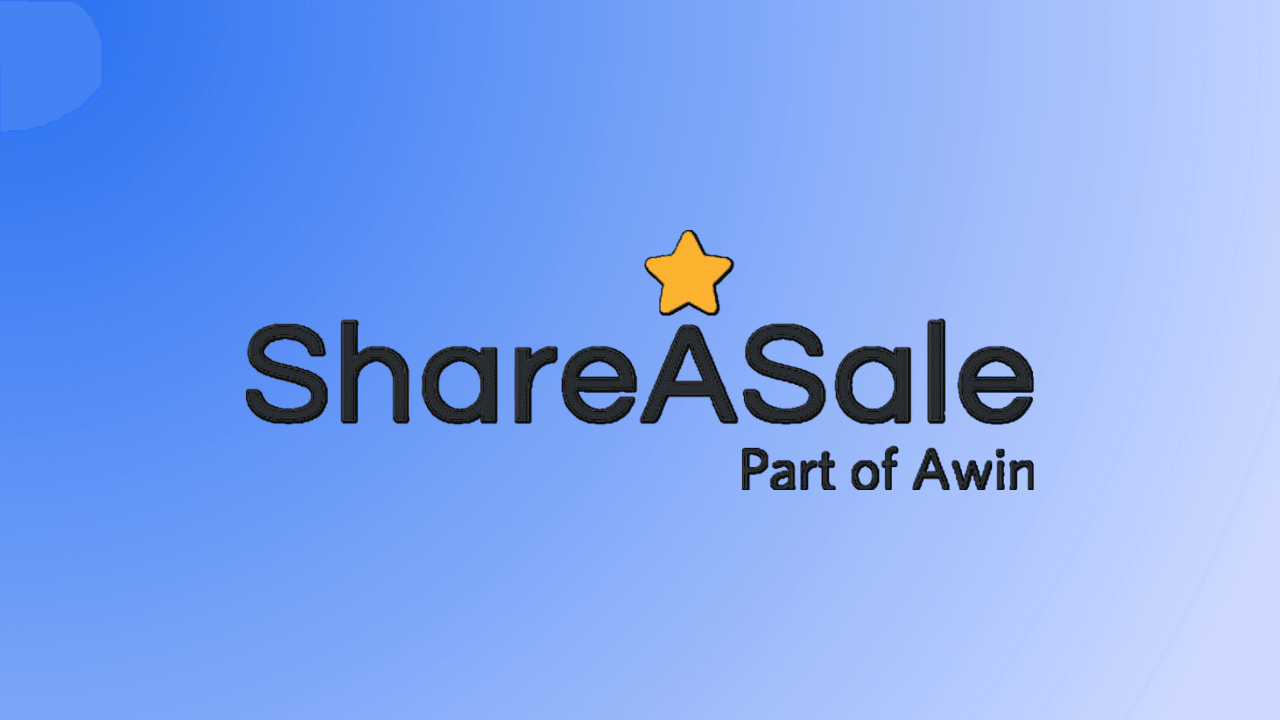 [Testing Affiliate Program] ShareASale Review 2023 (Ultimate Guide)

Unbeatable Software
May 14, 2023 at 3:17 PM
This ShareASale review will give you everything you need to know about this affiliate network and how it can help your business succeed in 2023.
ShareASale has been among the go-to affiliate programs for many businesses since its launch in 2000.
Let's get started with a few basics about ShareASale…
What is ShareASale, and why should you use it?
ShareASale is an affiliate network. It connects affiliates and merchants to help businesses grow while affiliates earn commissions.
Affiliates earn a commission for each sale they refer to the merchant's website.
Merchants can find affiliates with an audience that matches their target market.
ShareASale is a popular choice for merchants and affiliates. It offers a user-friendly platform and a range of tools and resources to help them manage and track their affiliate marketing efforts.
Additionally, it has a reputation for being reliable and transparent, which is important for building trust between merchants and affiliates.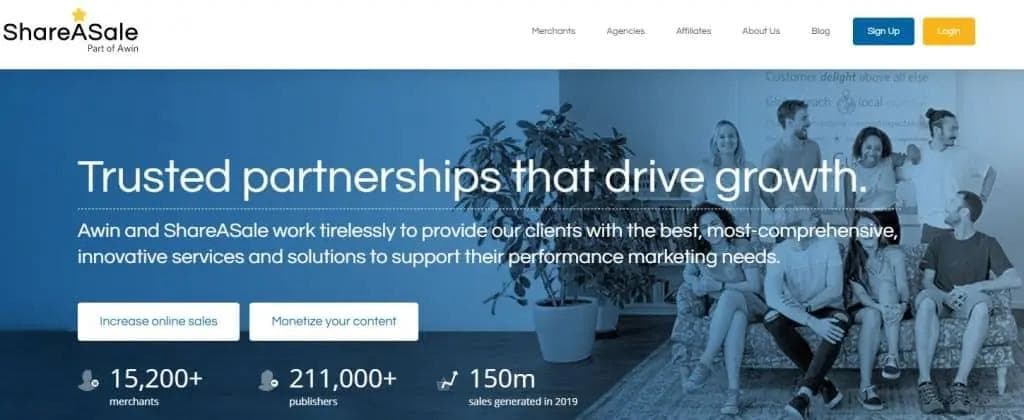 Pros & Cons of Shareasale (this is share a sale review meat)
As one of the longest-running networks, it's trusted by thousands of merchants and affiliates worldwide.
But don't take our word for it!
Pros & Cons of ShareASale for Affiliates
Before taking the plunge and joining, it's important to understand what this affiliate network offers affiliates:
The Pros of ShareASale
Huge selection of products and services.
Top-notch customer service.
Generous commission structure
The Cons of ShareASale
$50 threshold of minimum withdrawal
Some merchants do not pay out until 60 days after a sale.
Some may find it difficult to navigate at first glance.
Pros & Cons of ShareASale for Merchants
Let's break down the pros and cons of ShareASale so you can decide if this network is right for your business.
Pros of ShareASale
Easy-to-Use Interface – One of the best things about ShareASale is its user-friendly interface. It's easy to add new products and campaigns, manage commissions and payouts, track sales data, and more! 
Flexible Compensation Models – With ShareASale, merchants can choose cost per sale (CPS) or cost per action (CPA) models for their affiliate program. This means you can tailor your compensation structure to fit the needs of your business.
Variety of Affiliates – There are thousands of bloggers, influencers, review sites, coupon sites, and other affiliate partners on ShareASale. This means that even as a smaller merchant, you have potential partners to spread the word about your products or services. 
Cons of ShareASale
Limited Payment Options – Regarding payments on the platform, merchants have limited options. This limits payment flexibility and makes it difficult for international merchants. 
No Automated Credit System – Unfortunately, ShareASale does not offer this feature, which means merchants must manually issue credits when needed, which could be time-consuming if multiple refunds/cancellations happen at once. 
Is ShareASale a good affiliate program?
ShareASale has been a trusted platform for affiliates and businesses alike since 2000.
It is particularly useful for brands looking to promote their products as it allows you to connect with a huge network of individual partners and small businesses.
With its easy-to-navigate interface and many products, ShareASale is also great for affiliates just getting started in the industry.
The program provides lots of helpful resources and extensive reporting about your campaigns so you can always stay on top of your goals.
So if you're looking for an affiliate program that offers efficiency and effectiveness, ShareASale could be the perfect fit!
ShareASale affiliate commission rate
With their unique commission rate structure, merchants can offer commissions ranging from five percent all the way up to fifty percent or more in some cases.
That means affiliates now have the option to choose among different levels of payments, making this setup suitable for everyone involved.
Forget complicated calculations – with ShareASale's affiliate commission rate; you know exactly what you're earning before signing up.
ShareASale for Affiliate Marketers
Affiliate marketers, 2023 is the time to get creative!
In that race, ShareASale is a good platform for smart affiliate marketing. Here you can access some of the best deals and discounts!
Plus, with detailed reports and stats tracking your progress, you can monitor – and maximize – your earnings.
Remember, the goal is to make every click count!
How to Signup on ShareASale?
ShareAsale affiliate program is completely free to start as an affiliate marketer. Let's sign up and walk through their 5-step sign-up process.
Enter your username, password, and the country you live in.
You must provide your live website to complete step 2 of the sign-up process.
Enter your email address. Pro Tip: Entering a work email address is more effective than personal email addresses.
Mention full contact details, including an address for affiliate check payments
Select your preferred payment option; there is no PayPal option.
Now agree to their terms & conditions. And you are ready to start your affiliate journey.

Features for Affiliates
Now make your extended plan till the affiliate account gets approved. We got approval within 24 hours but remember it doesn't include weekends and other holidays.
Functional and Easy-to-Use Dashboard: Always keep an eye on notifications. Here you will get updates about everything like scheduled maintenance, updates, disruptions, and platform maintenance. 
Choosing Brands to work with: Their network includes small and medium-sized brands which stand out among all affiliate networks. You can apply filters, including upcoming holidays, the marketing calendar, seasonal events, and popular search items.
Promoting chosen products and services: Every brand gives a couple of creatives to grab. Otherwise, you can create your own unique tracking affiliate link and direct your audience to the right pages.
Receiving Payments: Share a Sale sends 1 combined payment each month (min payout threshold is $50). Their dashboard also shows your expected monthly earnings based on past performance. And yes, an easy-to-read and follow reporting system.
Easy to use Affiliate Tools: Custom tools developed for affiliate marketers based on brand requests are changing industry needs. The must-use tools include the Make-A-Page tool, Product Showcase tool, Gift cards, coupons & deals database.
Tracking Performance and Scaling: After setting up affiliate marketing flows, it is time to track performance and work on scaling by digging into the reports. You can use Activity Details Report, Merchant Summary Report, and invalid links report.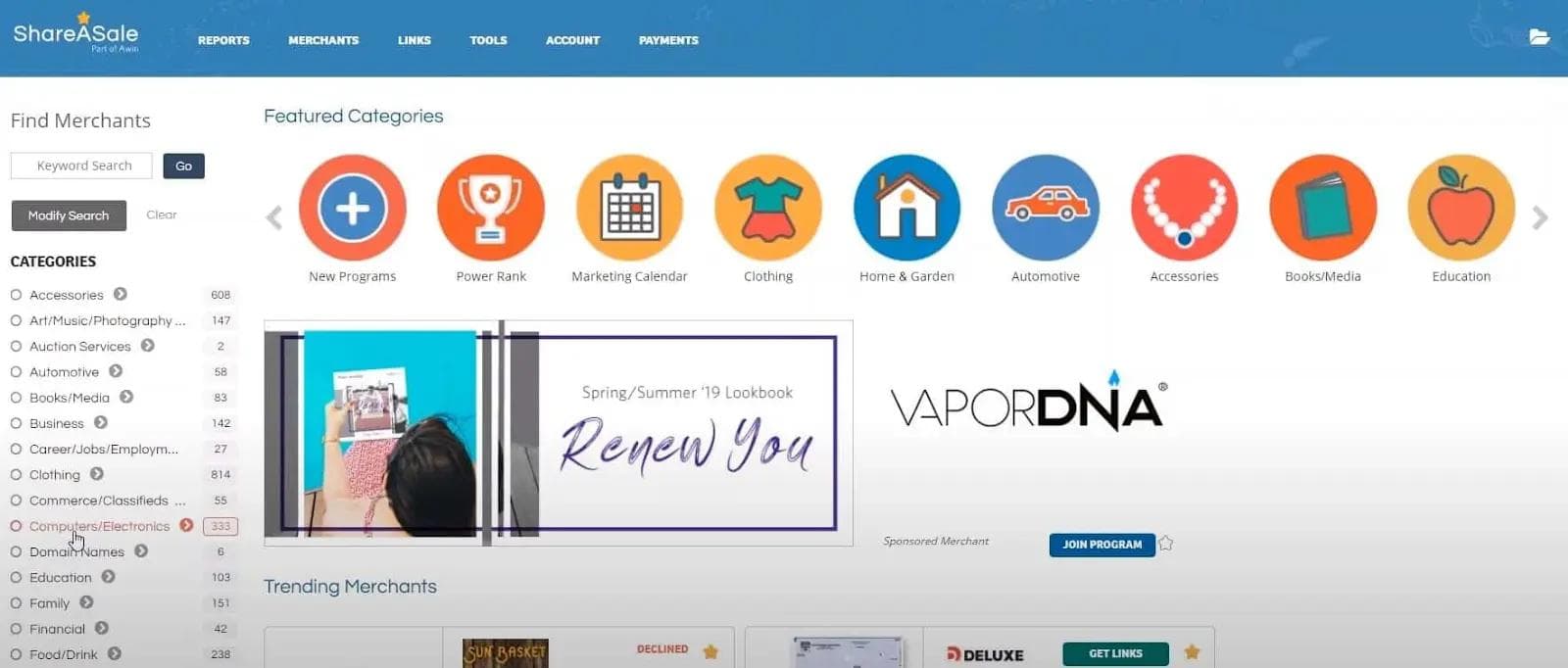 ShareASale Review for Merchants
This section of the ShareASale review is worth reading for merchants seeking to bolster their marketing plan.
The platform offers flexibility in managing campaigns, which makes it ideal for those looking to have more control over their partnerships with outside affiliates.
It's also a reliable user interface – friendly and straightforward so merchants and affiliates can get up and running quickly with minimal effort.
And don't forget about the customization options! Merchants can tailor their campaigns to fit their specific needs, allowing them to push their brand in the right direction.
How to Signup as a ShareASale Merchant?
It's easy to get signed up as a merchant, allowing you to take advantage of ShareASale's great benefits.
All you have to do is visit the registration page and provide your company email address and merchant account number.
Once submitted, your information will be verified so you can utilize your account as soon as possible.
You'll also need to create an initial advertising campaign within 24 hours after signup if you wish your items to be advertised on ShareASale.
Make sure to include all the necessary information for that.
With everything properly submitted, ShareASale will help you maximize opportunities for success by connecting you with relevant affiliates best suited for your services or products!

Features for Merchants
ShareASale is a great platform for merchants to take advantage of when looking to optimize their own online presence and start making money.
Whether you're a new or old business, the tools available on ShareASale will help retailers streamline their affiliate sales programs. There you get
Up-to-date tracking stats
Intuitive search features
Helpful customer service
ShareASale takes the guesswork out of running an effective eCommerce program
You can spend more time focusing on other aspects of your business.
Overall, ShareASale is a reliable and user-friendly platform that any merchant can benefit from!
Does ShareASale have a monthly fee?
ShareASale does not have a monthly fee, but other fees are associated with using the platform.
For example, they charge $20 per month for their "Pro" plan, which includes access to exclusive features such as dedicated customer support and advanced reporting tools.
Most of the features available on ShareASale are free to use. This includes creating an account, setting up campaigns, and tracking sales performance.
However, the Pro plan may be worth considering if you need more advanced features, such as discounts or bonuses for affiliates or advanced reporting tools.
Does ShareASale cost money?
ShareASale does not charge merchants to join or accept affiliates into the network. However, there are fees associated with using ShareASale.
For merchants, these include fees for sales transactions and monthly subscription fees depending on which service plan they choose. These fees vary based on selected services and range from $25 to $1,500 per month.
For affiliates, no fees are associated with signing up or joining the affiliate marketing network. Still, they will need to pay a commission fee when they refer customers who purchase products and services through their affiliate links. This fee is typically between 5% and 20% of the total sale price.
ShareASale Alternatives
As an affiliate marketer, you have various options when choosing an affiliate platform for promoting products. If you're considering signing up for either one (or more), it's important to understand the different affiliate programs and choose the right affiliate network for your needs. 
ShareASale vs. Commission Junction (CJ Affiliate)
Both offer great opportunities for affiliates. Still, there are key differences between them that you should consider before deciding which one is right for your needs.
Commission Junction Pros & Cons
Formerly Commission Junction (CJ) is one of the oldest and most reputable affiliate networks.
Larger merchants favor it because it offers a wide variety of products and services from hundreds of companies.
CJ has extensive tools to help affiliates drive more sales, including creative banners and links to increase visibility.
However, CJ charges higher commission fees than other networks, so it may not be ideal for smaller affiliates just starting out.
ShareASale Pros & Cons.
ShareASale is another popular affiliate network that works with thousands of merchants across different industries. Also, ShareASale reviews are mostly positive.
ShareASale offers lower commissions than CJ but also offers more flexible payment options for affiliates.
This makes it a good choice for beginners who want to get started with ShareASale affiliate marketing without investing too much money upfront.
Additionally, ShareASale has good payment settings, multiple markets and a simple user interface that makes it easy for new users to navigate the platform quickly.
However, ShareASale offers for selection of merchants may not be as extensive as other networks like CJ. (We have also done a complete CJ Affiliate review for you))
ShareASale vs. Amazon Associates
Let's take a closer look at three key distinctions between ShareASale and Amazon Associates.
Commission Rates
The first difference between ShareASale and Amazon Associates is commission rates.
With ShareASale, the commission rate depends on the product or service being promoted but most typically ranges from 5-20%. That said, some merchants may offer higher rates.
On the other hand, with Amazon Associates, you can expect to earn up to 8% commission on average, although some products may also offer higher commissions.
Payment Terms
With ShareASale, payments are made monthly via check or direct deposit. It's released once your account balance reaches $50 or more.
On the other hand, with Amazon Associates, payments are made every 60 days via direct deposit into your bank account once your earnings reach $10 or more.
Payment Thresholds
With ShareASale, you must have earned at least $50 before being eligible for payment.
With Amazon Associates' the minimum threshold is just $10 before receiving payment via direct deposit into your bank account.
ShareASale vs. ClickBank
ShareASale is a traditional affiliate network specializing in digital products and services. It features over 4,000 merchants and more than 1 million products. And it's a great option for bloggers or primary affiliate website owners who want to promote someone else's product or service quickly and easily. 
ClickBank is another popular choice for affiliates. While it offers some digital products and services, it mostly sells physical goods such as books, DVDs, health products, nutritional supplements, etc. 
Because of this focus on physical goods, ClickBank requires more work from its affiliates than ShareASale. However, because of its focus on physical goods, ClickBank usually pays higher commissions than ShareASale (up to 75% in some cases). 
Quick Note: For JVZoo, we have done an in-depth review, including the Pros of the JVZoo affiliate program.
Final thoughts for affiliates to close this ShareASale review
Working as a full-time affiliate marketer, here's a special recipe to get the most out of this affiliate network.
Enticing Affiliate Profile: It's where none of the affiliate marketers focus though it is your 1st engagement with merchants (brands and retailers). From an advertiser's view, they are most interested in website analytical stats.
Choosing Advertisers to match your audience interests: Anything outside audience interest is a waste of time. When choosing a program, always ask yourself, does this program offer what your audiences need and want to have?
Planning content to promote products: Presenting products to audiences is an art. If you are doing it the right way, congrats, affiliate marketing is your bloodline to generate huge cash flows with commissions.
Never hesitate to try something new: You got to try new things and find out what works best. So use tools provided by Share a Sale and find out their best advantage for you.
Now it's time for you to jump aboard and start getting results in the affiliate marketing game. Don't fall for affiliate mentorship scams if you are new to affiliate marketing. We have reviewed affiliate courses to help people get the best in this competitive online business industry.