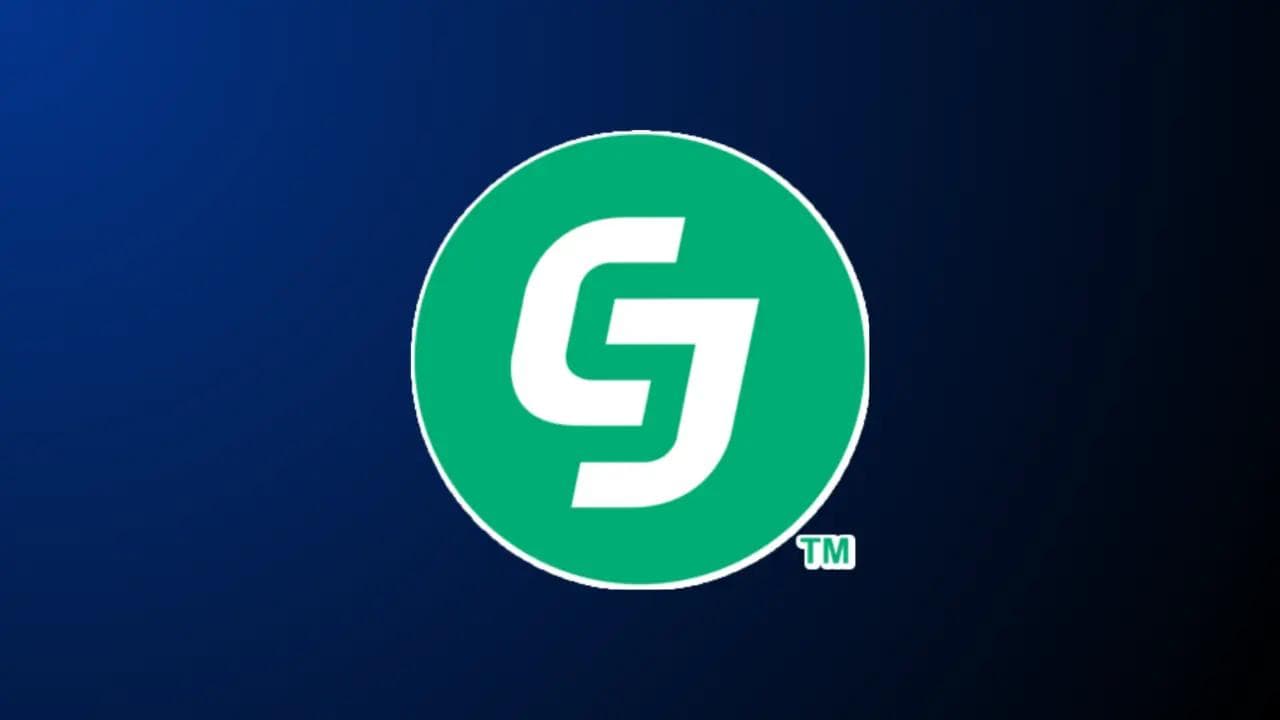 CJ Affiliate Review and Beginners Guide in 2023 [Full Guide]

Unbeatable Software
May 14, 2023 at 3:27 PM
What the heck is CJ Affiliate, and can you trust the CJ affiliate network? Established in 1988 and surviving two decades, it is in the top affiliate network spot.
In this CJ Affiliate review, let's find out if it still holds the same affiliate value and how beginners can make money with it😀
What is CJ affiliate?
Formerly Commission Junction, aka CJ affiliate, is an affiliate network and marketing company that has operated for over 2 decades. They have about 15 corporate offices in UK and USA combined.
Connecting publishers to advertisers as affiliate networkers, they are still in hot waters all the time. But is CJ affiliate worth your consideration?
CJ Affiliate Pros And Cons
Pros Of CJ Affiliate
Multiple affiliate site management: Running up multiple sites CJ affiliate holds you back. You can manage them all from a single place CJ affiliate dashboard.
Top Publisher program CJ performer: Achieve 1st milestone of earning $10,000 per month, and you become eligible for the CJ program. So now you get a more personalized experience and marks as a top affiliate. That's how a 7 figure affiliate marketer…you know better.
Legit Affiliate Network: It is a legit and credible affiliate network standing among top affiliate industry networks
Safe payment: Their payment cycle Is the 20th of each month, and we have never faced any issues with payment
Top Vendors: There are always opportunities to find top vendors in every niche. So it means premium product quality and high commissions, and every affiliate marketer is looking for it.
Easy to join: It's relatively easy to join and start
Scalable Tools: Their tools, like deep link research, etc., are really helpful for growth and scaling in affiliate marketing. As an affiliate marketer, we want an automated passive income, and CJ affiliates always create opportunities to achieve it.
Larger advertisers to choose from: In CJ affiliates, there is a large number of advertisers. You never have to compromise your audience's interests.
Cons Of CJ Affiliate
No Success without hard work: Even though earnings start from 1st month, if you don't do hard work, there is another failure and a chronic complainer.
Customer Support: We will say only fine as you must log in to access CJ support, which is slow. But overall, I never had to contact their support in 4 years, so overall, it's level.
Strict TOS: A good system to track immediate suspension and payment restriction if you get involved in unfair activities to earn more with affiliate marketing. So as long as you don't do anything illegal, you are safe.
No PayPal: Most networks do not pay directly to your PayPal. So pay-outs are made only through a check, Payoneer, or direct deposit.
Quick Note: Don't waste value on expensive affiliate courses or a hefty marketing budget if you are new to affiliate marketing. Start with what's almost free and move wisely, like the Legendary marketer 15 days challenge.
Getting back to CJ affiliate, let's see if it's user-friendly for beginners.
Is CJ Affiliate Legit And User-Friendly?
Surviving 2 decades and being rated as A+ with Business Bureau Manager makes it look legit. It reaches +1 Billion customers monthly and has a revenue potential of + $16 Billion.
Just think can a scam create this much hype and survive for over twenty years by being involved in fraud? So all facts certainly point to making CJ affiliate legit.
Is Commission Junction affiliate safe? From our experience, it is safe. You got good stuff to promote and earn commissions. 
Payments are safe and made each month with a minimum threshold of $50. So it's also good for new affiliates and a good company to get the best results.
Signing Up:
Easy and simple to join. After landing on the home page, it's just a click to get started. Again walking around after 4 years, it's almost the same.
Let's sign up as Publisher and make good money.
Firstly, you must provide some basic information to trigger a confirmation email.
After the email is verified, choose and save the password.
Now it's time to add some information about your company and your website/blog.
They may also ask about your website's unique visitors, but you get the option "Not Launched Yet," so things remain balanced. It's really a simple sign-up process across affiliate networks and gets started.
But, What is CJ affiliate publisher?
In CJ affiliate, you can join as an affiliate marketer to promote brands or as a brand to work with affiliate marketers. Joining as a publisher, you partner with brands to promote their products and earn commissions on sales.
How does CJ Affiliate pay?
CJ Affiliate has two main payment options: check or direct deposit. Both payment methods offer affiliates the same features, but they have slight differences.
• Check
With this option, CJ Affiliate will mail you a paper check each month for the commissions earned by your website during that period.
This is the simplest and most straightforward way to get paid by CJ Affiliate, but checks can take a while to arrive in the mail (up to 4 weeks).
• Direct Deposit
This method allows you to deposit your commissions directly into your monthly bank account.
It's faster than getting a paper check in the mail and eliminates trips to the bank—all you need is a valid bank account and routing number. However, there is usually a fee associated with this option.
In addition to these two primary payment methods, some affiliates may be eligible for other forms of payment, including PayPal or wire transfer (fees apply). It depends on your circumstances and whether other payment forms are available in your country/region.
Understanding CJ Affiliate's Payment Model
When you sign up as an affiliate, you will be asked to provide payment details so that your commission payments can be processed automatically and securely.
To receive your payment, you must have at least $50 USD in available commissions or more in any given month. If your commissions are less than $50 USD, they will be rolled over into the next month until the minimum amount is met.
Once you have accumulated enough commission, CJ Affiliate will process your payment. You can also set up automatic payments so that you don't have to initiate payments each month manually.
This lets you know that your payments will be sent reliably and securely on time every time!
How to make money with CJ affiliates?
Working as an affiliate marketer, you make money by generating leads and sales as per programs offered by advertisers.
On CJ affiliate, the three broad affiliate programs offered are;
Pay Per Sale: You receive a commission on each sale by your affiliate links
Pay Per Call: For all phone calls generated by you, earn a commission.
Pay Per Lead: You are earning money for lead generation.
So the best practice is to hunt the best programs offered by advertisers on CJ affiliate to promote as an affiliate marketer.
Go to the advertiser's section on your CJ affiliate dashboard and play with the filters offered. Here you can find advertisers in your niche with names and keywords.
Here have a look at their filters: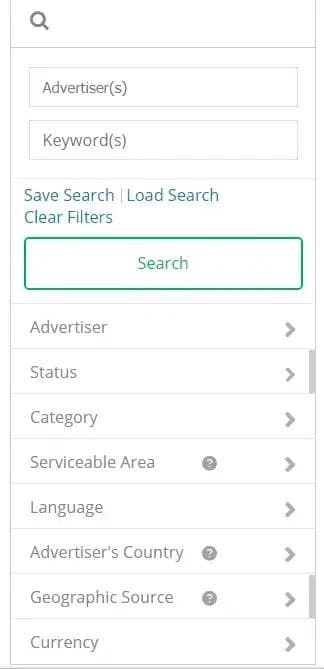 With each filter, there are more detailed options to choose from. Key metrics to check the credibility of advertisers are EPC and Network earnings.
Let me tell you what these are
EPC: It represents affiliate earnings per 100 clicks; the higher the EPC, the more profitable program is.
Network Earnings: It is about overall advertiser performance. The bigger the green bar on Network earnings is, the better and more trustworthy it is.
Pro Tip: Always be aware of expired and old links, or your time will be wasted, as expired links bring no sales.
Best Practices To Get Good Earnings With CJ Affiliate Platform
Some of the best practices we have adopted to generate good earnings with CJ affiliates are
Well-Defined Niche:
Working in a pre-defined niche gets a good quality audience. Now you have the best-defined audience interests, so the chance of conversions for the products you promote increases.
Beware of Low Quality offers:
CJ affiliate had s variety of advertiser programs. Always along with audience interests, focus on premium offers. You are the kingmaker, and your audience is king.
Always ensure your audience's interest and sell cheap just for 2 extra bucks. It's something I learned hard, but it makes you sustainable and scalable in the long term.
Growing Email List:
Never take email marketing easy. Getting a chance to approach thousands of buyers directly and getting good conversions is email marketing's crux.
To get such converting emails, find a good copywriter. So focus on growing the email list of your audiences to play with and earn huge affiliate commissions too.
Create Problem-solving content around products:
What's the best business around the world? It's to identify a problem and create a solution. Those who fail in affiliate marketing never change their approaches to the target audience. (That's what affiliate marketers mean when saying an honest business website.)
Always try new ways, and never compromise your audience's interests. You are an influencer affecting buying decisions, so testing and working in different ways is something 6, and 7 figures affiliate marketers always do.
CJ Affiliate reviews
Let's discover all the negative and positive CJ Affiliate Review in the market and the truth behind them.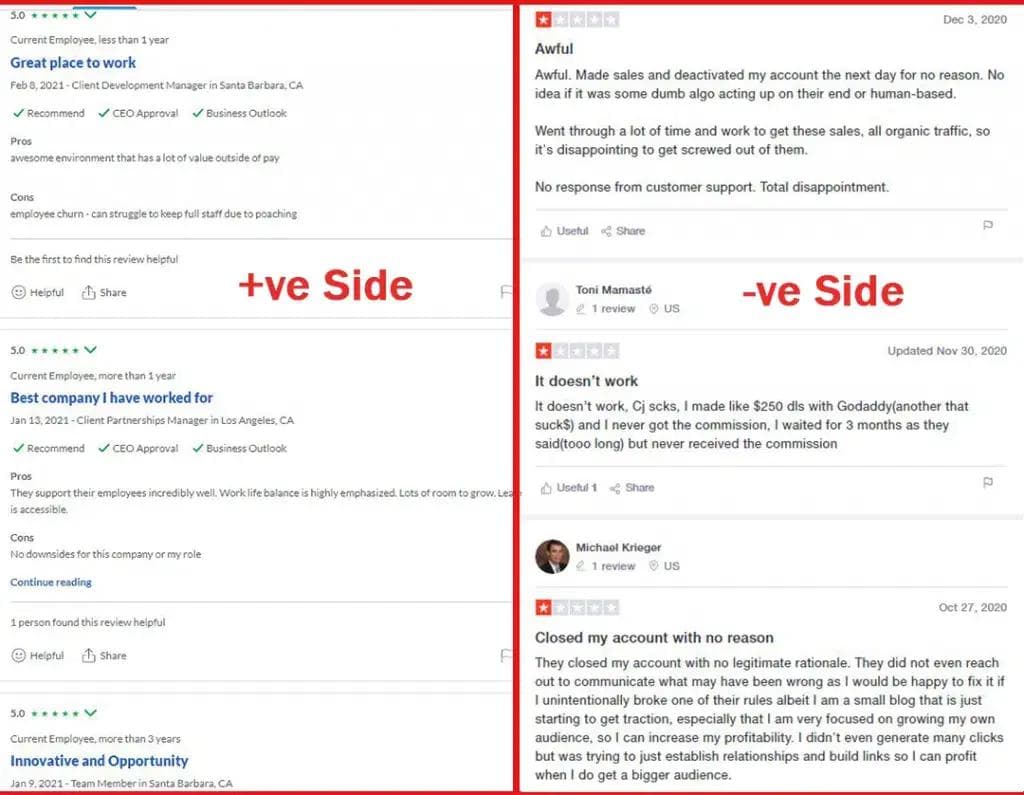 For most negative feedback, they point to payment issues or account suspension. On a note, they never suspended our account. So unless you break their TOS or get into unethical ways, it's all safe.
So as long as you follow their TOS, you are safe. They release payment by the 20th of each month, so most reviews can be due to some unsafe activity done on their side to earn extra bucks.
As for their positive feedback, it overcomes the negative one. Their work environment is good, and they have also developed tools for you to reach and scale your affiliate business.
Finally, Can I trust CJ Affiliate Marketing Network?
It costs nothing except a little time to start as an affiliate marketer on CJ affiliate. Operating as an affiliate marketing network since 1988, they are a giant.
Growth is great when you get to work under such strong networks. With it, only a few negative reviews and their updates to improve it all point to only one factor. It's worth trying CJ affiliate.
Is CJ Affiliate better than ClickBank?
As an affiliate marketer, you want to be sure that you are using the platform that best suits your needs. CJ Affiliate (formerly Commission Junction) and ClickBank are two of the most popular affiliate networks. Let's look at both more closely to make an informed decision.
The Pros of CJ Affiliate
CJ Affiliate has been in business since 1998 and is one of the industry's most trusted and well-known names.
It offers a great selection of products from major retailers like Amazon, Walmart, eBay, Apple, etc., as well as hundreds of smaller merchants.
Commissions range from 1%-50% depending on the product or service being sold.
CJ also provides detailed reporting tools to track your performance over time and see which products drive the most sales for you.
They offer various payment options, including direct deposit, check, or PayPal.
The Pros of ClickBank
ClickBank has been around since 1998 but is much less well-known than CJ Affiliate.
It offers a wide range of products from digital course providers such as Udemy, marketing softwares, and many more.
Commissions on ClickBank range from 1%-75%. (For digital products ShareASale affiliate program is also good)
One thing that sets ClickBank apart from other platforms is its easy handling of recurring payments for digital subscriptions.
Like CJ Affiliate, they offer detailed reporting tools to help you track your performance over time and several payment options, including direct deposit or check.
Be sure to read through all the terms & conditions carefully before signing up with either network, so you know what rights & responsibilities each party has when using their services!
In Summary
Features and benefits offered by CJ affiliates are worthwhile for affiliate marketers. With it, credible top advertisers and Top publishers programs are ample reasons to join CJ affiliate.
Formerly Commission Junction CJ affiliate has survived for over 2 decades and is still in growth mode. So we will say there is no harm in joining it as an affiliate marketer.
We have to find what works best for us, and CJ affiliate is a good option. You can consider the JVZoo affiliate program for digital products.