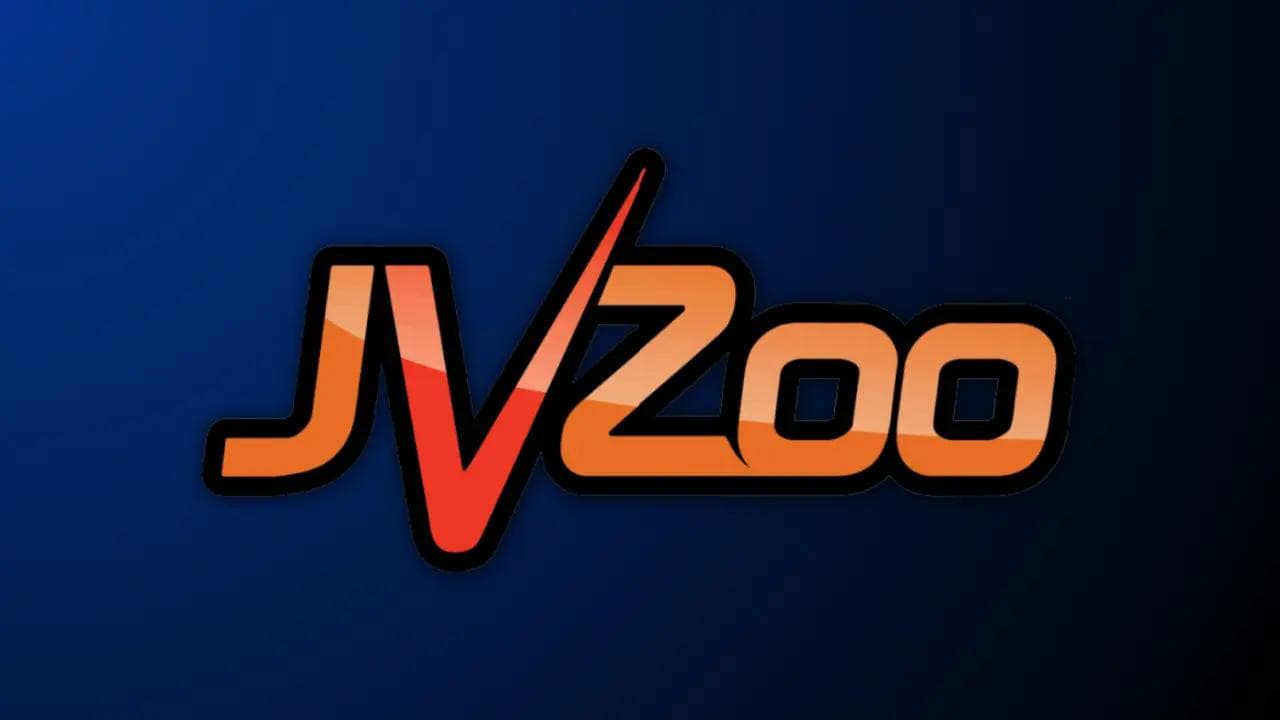 JVZoo Review 2023: Pros & Affiliate Program Legit Complaints

Unbeatable Software
May 14, 2023 at 2:57 PM
For this JVZoo review, I have run into crazy affiliate pitches in the research phase.
Like some are shelling JVZoo "reviews" for something odd to sell. Many are jumping on the bandwagon to make money, and that's not good. Others affiliates reviews aren't biased!
Anyway, who cares? Just know that right here, you hear the truth with facts and unbiased opinions.
I promise I am not selling anything, particularly not the affiliate links snuck in a sketchy "review."
Let's get under the JVZoo platform hood, just like we did with Legendary Marketer training 😀
As you would expect from a company that was only founded in 2011 and is already among the growing companies. 
They were even featured in the Inc 5000 list.
JVZoo affiliates' $1.2 billion in sales reflect space for some more to thrive.
Signing Up JVZoo Affiliate Program
Like all, it's free to join and as easy as pie.
As you can imagine, there are some restrictions, like an age limit, but that's common with such platforms.
Start from the "Start for Free" button and follow 4 sheer steps to complete.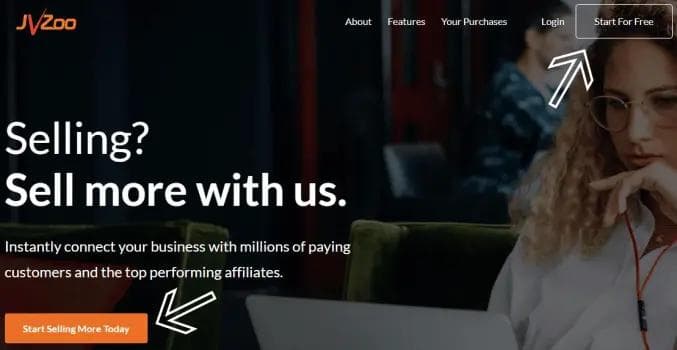 1) Enter Your Email Address
2) Verify your Account With a Received Code Sent to Your Inbox
3) Fill in Your Account Information
4) Log into Your JVZoo Affiliate Dashboard
It's a robotic process, and you login in to access your account.
All products are ready for you, but here comes a little nuisance (actually the first complaint).
I mean when selecting payments for PayPal, for example.
You have to connect the PayPal account before completing the signup. It's an annoying and irksome thing that I don't like at all!
They should look at how many people might not enter their payment details and avoid it all!
Anyway, don't worry if you don't have a Business PayPal or Payoneer. Simply click on the last house option and configure it.
Now it's delayed until you get to the payment details page in this vase affiliate network.
What Brands Can You Promote?
Unless you are an experienced dude, don't expect to see well-known brands as there are mainly digital products.
The general idea of digital-only products affiliate window is that you don't have to worry about shipping and handling. – No physical products no logistics companlaints 😀
Remember, for so many affiliates that's one of the headaches for non-digital products to manage.
But that doesn't mean you won't find some physical and high-ticket items. The thing is, JVZoo vendors has high commission rates but not famous names like Microsoft etc.
JVZoo User Experience: How It All Works?
I will have to say it's something I liked at the time of signing up. There you will find the main menu options:
Affiliates: Find products, bonuses, stats, transactions, and Dashboard
Sellers: Relevant to product creators
Products: Top sellers, featured products, launch list, Marketplace
My Accounts: 14 various options from widget creators to APIs and Plugins.
Tools: User research and recommended tools
Along the way, there is also an Affiliate knowledge base. To access it, you need to go to Affiliates and then select Affiliate Knowledge Base.
About Top Sellers: They are based on sales and revenue. You can see Top sellers based on yesterday and then the Past 7 as well as 30 days.
There is no magic way for sellers to get on the premium affiliate sellers list as affiliate marketers.
The key is to find the best products from bestsellers to earn huge commissions and make money online, even from all other affiliate networks too. It's not about finding affiliate programs but building your online business model.
Find The Best Affiliate Products With Top Sellers!
The most interesting thing is to learn about TOP sellers of Jvzoo products or how to find the best products to promote from Jvzoo's digital product library.
To search for front-end products with high Sales Funnel Value, you can use this formula to calculate the Sales Funnel Value.
(Number of Total Funnel Sales) X (Average Sales Funnel Price) = Total Sales Funnel Value.
To become a bestseller, you need quality products and a good converting sales funnel. So, in short, you have to get top sellers.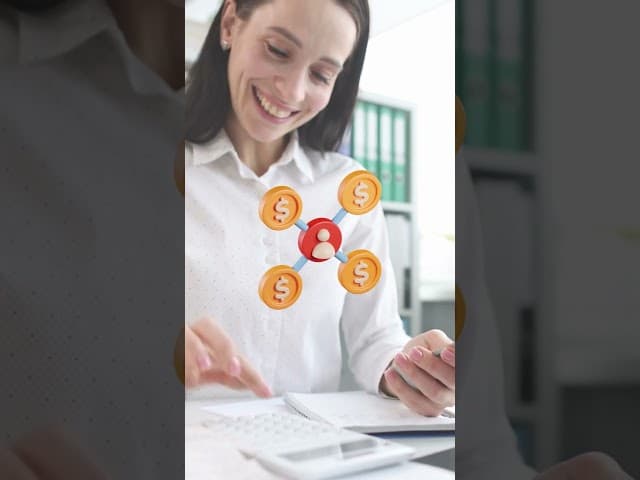 On the dashboard, under the product, the tab goes to the launch list; here, you will get the recent 30 days' launch stats and volume. Here scrolling down, look for high sales numbers.
Another easy way to find top sellers is the "product tab." 
Here ranking of sellers varies with their sales performance; you have the option to learn more about the vendors.
Go with low refunds, high sales volume, and rating sellers, as they are the best ones.
After selecting a product to promote, apply and get the product improved.
Once approved, you can see all products in the funnel under your approved products.
Pro tip: only send a link in your promotions to front-end products. By doing this way, customers see all products in the funnel. In case of any confusion, you can always get in contact with sellers for clarification.
Creating Affiliate Link For JVZoo Marketplace Products
Once approved or your favorite product to promote, you need to create the affiliate link.
One way to do that is by searching the product name. (Who does that??)
There's a much faster way to do that!
Just go to the product, and you will see a tab present on top of the page for affiliates. Click it and then get the link.
You can see many formats of the links: standard, text, or HTML, and then product page, tracker, or domain redirection. Simply copy and paste it wherever you want.
Another way is that go to My Account, then click on the Affiliate Tools tabs. There you will find a link creator. Just copy and paste it wherever you want!
You can also create custom links for your affiliate campaigns as well.
To use them, go to my account and then click Affiliate Tools; after that, find a custom link creator located at the bottom of the page.
What Are The JVZoo Payment Methods?
Now you are ready to start promoting your affiliate links and collecting commissions – making money!
One of the key benefits of using JVZoo as an affiliate is the wide range of payment methods that are available.
You can get instant commissions once you become eligible to be a Premium affiliate. It can be done by strategic affiliate marketing based on scaling and low refund rates.
Usually, JVzoo pay is a net 90-day payment timeframe, similar to the Amazon affiliates.
Payment Methods
PayPal
Payoneer
Cheques
Direct Deposit etc.
You can choose more than one payment option and then choose which one shall remain active and receive payment. Let's say a bank account and a business PayPal.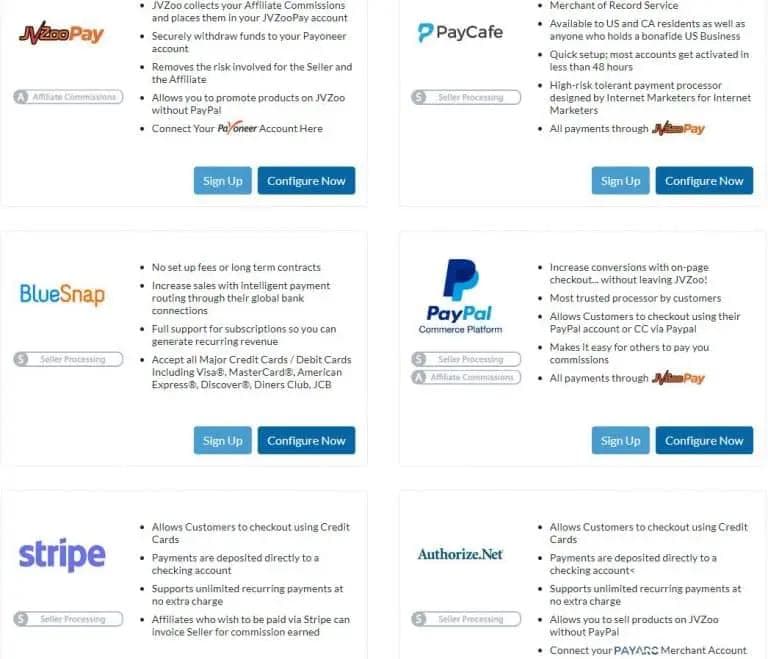 Pro tip: Ensure your payment method is compatible with your country's banks. Most affiliates choose PayPal for the biggest affiliate programs.
What Is The Duration Of Jvzoo Cookies To Receive Affiliate Commissions?
You have got Jvzoo on your back to guard and receive your commissions for each sale you make. To safeguard affiliate bonuses as a cookie changes, Jvzoo asks the customer if they wish to change their referral. It keeps bonuses on track.
A customer never gets to see this screen until a change in cookies is detected.
How To Withdraw From JVZoo??
Jvzoo payment trigger threshold is $50. I will say now it's a standard industry rate, so fair enough. But unless you are eligible, there will be 90 day waiting period like amazon affiliates.
It's to protect both the seller and the affiliate. To develop trust and credibility along with commission securing and refund protection, Jvzoo has created a 90 days payment schedule threshold. But that's a bit the only case, as a seller can pay a commission prior to the 90 days cycle.
Following The Norm: Is JVZoo Legit?
No, growing from a small startup to 800,000 active affiliates is 100% legit and safe if you know affiliate marketing and have a keen eye on details.
Jvzoo is an affiliate platform where people host and promote their digital products – not a scam network
Basically, it's an online productive business space to make money and grow. Here you will find all sorts of stuff; software and tools to get best-selling products as an affiliate.
Green Lights 🟢
Large range of digital products to promote
Wide variety of payment options
Instant commission eligibility
Multiple protection methods for sellers and buyers
Proven track record of success
A legit and safe platform for affiliate marketing
Best to promote digital products and you can get instant payments (if eligible)
Red Flags 🚩
Harsh payment threshold requirements (Well, it's the same in most affiliate marketing networks)
Limited affiliate marketing resources and products
High competition in some product categories
How To Have A Successful Launch On JVZoo?
The basic concept is trying to target people interested in this product. It can be done in different ways.
Being an affiliate marketer, maybe you are already an influencer on social media or own a blog, but I have got something for you.
These are the best ways taught by affiliate mentors. So even if you are already an affiliate marketer, do add one or two from the list to keep on scaling and growing.
Go To Promote Digital Products!
The basic concept is trying to target people interested in this product. It can be done in different ways.
Being an affiliate marketer, maybe you are already an influencer on social media or own a blog, but I have got something for you.
These are the best ways taught by affiliate mentors. So even if you are already an affiliate marketer, do add one or two from the list to keep on scaling and growing.
Weight Commissions With Refunds!
Weighing products' refund rate is different from the standard sales commissions. In the product selection phase, look at two factors.
How many sales does a product get?
What about the refund rate? Is it high?
A high refund rate means you are not going to get any commissions after a launch, so why waste time in selling such products?
Target Interested Buyers' particular niche has high competition and the potential of earning is low. It's better to focus on a specific category. Don't work-Z.
Ex: if your domain is around the sports niche, then focus on the overall category of sports to get the best in-demand product.
A Quick Recap To Sell Affiliates
Getting your Reviews on Google 1st page: It's a general buying behavior, and you can leverage it with a blog to give honest reviews and pitch great offers with good copywriting to earn commissions.
Promoting products on Social Media: Facebook Ads are also a great way. All you need is a good targeting strategy, and you are selling mud as gold.
Influencing people to make buying decisions: Becoming an influencer will boom your growth. Start reviewing products as an influencer. You will always be scaling and growing from Beta to mega influencers.
Copywriting sells, and email marketing resells. Business ROI becomes super with email marketing. So let's say you are leveraging email marketing along with traditional affiliate methods practiced. It will be the best combination.
How To Promote A JVZoo Product On Quora?
Quora is a powerful platform that can help you promote your Jvzoo product—but only if you use it effectively. Here's a quick overview of how to do just that.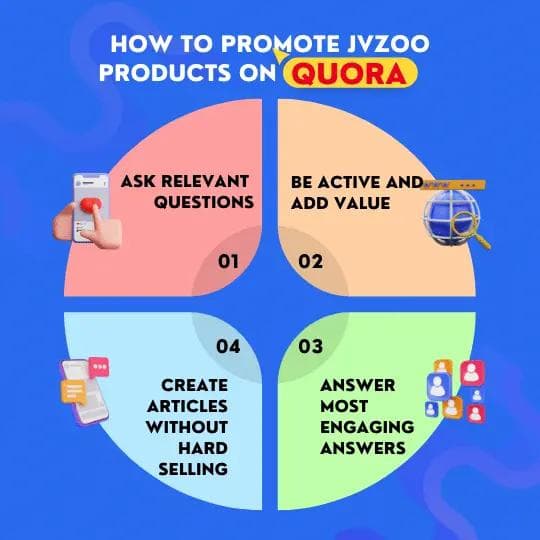 Ask Relevant
The first step is to find relevant questions that people are asking about your niche.
Once you've found a few questions that you think are a good fit, it's time to start writing helpful and informative answers.
Be sure to include a link to your Jvzoo product in your answer so that people can easily find it if they're interested.
But do not promote your product too heavily in your answer, as this will come across as spammy and will turn people off.
Be Active And Add Value
It's also important to be active on other people's threads. If someone has asked a question about a topic that you're knowledgeable about, chime in with your two cents!
Not only will this help build your credibility, but it will also help get your name and your product out there.
Create Articles
In addition to answering questions, you can also use Quora to create articles (known as "Q&A"s) about your product. These articles are similar to blog posts, but they live on the Quora platform.
When creating an article about your product, be sure to include images, links, and other media to make your article more engaging. You can also use this platform to run ads for your product (although this is not required).
The key is to get targeted traffic (even if a few good ones) to generate sales, even if you are thinking of acting as youtube video producers and naturally promote your referral links.
How To Promote JVZoo Products Without A Website On Pinterest?
If you're like most people, you probably think that you need to have a website to promote JVZoo products on Pinterest.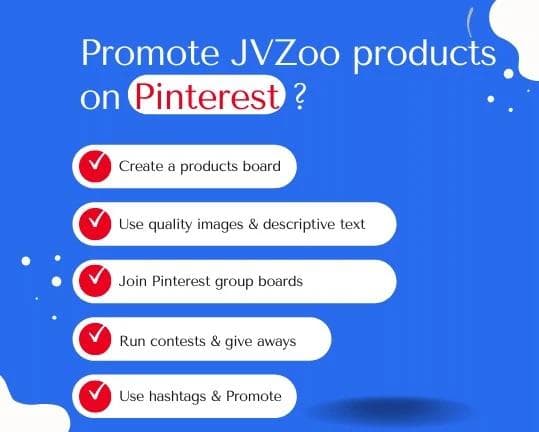 But that's simply not true! You can absolutely promote JVZoo products on Pinterest without a website. Here's how…
Create a board for each JVZoo product you want to promote.
Create pins for each of the products using high-quality images and descriptive text.
Join relevant Pinterest group boards and share your pins with other members. 
Use hashtags to reach a wider audience on Pinterest. 
Collaborate with other bloggers and promote each other's pins. 
Run contests and give away prizes to encourage people to engage with your pins. 
Pay for promoted pins to reach an even wider audience of potential customers. 
Keep track of your analytics to see which pins are performing well and adjust your strategy accordingly. 
Keep creating new content to keep your audience engaged!
Just follow the tips above, and you'll be able to reach a wide audience of potential customers without any problem. You can also explore the automated webinar platform option too.
2 Legit JVZoo Affiliate Program Complaints
Jvzoo is one of the most popular affiliate networks, but that doesn't mean it's perfect. In fact, there are a few legitimate complaints that you should be aware of before you sign up.
Complaint #1: Difficulty Navigating The Platform
The interface can be confusing, and it's not always easy to find what you're looking for.
Obviously, this can be frustrating if you're trying to promote a product but can't even find it on the site!
The best way to overcome this obstacle is to familiarize yourself with the platform and take some time to explore all of its features.
Once you get the hang of it, navigating Jvzoo will be a breeze.
Complaint #2: Customer Service Issues
Finally, a common complaint about Jvzoo is lacking customer service. Many affiliates have had difficulty getting in touch with someone from customer service or have had their questions unanswered completely. Obviously, this can be very frustrating!
There are a few things you can do to try to overcome this issue.
First, make sure that you're using the correct contact information.
Second, try reaching out through social media platforms like Twitter or Facebook. 
Often companies are more responsive on social media than they are through traditional channels like email or phone calls.
How Does JVZoo Make Money As An Affiliate?
JVZoo is an affiliate network that connects product owners with affiliates.
When a product owner creates a product, they can list it on JVZoo and set a commission percentage.
Then, when an affiliate marketing company promotes the product and makes a sale, they earn a commission.
It's a simple way for product owners to get their products in front of a wider audience and a great way for affiliates to make money. There are two types of commissions on JVZoo:
Recurring commissions are paid out every month for as long as the customer remains subscribed to the product. 
One-time commissions are paid out once, and they are usually higher than recurring commissions.
For example, if a product owner offers a 50% one-time commission, then an affiliate who makes a $100 sale will earn $50.
JVZoo Reviews
Let's overview what Jvzoo users have to say about it. Starting from affiliates, many are sharing their affiliate journey with Jvzoo.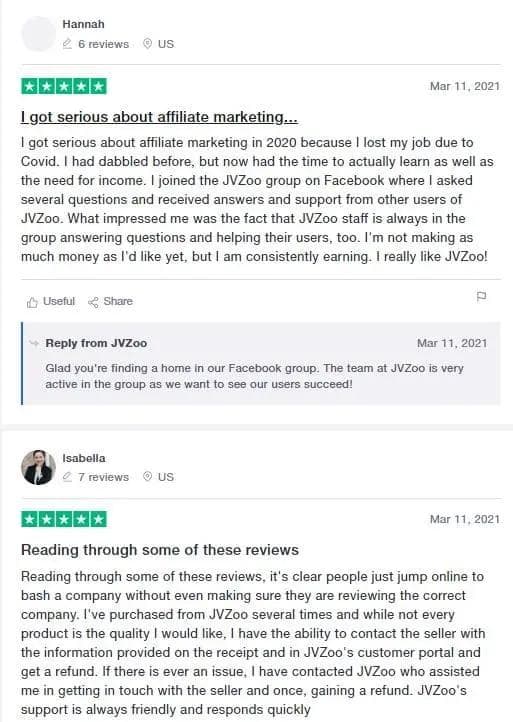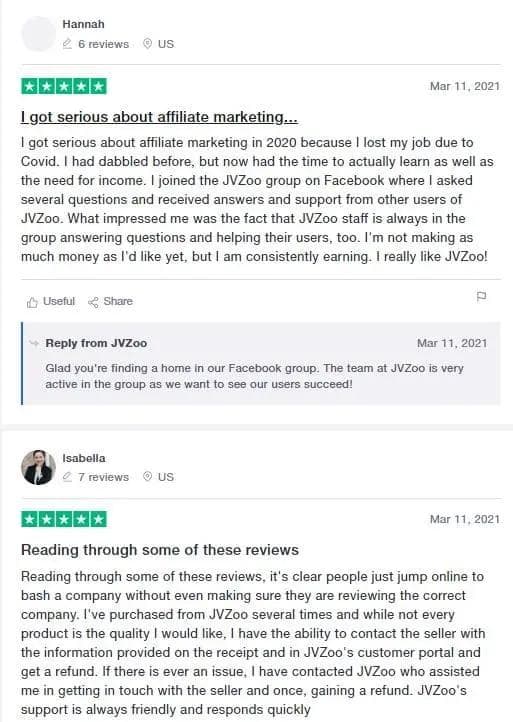 But nothing is generalized or best for everyone. Look at another jvzoo's affiliates review: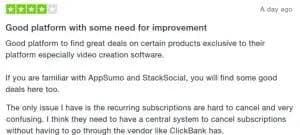 JVZoo Vibrant Facebook Community?
This is a digital space to collaborate with vendors, sellers, affiliates, and Jvzoo's support.
As you sign up on the Jvzoo affiliate, go to My Account and get your ID. 
Copy and paste it while joining the group to enter the community. It costs zero bucks to become part of their Facebook community.
Weighing It All!
Jvzoo was established in 2011 and has more than 800,000 active affiliates. The question is should you give a shot to the Jvzoo affiliate? Is it worth it? 
Worked with it for about 3.5 years, I would say; overall, it was a good journey. Mainly due to high commissions for digital products.
If we have a niche audience with an interest in digital products, then definitely Sign up.
Let me sum it up all in a mini-review to decide if it's worth your time or just a scamming sparrow.
PROS
Variety of Digital Products to choose from (Tens of thousands)
High commission rates (50% and sometimes even 100%)
Easy to sign up and approval
Generating affiliate links is easy
Major products are good and profit maker
Possibility of getting instant commissions
Industry-standard payment threshold
Legit and good user experience
Free to join
CONS
Bad sellers shall be removed
Dead products shall be removed from the catalog
There is some confusion in the payment selection step on account activation.
Summary
Is Jvzoo an alternative for the best industry networks? A big NO, but I will say it's a worthy competitor on scaling mode.
Good products with high commissions… you have to figure out how your 7-8 figures affiliate journey.
If you are more into digital products then try to leverage the Jvzoo affiliate network.
If it doesn't fit your affiliate programs checklist, then you can explore the CJ Affiliate program ( We have done a review for it, too 😀 )
In the end, remember all affiliate networks out in the market are tools for affiliate marketers.
Skills matter more than just a specified affiliate program.
(For newbies, you can shorten your affiliate journey by trying Dave Sharpe Legendary Marker 15 days challenge.)
You don't have to stick with one but learn how to leverage all worthy affiliate networks and get the most out of them.
Subscribe for
the latest updates