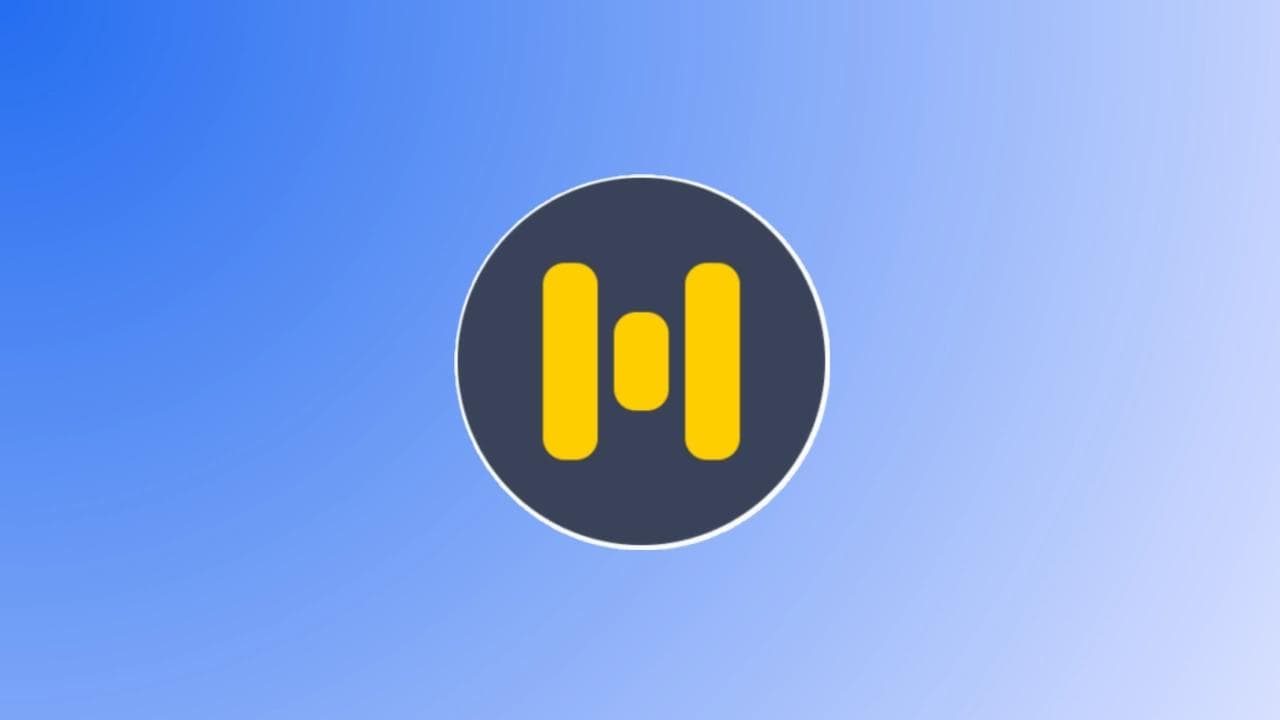 Murf AI Review 2023: Let AI speak for you! Murf Studio

Unbeatable Software
May 10, 2023 at 12:07 PM
Communication is a must! But what if someone is shy? 
Whether it's about conveying your message or running a YT channel, audio is just like blood in the body.
Yeah! Would you like to watch a video without audio? Obviously, No!!!
So if you want to avoid watching such videos, don't even think about making them like those.
The question now is how to create voices to make your videos wonderful.
You can hire a freelancer to do this for you, but there are more versatile options. What else can you try?
Yes, you can try Text to speech tools, but they will give it a robotic touch, and it could be fine for individuals but not recommended for professional use.
That's where Murf AI comes into play.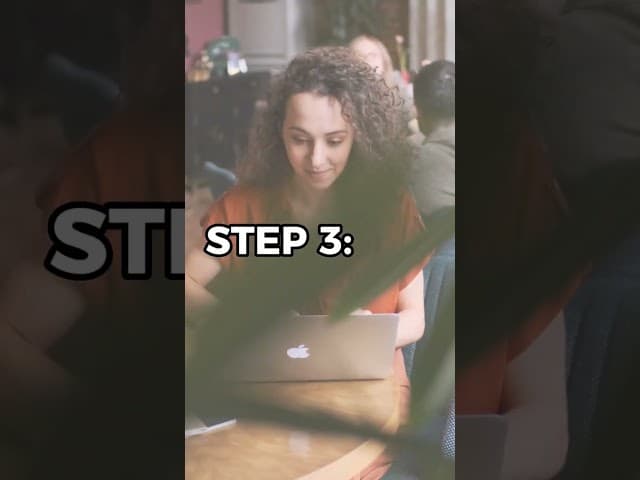 It will speak what you want plus not just speak but speak as you want it to speak. Is it interesting?
Read on; there's a lot more!
What is MURF AI?
In my words, Murf AI is your assistant. Yes! It will speak whatever you want—an ultimate solution for creating ultra-realistic voiceovers from the text.
You can find the perfect voice for any project with a hand-picked library of over 100 professional voices in 20 languages. Whether e-Learning, YouTube videos, podcasts, or commercials, Murf AI covers you.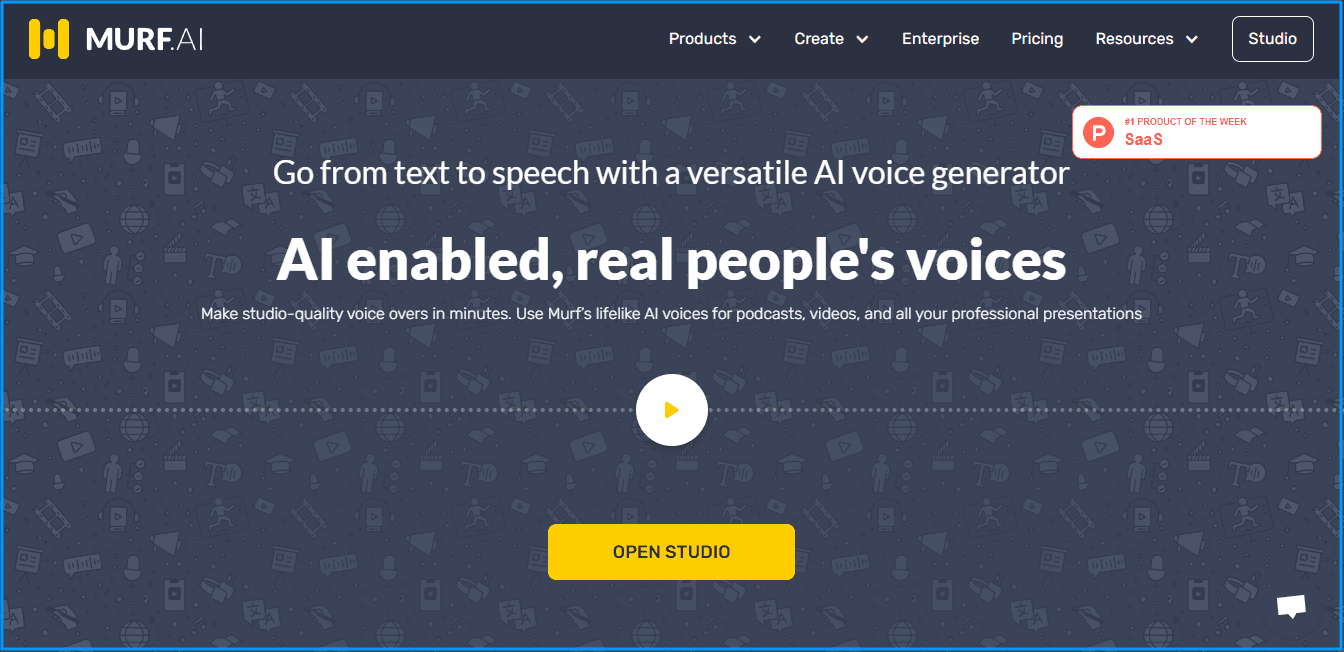 This powerful tool can create audiobooks, video games, and product videos. Plus, it's incredibly user-friendly and comes with a free trial.
With Murf AI, you can easily bring your ideas to life and take your content to the next level. So why settle for boring, monotonous voiceovers when you can have ultra-realistic ones that captivate your audience?
Not all TTS programs have this feature, but Murf AI takes it to the next level by allowing you to customize your voiceovers. It ensures that your content stands out from the rest and sounds more human-like.
So, if you want to take your voiceovers to the next level, Murf AI is the perfect solution. You can create high-quality voiceovers that captivate and keep your audience engaged.
Let's try and witness how easy it is to use and how it can transform your content and generate voiceovers!
A Look at the dashboard
So far, I have told you what Murf is. But once you login then, you'll reach its dashboard.
Murf's Dashboard is straightforward!
It offers unique features that make generating and editing voiceovers effortless. So individuals with little to no experience in voiceover creation can easily leverage the platform to create high-quality audio recordings.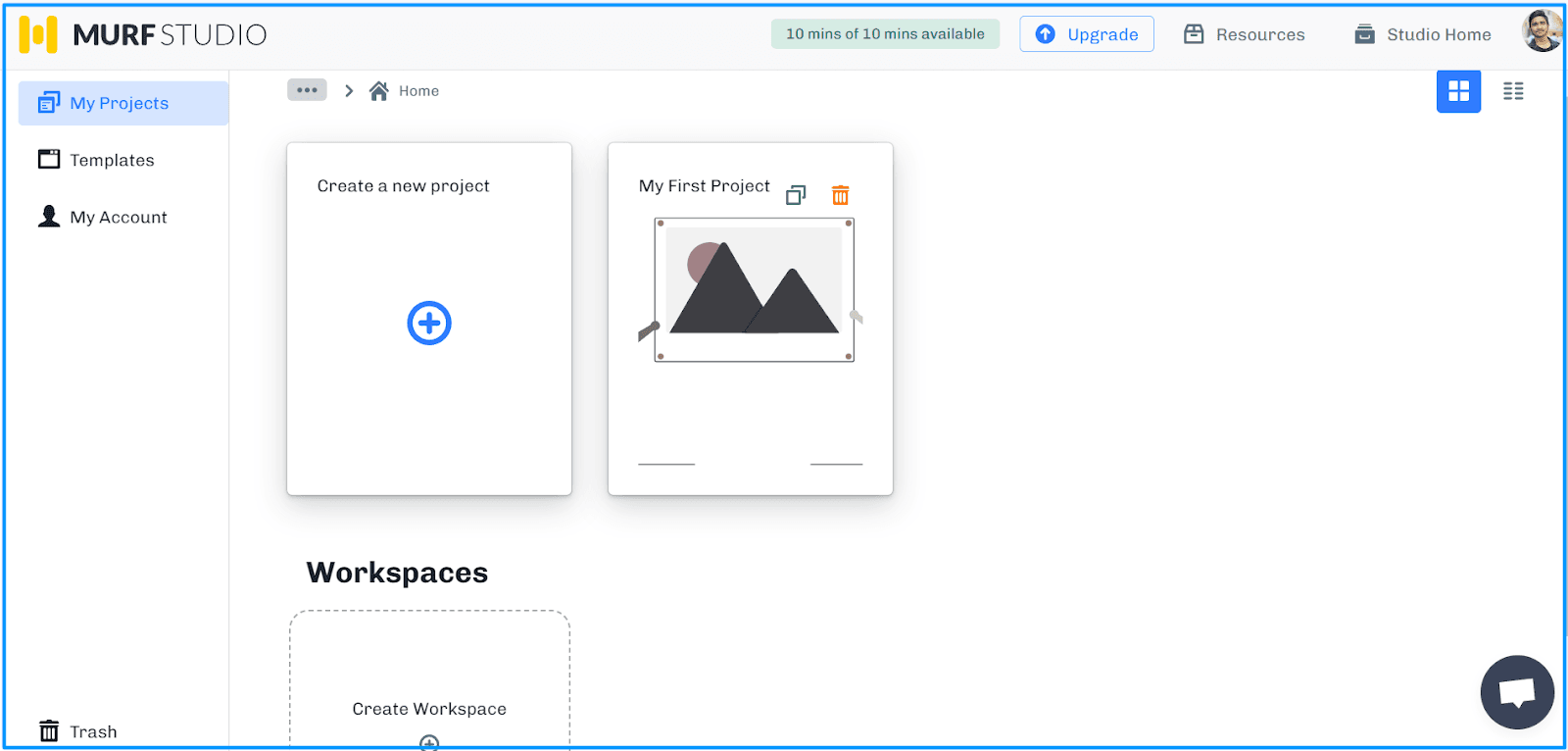 Murf AI offers a seamless experience with excellent voice quality that caters to multiple age groups. You can access various audio that can be modified for a more realistic output.
With Murf AI, it's possible to sound younger or older! You can adjust the speed and pitch of the audio to suit your needs. Additionally, the software has built-in features that allow you to shift female voices to sound like male voices and vice versa.
Plus, you can choose from different dialects to make the audio even more accurate. With these features, you can create the perfect voiceover for your project.
The main task Murf serves is converting text to speech, but other tools are available in the market. So why Murf? Is it enough to compete and beat them? Take a look.
Why MURF? Not Others!
Although similar tools are available in the market, Murf AI offers some of the best features and benefits. Let's take a look at the comparison table below: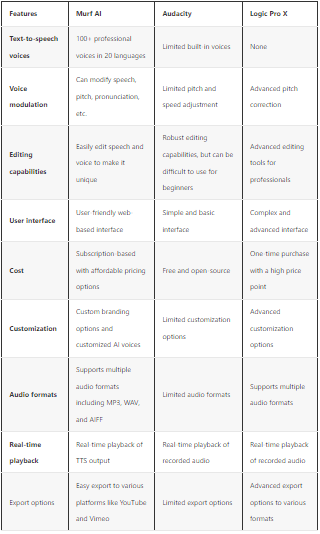 Incredible Features of MURF AI
Above is just the overview of the Murf compared to similar tools. Now let's have a detailed look at Murf's features:
AI Voice Generation:
MURF AI boasts an impressive AI voice generation capability to convert text into high-quality speech.
With its extensive library of over 100 professional voices in 20 languages, you can create ultra-realistic voiceovers for any content. The software covers you, from e-Learning to YouTube, podcasts, and commercialization.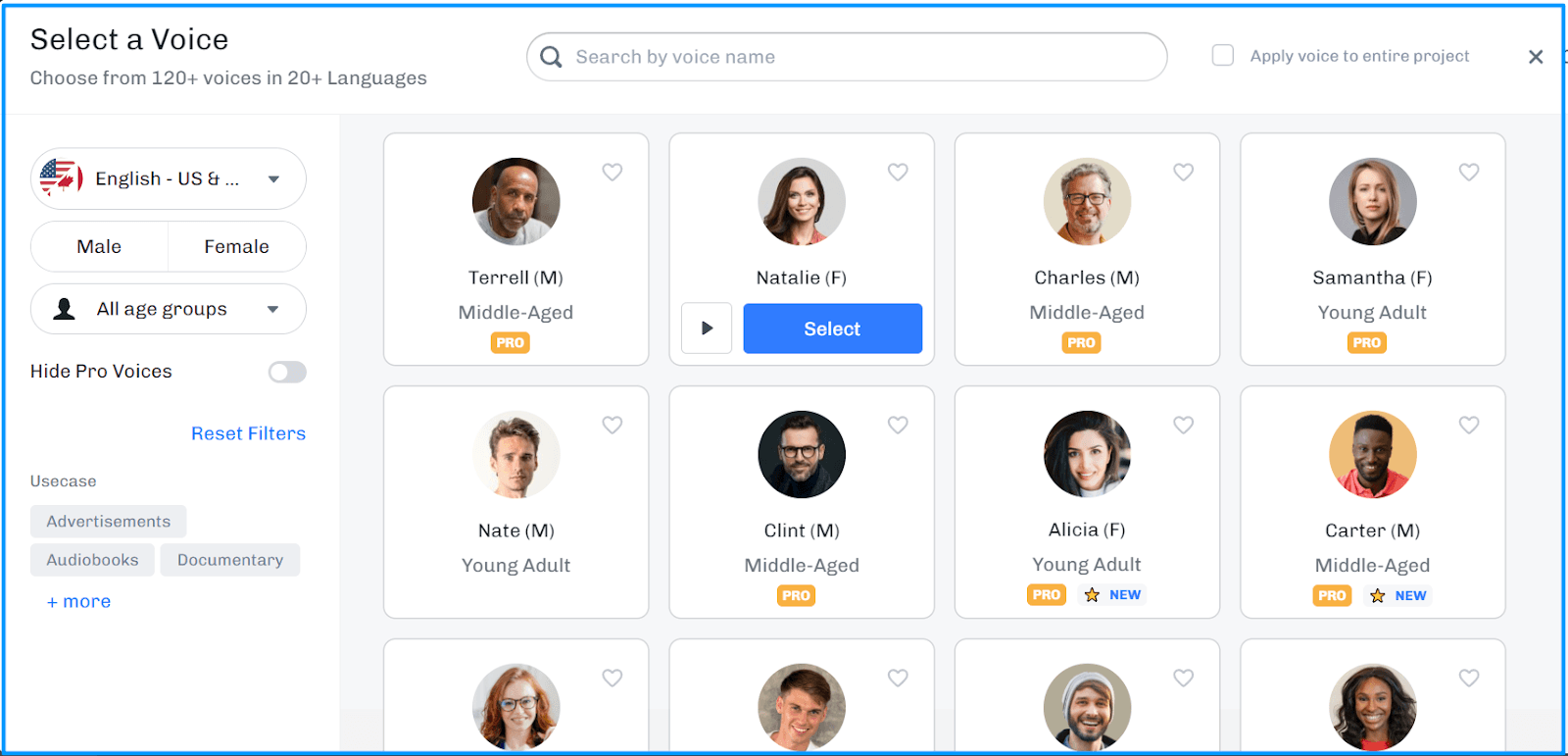 When you have to create a voiceover, you may try Speechelo for voiceovers, but when it comes to customization, look no further than Murf AI.
Moreover, MURF AI offers a customizable interface that allows you to adjust pitch, speed, and tone to match the intended audience or style.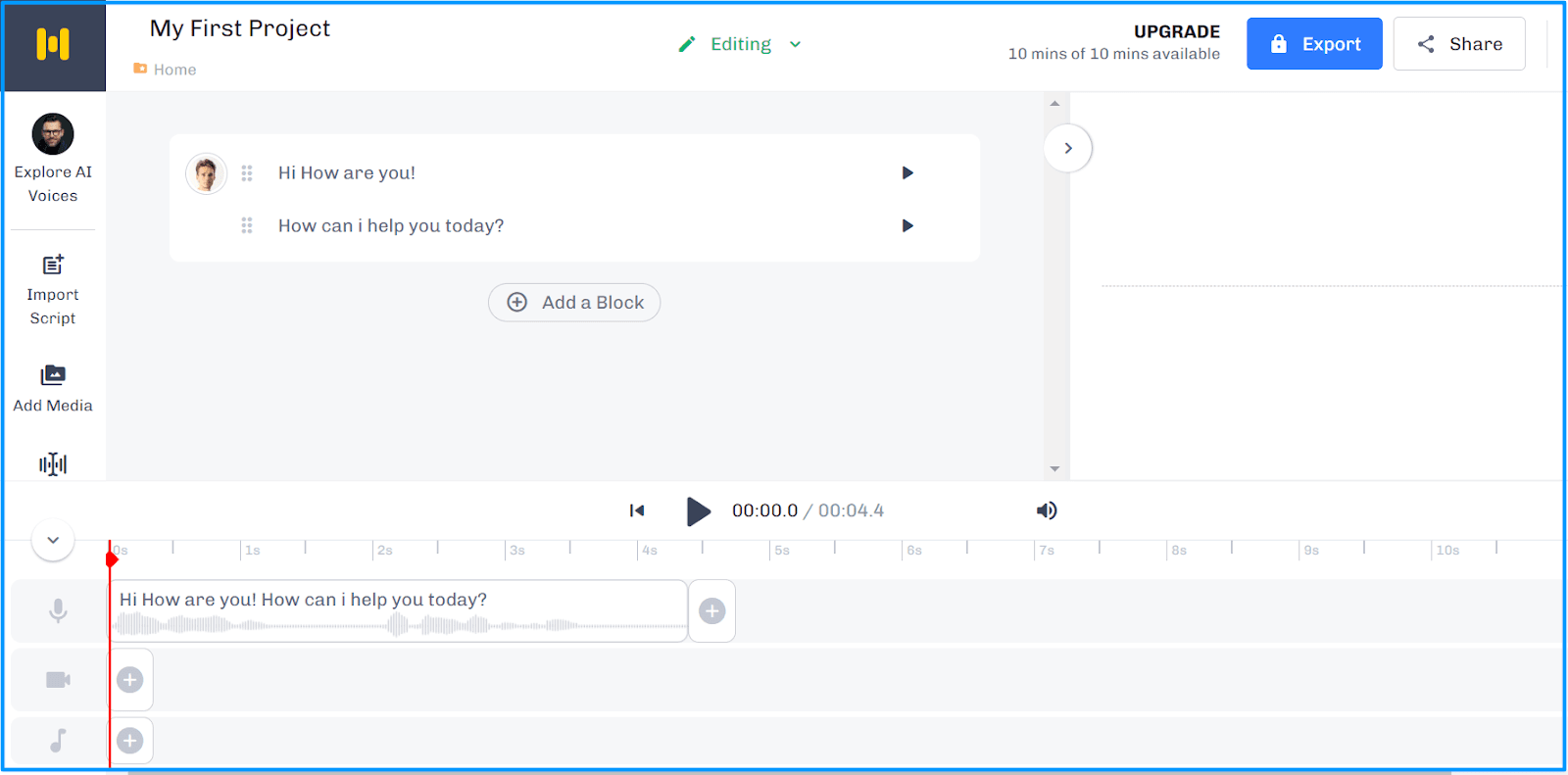 With its advanced algorithms, the AI voice generation feature creates a seamless and smooth experience for the listener, providing top-quality voiceovers every time.
Voice Changer:
The voice changer feature in MURF AI is an exceptional tool that enables users to modify any voice to their liking.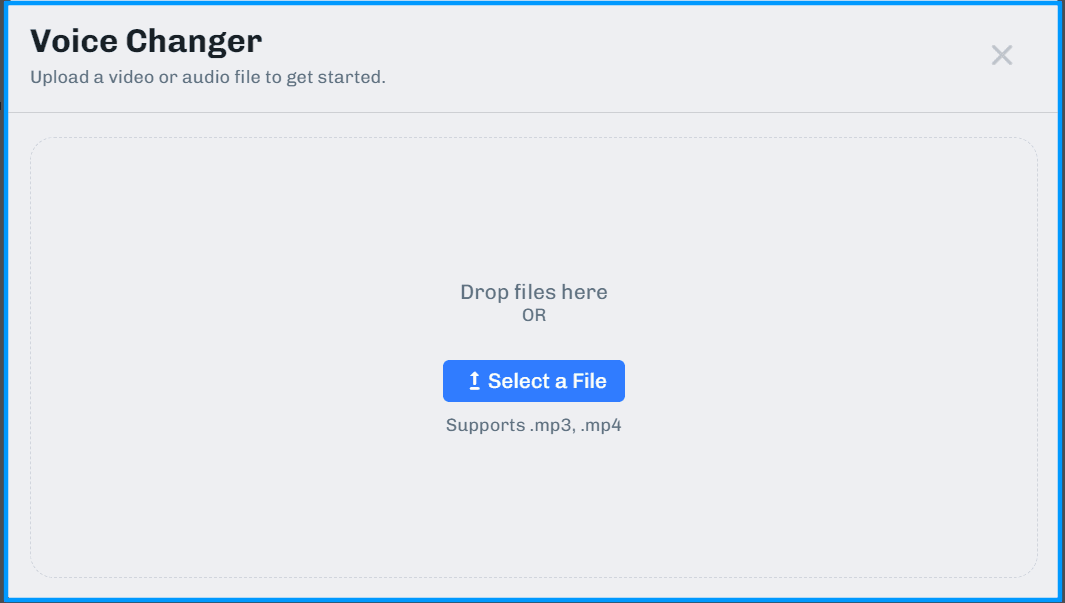 The software offers a variety of options, such as changing the pitch, tone, speed, pronunciation, and dialect. This feature can be useful, especially for content creators who create different voices for various characters.
Comprehensive Control:
MURF AI provides comprehensive control over voice generation, allowing users to fine-tune their voiceovers to perfection. You can get features like voice modulation, tone control, and voice editing tools to enhance the quality of the output. You can also import your script file and let it speak for you.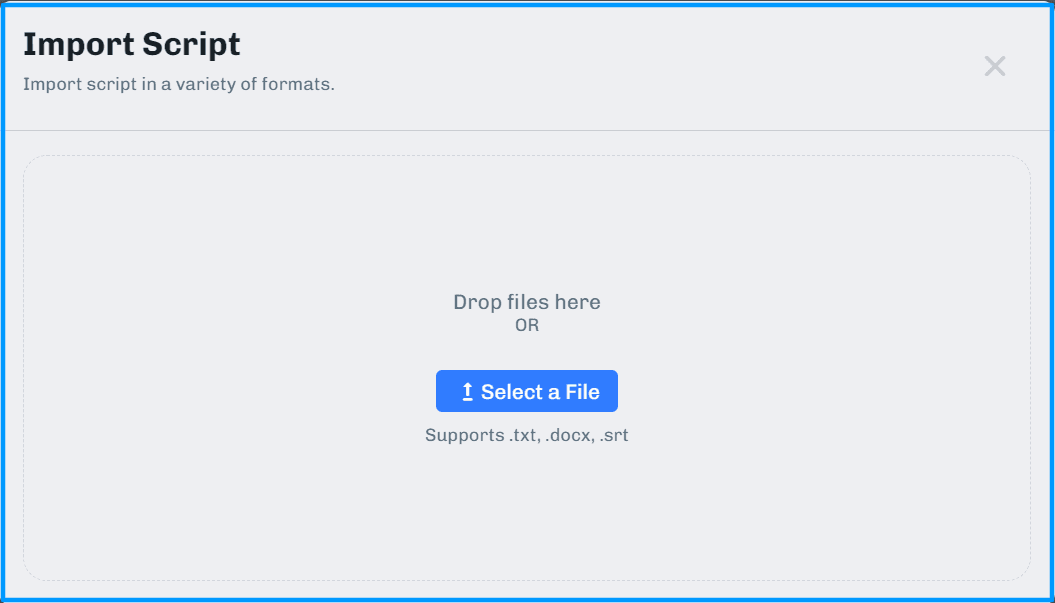 Additionally, MURF AI allows you to match the timing of your voice to your videos, ensuring a seamless experience for the audience.
Team Collaboration:
One unique feature of MURF AI is its team collaboration capability.
This feature allows multiple users to collaborate on a project and contribute their voices to create a more comprehensive voiceover. It can be especially useful for remote teams, allowing them to work together seamlessly regardless of location.
AI Voices Library:
MURF AI has a vast library of professional voices catering to various industries and niches. From education to entertainment, the AI voices in the library offer an unmatched level of realism and quality.
Moreover, MURF AI regularly adds new voices, ensuring users can access the latest and most diverse voices.
Voice Editing:
MURF AI contains voice editing tools that enable users to customize their voiceovers further. Now you can modify your voice's pace, tone, and emphasis, making it sound more natural and human-like. With its intuitive interface, the voice editing feature is easy to use, even for those without experience in audio editing.
MURF AI offers various features that make it stand out from other AI text-to-speech software.
Who is MURF best for?
So it's proved that Murf is a big deal!
But who can get benefit from it?
In short, It can be used by many individuals and businesses. Here are some key groups that would benefit most from using MURF:
Content Creators: MURF is perfect for anyone creating content for social media, blogs, or websites. It enables content creators to easily convert their written content into high-quality audio format, helping them to engage their audience in a new way.
YouTubers: An ideal tool for YouTubers looking to produce high-quality voiceovers. It allows them to add a professional voice to their videos without the need for expensive equipment or professional recording studios.
E-learning: E-learning platforms that require voiceovers for their content. It can help them stay engaged and focused on the course material and make complex subjects easier to understand.
Podcasters: MURF can create intros, outros, and even full podcast episodes. It is a great way to add a professional-sounding voice to your content without expensive equipment or professional recording studios.
Business Owners: MURF is an excellent option for businesses looking to create product videos, explainer videos, or any other type of promotional content. It allows businesses to easily create high-quality audio content that can help them to connect with their target audience.
MURF AI Pricing Plans
Murf AI has four Plans and pricing according to that.
Take a look.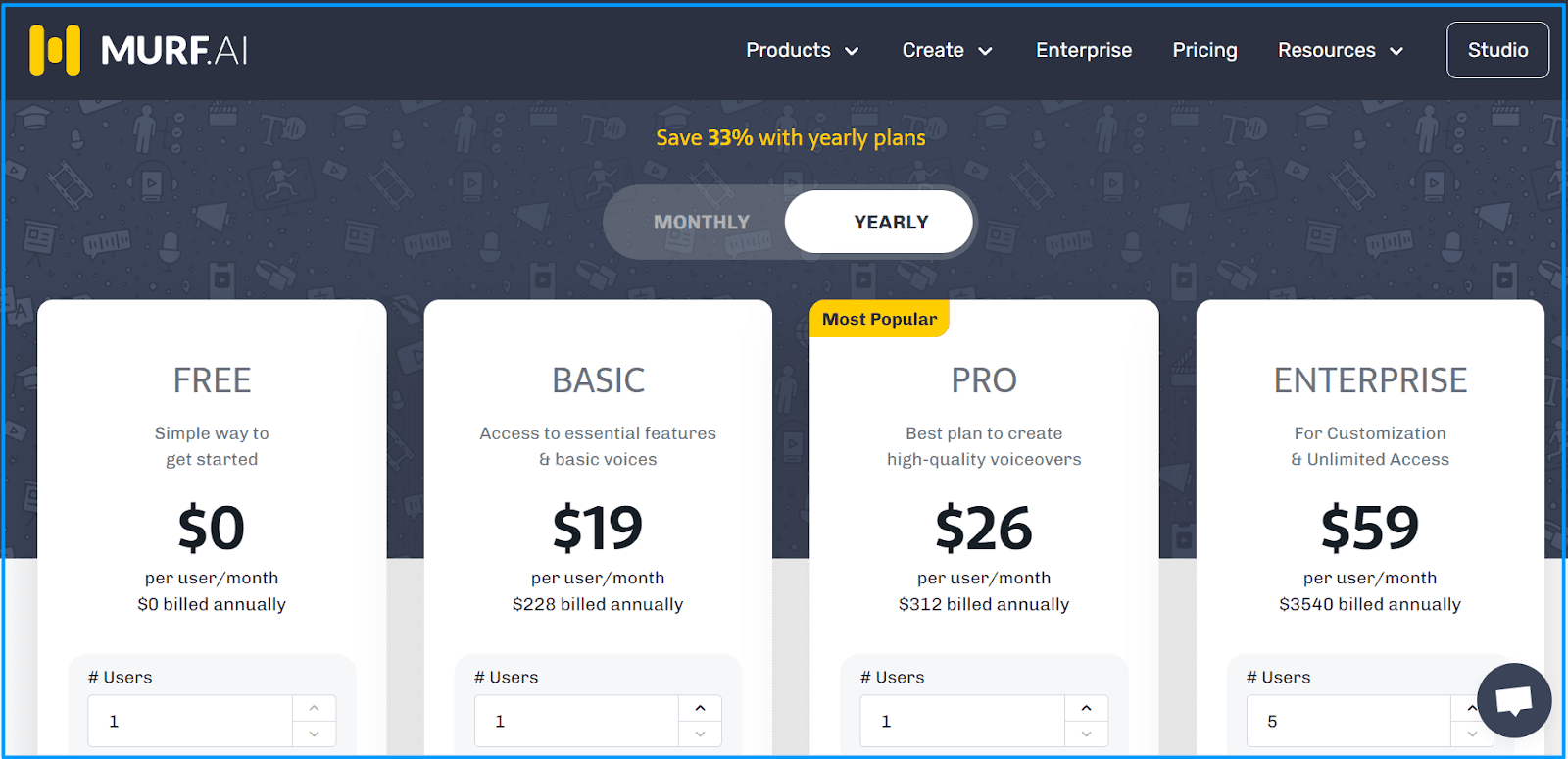 Free Version (For Trying the Software)
Basic voiceovers and ten languages
Access to over 8000 licensed soundtracks
Limited to a single-user account
10 minutes of voice generation
No download option is available
Basic (For Individuals)
60 basic voiceovers and ten languages
Access to over 8000 licensed soundtracks
Download files from the Murf studio
Allocation of 24 hours of voice generation per year
Access to Murf studio
Chat & email support
No voice changer
Single user account
Currently priced at $19 per month or $228 if billed annually
Pro (For Professionals)
Access to every AI voice in Murf and the 20+ languages available
Access to the library of soundtracks and a collaborative workspace
Voice changer included
Usage time of 48 hours of voice generation and 24 hours of transcription per year
Commercial usage rights and higher priority support
Single user account
Currently priced at $26 per month or $312 if billed annually
Enterprise (For Businesses)
Unlimited voice generation and transcription
Access for 5+ users to the same account
Onboarding support, training, and invoicing
Ability to recover deleted files
Currently priced at $59 per user monthly or $3540 if billed annually.
Positives and Negatives of Murf AI
Positives of Murf AI:
Easy to use: Murf AI is designed to be user-friendly and easy to navigate. You don't need any technical skills to use it. You can get started with a few clicks and create professional-level voiceovers within minutes.
Large Voice Library: Murf AI has a large library of 100+ professional voices in 20 languages. It gives you many options, and you can find the perfect voice for your project.
Voice Editing: With Murf AI, you can edit your voiceover, making it sound more natural and professional. You can adjust the speed, tone, and pitch of the voice to fit your needs. This feature is especially useful to make your voiceover stand out.
Time-saving: Murf AI saves you time and money by eliminating the need for hiring professional voice actors. You can create a high-quality voiceover in minutes instead of waiting days or weeks for someone else to do it.
Negatives of Murf AI:
Limited customization: While Murf AI offers many voice options, it still has its limitations regarding customization. You cannot modify the tone, speed, or pitch of the voice to a great extent, and this may not work for some users who need more control over their voiceover.
Limited features: Murf AI does not offer advanced features like background noise removal, audio effects, and multi-track editing, which may be important for some users.
What People Say and What People Ask?
According to Trustpilot, Some users didn't find it satisfactory and gave a very poor review. But what they say:
"Murf is good, very good, BUT the price for the 'voice time' you get is not good. There used to be a 'one-time' pack where you paid for one-off usage.
They have removed this in favor of expensive plans.
The pricing structure needs to be reworked and made more attractive, competitive, and, most of all, cheaper.
For what I pay for 24 hours of voice time, I can get a better deal with a REAL voice on a site like Fiverr.com" Source: Trustpilot Review.
Another one says:
"I used Murf Text to speech tool for adding voiceovers to marketing videos and presentations. They have a free plan I tested, and I was amazed at the quality of the voices and the easy-to-use UI of the TTS editor. I purchased a plan for my official use, and now I stick to Murf for any AI voiceover requirements."
Source: Trustpilot Review
FAQs
Can Murf AI be used for commercial purposes?
Yes, Murf AI can be used for commercial purposes. It is commonly used by content creators, marketers, and businesses to create audio content for advertising, marketing, and other purposes.
Does YouTube monetize AI voice videos?
Yes, YouTube monetizes AI voice videos as long as the content meets its community guidelines and terms of service. AI-generated content is treated the same way as human-generated content, so it can be monetized as long as it is original and adds value to viewers.
Is Murf voice changer free?
Murf AI offers a free trial for new users, but after that, you must pay to continue using the service. The cost depends on your usage, but various pricing plans are available to suit your needs.
How to use Murf AI for free?
To use Murf AI for free, you can sign up for the free trial. During the trial period, you can use all the features and functions of the software without any cost. Once the trial period ends, you can continue using the service by subscribing to one of the available pricing plans.
Murf AI OR Synthesia AI
Welcome to the ultimate showdown between the most powerful AI tools for content creators, Murf AI and Synthesia AI. Let's look at some key features of both and compare them.
Let's compare some key features of both tools:
Voiceover Quality: While both tools use AI to generate voiceovers, Murf AI has a more extensive library of voices in multiple languages. However, Synthesia AI allows you to customize your voiceovers by uploading your audio files.
Video Creation: While Murf AI focuses solely on voiceovers, Synthesia AI allows you to create engaging videos by animating text and images. Synthesia AI has a larger library of templates and customization options.
So, which tool is best for you? It depends on your specific needs.
If you're looking for a tool to create engaging videos with animated text and images, Synthesia AI may be your best choice. However, if you need high-quality voiceovers in multiple languages, Murf AI may be the better option.
Verdict: Worth it or Not?
The software's diverse options and flexibility make it a go-to choice for content creators, YouTubers, and anyone looking to add voiceovers to their videos.
While Murf AI has a lot to offer, it's important to note that its premium features come at a cost. The subscription model may be a drawback for some users, particularly those on a tight budget.
The voice-changing tool is only available in the pro version, which may be a deal-breaker for some.
If you're a professional content creator or rely heavily on voiceovers for your work, the investment in Murf AI may be worth it. The software's powerful features and extensive voice library offer much value for those who need it.
Overall, Murf AI is a great choice for creating high-quality voiceovers quickly and easily.
Subscribe for
the latest updates