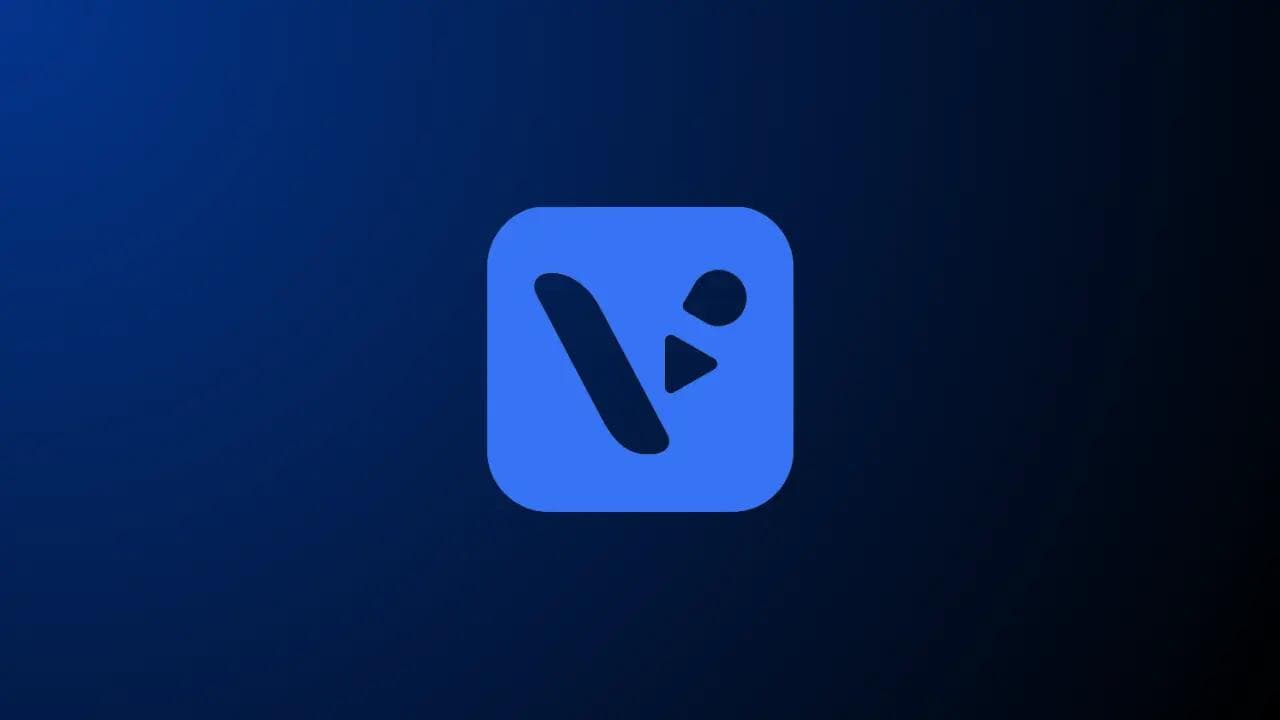 It's Time To Monetize Your Creativity with Visla AI Review

Unbeatable Software
July 16, 2023 at 6:01 PM
Let's wake up to a reality where your imagination has no bounds, and your creativity is a currency. Welcome to the era of Visla.
Visla isn't just another video-making platform. It's a transformative tool, a digital alchemist turning your text into stunning visual narratives. Visla understands your vision, and paints it on a dynamic canvas, creating videos so impactful they can not only conquer social media but also generate a handsome income.
So you're sitting in your favorite chair, typing out a script. The next thing you know, you're watching it come alive in a breathtaking video, ready to charm viewers on YouTube, TikTok, Instagram, and beyond.
But that's not all. With Visla, you don't just get to create; you get to customize, edit, to perfect your creation until it's exactly what you envisioned. And the best part? It's ready to sell, ready to rake in the applause and the profits.
Intrigued? Buckle up, because we're about to delve into a detailed review of Visla, and how you can harness its power to monetize your creativity.
Prepare to step into a world where creativity meets technology, and where technology helps your creativity pay off. Get ready for Visla.
What we are going to create? Visla Tested!
Visla is very user-friendly and easy to use. As you sign up, you'll head to this dashboard: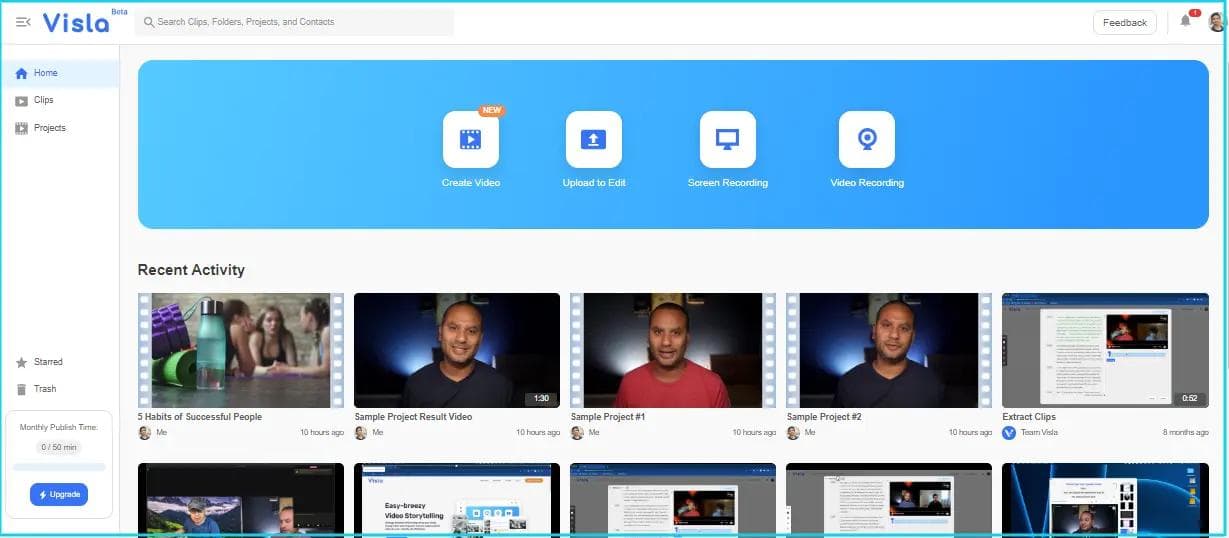 Just tap on "Create Video" and it will ask about the kind of video you're going to create whether AI video generator or Video with Voice.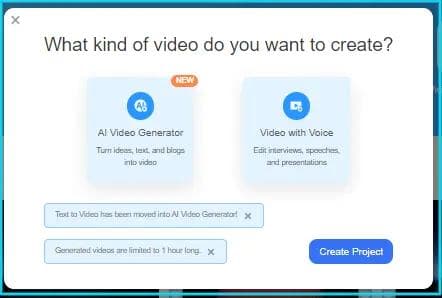 Select the one as per your needs.
Tested Visla To Make a Video on Beauty Tips
To test how accurate and efficient Visla is, we handed it a script and set it the challenge to transform our text into a captivating video.
To kickstart our experiment, I decided to arm Visla with something universal, yet enticing – a quintet of beauty tips.
I just entered this prompt "Make a video about beauty tips" as shown in the image.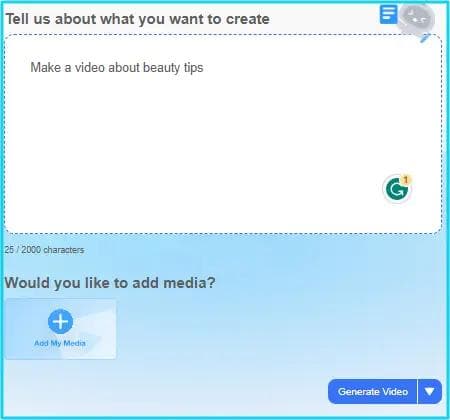 And interestingly it generated a script and a perfect video on that. Wow!
As I initiated the "generate video" option, it took hardly 1-2 minutes and the results are just Wow! 👏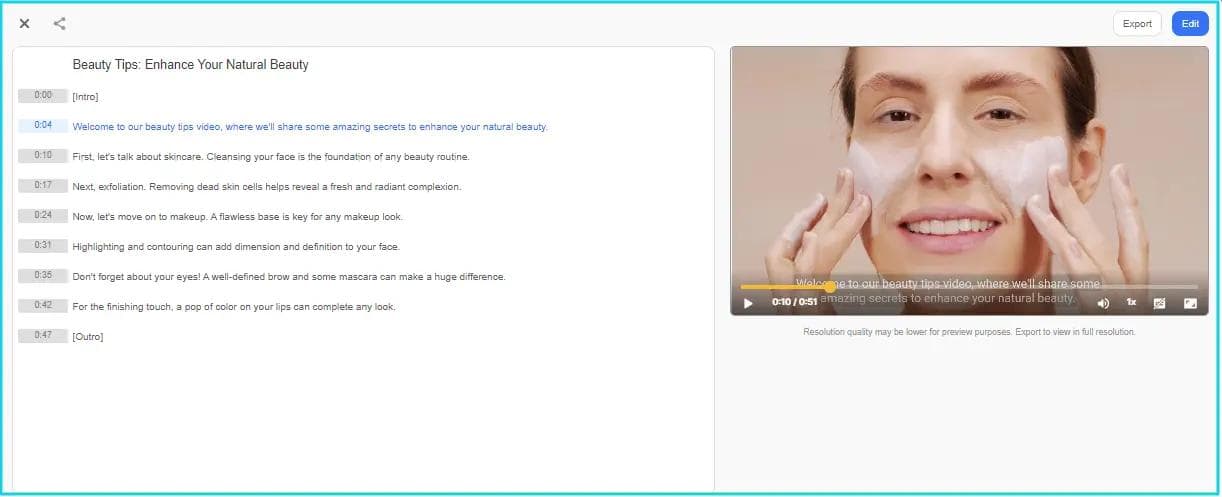 And let me tell you, the results were not just good, they were spectacularly stunning! 🤩. The kind of 'WOW' that confirms - Visla truly doesn't know how to disappoint! 🔥
But wait, there's more! Visla gives you complete control over the video it generates. Feel like tweaking the voiceover audio? No problem.
Want to add or remove some text, or edit a bit here and there? Consider it done. Perhaps you're looking to adjust the video's resolution or size to suit your platform. Visla has you covered. In essence, it hands you the reins to make any and every alteration you desire. It's truly a creative playground for your vision.
Tested Visla To Make a Video on Gym and Fitness
Craving a deeper exploration of Visla's capabilities, I decided to change up the genre. Leaving the realm of beauty tips, I delved into the world of Gym and Fitness. My goal?
To challenge Visla with a completely different text and see how it adapts its video-making prowess to such a diverse subject matter.
After all, exploring the contrasts and variations in content generation is a true testament to an AI's versatility.
Honestly, I'm almost at a loss for words to commend this technology. I was completely enthralled by Visla's exceptional ability to craft scripts and generate videos. The level of accuracy it displayed was truly impressive.
Without a shred of doubt, I would heartily recommend Visla to anyone looking to revolutionize their video creation process.
How to Monetize your Creativity with Visla?
As we wrap up this exploration into the realm of Visla, let's dive into an exciting possibility: the opportunity to monetize your creativity.
Visla isn't just a tool for crafting high-quality videos - it's a stepping stone toward creating a lucrative pathway on platforms like YouTube. Imagine this: you feed Visla your script, it breathes life into your ideas with stunning visuals, and then you take these captivating creations and share them with the world on YouTube.
As your content quality and consistency grow thanks to Visla's seamless video creation capabilities, so do your viewership and engagement rates. This, in turn, opens up monetization avenues, allowing you to earn revenue for your creative endeavors.
In a nutshell, Visla does more than just simplify your video creation process. It sets you up for a potential income stream by helping you create content that not only resonates with viewers but also meets the quality standards for monetization on platforms like YouTube.
So why wait? It's time to embrace the future of video creation with Visla, and embark on a journey that marries creativity with monetization. Let Visla turn your visions into captivating videos, and let those videos pave your way to potential revenue!
Visla Features
Empower Collaboration with Visla
In the era of remote work and digital innovation, Visla stands out with its robust collaboration features. It provides a shared workspace where team members can collectively brainstorm, create, and refine their video projects.
With Visla, you can share feedback, make real-time adjustments, and seamlessly integrate everyone's ideas into one brilliant final product. It fosters a creative synergy that is sure to elevate your video content to new heights.
Tailor Your Brand Identity with Customizable Branding
The power of branding is undeniable and Visla gets that. It offers a feature to customize your videos in line with your unique brand identity. From choosing specific color palettes and fonts to incorporating your logo or a signature style, Visla empowers you to make your videos truly your own.
As a result, your content doesn't just captivate; it leaves a lasting imprint of your brand in the viewers' minds.
Craft Compelling Stories with Video Snippets
One of the most striking features of Visla is its capacity to generate video snippets. Whether you want to highlight key points, create engaging social media stories, or simply want a captivating preview for your main video, Visla has you covered.
These bite-sized videos can be potent tools for communication, offering a concise yet effective way to convey your message and lure viewers into wanting more.
Boost Customer Engagement with Visla's Interactive Videos
Visla understands the value of customer engagement in today's digital world. To this end, it enables the creation of interactive videos that stimulate viewer participation.
Whether it's through clickable links, polls, quizzes, or call-to-action buttons, Visla makes your videos more than just a passive viewing experience. It transforms them into dynamic platforms for interaction, fostering a deeper connection between you and your audience.
Leverage the Power of Machine Learning
At the heart of Visla's magic is a sophisticated machine-learning algorithm. This AI-powered core learns from your inputs, understanding your preferences, style, and objectives. With each video you create, it becomes more attuned to your vision, making your subsequent projects faster and more efficient.
From analyzing text to choosing the perfect visuals and audio, Visla's machine learning feature ensures your videos are not just impressive but truly representative of your vision.
Perfect Your Scripts with Video Transcription
Visla's video transcription feature is a game-changer for creators. It transcribes the audio of your videos, providing you with a written script that you can easily edit and refine.
This feature is not just invaluable for creating perfect scripts, but it also aids in making your videos more accessible, SEO-friendly, and easier to translate into other languages. With Visla, every word counts, and every word is heard.
Visla Pricing: Affordable Pricing for Stellar Features
Visla's pricing structure is designed to offer great value while catering to a diverse range of needs. Whether you're just getting started with video creation or you're a seasoned pro, there's a plan just for you.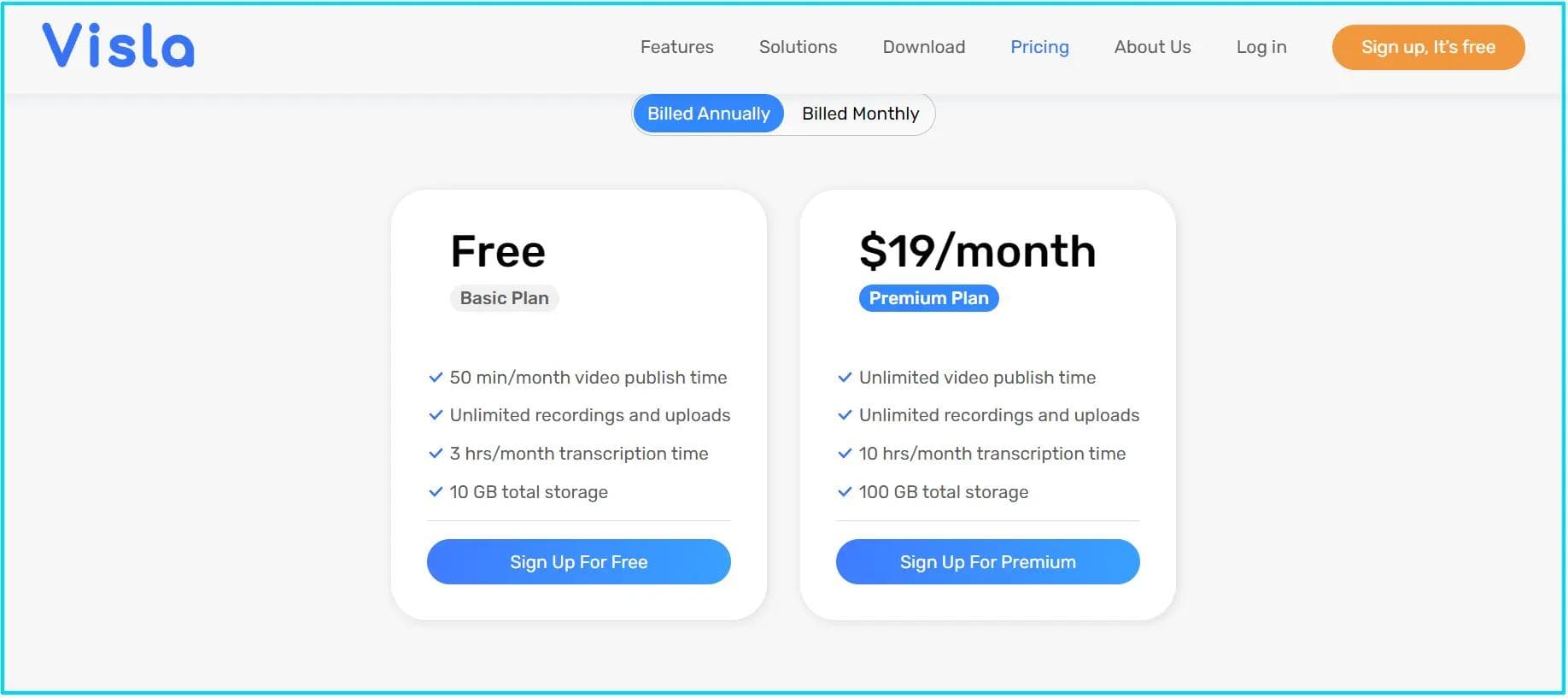 And considering the rich feature set that Visla offers, you'll find that it's an investment that truly pays off in the quality of your videos.
Free Basic Plan
Perfect for beginners or those looking to dip their toes into the world of video creation, the Basic Plan is completely free. It includes:
50 minutes per month of video publishing time
Unlimited recordings and uploads to foster your creativity
3 hours per month of transcription time to perfect your scripts
10 GB of total storage for all your video creation needs
To get started, simply Sign Up For Free.
Premium Plan at $19/month
For those ready to take their video creation to the next level, the Premium Plan offers enhanced features at an unbeatable price of just $19 per month. It includes:
Unlimited video publishing time to keep your audience engaged
Unlimited recordings and uploads for endless creation
10 hours per month of transcription time to refine your scripts
A whopping 100 GB of total storage to cater to all your video projects
To unlock these exceptional features.
Considering the range of advanced features, the easy-to-use interface, and the sheer creative control Visla offers, these pricing plans are truly a steal. It's an affordable way to revolutionize your video creation process and captivate your audience like never before.
Empower Your Video Creation with Visla
Wrapping up, Visla emerges not just as a tool, but as a revolutionary platform in video creation, bringing text to life in a visually captivating manner. Its rich, user-friendly features cater to both seasoned video creators and beginners alike. The ease of crafting unique, engaging videos is unparalleled, all backed by powerful AI and machine learning.
With Visla, you get more than a platform; you gain a creative partner that transforms your ideas into stunning visual narratives. It's affordable pricing and versatile features make it a must-have for anyone aiming to captivate audiences with impactful video content.
In our experience, Visla's capabilities are impressive, making it highly recommended. So, step into the future of video creation. Try Visla, experience its magic, and let it take your video content to new heights. Your audience is waiting, and with Visla, you're equipped to exceed their expectations.
Subscribe for
the latest updates