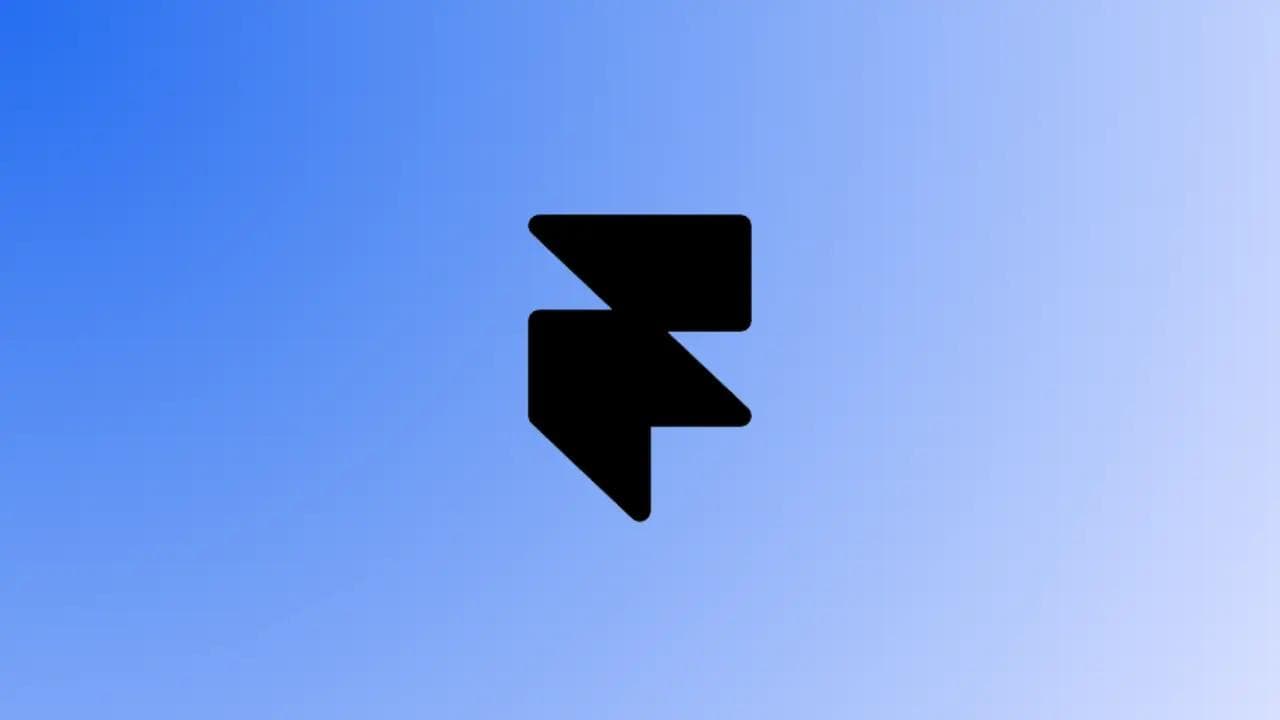 Build your Code-Free Website Design with Framer | Framer Review

Unbeatable Software
July 14, 2023 at 1:26 AM
Imagine building your dream website, lightning-fast, with no coding skills required! That's right, you heard us!
With Framer, an AI-powered platform, you're not just a dreamer anymore, but a creator! 💪 It's like having a magic wand that turns your web design aspirations into reality, and guess what? You won't need to write a single line of code. Not one!
Now, before we delve deeper, I feel it's important to mention - I'm not sponsored by Framer, nor am I being paid to write this. I'm here sharing my authentic and unbiased experience for the value of my esteemed readers, like you. 💖
🚀 Framer offers an arsenal of built-in templates and a plethora of features, all geared toward making your website stand out. How does having an elegant, professionally designed website sound, all crafted within a few moments? Intriguing, right?
So buckle up as we dive into the world of Framer - the platform that is revolutionizing website creation one template at a time. Are you ready to bring your dream website to life, faster than you ever thought possible? Then stay tuned. This isn't just a review; it's your launchpad into the world of no-code website creation! 🌐
4 Steps to Build A Responsive Website Using Framer
Take a moment to imagine your own website: visually captivating, intuitively navigable, and seamlessly responsive.
What about having a website that's not only just functional but tells your unique story in an engaging and compelling manner? It could be your makeup website or your portfolio website.
It could be something like this fully responsive website for desktop, tablet, and mobile versions.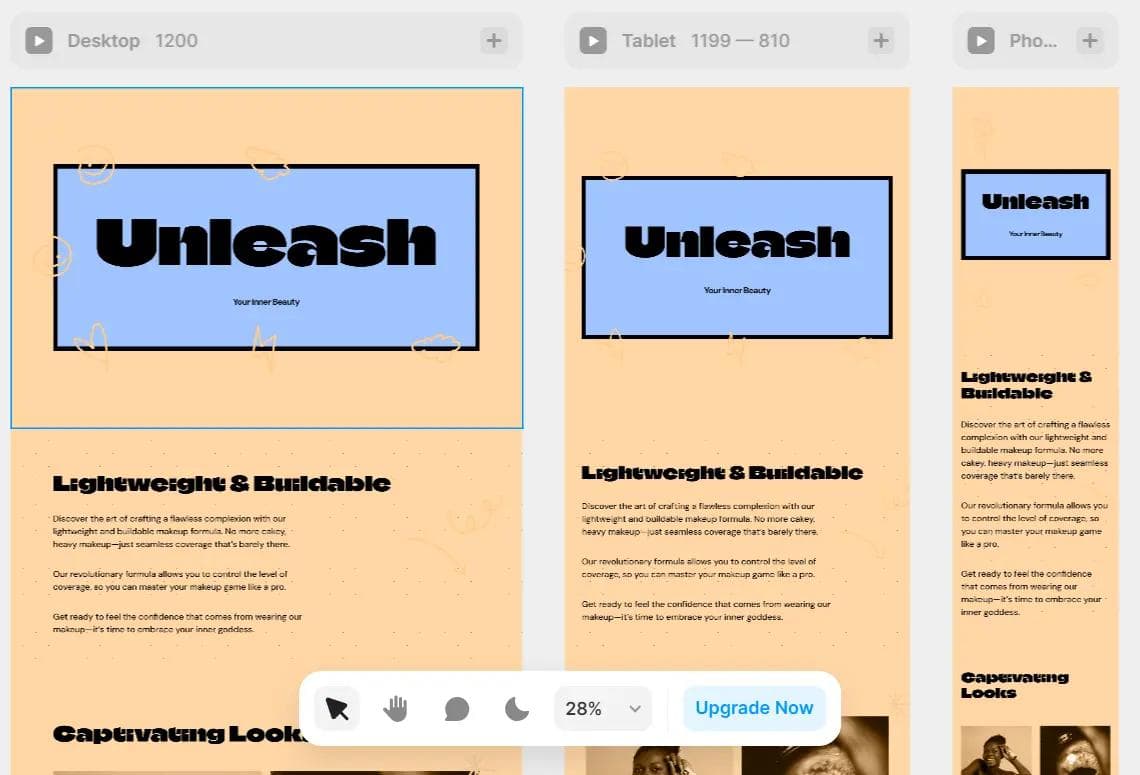 Exciting, isn't it? And you can make it a reality! Below is a step-by-step guide to help you navigate through Framer's user-friendly platform.
Step 1: Embarking on Your Framer Journey: A Sign-Up Away! 🚀
Your journey toward building your dream website begins by visiting Framer's website. It's not just a digital platform; it's the doorway to your online vision. Click on the 'Sign Up' button and fill in the required information. Your account will be up and ready within minutes!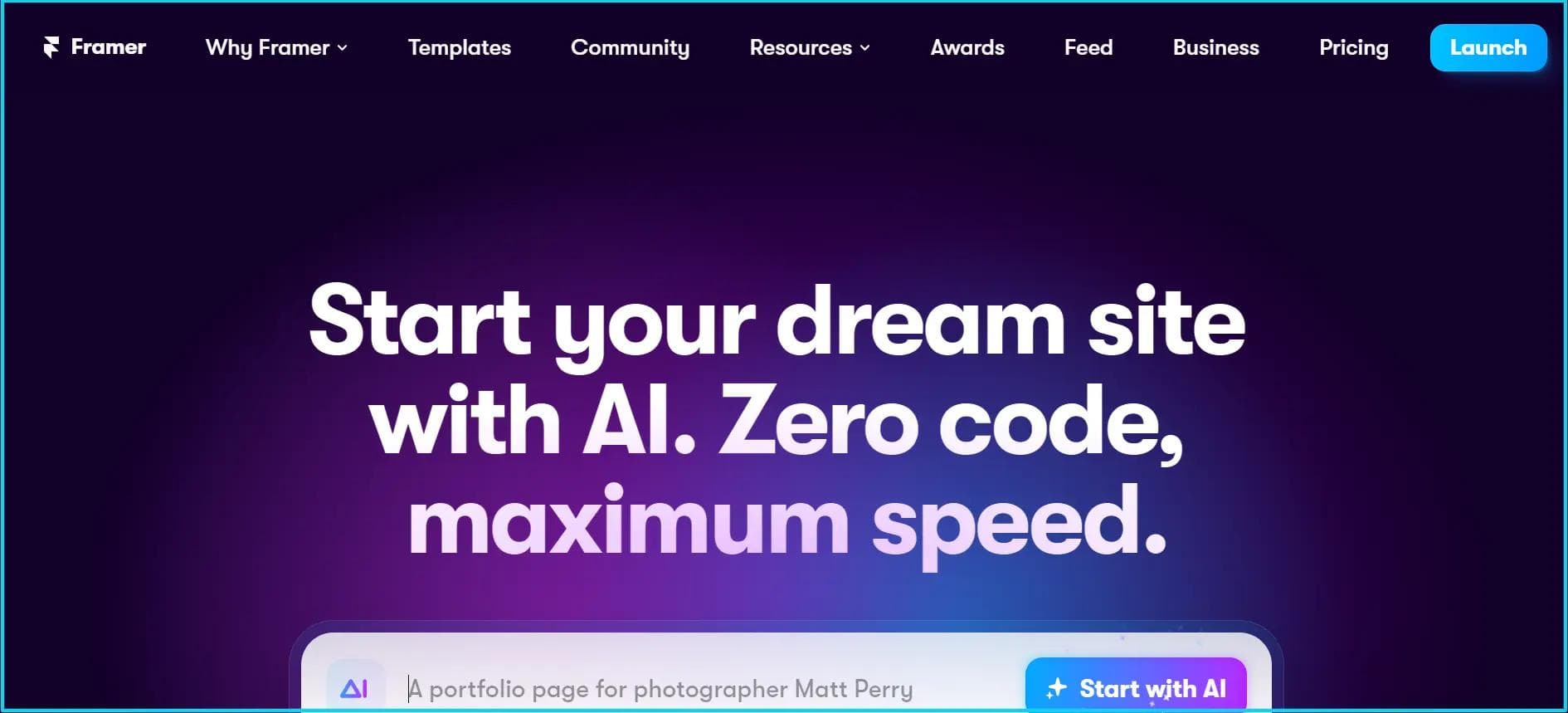 With a user-friendly interface and a helpful support team, you'll find the sign-up process as smooth as a breeze. This step marks your entrance into the Framer community, a world where creating high-quality websites requires zero coding skills!
Step 2: Templates – Your Creative Playground 🖌️🎨
Once signed in, head to the 'Templates' section. Here, Framer offers you an assortment of stylish and professional templates. Whether you're building a website for a blog, an online store, or a personal portfolio, there's a template for every need!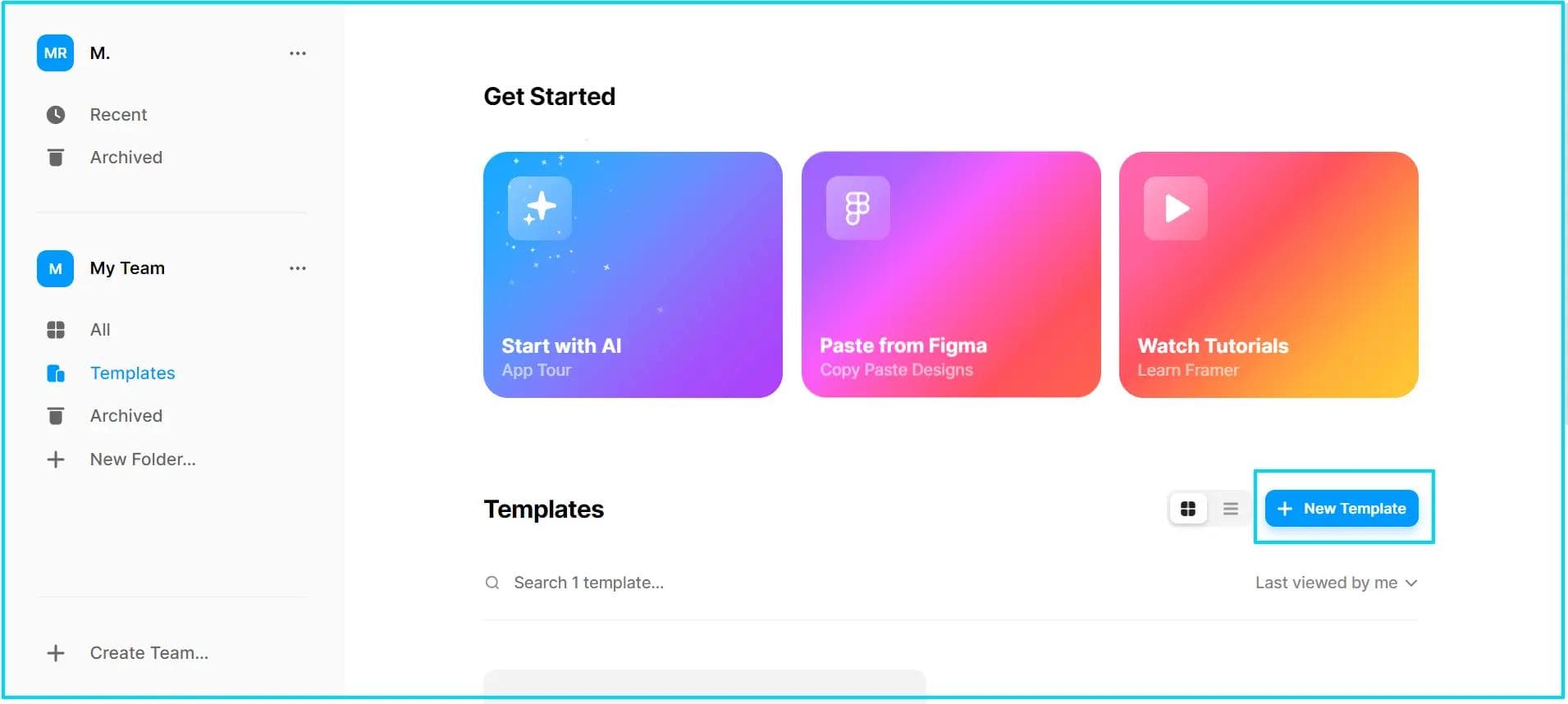 Click on 'Add New' and behold the magic. You are presented with two intriguing paths:
Start with AI: For those seeking a unique, personalized website without spending hours on design, the AI-assisted option is perfect. You provide your preferences, and Framer's advanced AI system uses these details to create a unique, stunning website just for you. It's like having a professional web designer by your side, molding your site to fit your requirements.
Use Your Figma Design: For the designers out there who have already created a mock-up in Figma, Framer has you covered. Simply paste your Figma design link, and watch as Framer faithfully reproduces your design, ready for customization and publishing. It's a seamless integration process that respects your creative efforts while amplifying them with Framer's features.
Step 3: Laying the Foundation: Business Details
Upon selecting your pathway, a pop-up window will appear, asking for basic details about your business or product. This is where you set the foundation for your website's personality. The name of your business, the industry you're part of, the services you offer – each detail you provide aids Framer's AI in understanding and capturing your brand's essence.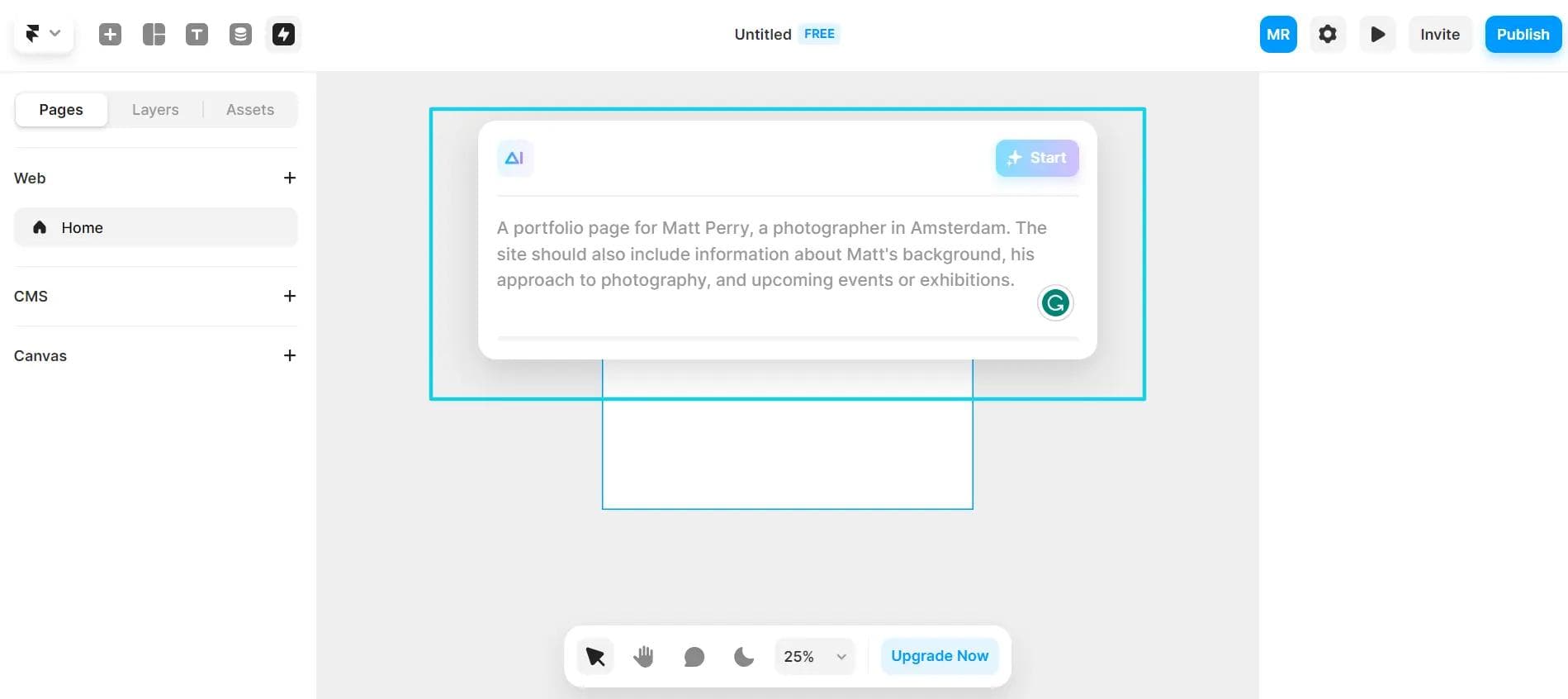 It's like narrating your story to a skilled artisan, who then translates your narrative into a vibrant digital tapestry.
Step 4: Your Dream Website: Ready for Launch! 🎉
And there you have it! Your website, crafted with your specifications and Framer's AI magic, is ready to make its debut in the digital world. Click 'Publish,' and your site will be live, ready to welcome visitors from around the globe.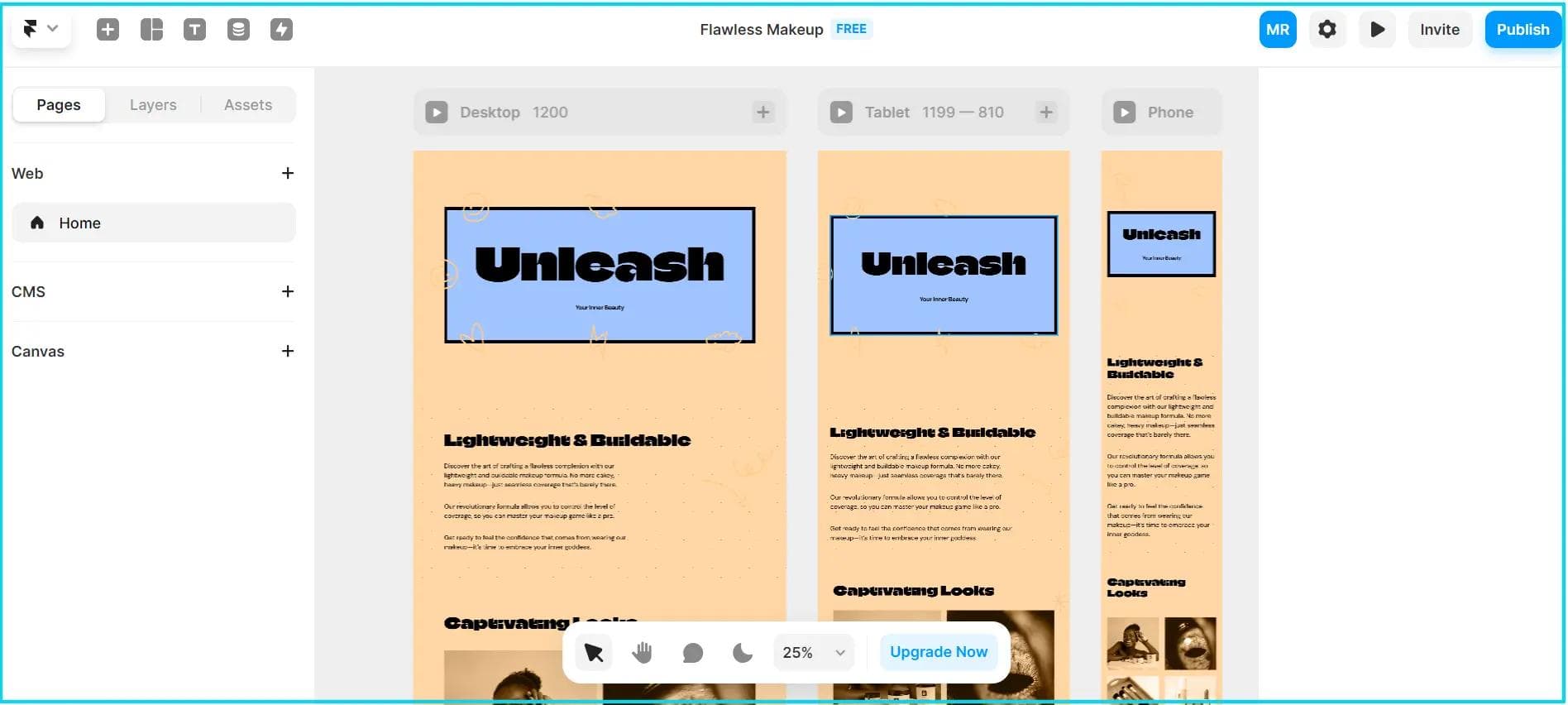 Isn't it fascinating? You began with a vision, navigated through Framer's intuitive platform, and now, you have a professional website, tailored to your needs, without writing a single line of code! Framer makes it that simple. Your online presence, your way – this is what Framer promises and delivers. 🌐🌟
But remember, the journey doesn't end here! As your brand evolves, your website can too. Framer is your ongoing partner in creating a compelling and engaging online presence. So, let's step into the future of web design together!
Let's take a look at something extra interesting: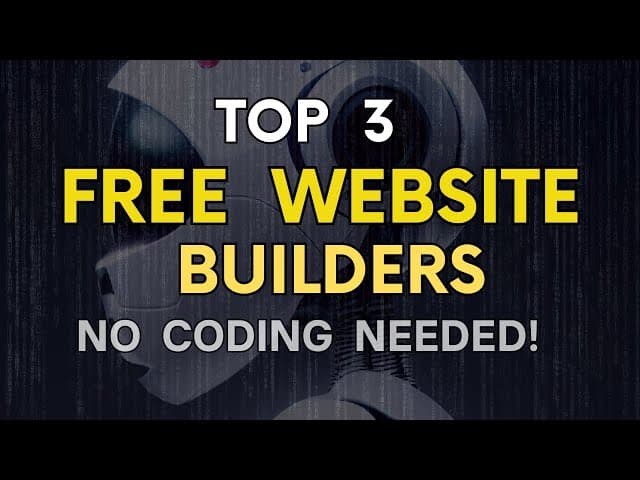 Framer AI Use Cases: It's Best For
A Universal Solution for Digital Presence 💼🌐
One of the remarkable attributes of Framer is its universal applicability. Regardless of your profession, whether you're a startup founder, a freelancer, a marketer, a scaleup, or an agency, Framer empowers you to create a distinct digital identity. Let's dive into how Framer can cater to different scenarios:
Personal Websites
Seeking to establish your online presence? Framer makes it a breeze to design personal websites. You're a blogger, an artist showcasing your portfolio, or a professional sharing their resume and expertise, Framer's intuitive tools and templates make it easy to create a personalized space that echoes your passion and personality.
Startups 🚀
As a startup, your website serves as your first impression. Framer enables startups to quickly set up a professional, appealing, and user-friendly site.
Display your products, share your startup story, or collect email addresses for product launches - Framer's flexible templates and AI assistance make it all possible, and within your budget!
Freelancers
For freelancers, a well-crafted website can be the difference between landing a project or not. Framer provides freelancers with the platform to exhibit their portfolio, list their services, and even include client testimonials.
Its easy-to-use features mean you can focus on your work, not on wrestling with complex web design.
Marketing Professionals
Marketing professionals can leverage Framer's advanced tools to create high-converting landing pages, promotional sites, or comprehensive digital campaigns. With its AI assistance, creating websites optimized for SEO and conversions has never been easier.
Scaleups
For growing businesses, Framer's scalability is a significant advantage. Your website can grow as your business does. Add new sections, pages, or integrate new functionalities - Framer makes all this seamless, helping you maintain a consistently high-quality web presence even as your demands increase.
Agencies
For digital agencies, Framer serves as a swift, efficient tool for building websites for clients. Its wide range of templates can cater to diverse industries, and its AI-assisted design can help deliver high-quality, customized websites at speed, thereby improving your productivity and client satisfaction.
In essence, no matter your industry or your goals, Framer has you covered. It's not just a tool; it's a partner in your journey toward carving out your unique space in the digital world. 🎉
Framer Features
Well, there are other WI websites also available in the market like Zyro claims to make a website in just 5 minutes. So what's the difference?

Indeed, versatility in its features truly sets Framer apart. The myriad of options and capabilities offered by Framer is a game-changer.
1. Crafting the Canvas: Design and Layout Features 🎨
Framer's design and layout features are where your creativity meets convenience. From a wide array of customizable templates to intuitive drag-and-drop interfaces, Framer allows you to design your website as you envisage it.
Regardless of your website's purpose, there are tools to create stunning pages, intriguing content blocks, and easy-to-navigate layouts. It's all about empowering you to make your website a true reflection of your brand.
2. Adding the Sparkle: Effects ✨
Want to make your website stand out? Framer's effects feature is your magic wand. Enhance your design with an array of special effects - from subtle transitions and animations to eye-catching parallax scrolling.
These features allow you to bring a dynamic and engaging feel to your site, enhancing user interaction and adding an extra layer of depth to your design.
3. Charting the Path: Navigation
User experience sits at the core of Framer's navigation features. With intuitive menus, dropdowns, and breadcrumb trails, you can ensure your visitors effortlessly find what they're looking for.
Framer's responsive navigation design also ensures a seamless experience across devices, making browsing your website a pleasure, not a puzzle.
4. Powering Your Content: CMS
Framer's Content Management System (CMS) is more than just a tool; it's the engine that powers your content. You can easily add, manage, and update content without any technical knowledge. It's designed to support multimedia content and comes with features like easy embedding, auto-formatting, and more.
With Framer's CMS, you're in complete control of your content.
5. Ensuring Visibility: SEO & Performance 🚀
With Framer, your website isn't just about looking good; it's about performing well too. Framer's SEO features ensure your website is ready to rank on search engines, with customizable meta tags, SEO-friendly URLs, and more.
Additionally, its performance features guarantee fast loading times, responsiveness, and an overall smooth user experience.
6. Taking Control: Site Management 🛠️
From managing user roles to monitoring website analytics, Framer's site management features equip you with all you need to keep your website running smoothly. These tools provide a clear picture of how your site is performing, helping you make informed decisions and continuously improve.
7. Enhancing User Interaction: Forms and Surveys
Framer understands the importance of user interaction for a successful website. Hence, it provides an easy-to-use tool for creating forms and surveys.
Whether you're collecting email addresses for a newsletter, getting customer feedback, or taking orders, Framer's form and survey features streamline this process, making it easier for both you and your visitors.
8. Encouraging Social Connectivity: Social Media Integration
In the digital age, social media plays a crucial role in expanding your online presence. Framer's social media integration feature allows you to seamlessly connect your website with your social media profiles. From adding social sharing buttons to embedding social feeds, Framer helps you bridge the gap between your website and your social platforms.
Framer Pricing
Framer generally offers these four pricing plans.

But if you're a team then can make a custom plan depending on your needs.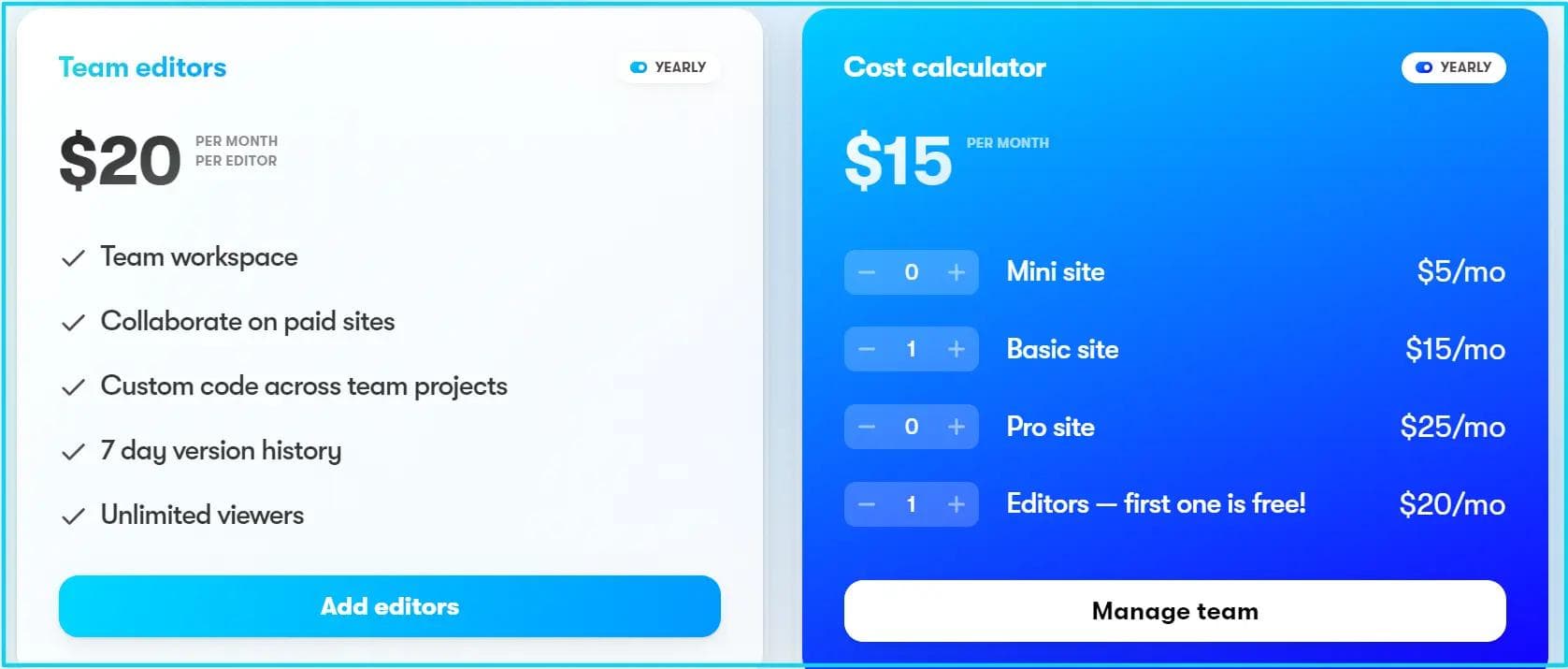 Frequently Asked Questions
How is Framer different from other website builders?
Framer combines the power of AI with an easy-to-use, intuitive interface, making website creation a breeze for both beginners and professionals. It offers a diverse range of features, from design and layout to SEO and performance, all designed to create stunning, effective websites with no coding required.
Can I use Framer if I have no web design experience?
Absolutely! Framer is designed to be user-friendly for everyone, regardless of their experience level. Its intuitive interface, helpful AI assistance, and a wide array of templates make it easy for anyone to create a professional-quality website.
Is Framer suitable for building e-commerce sites?
Yes, Framer provides a range of e-commerce features, from creating product pages to setting up a secure shopping cart and checkout system. It also supports multiple payment gateways, making transactions easy for your customers.
Can I customize the templates offered by Framer?
Yes, Framer allows for extensive customization of its templates. With its intuitive design tools and AI-assisted customization, you can modify templates to fit your unique brand and vision.
Can Framer handle high-traffic websites?
Framer's performance features ensure that your website can handle high levels of traffic without compromising on speed or user experience. Its infrastructure is designed to scale your business, ensuring your website performs optimally at all times.
The Final Framer Verdict
Let's take the decision, it's clear this platform stands out in the crowded realm of website builders. From its AI-assisted design and expansive features to its user-friendly interface and responsive templates, Framer goes beyond building websites—it crafts digital experiences.
It empowers you to create, not just code; to tell stories, not just add content; and to dream, not just design. But don't just take my word for it. Framer has received glowing recommendations from countless users who've transformed their digital presence with this tool. During my testing, I found Framer's claims to be true. It really does make building your dream site an effortless, enjoyable process. 💯
Remember, a website is more than a digital address—it's the first impression, the virtual handshake, the opening dialogue. With Framer, you can ensure that this dialogue starts on a strong note, drawing visitors into your unique story.
It's not just about launching a website; it's about launching your dream. Here's to your journey toward creating an impactful digital presence with Framer! 🚀
Subscribe for
the latest updates