Convertkit Review: Nourish Leads from Sign Up to Sale

Unbeatable Software
September 17, 2023 at 5:00 AM
Have you ever stumbled upon an online tool and wondered, "Is this the secret weapon I've been missing?"
Well, for many creators, bloggers, and digital gurus, ConvertKit was that game-changer. Bursting onto the scene in 2013, it quickly carved a niche, offering a platform tailored for those with a passion to share and sell. Its claim to fame? Helping users cultivate their email lists and drive sales from digital products and premium newsletters.
But the real question remains – with all the buzz around ConvertKit, does it truly live up to its promises? And more importantly, is it worthy of your hard-earned cash?
Stick with me as we unravel the layers of ConvertKit, from its nifty features to its price tag, and weigh its pros and cons based on real-life experiences and feedback.
Convertkit | More Than Just an Email Tool
At its core, ConvertKit is an email marketing service provider, but to label it merely as such would be an understatement.
Designed with the modern creator in mind, it's a holistic platform aimed at helping individuals and businesses communicate more effectively with their audience. ConvertKit seeks to be the bridge between your message and those who need to hear it.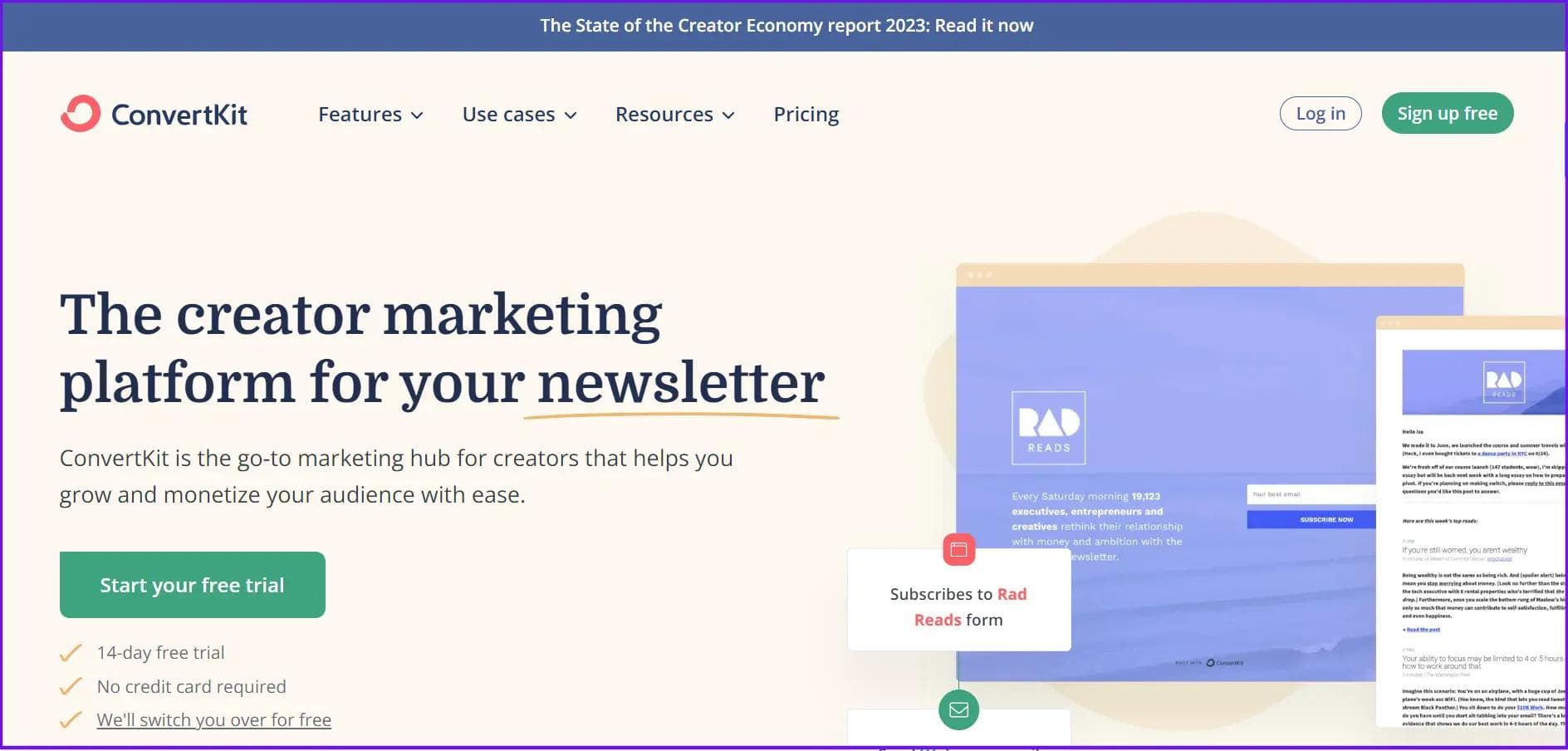 Founded by Nathan Barry, ConvertKit was birthed out of a need to merge the art of content creation with the science of email marketing. Traditional email tools often fell short, overwhelming users with complex features or lacking the flexibility needed for genuine engagement. ConvertKit's approach was different. It sought to simplify the process while adding depth where it mattered most – automation, integrations, and audience insights.
Imagine having the power to segment your audience based on their interests, activity, and interaction levels. Or envision setting up automated email sequences that not only inform but also build a deeper relationship with your subscribers. That's the promise of ConvertKit. As we'll uncover in this review, it's about understanding whether it consistently delivers on this promise and if it aligns with your specific needs and aspirations.
The Power of Email Marketing Tools in ConvertKit
In the digital age, email remains a powerful tool for businesses to connect with their audience. Platforms like ConvertKit have revolutionized the way marketers approach email campaigns, offering a suite of tools that enhance efficiency and effectiveness. The chart below highlights the significance of various email marketing tools:
ConvertKit stands out in the realm of email automation, allowing users to craft personalized email journeys for their subscribers. With its intuitive interface, users can easily segment their audience, design captivating templates, and analyze the performance of their campaigns.
Convertkit Features
Direct Integrations with Top Tools
Seamless Connections: ConvertKit understands the diverse toolkit of a modern online entrepreneur. That's why it directly integrates with a plethora of third-party apps and platforms – from e-commerce giants like WooCommerce and Shopify to webinar tools and even payment gateways.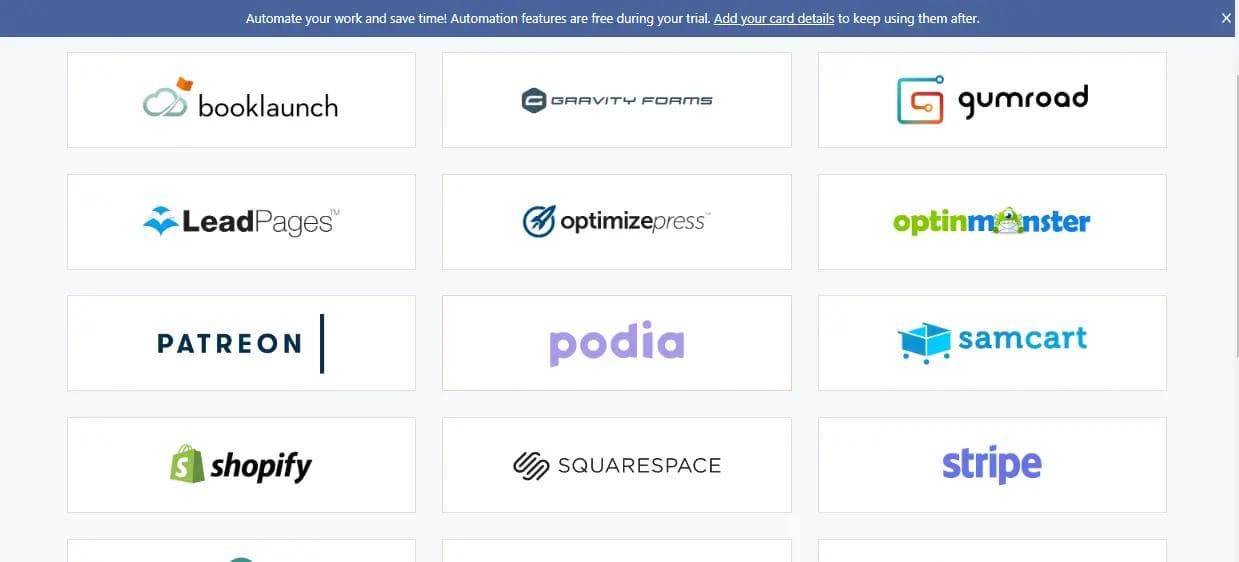 This provides a cohesive ecosystem for your digital operations.
Email Newsletter Builder
A Canvas for Your Creativity: ConvertKit's Email Newsletter Builder is not just about getting messages across; it's about doing so with flair. The builder provides users with an intuitive, drag-and-drop interface that makes crafting emails a breeze. No need to grapple with complex codes or formats – simply choose from a range of pre-designed templates or create something uniquely yours.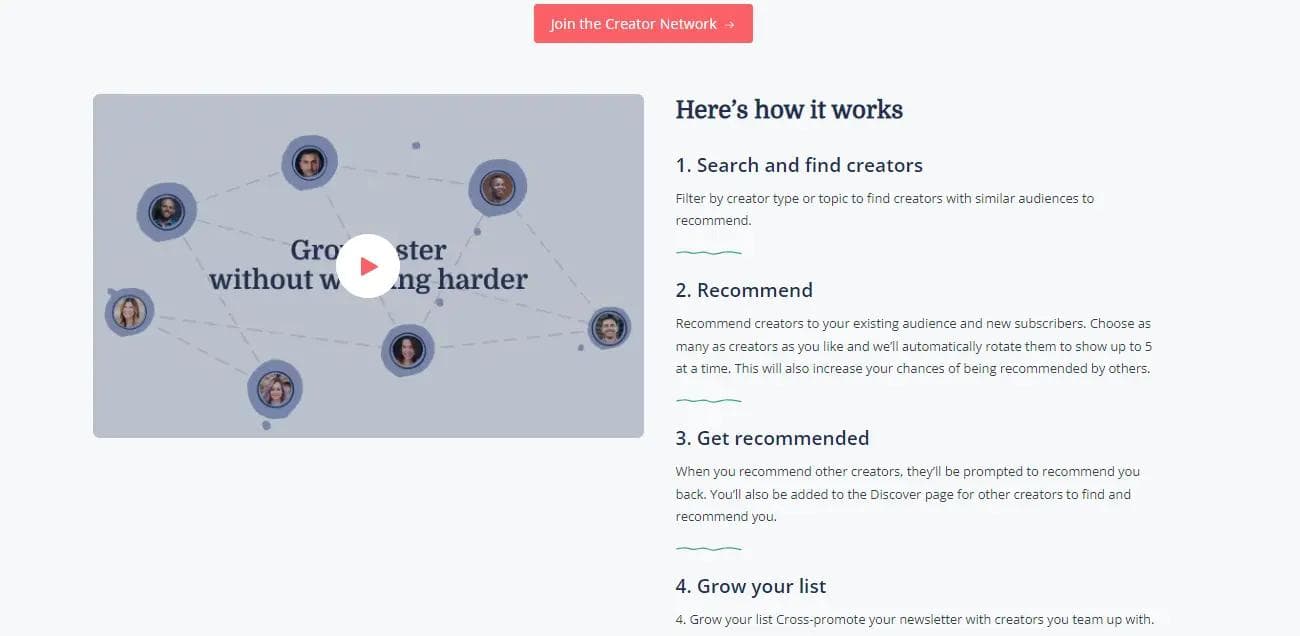 Personalization and Flexibility: Beyond aesthetics, ConvertKit understands the importance of personal touchpoints. Dynamic content allows for personalized messages, ensuring subscribers feel valued and seen. Whether it's a simple name mention or content tailored to specific segments of your audience, ConvertKit's builder equips you for both.
Visual Automation Funnels
Mapping the Subscriber Journey: ConvertKit's visual automation funnels are more than just a treat for the eyes. They offer a clear map of your subscriber's journey, helping you visualize and plan touchpoints, from the moment they sign up to every interaction thereafter.

This ensures a structured yet flexible approach to audience engagement.
Email Automation Builder
Automate, Don't Complicate: The power of email marketing often lies in timely, relevant, and automated communication. ConvertKit's Email Automation Builder simplifies this process. Through a visually intuitive flowchart system, users can map out email sequences that trigger based on specific actions (like a sign-up or a product purchase).
Journey Customization: Not every subscriber is on the same journey. With ConvertKit's builder, you can set different paths based on subscriber behavior, ensuring each person gets content that aligns with their interests and engagement levels. This leads to higher open rates, better engagement, and a more satisfied audience.
Landing Page and Form Builder
First Impressions Matter: ConvertKit's Landing Page and Form Builder is designed to help users capture leads with ease and elegance. Whether you're promoting an eBook, an upcoming webinar, or simply want to grow your subscriber list, ConvertKit offers a suite of templates that are both beautiful and optimized for conversions.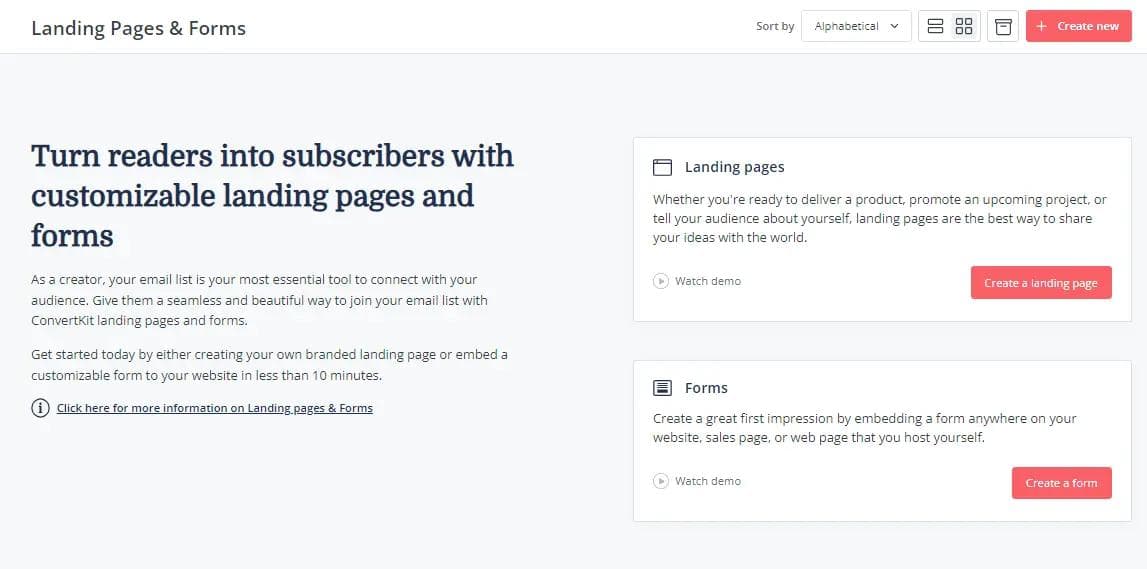 Integration at its Best: One standout feature is the ability to seamlessly integrate these landing pages and forms with popular platforms and tools. Whether you're using WordPress, Shopify, or other tools, ConvertKit ensures your lead generation efforts are integrated smoothly.
Audience Segmentation and Tagging
Deep Dive into Your Audience: ConvertKit provides the tools to segment and tag your subscribers based on a multitude of factors – from how they joined your list to their activity and purchase history. This granularity means you can send hyper-targeted messages, increasing relevancy and boosting engagement rates.
Data-Driven Decisions: In the realm of email marketing, insights are everything. ConvertKit's analytics dashboard offers a bird's-eye view of your campaigns' performance. Track open rates, click-through rates, and subscriber growth, all presented in easy-to-understand visuals. This ensures you're not just shooting in the dark but making informed adjustments to your strategies.
Pros and cons of Convertkit
🙂 Tag Mastery: Beyond Typical Audience Segmentation
At the heart of any effective email marketing campaign is the understanding of your audience. ConvertKit's tag-based subscriber system takes segmentation to the next level.
By enabling users to classify subscribers using multiple tags – from user behaviors to preferences – it facilitates hyper-targeted communications. What's more, as your understanding of your audience evolves, these tags can be easily adjusted, ensuring your segments remain relevant and precise.
🙂 Dynamic Touchpoints: Crafting Highly Personalized Conversations
In today's digital age, personalization is the gold standard. With ConvertKit's dynamic merge tags, personalization is more than just adding a first name.
Depending on the data you collect, emails can be tailored to reflect a subscriber's past purchases, content preferences, or even geographic location. This leads to a richer user experience, ensuring that your subscribers feel seen and understood, rather than just another number on your list.
🙂 Visual Blueprint: An Intuitive Guide to Automated Excellence
The beauty of ConvertKit's visual automation builder lies in its fusion of sophistication and simplicity. Users can craft complex email sequences by simply dragging and connecting different actions and triggers on a visually intuitive canvas.
This not only removes the intimidation factor but also allows for real-time adjustments and experimentation, giving you full control over your subscriber's journey.
🙂 Rules of Engagement: A Quick Solution for Streamlined Automation
While complex automations have their merits, sometimes speed and simplicity are the order of the day. ConvertKit's "rules" builder addresses this need, making it possible to set up basic automation in just a few clicks. It's particularly useful for those repetitive tasks, freeing up your time to focus on more strategic initiatives.
🙂 Engage on Your Terms: Capturing Attention with Flexible Forms
Every audience is unique, and so should the methods to engage them. ConvertKit's diverse form offerings allow you to cater to varied browsing behaviors.
Whether it's a subtle embedded form on a blog post or an attention-commanding pop-up on the homepage, ConvertKit ensures your message is delivered in a manner that complements the user experience.
🙂 Rapid Launchpad: Efficient Landing Pages that Convert
Launching a new product or offering a special promotion? ConvertKit's landing page builder is your go-to tool. While it may not rival specialized design platforms, it brings to the table a range of conversion-optimized templates. Plus, with its easy-to-use interface, you can get a landing page live in no time, ensuring you capitalize on timely opportunities.
🙂 Growth at a Glance: Harnessing the Power of Data
In the competitive realm of email marketing, insights can make or break a campaign. ConvertKit offers an in-depth reporting dashboard that goes beyond mere numbers.
Delve into metrics like subscriber growth trends, engagement rates over time, and the effectiveness of individual campaigns. These insights not only measure past performance but guide future strategies, ensuring continuous improvement.
🙂 Always Within Reach: A Support System That Truly Supports
The digital landscape can be daunting, and having a reliable support system is invaluable. ConvertKit rises to the occasion with an array of resources.
From detailed articles addressing common queries to live chat support ready to tackle unique challenges, ConvertKit ensures every user, novice or expert, has the tools and guidance they need.
🙃 The A/B Testing Dilemma: A Missed Opportunity for Optimization
In a world where every touchpoint matters, A/B testing is essential for understanding what resonates best with audiences. ConvertKit's A/B testing functionality, unfortunately, leaves much to be desired.
While basic headline testing is available, the lack of extensive A/B testing options means marketers might miss out on crucial insights into content variations, design elements, and call-to-actions. The limited scope may hinder the ability to fully optimize campaigns and maximize conversion rates.
🙃 A Tight Box of Design: Limitations in Customization
Customization is paramount for brands to stand out and ensure consistent branding across all platforms. ConvertKit's offering in this domain is somewhat restrictive. The forms and email templates, though user-friendly, come with limited design options. This might be a setback for those who wish to venture beyond the standard templates and infuse a touch of uniqueness into their campaigns.
Brands with specific design guidelines might find themselves in a bit of a bind, having to find workarounds or rely on third-party integrations to truly realize their vision.
🙃 Metrics in Short Supply: Skimming the Surface of Reporting Data
Data-driven decisions are at the core of successful marketing campaigns. And while ConvertKit provides essential metrics, there's a thirst for more detailed insights. The reporting dashboard, as it stands, offers a high-level view, lacking some of the granular details that can provide a deeper understanding of subscriber behaviors, engagement patterns, and segment-specific performance.
Without these deeper insights, marketers might miss out on identifying underlying trends or areas that need a strategic pivot.
While ConvertKit boasts an array of standout features, these cons highlight areas where there's room for improvement. However, it's essential for potential users to weigh these limitations against the platform's benefits to determine if it's the right fit for their specific needs.
Deciphering the ConvertKit Conundrum: Is it Your Perfect Email Partner?
Navigating the vast sea of email service providers can be daunting. Each promises a realm of features, but the real question is: which one aligns with your unique needs? Let's demystify ConvertKit's offerings to see if it's the beacon you've been searching for.
ConvertKit's Sweet Spots
Digital Entrepreneur's Dream: If your vision is to monetize through digital avenues—be it eBooks, courses, paid newsletters, or a quirky tip jar—ConvertKit has your back. Its diverse monetization avenues mean you can pivot seamlessly between strategies, maximizing your revenue potential.
Tailored for the Modern Creator: Whether you're crafting compelling blog content, developing unique digital art, or forging a solo business venture, ConvertKit seems to whisper, "I've got just the thing for you." Its intuitive dashboards and robust list growth features empower creators to connect and expand their tribes without breaking a sweat.
When ConvertKit Might Not Be Your Jam
Budget Conscious? Tread Carefully: While ConvertKit seduces with its initial affordability, it's a romance that can get pricey as your subscriber tribe grows.
To put it into perspective: at the 50k subscriber mark, ConvertKit could have you parting with $379/mo, and for an even larger list, a cool $519/mo. In contrast, contenders like Mailmodo might have you cozying up at just $99/mo for 40k contacts, and a still-reasonable $249/mo for a whopping 100k contacts. And yes, that's with all the bells and whistles included.
Convertkit Pricing | Elevate Your Email Marketing at $29/Month
Step up your email marketing game with the Creator Plan. This package offers advanced automation capabilities, setting it apart from the free version.
Priced at $29 monthly, this plan caters to lists of up to 1,000 subscribers.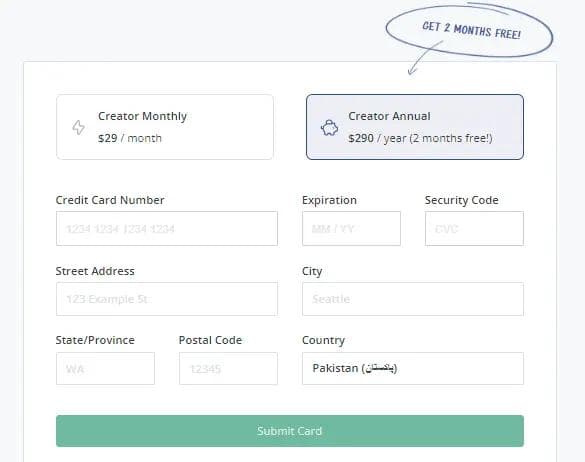 Opt for an annual payment and enjoy a bonus: two months absolutely free!
As your subscriber count grows, ConvertKit seamlessly adjusts your plan to match your needs. Embrace the future of email marketing with the Creator Plan.
ConvertKit Alternatives
In the ever-evolving domain of email marketing, choices are aplenty. While ConvertKit shines in its unique way, especially among creators and solopreneurs, several other platforms offer robust features that cater to a diverse range of needs.
Mailchimp, often referred to as the friendly gorilla of the email world, has evolved beyond its roots to become a comprehensive marketing platform. Its extensive free plan makes it an attractive choice for those starting or on a constrained budget. With a vast array of customizable templates and a user-friendly interface, design flexibility is at its forefront. Plus, its ability to seamlessly integrate with numerous third-party applications ensures a cohesive marketing ecosystem.
On the other hand, ActiveCampaign stands tall as an automation powerhouse. Its real strength lies in crafting intricate subscriber journeys, blending email marketing seamlessly with sales processes. The platform offers a unique blend of advanced automation, CRM capabilities, and a sophisticated segmentation process.
If prioritizing outreach based on subscriber behaviors is your thing, its lead scoring is a game-changer.
Having graced the industry for over two decades, AWeber is a dependable veteran. Its reliability is complemented by an evolving set of tools, including the innovative AWeber Smart Designer, which crafts emails echoing your website's aesthetics.
Lastly, the emerging contender, Mailmodo, infuses fresh innovation into the mix. As a new entrant, it emphasizes interactive emails, employing elements like carousels and in-email forms to heighten engagement. Their pricing structure, especially for burgeoning email lists, is competitive. Their approach to email automation is all about simplicity and efficiency, allowing users to swiftly set up sequences.
ConvertKit FAQs
1. How does ConvertKit's visual automation builder compare to its competitors?
While many email platforms offer automation builders, ConvertKit stands out for its user-friendly interface and simplicity. It provides a visual representation of your email sequence, making it easy to craft and modify your subscribers' journey.
2. Is ConvertKit GDPR compliant?
Yes, ConvertKit has implemented features to assist users in adhering to the General Data Protection Regulation (GDPR). This includes tools for collecting explicit consent and facilitating the rights of EU citizens regarding their personal data.
3. How does ConvertKit's pricing evolve as my subscriber count grows?
ConvertKit's pricing scales based on the number of subscribers. While its starting price is competitive, as your email list expands, the monthly cost can increase significantly. It's essential to factor in future growth when considering ConvertKit as a long-term solution.
4. Does ConvertKit support advanced segmentation and tagging?
Yes, one of ConvertKit's standout features is its robust tagging and segmentation capabilities. Users can easily segment their list based on behavior, location, engagement levels, and other custom tags, enabling highly personalized email campaigns.
5. How does ConvertKit's deliverability rate compare?
ConvertKit boasts a strong deliverability rate, ensuring that your emails land in your subscribers' inboxes and not in spam folders. Regular updates and adherence to best practices have helped ConvertKit maintain its reputation in this domain.
6. What makes ConvertKit specifically suited for creators and solopreneurs?
ConvertKit is designed with creators in mind. Features like the ability to sell digital products, collect payments and even monetize newsletters make it a favorite among individual content creators, bloggers, and entrepreneurs looking to monetize their craft.
Wrapping Up
In the digital age, effective communication is paramount for any business, big or small. ConvertKit emerges as a formidable player in the email marketing sphere, offering a suite of tools tailored for creators, solopreneurs, and bloggers.
While it boasts an array of features, from intricate automation to detailed segmentation, it's crucial to weigh its capabilities against its competitors and pricing model. As with any tool, the best choice aligns seamlessly with both present needs and future growth trajectories.
As we've explored ConvertKit in-depth, alongside its alternatives, we hope this guide illuminates the path in your quest for the perfect email marketing companion.
Subscribe for
the latest updates