[Robby Blanchard] Commission Hero Review 2023: Is It Worth it?

Unbeatable Software
May 14, 2023 at 1:14 PM
Lying between the sea of affiliate marketing scams and the few legitimate companies, this commission hero review is here to help you.
Robby Blanchard's Commission Hero claims to help others make $1000 per day or more through affiliate marketing.
Sounds too good to be true, right? We decided to take a look at the program and investigate if it's really worth it in 2023.
Let's find out if Robby Blanchard's affiliate training program is worth your time, energy, and money.
Commission Hero Review Key Takeaways
Commission Hero is a mentorship program all about affiliate marketing tactics and training.
The founder Robby Blanchard is the #1 click bank affiliate marketer.
It's not for everyone, and there are other better options, too (One must weigh all factors.)
Robby Blanchard Affiliate Marketing Business Journey
Robby Blanchard is the founder of Commission Hero. His own life story is appealing.
Starting as a broke Gym Trainer to the best #1 Click Bank affiliate marketer, it's what weighs the value to consider this affiliate marketing mentorship.
Back story: Small students with larger success stories made it look like a scam, as it was expensive, so we never tried it.
At last, we tested it rigorously in December 2021 after attending their FREE workshop. It was value-driven, so we decided to try it and share the truth with you.
Before creating this review, we have done a thorough background check…so let's find out the truth about Robby Blanchard Commission Hero Affiliate marketing program.
Spoiler Alert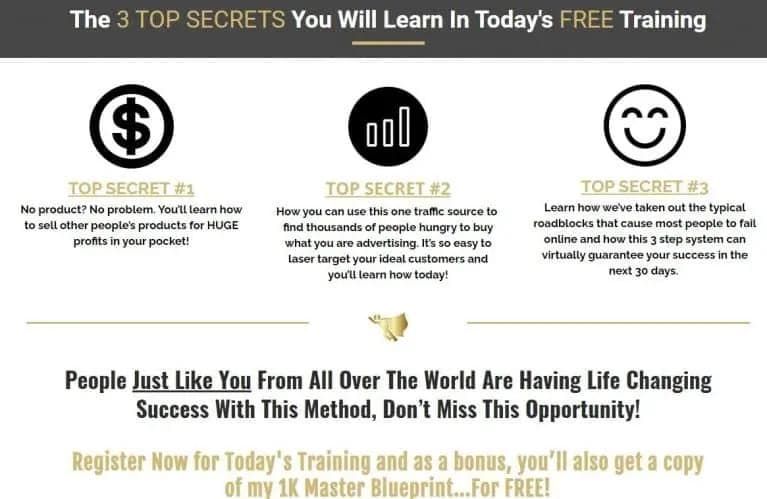 Are Robby Blanchard's students getting results?
According to reviews from past students, the answer is a resounding yes and no. Now that's confusing!
Many former students boasted about making their first sale within days or weeks of starting the course.
Others reported it doesn't add much value. We have done some extra research and presented our findings in the next section.
So, Is Commission Hero worth it?
Some characteristics separate it from other Industry affiliate Training Programs.
The trainer and Founder is an industry expert who started all this after establishing himself as an industry expert.
You are not asked to promote them and earn affiliate commissions.
Simple and easy-to-understand commission hero website makes them a good consideration.
They are teaching about affiliate networks, Facebook ad account, creating landing pages, Facebook pixel, paid ads, Clickbank affiliate marketing to make money online,
Simple yet pitching homepage to compel visitors to buy their mentorship shows how passionate and expert affiliate marketers they are.
But if you are just starting affiliate marketing or want to jump on something that gives value without much spending, then you can consider dropping the commission hero website off the list…it's expensive!
For it, you can give a try to legendary marketer 15 days challenge. (We have also tested and reviewed the legendary marketer affiliate program.)
What makes it a Scam?
People who call it scams are either biased or don't have done thorough research. They mention business costs in the FAQ section, especially money you must have along with their training program to get everything to build online business and earn huge commissions.

Either way, I believe a scam is where
People took the money and disappear
Provide false information/products as compared to what they show.
As Commission Hero does not do anything like that, neither my finding points out anything fishy, so I can say it is legit.
Let's have a coffee cup to share my experience of Commission Hero with you.
How does Commission Hero help you make money online?
To start making money online, Commission Hero reveals Robby Blanchard's tactics mainly.
How to earn $1000 with Huge Commissions by selling other products
Learning the same exact system, Robby used to become the #1 Click Bank Affiliate
3 Step System to psychologically convince people to buy your offers
Who is the Commission Hero for?
According to Robby Blanchard, to join Commission Hero
No Prior Experience is needed
It's for individuals looking for true financial freedom
Have the desire to make $1000 + per day
But to achieve it, only subscribing to the commission hero program is not all; with it you;
Shall have money to invest in Ads and other business expenses
Can do hard work with consistency for building up a business
Are ready to take paid mentorship and then have sufficient funds for other business overheads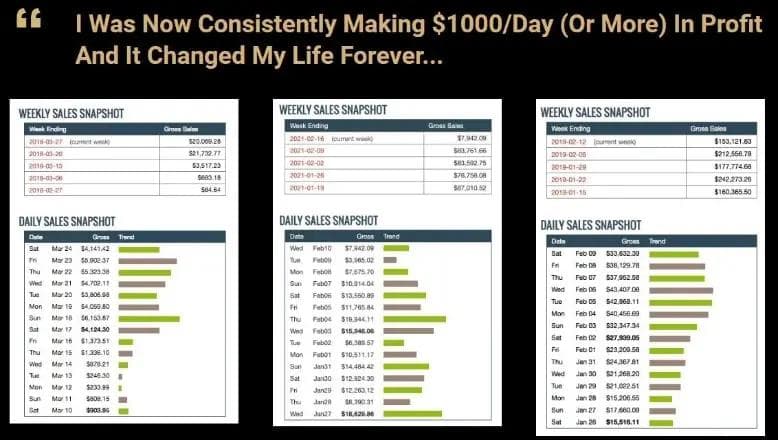 Green Lights 🟢
Legit Trainer and Training Program
High Success Rate
Success Proven Blueprint
Premium Mentorship and the dedicated support team
Red Flags 🚩
Extra overheads
Expensive Program
Refund Policy
How much does Commission Hero cost?
Commission hero offers two programs.
Either a $997 one-time Payment
Two payments of $597 were Billed 30 days apart
With it, you also have to consider the following costs
Cost of Tools essential in the affiliate marketing journey (remember free traffic takes extra time)
Advertisement Cost to get paid traffic ($10-$20 daily)
$ 297 if you decide to join the inner circle. (At end you have to build your super affiliate system)
So the minimum cost to consider is for the course, advertisement and tools. But we can call it normal as the business costs, along with training and consulting, will always be there.
How is Commission Hero structured?
You can set up a passive income stream with affiliate marketing and achieve financial freedom. Let's get a quick overview of commission hero to structure their training to help you hit the success benchmarks.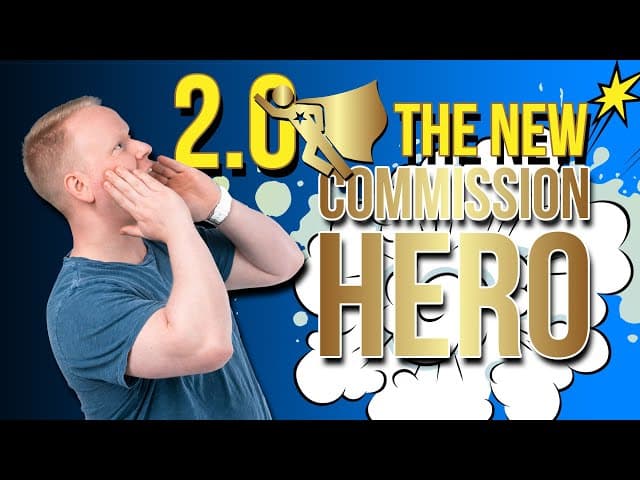 Complete Commission Hero system
In it, you get access to the blueprint for making thousands of dollars in commission. With it, full access to the entire 3-step system for making huge online commissions.
Access to Private Commission Hero Facebook Group
Think of it as a private Facebook group community backing and helping you. Socializing around people all have the same interests and goals. It increases your chance of success.
A supporting community is indeed a bloodline of success and can help you become the most profitable Clickbank affiliate and make a name in online marketing.
Proven Million Dollar image for proven track success
You get about 20 images that made millions of dollars for Robby Blanchard. These are the track to create your million-dollar images and get proven success.
Super Profits Facebook Training System
You also receive increasing sales tactics; Facebook ads account issues, credit cards trick, high commissions, and all essential scaling tactics, aka Golden Goose. Facebook ad accounts are explained well here!
Why create a landing page when you have already built and tested landing pages? The best part is you also get them with Commission hero training.
And Limited-Time Bonuses
Weekly Live Coaching and question-answer sessions in the private coaching group
Million Dollar Rolodex of Contacts to hook up at high commissions and payout increase.
Learn how to set up profitable Snap Chat campaign training
$10k Month Email Marketing Module to hook up with all possible revenue streams.
Access Facebook advertising Insider to know exactly how the Facebook algorithm works and ways to extract most of the money out of it.
On Note: You can't just build a business model, converting ad image and million dollar landing page in just a few weeks. Even after applying all ninja tactics and joining high paying affiliate programs to get good affiliate products, you need consistency.
Is the commission hero legit in 2023?
Let's break it down with facts:
Pro#1 Legit Trainer and Training Program
The trainer himself has earned high commissions and stands in top spots of successful affiliate marketers in the industry.
Being established as a successful affiliate marketer, he worked on a training program to do the same for others.
Of course, there is a failure ratio, but it's in every business around the globe. So we can be sure of a legit trainer and training program.
But remember, it's not about the best affiliate marketing course; you also need to make consistent efforts to get the most out of the high paying affiliate programs.
Pro#2 High Success Rate
Over other industry programs, the success rate of the Commission Hero course seems pretty good. An expensive course makes fewer people enroll in it, and those who join put in consistent efforts to get their ROI from the course. Overall it maintains industry standards.
Pro#3 Success Proven Blueprint
What you learn in Commission hero training is not just theoretical knowledge and how to do things. You are getting a success-proven blueprint with which even Robby Blanchard himself earned thousands of dollars in commissions.
Pro#4 Premium Mentorship
Premium mentorship is never cheap but saves thousands of dollars and years of success. Given mentorship benefits and records, we can say the course is too expensive.
Con#1 Extra overheads
With the training fee, you must consider the extra overheads while joining Commission Hero affiliate marketing training.
These are business expenses, but if your pockets get empty, it will be difficult to recover the ROI and make huge commissions worth thousands of dollars with different affiliate link promotions.
Con#2 Expensive Program
In this digital age, it's an expensive program. As for knowing, it's all on YouTube, so The only thing they charge for in their training programs is for the advanced strategies with the right direction and personal mentorship. So it's all about increasing your chances of success.
Con#3 Refund Policy
Commission Hero's refund policy is quite different; you only get a refund within 14 days of purchase if you don't access any of their training.

In Summary
We have tried several popular affiliate marketing programs. Got 5x ROI from some, while others failed.
So, Commission Hero is a good option for internet marketers with extra bucks, but if you are on a budget, it's best to explore commission hero alternatives.
After all, the affiliate marketing goal is to create a passive income stream and earn while you are sleeping, traveling, or spending time with your family.
You should try the best affiliate networks and hit the mark of a million dollar landing page.
Finally, remember affiliate marketing takes time, and never fall for get rich quick scheme scams to get massive success online.
Subscribe for
the latest updates